The Best Cold-Weather Protein Drink Recipes
Swap your protein shakes for these cozy beverages packed with protein and electrolytes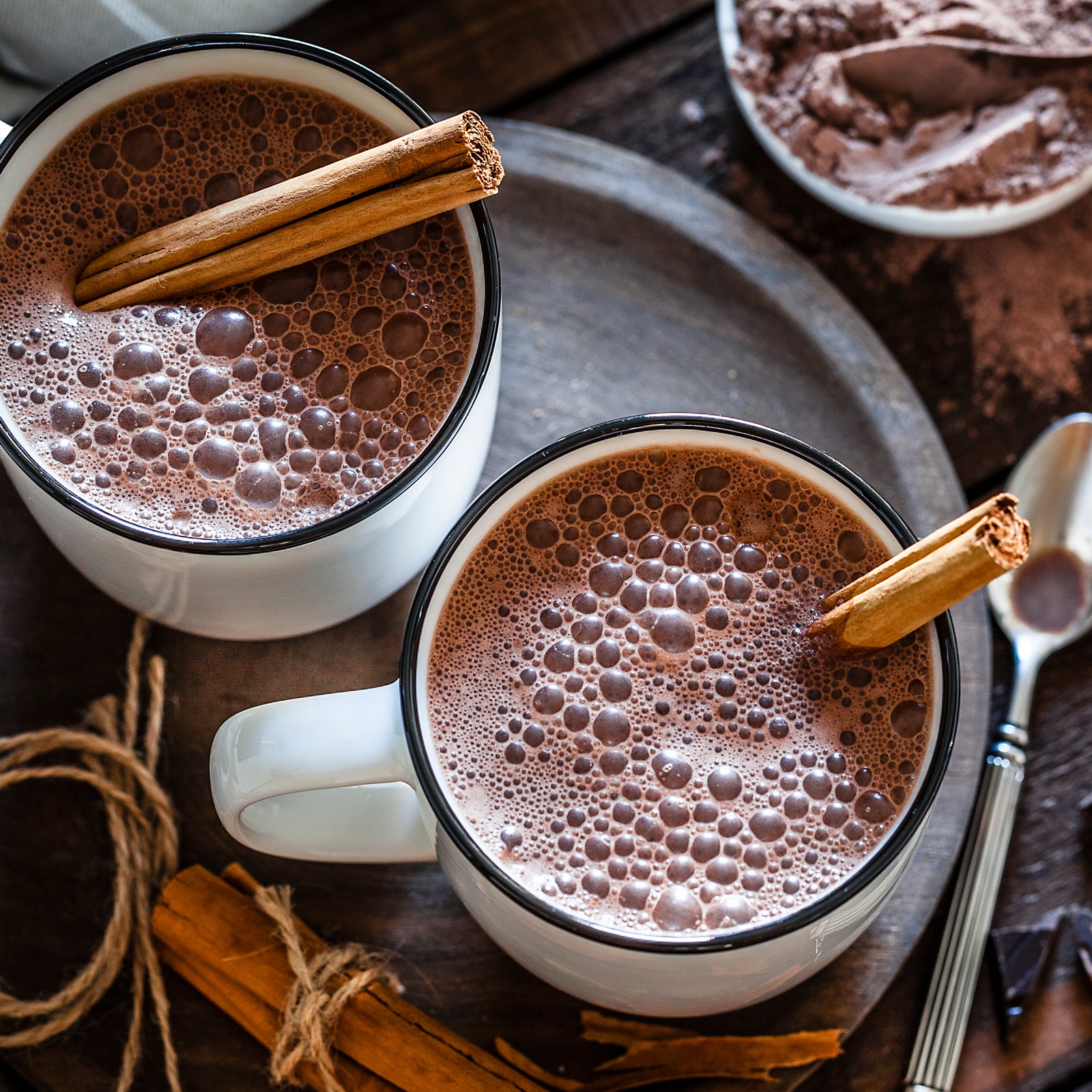 Heading out the door? Read this article on the new Outside+ app available now on iOS devices for members! Download the app.
At the end of a long workout, many athletes make a beeline for their recovery drink. Beverages like protein shakes and electrolyte mixes are gentler on the stomach than solid foods, and they're easy to drink on the go, whether you're stretching, driving, or rinsing off. Research supports the habit, too, showing that beverages with carbohydrates and electrolytes effectively replenish the body after exercise, while protein offers an added recovery boost and can improve performance the following day.
But classic recovery drinks like chocolate milk, fruit smoothies, and protein blends cater mostly to warm-weather workouts. The last thing you want after a frigid training session is a drink that keeps you shivering. To solve this seasonal dilemma, we asked four pros—a mix of elite athletes and registered dietitians—to share their best workarounds. Warm up from the inside out with these winter-friendly recovery-drink recipes.
Mocha Spice Recovery Drink
Canadian Olympic marathoner and registered dietitian Krista DuChene offers a great post-workout solution for busy athletes: a just-add-water drink mix. "You could make it when you walk in the door, keep it warm in a thermos, or stop somewhere on the way home to get hot water to make it on the road," DuChene says. It's also easy to scale up and make for a group or customize to your own flavor preferences.
Ingredients
1 teaspoon protein powder (vanilla or chocolate work best)
1 teaspoon chocolate-milk powder (or a mix of cocoa powder and sugar)
1 teaspoon skim-milk powder (or whole-milk powder for a creamier drink)
1 teaspoon instant coffee, or omit and use freshly brewed coffee instead of water (below)
1 pinch of your favorite spice blend (DuChene uses one with ground cloves, nutmeg, ginger, and cinnamon)
1 cup boiling water
Directions
Mix dry ingredients in a mug or thermos. Add a few teaspoons of boiling water to form a paste before pouring in the rest of the water. Mix thoroughly. Top with warm frothed milk, marshmallows, or whipped cream with sprinkles if desired. If you're working out with a group, prepare ahead of time and keep warm on the stove or in a Crock-Pot.
Pumpkin Spice Smoothie
For her wintry spin on post-workout fuel, professional marathoner Stephanie Rothstein Bruce, who is based in Flagstaff, Arizona, keeps the temperature of her beverage cold but adds festive flavorings. She got the idea for this pumpkin spice smoothie from nutrition coach and recipe developer Lottie Bildirici, who helped dial in Bruce's nutrition before the 2020 U.S. Olympic Marathon Trials, where Bruce finished sixth. Feel free to swap in your protein powder and milk of choice.
Ingredients
2 to 3 scoops vanilla rice protein powder
1/2 to 3/4 cup canned pumpkin
Maple syrup to taste
8 to 10 ounces unsweetened almond milk
Dash of nutmeg, cinnamon, and salt
3 to 5 ice cubes
Directions
Blend all ingredients together and enjoy!
Golden Milk Turmeric Latte
Catherine Ward, a registered dietitian for personalized nutrition system InsideTracker, centers her recovery latte around one star ingredient: turmeric. Golden milk is a traditional Indian beverage, also called haldi doodh, long thought to have healing properties. Turmeric is the only food source of curcumin, an anti-inflammatory compound, Ward explains, and has been shown to aid in oxidative stress reduction. After exercise, it can help reduce muscle damage, decrease soreness, and reduce inflammation. Adjust the sweetness in this recipe as you like—just don't forget the black pepper, which can enhance your absorption of curcumin.
Ingredients
1/2 cup milk of choice
1 teaspoon turmeric
1/2 teaspoon ground ginger
1/2 teaspoon cinnamon
1 pinch black pepper
1 teaspoon sweetener of choice (honey, syrup, or agave)
Directions
Add the ingredients to a small saucepan, and whisk together over medium heat. Bring mixture to a boil, then reduce heat to low and let simmer for ten minutes. Serve in mugs, and top with a pinch of cinnamon.
Three On-the-Go Options
Maddie Alm, an elite runner and registered dietitian in Boulder, Colorado, shares her three favorite recovery drinks that can be made in advance or mixed on the spot. Each one is warming, nourishing, and recovery boosting.
Sippable Bone Broth
"Bone broth naturally contains collagen, protein, and electrolytes to help rebuild muscle and rehydrate," Alm says. Use this recipe from the Minimalist Baker website to make a batch at home if you have time, or try one of Alm's recommended brands: Epic, OssoGood, and the more budget-friendly Swanson. Drink steaming hot.
Recovery Hot Chocolate
Hit your post-workout protein needs with Alm's hot-chocolate recipe. Simply add a scoop of chocolate protein powder (she likes the Chocolate Recovery Drink Mix by Skratch Labs) to eight ounces of heated milk, mix well, and sip away.
Hot Apple Cider
Turn this winter classic into a recovery-boosting beverage by heating up your preferred version of apple cider—homemade, premixed, or powdered—and then stirring in one to two scoops of collagen peptides (try those by Momentous or Vital Proteins). The carbohydrates from the cider will nudge your recovery forward, while the added collagen may support your joint health, too.
Lead Photo: fcafotodigital/iStock