In Stride
Could Atlanta's Hills Lead to an Olympic Trials Upset?
With over 1,300 feet of climbing, the race will favor "grinders"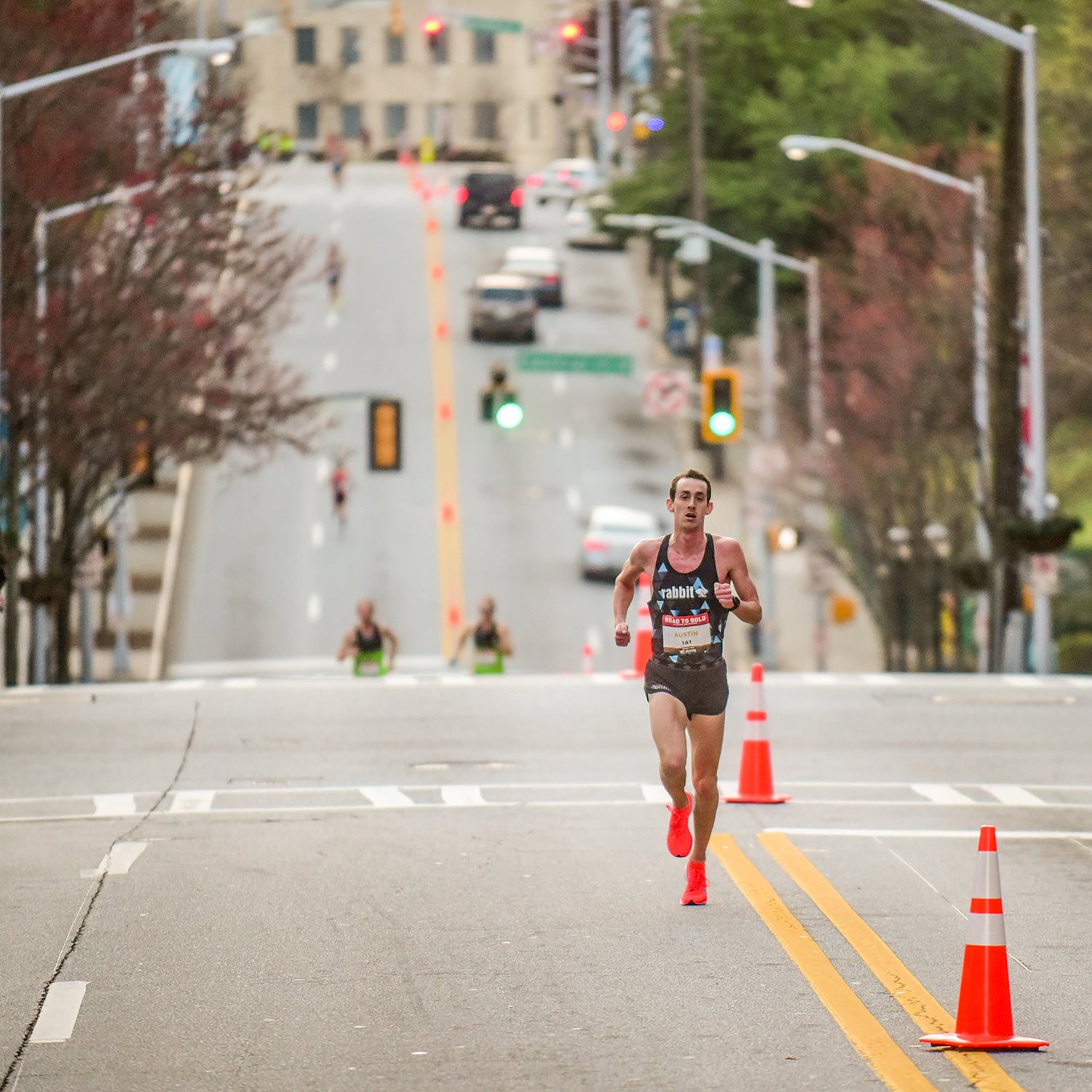 Heading out the door? Read this article on the new Outside+ app available now on iOS devices for members! Download the app.
A lot can happen when you're trying to run 26.2 miles as fast as you can, so it's not always easy to predict how elite marathons will unfold. (That is, unless you're weighing the chances of a certain invincible Kenyan.) As a rule of thumb, the odds of an upset are higher in races that don't use pacemakers (i.e. "championship style" events), and higher still when conditions are tough. Case in point: the 2018 Boston Marathon, where freezing rain and brutal winds decimated the professional fields and paved the way for Des Linden and Yuki Kawauchi to secure their first victories in a Marathon Major. 
While it's still too early to forecast what kind of weather we'll see at the USATF Olympic Team Trials for the marathon, which are taking place in Atlanta on February 29, we already know one aspect of the race that is sure to make things interesting: it's going to be hilly. According to the elevation chart provided by the Atlanta Track Club, the circuit course will feature 1,389 feet of uphill running and 1,382 feet of downhill. That may sound unimpressive to an ultrarunner like Jim Walmsley (who, rumor has it, was raised by wolves on Silverton Mountain in Colorado) but for a road marathon it is significant. For context, the Boston Marathon, whose second half features the famous Newton Hills, has only 924 feet of total uphill running, according to the Boston Athletic Association. 
David Monti, who is the editor and publisher of Race Results Weekly and has covered every U.S. Olympic Trials in the marathon since 1996, says that he expects the tough course to be a "huge factor" at the 2020 Trials and that he anticipates a "very slow" first 5K (i.e. 16:00 for the men and 19:00 for the women). "Strong, mature, and smart athletes, like Jared Ward, Sara Hall, Steph Bruce, will definitely benefit from the course," Monti notes. "It's definitely a grinder's race."
Ward affirmed that the course was likely to favor "grinders" and "experienced runners," while adding that he is expecting the race to unfold like a "cross country version of a marathon," where the race actually feels longer than 26.2 miles. 
On the face of it, that would also seem to favor a guy like Walmsley, who last year ran a world record over 50 miles. The colossus of the ultra scene has never raced a normal marathon, and qualified for the Trials by hitting the standard in the half marathon (1:04:00) in Houston last year. (Walmsley raced another half marathon in Phoenix last weekend and clocked 1:02:13, though it turned out that, due to a misplaced cone, the course was approximately 313 yards too short, according to azcentral.com.) 
To be clear, the odds of Walmsley finishing in the top three at the Trials and making the U.S. Olympic team are extremely slim—on par, perhaps, with 2016 Olympic triathlon gold medalist Gwen Jorgensen's stated ambition to eventually also win an Olympic marathon. Indeed, in the seething underbelly of the running community represented by the LetsRun message boards, any speculation that Walmsley might have an outside shot tends to inspire maximum derision. (See: the message board thread from two days ago titled "Walmsley runs a fake 1:02 half, trail trolls lose their minds.")
For his part, Walmsley doesn't seem to harbor any illusions about his chances.
"Do I know it's almost impossible or a moonshot or probably not going to happen? Yeah, absolutely," he told LetsRun in an interview last May. "But I think with my ultrarunning background, I do bring in a way to approach the marathon a little differently, especially on a course like Atlanta, that maybe I have a little niche if the race plays out [a certain way] that I could compete for a spot. But yeah, dream big, swing big. I don't think there's anything to lose there."
On the women's side, the undulating terrain in Atlanta only adds to the intrigue of a race that has several legitimate contenders, but no clear favorite. The three women who have the fastest PRs in the field are Jordan Hasay (2:20:57 Chicago, 2017), Amy Cragg, (2:21:42 Tokyo, 2018) and Sara Hall (2:22:16 Berlin, 2019), but those times were achieved on courses with flat profiles. In terms of raw speed on the road, there may be no American woman who can currently compete with Emily Sisson, but Sisson has only run one (flat) marathon (albeit in 2:23:08—London 2019—the second-fastest debut by an American woman) and has yet to show what she can do on a tough course. Given that the topography in Atlanta is going to be more similar to a course like New York City, the race might end up favoring veterans like Linden or Molly Huddle, both of whom have run well in NYC in recent years. 
"I agree with Jared on the cross-country feel—the course rolls the whole way," Huddle says. "It reminds me of the NYC marathon course but without the big bridge hills."
Speaking of NYC, maybe Atlanta will see the long overdue coronation of Kellyn Taylor, who finished 7th in New York last November (2nd American, behind Linden) in 2:26:52—the fifth-fastest time by an American woman on the course. In recent years, Taylor, who is a 33 year-old mother and competes for the Northern Arizona Elite, has balanced her marathon training with getting certified as a professional firefighter, a profession she plans to pursue once her running career winds down. (At a press conference last fall Taylor assured me that she could do "a lot of pull-ups.") If, as Monti has prognosticated, the Trials course will favor "strong" runners, Taylor might be another athlete to watch. 
Ben Rosario, who coaches Taylor and Bruce, told me in an email that the challenging elevation profile required targeted, "course-specific," preparation. He added, however, that he didn't think that the hills in Atlanta would ultimately favor one type of runner.  
"The fittest athletes will make the team, given that they are properly prepared," Rosario says.
Of course, you can be the fittest, most well-prepared athlete and still race poorly—be it by overextending yourself in the early miles, or by underestimating the seriousness of a late-stage move from your competition. That's why, if we want to see a thrilling competition in Atlanta, we should probably hope that Walmsley and other runners with nothing to lose take a few big risks. Dream big. Swing big. 
Lead Photo: Michael Scott