In Stride
The Barkley Marathons and the Allure of Discomfort
This week's episode of HBO's 'Real Sports with Bryant Gumbel' offers raw scenes from the infamous race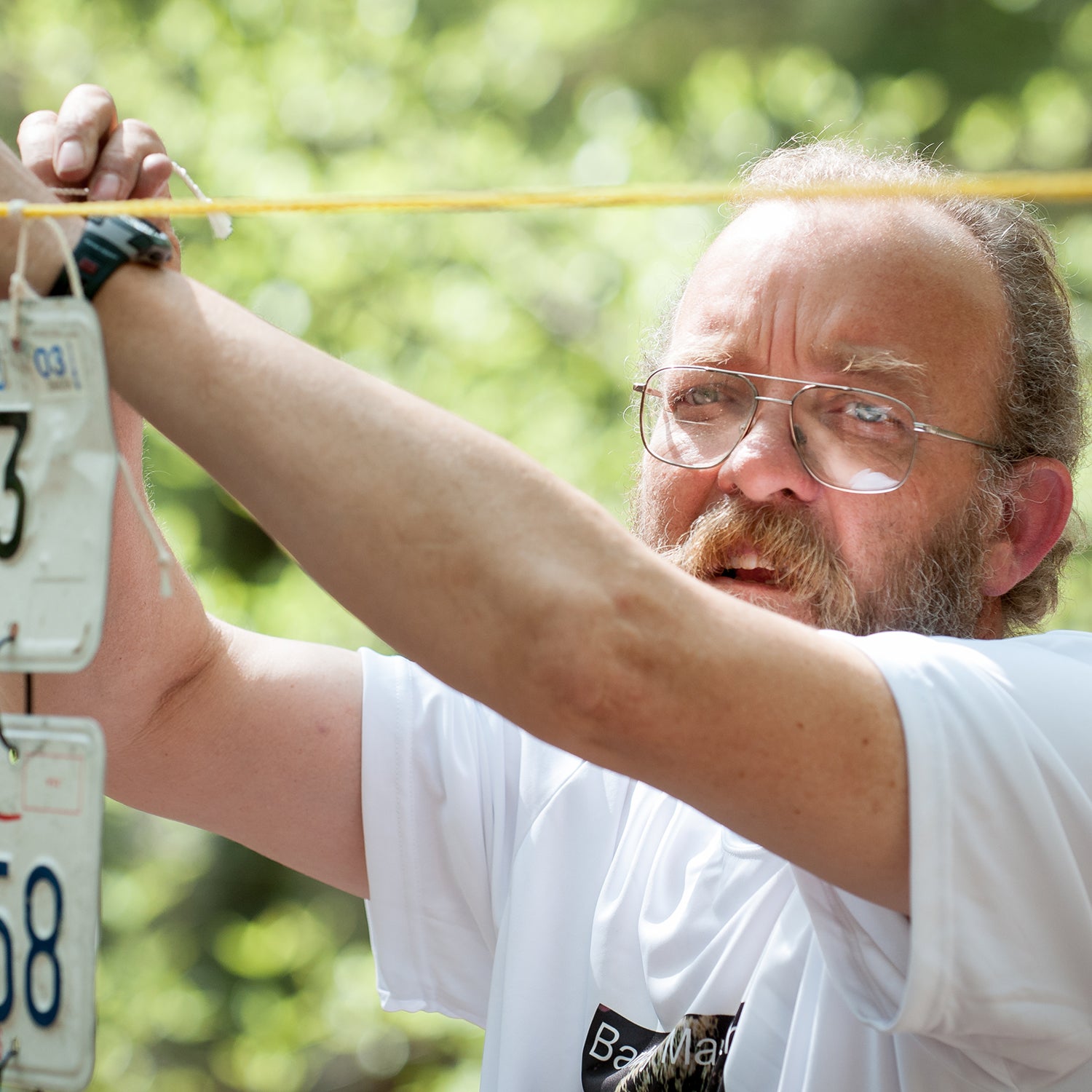 Geoffrey Baker(Photo)
Heading out the door? Read this article on the new Outside+ app available now on iOS devices for members! Download the app.
The Barkley Marathons is an annual multi-day ultra that requires participants to bushwack through the wilds of Tennessee's Frozen Head State Park in an effort to complete five roughly 20-mile loops in under 60 hours. The odds of success are not high. Since the race was created in 1986, only 15 runners have conquered the full course—out of the more than 1,000 who have tried. And yet, despite the fact that failure is something of a foregone conclusion, each year hundreds of applicants compete to secure one of the available 35 to 40 slots. Why, one might wonder, are so many eager to court their own humiliation?  
That is the question at the heart of "The Impossible Race," a segment in this week's episode of HBO's Real Sports With Bryant Gumbel. The 13-minute documentary includes footage from this year's race, which was held last month and in which, true to form, nobody managed to complete more than three laps. As one would expect, the episode is geared towards a general audience—"This is not your average marathon"—rather than the ultra aficionados who will either be delighted or mortified that their beloved event is getting the 60 Minutes treatment. Not that "The Impossible Race" feels like a recruitment video: we see various haunted individuals staggering through the forest and up hillsides so steep that it looks like they should be wearing a harness. There's a close-up shot of a blister being skewered with a needle amid exclamations of agony.
"Are you a sadist?" segment host Mary Carillo asks Barkley founder Gary Cantrell, the grizzled impresario of misery who typically goes by Lazarus Lake, or Laz for short. Cantrell replies that he is not, in fact, a sadist. "People enjoy it," he says of his torturous event. "There's just some discomfort involved." 
But who are these people? Carillo interviews Greg Armstrong and Liz Canty, two veterans of the ultra circuit who participated in the 2021 edition of the race and who exude an intense air that's probably an asset when you're about to persevere through hours of tedium and pain. Both regard Cantrell's brand of tough love as a perverse sign of affection. "He's trying to drive us all crazy," Canty says when asked about Cantrell's frequent assertion that his race is too tough for women. (Women have taken part in the event for years, though all of the finishers to date have been men.) "You've got to goad us a little bit," she adds. "You just goad a whole gender into getting angry and training our butts off." 
At this year's race, Canty managed to make the time cutoff for the first loop. Although she would fail to finish the second loop before the cutoff, she fared better than Armstrong, who DNF'd on loop one, as did about half of those who started in 2021. Not that Armstrong felt that the pursuit was in vain. 
 "You learn so much about yourself when you take yourself to the breaking point," Armstrong tells Carillo, who is not enough of a jerk to ask whether one of the things you learn about yourself is that you need a new hobby. "You just ruminate over it for years and you learn and grow. And Laz knows that. That's why he creates this race." 
For his part, Laz says that the people who sign up for his events are individuals who are specifically drawn to endeavors where they might not succeed. The uncertainty is the point. "They don't want to play within the range of stuff that they know they can do," he says.
OK, fine. But as anyone who has ever gone after an audacious time goal in a boring old road race can attest, attempting to do something very hard outside of your comfort zone doesn't require signing up for a 60-hour death march in the woods. (Also is a DNF that is more or less preordained really a DNF?) This has always been my default, road running snob response whenever I hear the latest exploits of extreme ultrarunning, even as the ultra fanatics in my orbit like to remind me that I live in ignorance of the profound psychological shadowland that one enters during the final stages of a 100-mile race. 
Then again, who am I to sneer at those who get their kicks by doing these absurd events? In the end, it's really just a matter of degree. The mainstreaming of the marathon in recent decades has made it easy to convince oneself that running 26.2 miles is a sensible form of recreation. The vast majority of my personal acquaintances are non-runners, in the sense that, for them, anything beyond occasionally doing a light jog or taking part in a Thanksgiving 5K is a clear sign of unhinged fanaticism. 
They don't know what they're missing.
Lead Photo: Geoffrey Baker