800 Miles with Bears Ears Prayer Runners
Amid a frenzied conversation over shrinking public lands, Native Americans run hundreds of miles to honor—and take back—the land that's sacred to them
Heading out the door? Read this article on the new Outside+ app available now on iOS devices for members! Download the app.
Everyone ran the final miles to Bears Ears National Monument together. It was a sunny, blue-sky day in March, and 45 pairs of feet shuffled down a road of soft red dirt, kicking up a dust cloud. One woman wore her jingle dress, a garment used in ceremonial dances, its rows of metal cones clinking as she moved. Some still wore running shoes, but many had switched to moccasins. No one spoke. At this point, many of them had been running relay-style for three days straight, from sunrise until the light ran out.
The group—composed of members of the Hopi, Navajo, Ute, and Ute Mountain Ute tribes; a few of the New Mexico pueblos; and a contingent from the Wintun and Maidu tribes in California—had come together to run nearly 800 miles from New Mexico, Arizona, or Colorado to Bears Ears from March 12 to 17. Four separate routes snaked like veins through patches of tribal land, atop mesas, through coniferous forests, past oil pump jacks, and alongside busy highways. The event, with its rented minivans and overflowing boxes of performance snacks, was logistically similar to a team relay run like the Ragnar race series, but to define it as such would be misguided. These weren't racers—they were prayer runners. And this group represented a largely untapped generation of voices and activists, many of whom are young, in the current fight over public lands.
A little more than a year earlier, in December 2016, President Obama designated 1.35 million acres to protect this land as a national monument—a move that was almost entirely due to an unlikely alliance between five of the above tribes, who had put aside a long history of animosity to form the Bears Ears Inter-Tribal Coalition. Then, in December 2017, President Trump shrank Bears Ears and opened opportunities for extraction there.
To participate in the public lands conversation, a person could call their local representatives or exercise their right to show up in protest outside a state capitol. Or they could run.
The event, Sacred Strides for Healing, came about in the name of preserving important places, but also in the spirit of improbable unity. Each tribe is distinct in their traditions, and some have histories of conflict with each other. A local Navajo leader likened the relationship between the Navajos and the Utes to that of the Palestinians and the Israelis. "We were mostly looking to heal our relationships with each other, and we realized that those relationships are rooted in the land," says Dustin Martin, 28, who is Diné (Navajo) and the executive director of Wings of America, a Santa Fe–based youth running nonprofit. "My whole life I've heard people talk about why we're so different or why we can't come together. One of the main purposes of this run was unity."
Martin and Wings helped organize the run with the Bears Ears Prayer Run Alliance, Utah Diné Bikéyah, and the Seventh Generation Fund for Indigenous Peoples. He also led the 245-mile Zuni/Navajo leg, which started less than a mile from his childhood home near Gallup, New Mexico. There were three other routes: The Pueblo/Navajo route started in Santa Ana Pueblo, just outside of Albuquerque, New Mexico. The Navajo/Hopi route began in Flagstaff, Arizona. The Ute route started from Towaoc, Colorado. While the group moved toward Bears Ears, schoolchildren in each region ran laps in solidarity. They hoped to collectively log 1,000 miles for the cause. They ended up running 1,240.
Native Americans have a long tradition of running, both for ceremonial purposes and with messenger runners, who would often cover great distances on foot before they had access to horses. "Those that could run messages to other people quickly were revered. And that's in our blood," Martin says. Many people in the Sacred Strides group would describe themselves as runners, though plenty vehemently denied the label. One young woman hadn't run four miles in a row before this, but it mattered to her to participate in this particular event.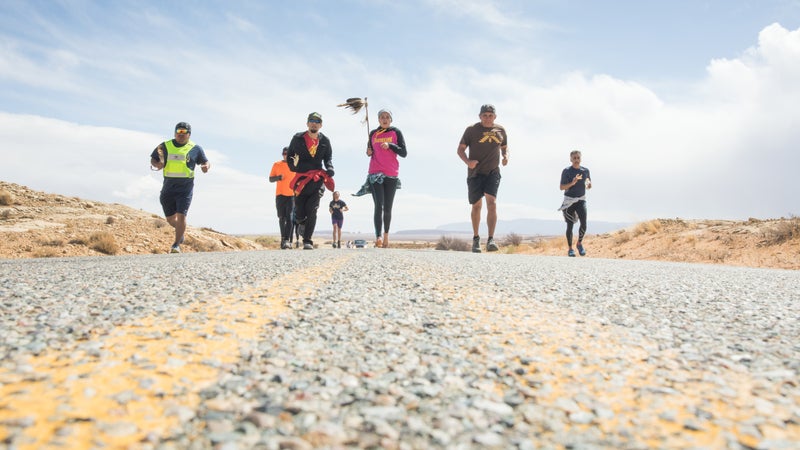 Bears Ears is one of the most talked-about public lands under threat, though the conversation often glosses over how sacred it is to many Native Americans. Prayer runs, which aren't protests or purely awareness-raising events, are a more personal way to honor and interact with these places. They've been organized for other reasons in recent years, like supporting the Standing Rock Sioux's fight against the Dakota Access oil pipeline in 2016. Indigenous youth from the Hopi and Navajo tribes organized a 195-mile prayer run, Three Sisters for Bears Ears, in late December 2017 at the time the monument was shrunk. According to Martin, to run in prayer means to run for something other than yourself. "It's something unselfish and without ego," he says.
Still, this run wasn't absent an agenda. "We took a nonpolitical stance, but a major intention behind this was bringing our people together to work together, to raise our voices about what's going on in Bears Ears," says Brian Monongye, one of the run's organizers and the liaison for the Hopi Tribe. The future of the monument will play out in court. Various tribal groups filed three separate lawsuits against the Trump administration in late 2017, all of which question presidential authority under the Antiquities Act. The Hopi Tribe, Pueblo of Zuni, and Ute Mountain Ute Tribe—three of the five tribes that comprise the Bears Ears Inter-Tribal Coalition—all filed together. A coalition of other tribal groups and conservation organizations filed the two additional suits. All of the suits concerning the reduction of the monument were consolidated into one and will be heard together in court at an undetermined date and location.
According to Monongye, this puts the tribes in the position of having to demonstrate their claim to the land and prove to Western society that this is their homeland and that they have a long history and connection to it. "Nobody is going anywhere, so we've got to learn to live peacefully among each other," Monongye says. "And it really begins with the young people to break those barriers down."
On the first day, five runners huddled together on the side of a Forest Service road in New Mexico's Jemez Mountains on the Pueblo/Navajo route. They stood just where the paved road, which hugs the wall of a box canyon on the Rio Guadalupe, cedes to a dirt road that winds through a forest of ponderosas. When the first runner took off, a support vehicle—the de facto mile marker—zipped ahead to indicate the handoff point. There, the runner would pass a small black velvet pouch to the next person, who would then take off down the road. The pouch, belonging to 28-year-old Graham Biyáál, was filled with stones, shells, and other tokens of personal significance. Biyáál was sick and injured, knocking back cold medication and running with a limp, but this was still where he wanted to spend his spring break from college. "For me, my way of making my voice known is through my actions—covering these tracks and these miles and physically carrying those prayers from our homelands," Biyáál says.
The runners repeated that same process for 93 miles that day. And they did the same thing again for the next two days, only stopping to sleep on the floor of whichever Navajo Nation chapter house or community center opened their doors.
Beck Touchin handed out small bags of homemade snacks—dried fruits, venison, doughnuts—to incoming runners from the back of her red Dakota Sport, which she calls Red Rez Betty. "As indigenous people, when you see someone who doesn't have respect for what is important to you, on national TV and in the media, there's a lot of frustration and anxiety because you feel like there's nothing you can do," she says. "I mean, who's going to listen to me?" Touchin had participated in prayer runs before, but this was going to be her first time to Bears Ears. "The prayer run put my heart at ease. The healing part is to be able to touch it, to feel it, to experience it. And being here? It feels like home." Before returning to New Mexico's Laguna Pueblo, where she lives, Touchin would put more than 900 miles on her old truck.
On the second day, the Pueblo/Navajo route ran from Counselor to Shiprock, New Mexico. Many of the routes involved long stretches on the side of busy highways, and semi trucks regularly blazed by as Jasmine Felipe, 24, of Acoma Pueblo, popped headphones into her ears and started off down the shoulder of Highway 550. The only structures on the horizon belonged to oil refineries, fields of pump jacks slowly dipping their craned necks into the ground. "What I want is the respect of land, the respect of each other, the respect of culture and beliefs, and the respect of sacred sites," Felipe says. "Because they're not going to be here forever. And once you lose that identity, once you lose your culture and your sense of spirituality, I don't see the point of living."
At the end of the second day, as the route finished in Shiprock, the 7,200-foot peak of the same name came into view. The rock is sacred for the Navajo and rises abruptly and dramatically from the flat surrounding landscape. "We did once run all these lands. We did not used to travel by highway," says 33-year-old Alicia Littlebear, who organized this leg of the route. "As I'm doing this run, I'm not feeling any pain and I'm not feeling scared. These sacred sites are very special to us, and I would like people to know that and to not take these things away from us, not take it for granted, not develop that land."
On the third day, Martin led runners on the Zuni/Navajo route making their way north from Chinle Junction to Rock Point, Arizona. A group of fast high school runners—like, five-minute-mile fast—had joined for the day's miles. Many of them Martin knew through their involvement with Wings of America, and some were former Wings of America national team members. The routes all converged at dusk on the third day at a campsite in White Rock, Utah, near the San Juan River. From there, all of the tribes would run the final miles together. The wind blew almost constantly at camp, so people set up their personal tents inside a big twin-peaked circus tent set up on the edge of the dusty field. Still, everyone managed to wake up covered in a fine layer of dust that got between their teeth and into their morning oatmeal.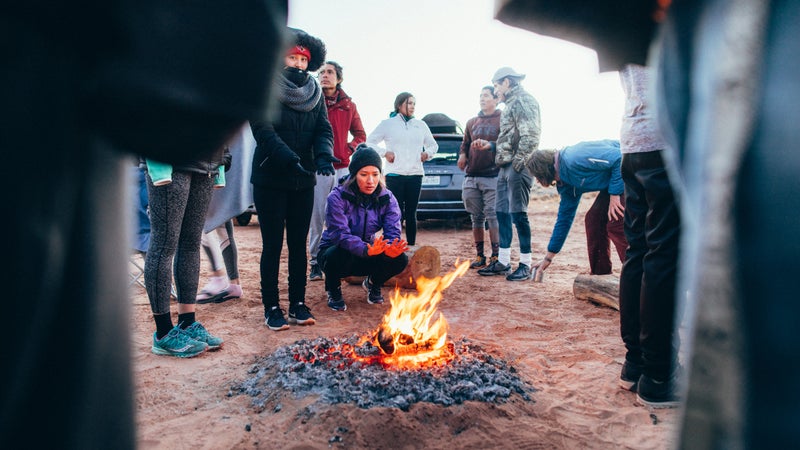 Regina Lopez-Whiteskunk, 48, former co-chair of the Bears Ears Inter-Tribal Coalition and former tribal leader of the Ute Mountain Ute Tribe, addressed a group around the campfire on the morning of the final leg of the run. She wore a black hooded sweatshirt that read "Regina, the Perfect Mix Between Princess and Warrior." "Holding a sign that said something derogatory wasn't ever us, but running this land and using it is us," she said.
The last 20 miles of the route to the final gathering site in Bears Ears wound through a wash on that dusty red-dirt road. Martin ran the entire 20 miles without stopping. Felipe had never run in her traditional dress and moccasins, but she did now. Many women had their hair tied back with yarn. Those in the front of the pack held staffs adorned with feathers—physical manifestations of the prayers they carried. Most wore tired smiles. Together, they arrived at a small clearing surrounded by trees and assembled into a large circle, where they'd stay for the next few hours as people spoke.
"Some people talked about this being an endpoint, but I like to think it's more of a beginning for us. If we forgot what this land meant to us, this reminded us of it. And if we never knew, then we learned something this week," Martin says. "I want to remind us all to pray for those people that don't understand why we're here. We need them on our side, and in our family, if we're truly going to be able to be stewards for this land."
A man and his two sons—all of whom were white—approached the circle from the road. The tension was palpable; some of the run's leaders mentioned they'd encountered some friction with the locals in San Juan County. The older of the boys announced that the group's vehicles were blocking their camper down the road, before turning to walk away. His father didn't follow, instead taking a few steps in toward the circle.
"Is it OK if I join you?" he asked.
Martin smiled.
Lead Photo: Forest Woodward