Boston: From the Finish Line
We had a handful of writers running the 117th Boston Marathon on Monday when a series of explosions rocked the city. Here are some of their stories.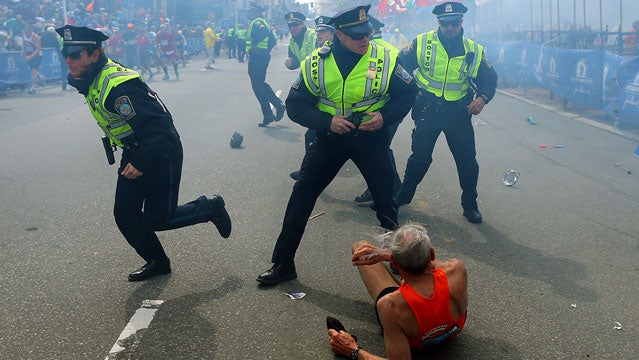 ASSOCIATED PRESS(Photo)
Heading out the door? Read this article on the new Outside+ app available now on iOS devices for members! Download the app.
Boston Marathon: From the Finish Line
.
From the Finish Line: 'Outside' Fitness Coach Erin Beresini
Beresini was just .3 miles from the finish line when the first bomb detonated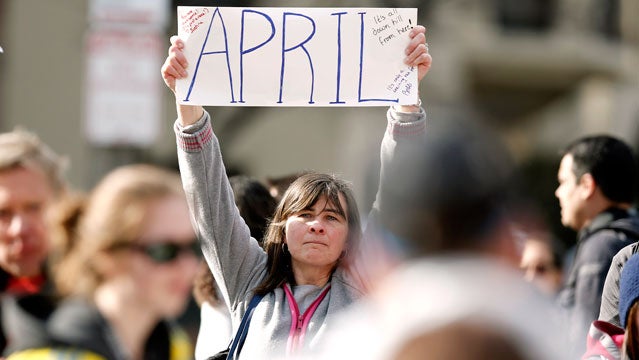 I was limping along the last mile of the course when police motorcycles zoomed east on the westbound lane of Commonwealth Avenue. I looked at the woman next to me and said that there must be a runner down. After a few more steps, we came to a small crowd of runners who had been stopped on Commonwealth just before the Massachusetts Avenue overpass. Nobody knew what was going on. Perhaps a someone had had a heart attack—but there were too many cop cars flying by to care for just one person. The runners carrying smartphones quickly spread the word that there was an explosion at the finish line.
Of course, all of our families would be waiting for us there, and I immediately thought about my husband, Jimmy, who had already finished. I asked the woman next to me if I could use her phone to send a text (calls, she said, weren't working).
Jimmy's all-clear came relatively quickly ("Thank god you weren't a mile faster," he wrote). The man sitting next to me wasn't as fortunate. He sat with his head in his hands as he waited for a return text.
As it turned out, Jimmy had also been lucky: He told me that he had been waiting at the finish for a while. He'd gone in search of water just as the bomb went off.
We didn't know at that point how bad the blast was, or what had caused it. News of the explosion was trickling in from spectators who had walked into our crowd of runners searching for family members. The spectators screamed names over and over. A little girl cried as she made her way through the crowd with her dad, looking for her mom.  
We were all still waiting for race officials to let us pass under Massachusetts Avenue so we could finish our race by jogging through the famous chicane memorialized on Boston Marathon t-shirts: "Right on Hereford, left on Boylston."
The officials didn't know what was going on. They told us to sit tight. Eventually one of them held up a loudspeaker while a man who was identified as the police chief spoke through it with an update: They weren't sure exactly what had happened. We were told we'd be brought water and space blankets to keep us warm as we waited to finish the race. Finally, after we'd waited for about 20 minutes, they told us it was over.
They let us walk under Massachusetts Avenue, but instead of turning right on Hereford, we were forced to turn left. Several of us took one look down Hereford, peeking at that last turn onto Boylston—the final stretch just out of reach. We had no idea what horrors lay around the corner.
Erin Beresini writes Outside's Fitness Coach column.
From the Finish Line: 'Outside' Gear Guy Bob Parks
Parks points out that most runners would have been expected to finish between 4 and 4.5 hours, or around the time of the explosions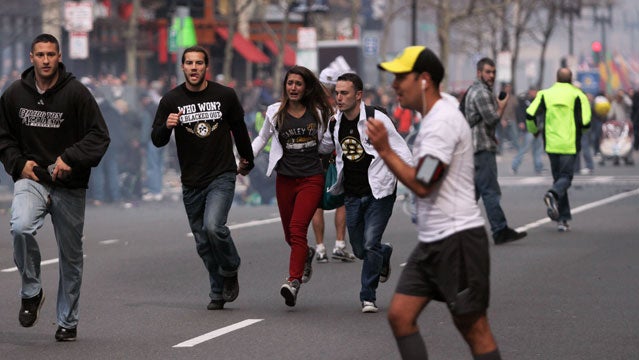 It was my first Boston Marathon, I had just finished, and I was trying to reach my wife. It was chaos—the typical crush at the finish line of any race. This being Boston, we were trying to get through a throng of thousands of people. I had agreed to meet her at Lord and Taylor on Boylston Street, which was basically the worst place you could be. The sidewalk was just packed with spectators
I got to within 25 feet of her, trying to find an opening, but I couldn't bring myself to push through.
All of a sudden, about 150 yards away from me, towards the finish line, there was a giant boom. Like the biggest firework boom on the Fourth of July. It rattled my stomach. Then the air filled with smoke.
It happened at 2:49 p.m. (I know that because I called my wife). It's sickening to think how many people were finishing just at that moment. The first wave started at 10:00 a.m., and most marathoners shoot to finish in that 4-hour slot. There must have been a stream of runners 20-wide coming down to the finish at that point.
There was one explosion, and people went crazy. They started stampeding over one another. A few guys were really authoritative trying to get people to calm down.
I saw the second explosion, and I thought I saw it come out of a building, but it was so big it was hard to tell.
As I drive my family out of Boston, I'm overwhelmed by sadness. It's so hard to be cynical about the Boston Marathon: At its base there are thousands and thousands of volunteers—so cheery and so friendly. They are such an incredible group of people—cheering on strangers, giving out blankets and water.
I wonder whether the runners who almost made it to the end got services after all hell broke loose. The stations and EMT services were all in disarray. It was kind of scary to see runners walking around without blankets or water and shivering in doorways.
Bob Parks writes Outside's Gear Guy column.
From the Finish Line: Writer Whitney Dreier
Dreier initially mistook the sound of the explosion for thunder. But when she looked up at the sky, she didn't see any clouds.
In 2008 my husband, Matt, and I both ran the Boston Marathon. We didn't know each other at the time, so when we married in 2010, going back to Boston was on our list of things to do together.
Monday's was a good, quick race for both of us. I ran a 3:23:41, just 34 seconds off my personal best, and Matt finished in fewer than four hours—quite impressive considering he hadn't trained.
Just after I finished, we met up at the family meeting area, which is a block from the finish, and had been sitting there for 15-20 minutes when we heard this boom. I thought it was thunder at first. It was this really deep, rolling sound, and we all kind of looked at each other. Then we looked at the sky. There weren't any clouds, so we made our way back to the hotel, about 10 minutes away.
As we got closer, we heard sirens, and there were helicopters and police cars and stopped traffic. Running a marathon always leaves things feeling a bit surreal, so all of this was particularly hard to process. It wasn't till we got back to the hotel room and turned on the news that we got the extent of it.
It's kind of scary the impact this will have on future races. The London Marathon is next week and they're already talking about lockdown security.
Marathons are a celebration—people work for months or years to prepare. There were 27,000 runners, the majority from out of town, plus their families at the race. A lot of hotels in that area have been evacuated, so they're not sure where to go. Flights might be delayed. And there were some 13,000 people that weren't able to finish today. It's so sad to think that what was the culmination of so much work for so many people turned into such a nightmare.
Whitney Dreier is a freelance writer and editor based out of Los Alamos, New Mexico.
Lead Photo: ASSOCIATED PRESS
Trending on Outside Online