In Stride
A Brief History of the Sub-4-Minute Mile
Another high schooler just went under four, which inspired us to trace the milestone's roots, starting with Roger Bannister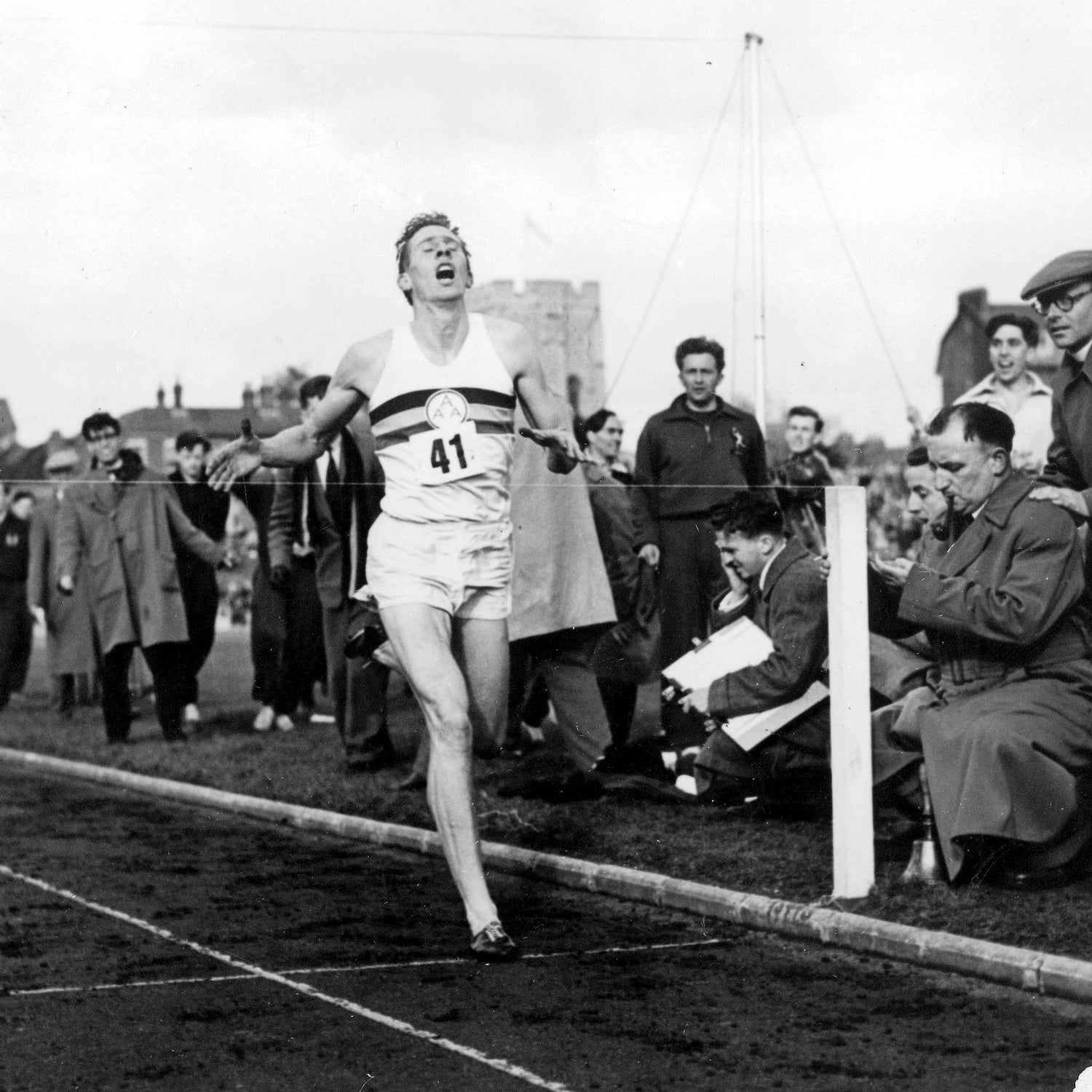 Bentley Archive /Popperfoto/Getty
Heading out the door? Read this article on the new Outside+ app available now on iOS devices for members! Download the app.
In early June, Reed Brown, a Texas high school senior, became the tenth U.S. high schooler in history to run the mile in under four minutes. In so doing, he joined a once-exclusive club whose membership has doubled in the last three years.
Once upon a time, the four-minute mile seemed as elusive as the two-hour marathon barrier is now—particularly for a teenager. When Lukas Verzbicas accomplished the feat in 2011, he was only the fifth high school athlete to go sub-four since Jim Ryun first did it in 1965. Now, including Brown, five high schoolers have done it since 2015. (This is all the more astounding when you consider that not a single high schooler managed to break four from 1967 to 2001.) 
 
And it's not just the kids who seem to be running faster these days. According to a Track & Field News list, 487 Americans had run a sub-four-minute mile as of June 3, 2017, and 2016 was the year with the most new additions to the list (27), followed by 2015 (24), 2013 (23), and 2012 (also 23). At this point, it's almost more surprising to hear about prominent male American distance runners who haven't gone sub-four. (Not that we'd ever needlessly expose such accomplished athletes as Ryan Hall, Meb Keflezighi, or Dathan Ritzenhein, but…)
 
In honor of this recent glut of middle-distance speedsters, here's a brief chronology of notable dates and accomplishments in the history of the sub-four-minute mile.
---
May 6, 1954: Paced by his friends Chris Brasher and Chris Chataway, 25-year-old medical student Roger Bannister runs 3:59.4 on the Iffley Road Track in Oxford, England, becoming the first human to run a sub four-minute mile. (The track has since been renamed the Roger Bannister Running Track.)
 
June 21, 1954: Less than six weeks after Bannister's historic feat, Australian John Landy runs 3:58 at a track meet in Finland, throwing down the gauntlet.
 
August 7, 1954: The Empire Games in Vancouver, Canada, pits the two titans against one another in an event billed the "Miracle Mile." Bannister outkicks Landry to win the first race where two men run under four minutes. Unfortunately for Landry, the moment when Bannister passed him on the final turn is immortalized in a bronze statue.
 
June 1, 1957: Don Bowden becomes the first American to go sub-four, running 3:58.7 in Stockton, California.
 
June 5, 1964: Jim Ryun, a 17-year-old junior at Wichita East High School in Kansas, becomes the first high schooler to break the four-minute barrier. He would do it five more times before graduating, and still holds the second-fastest time ever run by a high school athlete (3:55.3). Ryun, who went on to win an Olympic silver medal in the 1,500 meters (Mexico City, '68) is also the only American to hold the world record in the mile during the sub-four era.
 
August 12, 1975: Twenty-one years after Bannister's transcendent run, John Walker of New Zealand becomes the first man to break 3:50, going 3:49.4 in Gothenburg, Sweden. Apparently, it took some time for the feat to sink in. In an interview, Walker recalls:  "It wasn't until I got back to the hotel room and settled down with a couple of beers that the phone started ringing from all over the world—then I realized what I'd done."
 
July 17, 1979: Future IAAF president Sebastian Coe sets a new mile world record (3:48.95) and initiates what would become a decade of British dominance in the mile. Coe later lost and regained (and then lost and regained again) his record to arch-rival Steve Ovett. Between the two of them, Ovett and Coe went on to win six Olympic medals at the '80 and '84 Olympic Games, in the 800 and 1,500 meters.
 
July 7, 1999: At the Golden Gala track meet in Rome, Moroccan Hicham El Guerrouj (3:43.13) narrowly edges out Noah Ngeny (3:43.40) of Kenya, when the two men run what remain the first and second fastest mile times ever recorded. A year later, Ngeny returned the favor by pulling off a huge upset and passing El Guerrouj in the final meters of the 1,500-meter Olympic final. Consolation for El Guerrouj: two golds (1,500 meters, 5,000 meters) at the 2004 Olympics. Also, seven of the top-ten fastest mile times ever run.
 
May 25, 2001: At the Prefontaine Classic in Eugene, Oregon, Alan Webb, a senior South Lakes High School in Virginia, runs 3:53.43 to break Jim Ryun's 36-year-old record. As a professional, in 2007, Webb went on to set the current U.S. mile record: 3:46.91.
 
May 27, 2017: At the Prefontaine Classic, 16-year-old Norwegian Jakob Ingebrigtsen (3:58.07) becomes the youngest person ever to run a sub four-minute mile. Remarkably, he had two older brothers competing at the same meet, both of whom also ran sub-four. 
Lead Photo: Bentley Archive /Popperfoto/Getty