Camille Herron Keeps Running Faster and Farther
Champion ultrarunner rolls into 2023 with a new sponsor and new goals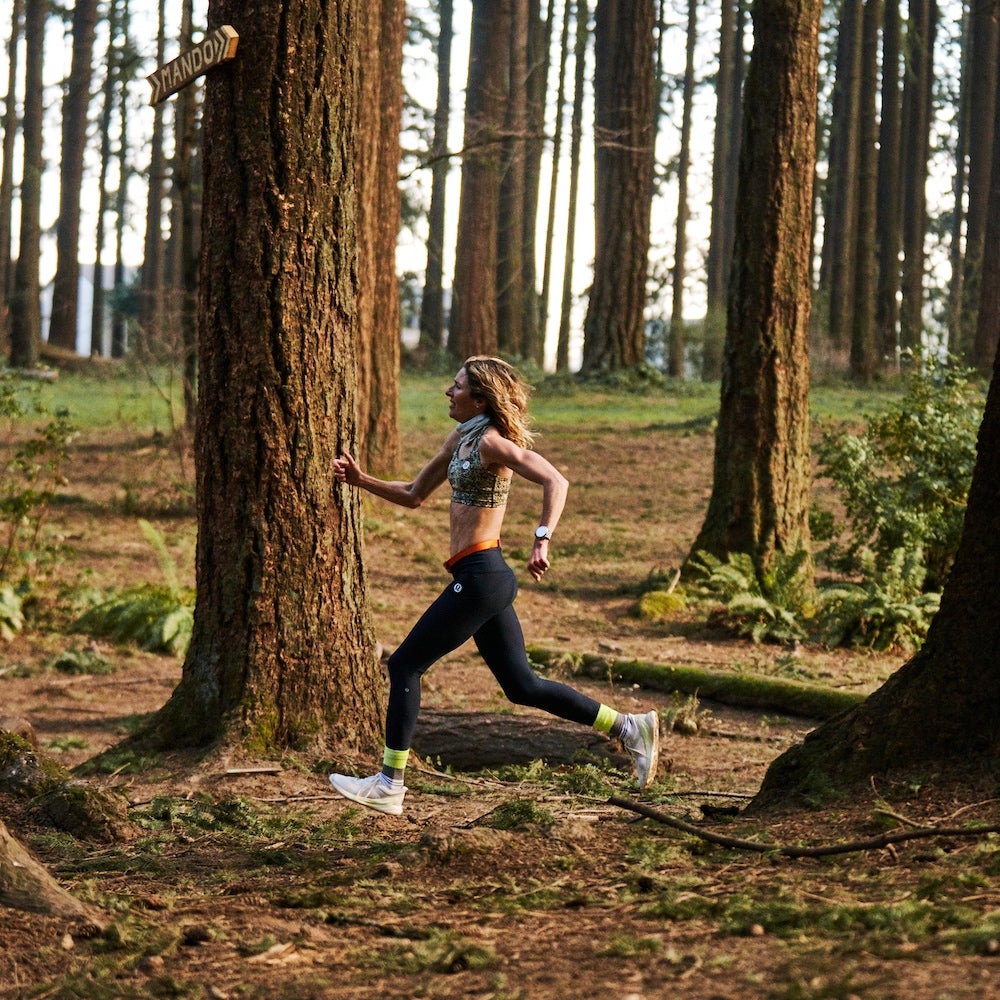 Heading out the door? Read this article on the new Outside+ app available now on iOS devices for members! Download the app.
When it comes to running, Camille Herron has always boldly looked ahead without limitations.
With boundless enthusiasm and fierce competitiveness, the 41-year-old ultrarunner from Warr Acres, Oklahoma, has developed an uncanny knack for pushing her body at fast paces for long periods of time and competing head-to-head with men. And she typically does it with a happy-go-lucky attitude and a vivacious laugh.
Herron has displayed on dozens of occasions that she possesses a special mix of physical, mental, and emotional tenacity—as well as plenty of zany, think-outside-the-box gumption—en route to winning some of the world's most prestigious ultra-distance races and earning several long-distance world championships.
She's also set numerous ultrarunning world records by running repetitively on short loop courses or public tracks—settings that most runners would consider to be harshly monotonous—and often winning those events outright, beating all male competitors in the process.
RELATED: Camille Herron's Advice: Skip the Long Run
Herron will be back at it again on February 18, as she toes the line at The Raven 24-Hour Ultra in Mount Pleasant, South Carolina, wearing a bright green tank top, fluorescent pink shorts, and neon yellow socks—performance gear made by Lululemon, her new primary brand partner.
"I'll be channeling my inner watermelon," Herron says with a laugh, after explaining her outfit. "Yeah, I'm ready to rip. I'm super excited to give it another go and see what I can do."
In an event that includes 28 runners ranging in age from 18 to 76, Herron will be running 400-meter loops around a track, averaging 7:35 mile pace, with an aim of surpassing the women's world records for both the 12-hour (94.8 miles) and 100-mile (12 hours, 42 minutes, 40 seconds) distances.
Running Past Controversy
Herron didn't expect to give it another go at the 12-hour and 100-mile marks after setting what she thought were new world records for those categories exactly a year ago at the Jackpot Ultra Running Festival in Henderson, Las Vegas. In an event that doubled as the 2022 USA Track & Field 100-Mile Championship, Herron won the race outright in 12:41:10, finishing well ahead of runner-up Arlen Glick (13:10:25). Her effort that day was almost 90 seconds faster than the existing women's 100-mile world record that she set in 2017.
But even before the dust settled on that event, there was controversy about the official length of the course, because co-race director Ken Rubeli had allegedly modified a turn on the loop around Cornerstone Park for safety reasons after a construction project got in the way of the originally measured course.
For reasons that are still unclear, the course was subsequently re-measured three times over the next eight months—including once during the race—only to come up with three different lengths that were either longer or shorter than 100 miles. The final measurement, done last October without Rubeli or the original course certifier present, apparently determined the course that Herron ran was 716 feet (about 218 meters) short.
While that negated the possibility of Herron's 100-mile record being submitted for ratification, it did determine that she had apparently set a new 12-hour record of 93.9 miles (or 151.111 kilometers). But just as Herron and her husband and coach Conor Holt were going to submit that record for ratification, Polish runner Dominika Stelmach surpassed that mark by running 94.8 miles at a race in Tel Aviv, Israel, on January 5. Neither of those runs have yet been ratified, so technically the existing world record is still Herron's own mark of 92.67 miles she set back in 2017. But Herron is hoping to run at least 94.9 miles this weekend, in South Carolina, to set a new mark free and clear of the previous efforts.
Herron and Holt are still in the process of trying to get the Jackpot course discrepancies resolved—perhaps with help from an attorney to force yet another course re-measurement by two A-level certifiers with complete transparency and all parties present, including Fritz, the original measurer (as required by USATF regulations).
"There are still a lot more unknowns than knowns," Holt says. "They didn't take care of their business, and who's the victim? Camille is. And that's the sad thing. In this day and age, stuff like this should not happen. Hopefully they'll learn lessons from this and it won't happen this way in the future." While Herron and Holt are still bothered by the USATF incompetency surrounding that event, their unified wife-husband/athlete-coach bond allows them to continually look forward and focus on what's next.
"I did my part; I broke the world record," Herron says. "But at this point, it's more fuel for the fire. I feel like every time I race, I'm just going to try to smash another hundred."
Herron and Holt have worked with the Raven 24-Hour Ultra race director Diane Errington to make sure all of the details are in place ahead of time for a valid record attempt. At this point, the track's length has been certified and verified, drug-testing protocols are in place, and the weather forecast is favorable. All Herron has to do is show up and run.
But that's the easy part for Herron. She's been logging about 100 to 117 miles per week for the past two months in Oklahoma and says she recently ran her second-fastest 10K tempo run split up and down the steep road on Mount Scott, a 2,464-foot summit in the Wichita Mountains.
"I've done that workout a gazillion times, and I was really shocked to have one of my fastest climbing splits without even training for climbing," Herron says. "So that's kind of exciting thinking about what I'm going to do this weekend, and what I can do with more specific work for some of the things I have planned later this year."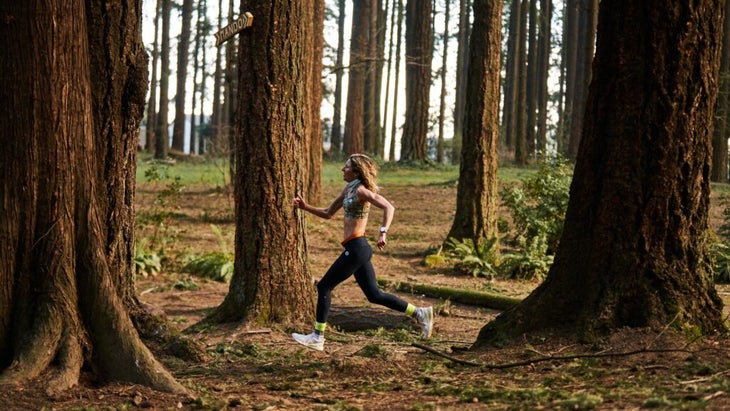 New Horizons
Partly because she takes care of her body and focuses on recovery, Herron has continued to get better and faster as she's gotten older. Beginning in her late 20s, she was focused on the marathon, qualifying for the U.S. Olympic Trials three times (2008, 2012, 2016) and running a personal best of 2:37:14 while finishing 26th in 2012.
But amid winning 21 marathons and earning a ninth-place finish at the Pan Am Games, she discovered she got better the longer she ran. Herron found immediate success in the ultra world, winning world titles for both 50K and 100K in 2015 and setting numerous world records, from 50 miles to 24 hours.
At her most recent record-setting extravaganza at the Desert Solstice Track Invitational on December 11, 2022, Herron set 11 new American records, including improving her own mark for 100 miles on a track (13:02:16, or 7:49 mile pace).
But despite her continued success, Herron, a four-time IAU International Ultrarunner of the Year, found herself changing primary brand partners at the end of last year as neither she nor Hoka could agree on a way forward.
As challenging as it initially was, it freed up Herron to connect with Lululemon in a partnership that presumably pays more money and has the potential to get behind her in more personalized ways. Although Lululemon launched its first running shoes in 2022, the deal allows Herron to wear whatever shoes she chooses, although, for the moment she won't give specifics about what models she'll be racing in. (And that's why she covers her shoes with tacos on Instagram.)
View this post on Instagram
Herron is the latest athlete with a strong personality to join Lululemon's ambassador collective along with Nikki Hiltz, Tara Davis, Hunter Woodhall, Colleen Quigley, and Mirna Valerio. Lululemon is appreciative that Herron is a record-setting athlete but, in its announcement about the new partnership, the brand highlighted Herron's vocal advocacy for women athletes and using her platform to foster dialogue on women's performance research, menstrual health, and access to sport as key connecting points.
"I am grateful to have Lululemon supporting me and getting behind women athletes and really celebrating our achievements and appreciating us and caring about the whole human and not just the athlete," says Herron, who has a masters degree in exercise and sports science, and has worked as a research assistant in the bone imaging/osteoimmunology field at the University of Oklahoma Health Sciences Center before becoming a full-time runner a few years ago.
Herron has earned huge respect from her peers in the sport—women and men alike—for her bold racing aspirations and how she competes while constantly challenging gender norms, says ultrarunner Alyssa Clark.
"I think it's not so much about her not seeing gender, but more just being like, 'Why can't I be here?'" Clark says. "I think that she's really honest about going after her goals and putting them out there. I think so often, women are not encouraged to do that. I think that she is such an amazing advocate in that regard for saying, 'No, this is what I'm trying to do, and I might fail at it. I might succeed. Either one is OK, but I'm going to keep doing my best and also say out loud what I'm trying to do.'"
No matter how fast or far she runs this weekend, Herron has her sights set on several other big goals later this year. By the spring, she'll be gearing up for both the Western States 100 in California, June 24, and the Leadville 100 in Colorado, August 19, a daunting double that American running legend Ann Trason claimed tandem victories on three occasions from the late 1980s to the mid-1990s when ultrarunning was in its infancy.
After two Western States DNFs and a 26th-place finish in 2021, Herron finished eighth at Western States last year. However, she's never run the high-altitude 100-miler in Leadville, but she's also never been shy of taking on new challenges. Herron would like to return to the IAU 24-Hour World Championships in the fall to defend the title she won in 2019, and in the near future, challenge world records—women's or men's records—for 48 hours and six days.
"I really want to keep going and keep pushing," says Herron. "I think that we're going to continue to see barriers being broken and bars raised. I want to see how close I can get to the men's world records, or even exceed a men's world record. I really think the future is about being able to go longer and to find out what's possible for women."
Lead Photo: Courtesy Lululemon