In Stride
How Alexi Pappas Reinvents Herself
The track star turned filmmaker turned ultrarunner reflects on her ever-evolving relationship with the sport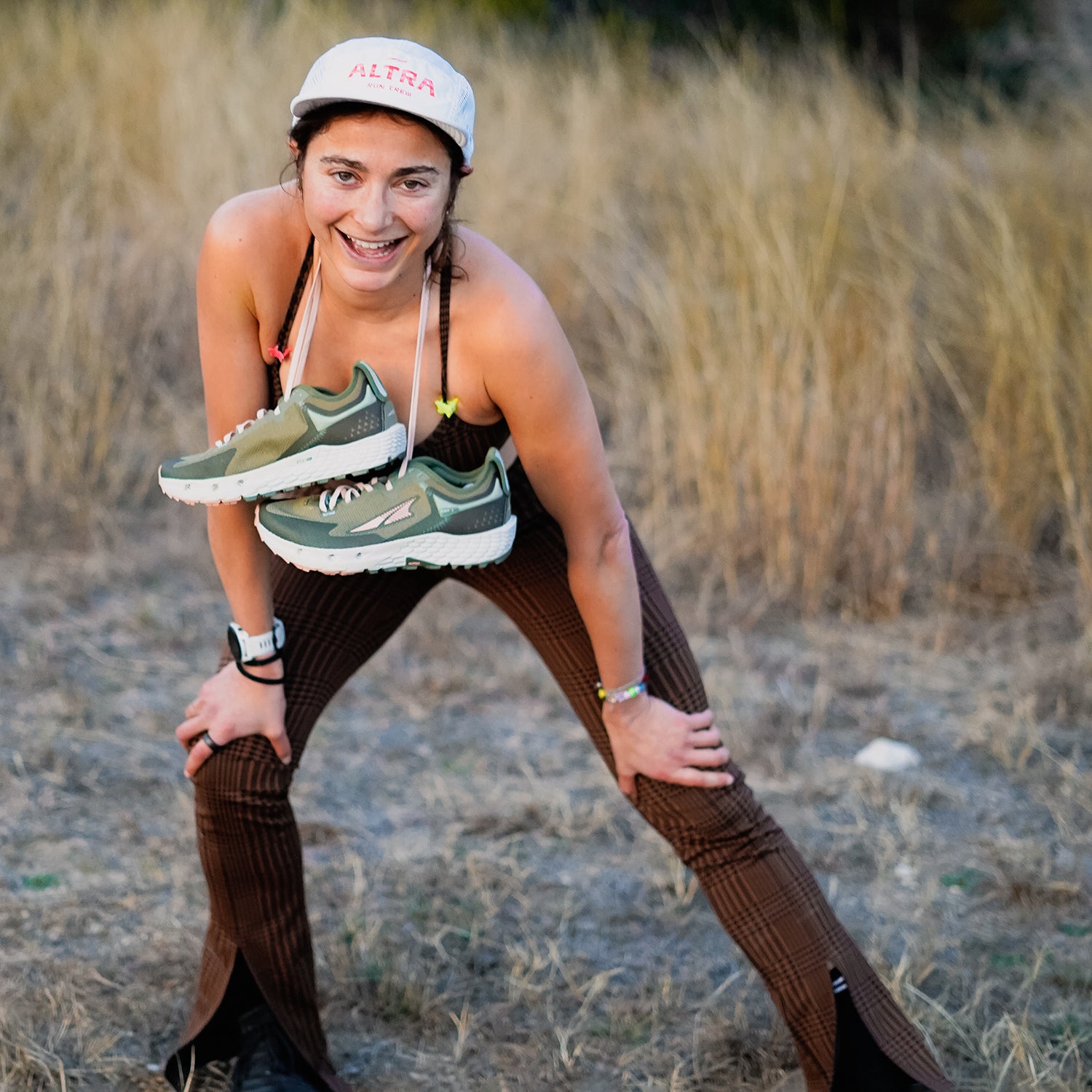 Altra Running/Mike McMonagle
Heading out the door? Read this article on the new Outside+ app available now on iOS devices for members! Download the app.
On the day before the Bandera Endurance Trail Race earlier this month, Olympic 10,000-meter runner and filmmaker Alexi Pappas decided that she wanted to change her entry from the 50K to the 100K. The race directors were accommodating, if a little surprised; it's more typical for entrants to move down in distance. Pappas's request seemed especially bold since she had only been jogging four or five miles a day in recent weeks and was, in her own words, pretty "undertrained for the 50K."
She ended up completing the course in twelve hours and eight minutes—good enough for a twelfth place finish in a women's race where the performance of the day was Courtney Dauwalter's record-breaking sub-nine hour finish. Afterwards, an exuberant Pappas took to Instagram to congratulate Dauwalter and gush about ultrarunning's all-in-this-together ethos. "The amount of comradery out there is a much welcomed refresh to the hyper competitive vibe in many sports," Pappas told her 128,000 followers.
At a time when the definition of what it means to be a professional runner seems to be shifting from a performance-centric model towards what might be described as personality-based marketing, Pappas represents the epitome of the new ideal. Although her athletic accomplishments are nothing to scoff at—she is a multiple NCAA All-American, and a 2016 Olympian for Greece—in recent years her creative endeavors have garnered more attention than her race results. Pappas, who is 32, has starred in three feature films since 2016, all of which she co-wrote and directed with her partner Jeremy Teicher. (She is currently directing a horror film.) After publishing a memoir in 2021 chronicling her struggles with depression, Pappas has become an outspoken mental health advocate.
But Pappas has not missed out on athletic sponsorships either. At present, she has partnerships with Altra, Oura, and the sunglasses brand Goodr, to name just a few. In a promotional collaboration with Mastercard, Pappas frolicked her way through the 2022 New York City Marathon dressed as a veiled ensemble of glitter and sequins.
I caught up with Pappas about how she views her current role in the sport. Our conversation has been edited and condensed.
OUTSIDE: On one level, being an endurance athlete is about managing a relationship to pain. As an Olympic-caliber track runner who has now run a couple ultras, how do these disciplines compare for you in terms of managing discomfort?
PAPPAS: In track, when you are really peaked and your coach has prepared you well, the pain is like a pretty expected guest at your dinner party. It's also a glamorous pain because you are right in front of people. You are on a stage. It's just like theater. You're wearing a costume when you're going around and around and it's all very public. In an ultra it's almost the exact opposite. Most of the race is not in front of people. And that was something that I actually really loved about this 100K because I knew that I was not trained for it and that my goal was to finish. In a way it felt like that private time with myself was so luxurious because it was like, "Oh my God, the longer this race takes me, the more I am in nature." But, also, people are feeding me every couple of miles. I will say that the race on Saturday was life-changing and one of the greatest experiences of my entire life.
Can you say more about how the race was life-changing?
It was just so cool that people weren't mad at me that I wasn't in first place. I know that sounds so weird but it felt like people were genuinely just proud of everybody. Especially in a post-Covid world, I mean I feel like performance is really cool and important but personal exploration, growth, human connection and being in the outdoors and giving yourself a day to explore . . . that's really very lovely.
On Instagram, you wrote that for you, running an ultra was a welcome reprieve from the hyper-competitive vibe of other sports. At the same time, in the past you've taken part in some of the most exclusive competitions in your sport, which is obviously very gratifying. Do you still think of yourself as a competitive person?
I honestly would say that me entering the 100K the day before the race off the very minimal running that I've been doing actually was a competitive decision. I was less prepared to run that 100K than I was to qualify for the Olympics and I was more scared the night before. I slept for like one hour. And I still get those itchies and scratchies that competitors feel, but it's not going to manifest in the same ways that it has in the past. For example, I guided for Lisa Thompson in the para athlete division of the Boston Marathon and you better believe that she wanted to win her race. She needed me and I took it really seriously. So I just channeled my competitiveness into being the best teammate for her.
In many ways, you represent a new model of professional athlete where sponsors are less concerned about performances and more about an athlete's general aura. Obviously, social media plays a big role here. But you also did your time in the old system of performance bonuses and reduction clauses. Can you talk about your personal evolution here?
I've been very thoughtful about my career. For me to have the credential of having been there at the very top, independent of my personality, was so important to me. Early on, I had the opportunity to sign with companies that were going to pay me more money than I was being paid by my track club to do the multi-hyphenate stuff. But that was before I had my Olympic credential, so I said no. It was a really hard decision, but I knew that the intangibles I was getting as part of being on those teams were going to get me to where I wanted to be in the running world. With the brands I work with now, I'm having a lot of fun because I'm not trying to protect what I used to have. A lot of sponsored athletes are in a defense game of: "How do I keep this?" But what's better is to be your most expressive, full self, and seeing where that might align with a company where you can help each other. A lot of runners are like: "When am I going to retire?" I'm like: "Why do we have to retire? Running is a sport that grows with you."
Going forward, how do you see yourself balancing your running and creative life?
Sometimes I think that if I ever got in shape again I would rip, because I'm so much more mentally strong now. But I really feel that we don't just need people to run fast times anymore. Don't get me wrong, it's so awesome that those people exist. But I think that my impact in the running world is much higher with what I am doing with my time right now. Girls quit sports at twice the rate of boys by age 14. Why? I think it's partially because they tend to think that sports are a polarizing decision where it's like you are either going to be an athlete when you grow up or you're not, so it's often causing them to not pursue sports at all. I think I can help imbue sports with a little more joie de vivre. Not that I'm giving up on performance; I still want to do shit that people are amazed by. But I'm also giving people permission to see themselves in sports in a different way that we've seen it, I think that's really a good thing.
Your dancing at the New York City Marathon seems like an example here. Do you think the division between "participatory" and "competitive" runners is sort of an unnecessary dichotomy?
I celebrate anybody who knows what they want and is going towards their North Star without trying to limit anybody else in whatever their pursuit is. I celebrated those girls that are competing to win the New York Marathon. I had this beautiful moment with Emma Bates where I blew her a kiss and she blew me one back and it was like: Right on, girl! And it was, like, that's what we really need: a feeling of abundance in the world. Where it's like: Yes, some people are chasing that time and, yes, some people are just thrilled to finish. Other people are going to run together. It's, like, who cares? This is all not life or death. There's room for all of us.
Corrections:
(01/20/2023) A previous version of this story incorrectly stated that Champion is one of Pappas's sponsors. She is not currently sponsored by the company. Outside regrets the error.
Lead Photo: Altra Running/Mike McMonagle
Trending on Outside Online