The Famous Millrose Games Delivers Speed, Records, and the Wanamaker Mile
American Yared Nuguse scorches the track en route to winning the Wanamaker Mile at the Millrose Games, and other news from the track.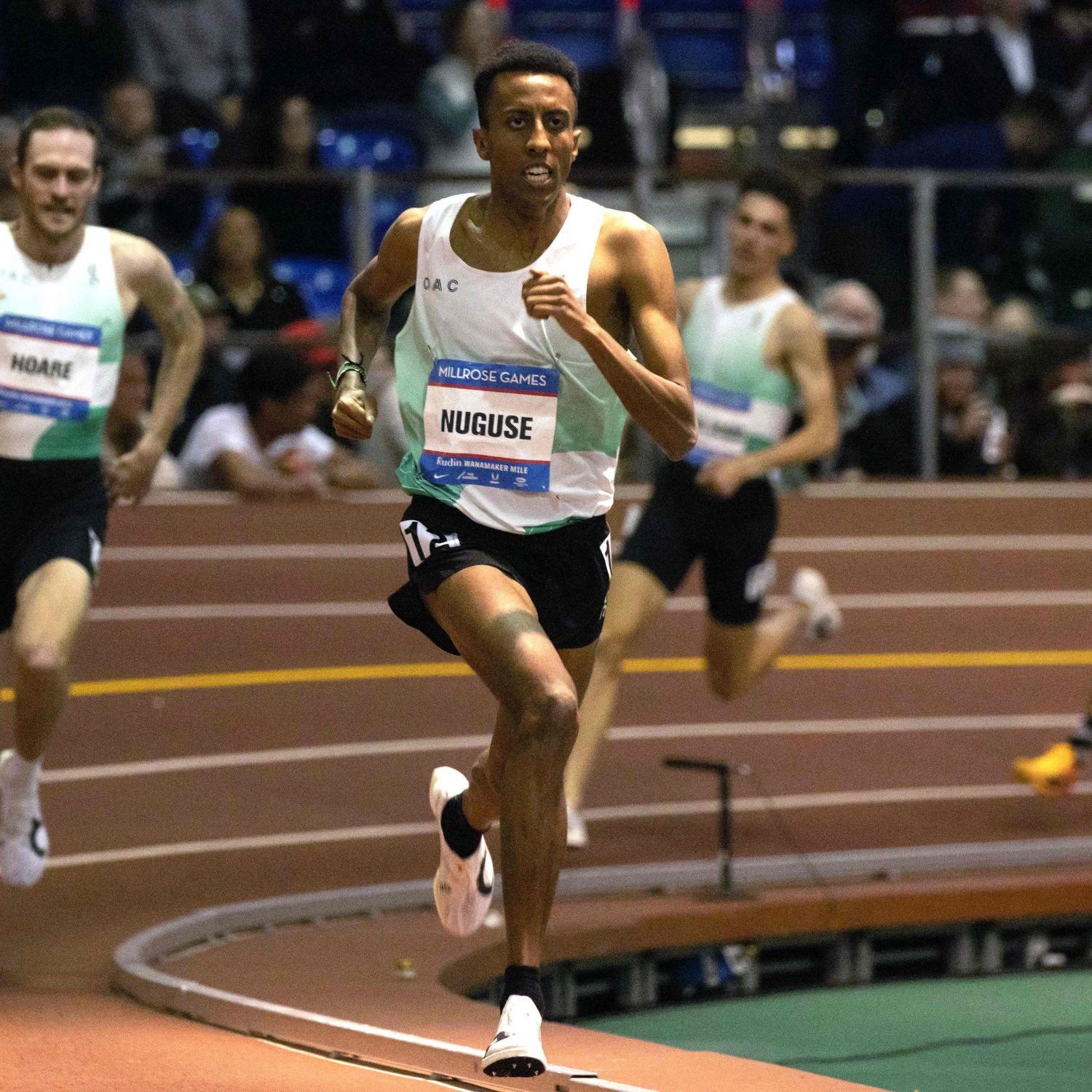 Heading out the door? Read this article on the new Outside+ app available now on iOS devices for members! Download the app.
After how fast and smooth Yared Nuguse ran late Saturday night in New York City, chasing the once celebrated 4-minute mile on the track might become passé.
With his dominating performance in the Wanamaker Mile, Nuguse might have signaled a new era in the classic imperial distance — the quest for the world's first sub-3:47 mile on an indoor track. The 23-year-old American middle-distance phenom and former Notre Dame standout sprinted away from a strong field to win the world's most famous indoor mile race in 3:47.38, the second-fastest time in history.
That eclipsed Bernard Lagat's American record by more than two seconds and came within a half a stride off of Ethiopian Yomif Kejelcha's 2019 world indoor record of 3:47.01.
In the final race of the 115th Millrose Games at The Armory Track & Field Center, Nuguse made it look relatively easy. The On Athletics Club runner charged ahead at the end of the penultimate lap of the eight-lap race, opened up a gap over the UK's Neil Gourley and OAC training partners Mario Garcia Romo of Spain and Oliver Hoare of Australia, then surged full speed ahead into the final lap.
Gourley was a distant second in 3:49.46 but still earned the sixth-fastest time in history, while Hoare (3:50.83), New Zealand's Samuel Tanner (3:51.70), and Romo (3:51.79) each set national records in what was one of the fastest indoor mile races ever run.
"Coming down the line, I thought it was kind of funny, there was one person kind of standing in front of the middle number of the clock, so I couldn't see how close I was [to the record]," Nuguse said.  "I thought I was close. To be that close was kind of interesting.  It shows me that next year … I might actually be able to get it."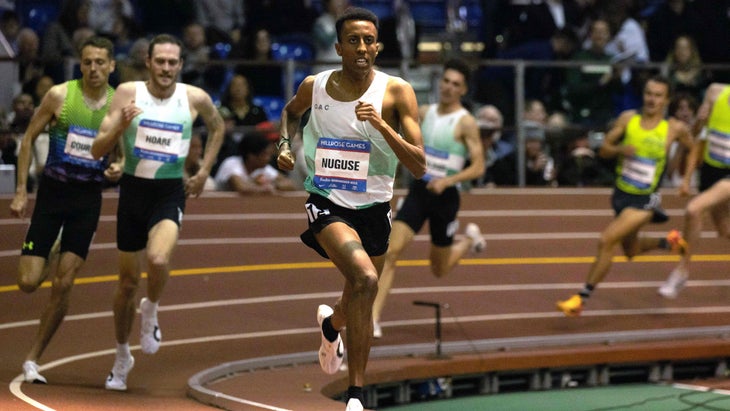 It's not that breaking 4 minutes isn't still a solid athletic feat of speed, endurance, and tenacity — it is indeed — it's just that it's much more common for elite-level and college runners in recent years, as well as for a select few elite high school runners. The combination of carbon-plated supershoes, more responsive track surfaces, and improved training have helped everyone — men and women — get much faster, especially indoors where wind and weather aren't negative factors.
Only nine men have ever broken 3:50 indoors, although six have done it in the past five years. Nuguse wore a pair of white and black On Cloudspike 1500m shoes, which include a layer of hyper-responsive foam and a carbon-fiber propulsion plate. In previous eras, track spikes had very little midsole foam and a firm plastic plate.
RELATED: The Science of Track and Field's New Super Spikes
How fast was the Wanamaker Mile? American Drew Hunter ran a new personal best time of 3:55.52 — the 13th fastest time in the world this year —  but finished only 10th in the race more and than 50 meters beyond Nuguse, who closed the race with a 54.3-second final 400.
"That last part I was just giving it everything I had," Nuguse said. "I was able to close in something crazy and get it. I'm super-happy to get that record. I'm always excited to see what I can do next."
The 2023 indoor season has been marked by numerous eye-opening times, especially in the mile. At the Terrier Valentine Invitational on February 10 in Boston, an astounding 52 men broke the 4-minute mark in six heats of the event — led by Amos Bartelsmeyer of Nike's Union Athletics Club winning in a German national record 3:50.45 (No. 12 all-time) and South Carolina's Moroccan-born Anaas Essayi (3:50.46) running the second-fastest time in NCAA history. That comes two weeks after eight University of Washington runners broke 4:00 in the same race on January 27 in Seattle.
All that fast racing has pushed the total number of sub-4 runners during the 2023 indoor season to more than 100, by far the most in any season. While there are a few more marquee mile races on the calendar — including the USATF Indoor Championships on February 17-18 and the NCAA Indoor Championships March 10-11 in Albuquerque — many elite runners are already preparing to shift to the outdoor season — which will feature the metric equivalent 1,500-meter race and not the mile.
Related: The Four Minute Mile Is Still Worth Celebrating
Other Notable Performances at The Millrose Games
Scotland's Laura Muir won the women's Wanamaker mile in a stellar 4:20.15 in the second-to-last race of the Millrose Games. It was a few strides off her personal best of 4:18.75 set in 2019, but it was the second-fastest time in the world this year.
Muir, a Nike athlete wearing a pair of pink Nike ZoomX Dragonfly Spikes, took an early lead but then got a strong fight from OAC runner Josette Andrews, who took the lead at the three-quarter mark and was still in front with 200 meters to go.
On the backstretch of the final lap, Muir went around Andrews with a furious kick — reminiscent of what she did while winning the Fifth Avenue Mile on the streets of New York City last September — and cruised to the win. Andrews held on for second in 4:20.88, while Great Britain's Katie Snowden was third in 4:21.19 and Canada's Lucia Stafford was fourth in 4:22.72.
"I felt strong on that last lap to go for it. I just had to keep calm and keep my composure and give it everything to the finish," said Muir, the 2020 Olympic silver medalist in the 1,500m. "It's an amazing feeling. I have never won anything as grand as this before."
Other top women's highlights were Ajeé Wilson's thrilling victory in the 600-meter run (1:24.85) and Alicia Monson's American record win in the 3,000-meter run (8:25.05), the sixth-fastest time in history.
In the women's 600, Wilson, the reigning world indoor 800-meter champion, allowed fast-starting Shamier Little to get a sizable one-second lead after the first 200 meters. Little is typically a 400-meter hurdler during the outdoor season but set a world-leading 1:24.65 in the 600m earlier in the season. Wilson didn't let Little get away, though, instead using her endurance strength to close down her rival in the final lap to win in 1:24.85.
The win extended Wilson's streak of 20 indoor races without being beaten and was the 19th consecutive win at The Armory since 2013 for the Adidas-sponsored runner. Wilson's time is the third-fastest in the world this year and the sixth-fastest in U.S. history, even though still not as fast as her 1:23.84 personal best.
"I like racing.  I like getting out there and mixing it up," Wilson said.  "I was super nervous today going against Shamier knowing how fast she's run this year already, and just her quarter (mile) speed and also her strength of running hurdles."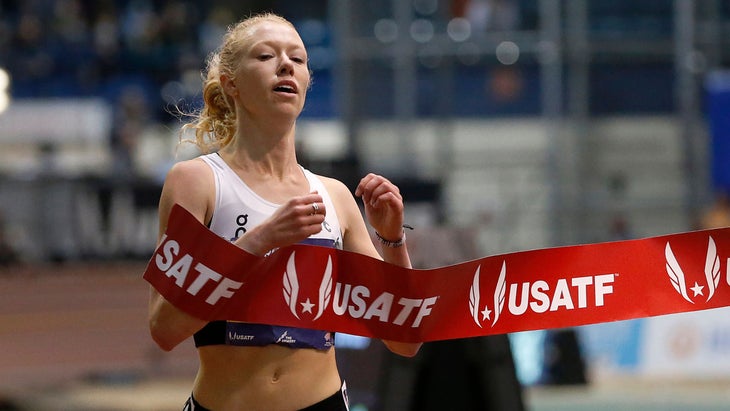 Monson, also a member of the OAC, took an early lead in the 3,000 and ran away from the field to eclipse the previous U.S. mark (8:25.70) set by Karissa Schweizer in 2020. American Whittni Morgan rallied in the last kilometer to move up to second in a career-best 8:30.13. North Carolina State's Katelyn Tuohy finished third, setting a new collegiate record of 8:35.20.
Although only 24, Monson has established herself as one of the top American distance runners from 3,000m to 10,000m over the past three years since turning pro.
"This was a goal that I've been working towards," Monson said of the record. "It feels good to actually do it. I think it's a good way to run just because I'm looking at us Americans being competitive on the world level."
Other men's highlights included 18-year-old Kenyan Noah Kibet of the Nike Union Athletics Club blazing the final lap of the men's 800m to win in a world-leading and personal best of 1:44.98. In the 3,000m, British runner Josh Kerr of the Brooks Beasts Track Club came from the middle of the pack to win the event in dominating fashion, setting a new meet and facility record of 7:33.47.
Lead Photo: Jamie Squire/Getty Images