Bernd Heinrich's Lessons from a Lifetime of Running
The legendary naturalist-ultrarunner discusses his highs and lows over decades of training, running a 50K at age 81 after a car accident, and what comes next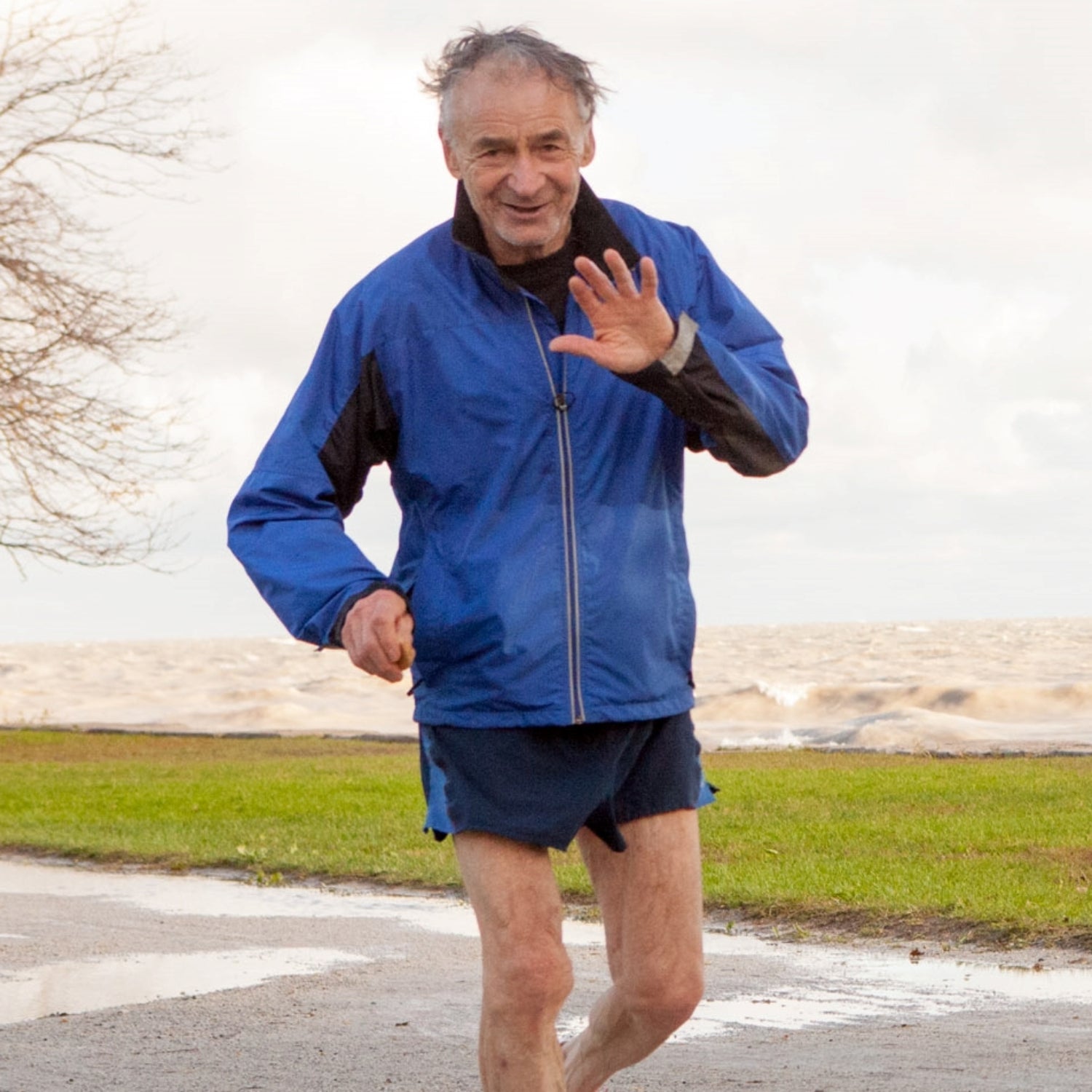 Matt O'Bryant
Heading out the door? Read this article on the new Outside+ app available now on iOS devices for members! Download the app.
Late last October, U.S. ultramarathon legend Bernd Heinrich, now 81, made a quiet trip to Chicago to reprise one of the greatest performances in American running history. Forty years ago, in October 1981, Heinrich entered the American Medical Joggers Association Chicago 100K, a multi-loop lakefront course. At the time, he was still unknown—his ultra prowess, zoology fieldwork, and naturalist writings have only made him something of a fabled character in running circles over the past few decades.
Chicago was Heinrich's first attempt at the 62.2-mile distance, and he emerged with the still standing American masters record of 6:38:21. That amounts to covering two marathons plus ten miles at an average pace of 6:24 per mile. The current American open record, set one year ago by Jim Walmsley, is 6:27:44—only 11 minutes faster than Heinrich's mark.
Heinrich's 100K record didn't come easily. Reflecting on the effort in his 2001 classic Why We Run, he wrote of the final stretch: "The universe is contracting, constricting. I've run several times around the globe for this opportunity, and I could still miss it by a second. If I don't run the next 100 yards as fast as possible, I will later experience a pain greater and longer-lasting than what I feel now."
Over the next four decades, Heinrich ran a handful of other impressive ultras. But his focus was fixed on establishing his academic career, primarily at the University of Vermont, where he is a professor emeritus in the biology department. He got married several times, fathered four children, and published more than a dozen books that are revered by professional and amateur naturalists alike.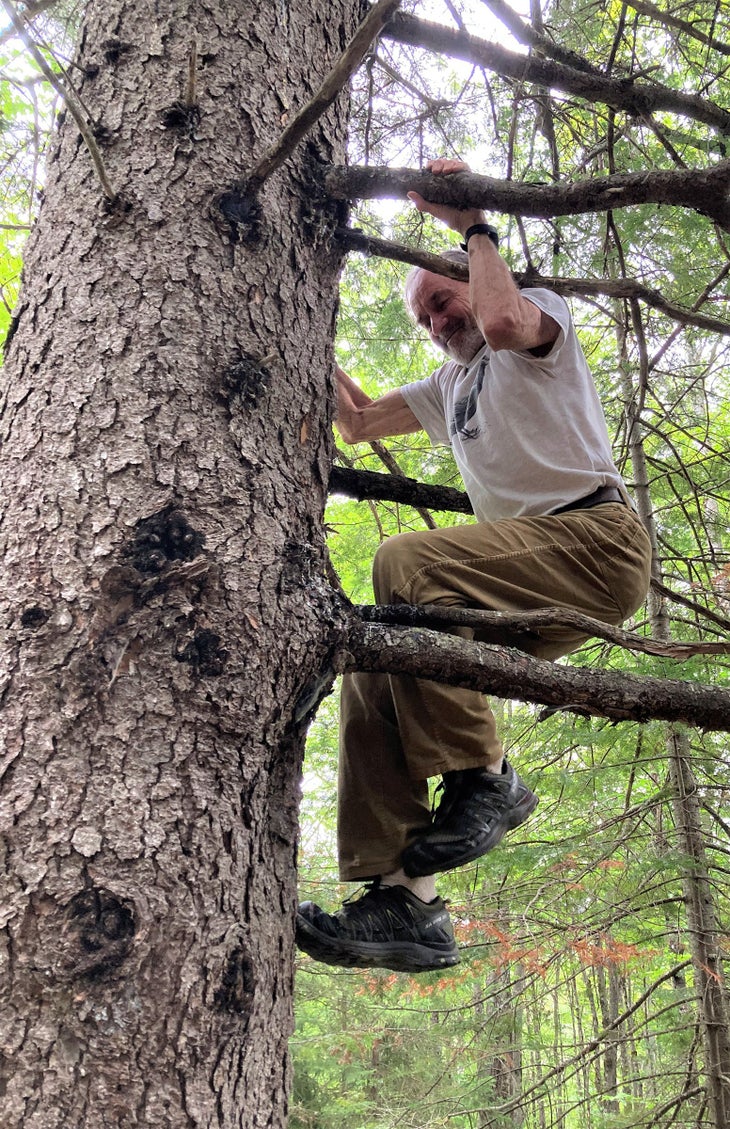 Heinrich's most recent book, Racing The Clock, was supposed to describe and dissect another ultra race that would more or less replicate his 1981 Chicago 100K. He wanted to explore how aging had changed him. But when COVID-19 erased most events in 2020, he chose to complete the book without his ultramarathon experiment.
That attempt finally happened when he made a last-minute entry into the Chicago Lakefront 50K last October, where he would run half the distance of the 1981 race, at twice the age of his initial feat. But he almost didn't get there. Exactly a month before the event, while driving his truck, he was hit by a speeding car. While his truck was a "total loss," Heinrich walked away with an arthritic knee and a dislocated shoulder. Restless in his cabin after a week, he slowly began jogging, eventually working his way up to 15 miles without concerning pain. Chicago was back on the table. "You only come around here once on the path of your life," he says. "I believed it would be so precious to me to do the race in Chicago."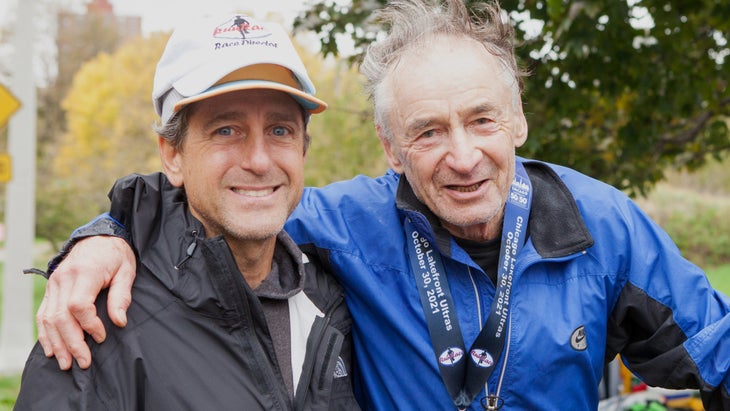 On a cold, blustery morning, Heinrich averaged 12:03 per mile for the 31.1-mile distance, finishing in 6:14:28. And while his return race didn't set any new records, he did win the 70+ division. (Ten days later, he suffered a loss of balance and was admitted to a hospital, where it was discovered that he'd incurred a brain injury from the September accident. After two brain surgeries and a long convalescence, he appears to be doing well.)
From his backwoods cabin in Maine, Heinrich spoke with us about his entry into ultrarunning, why he wanted to repeat his 1981 effort with a 50K, how he's approached running in his older years, and what he visualizes for the future.
---
Outside: Why did you decide to start running ultramarathons in the first place?
Heinrich: I'd run some marathons and noticed I did most of my passing near or at the end of the race. This was especially true for my fast-finish win in the 1979 San Francisco Marathon. That made me think I had untapped potential at long distances. I had recently passed 40 and did not want to grow old believing I might never achieve my full potential.
Why, in 2021, did you decide to more or less repeat what you'd done 40 years earlier?
I was curious about what would happen. As a comparative biologist, you're always looking at animals to see how they adapt. With human runners, there are population trends in performances over time, but you don't know if runners are getting slower from too little running, or too much, or why. I had always run, though different amounts at different times, and the Chicago 50K presented an opportunity for this "rat" to race another ultramarathon on essentially the same course where I had run my lifetime best race 40 years earlier. I felt I had to do it.
How was your training different from 40 years ago?
It was very different. I simply was not mentally, nor likely physically, able to do the same training. But that itself was part of the experiment. I did some running last summer at the same perceived effort as 1981. And I was hoping to be better prepared. Then, just when I got rolling a bit, everything was thrown off track by the car accident. At that point, I thought, OK, if I can do it now, the satisfaction will be all the sweeter. I only had to adjust my goals. It was no longer an experiment to see how fast I could run at my best, but what might be my best on low mileage.
How was the experience of actually running the 50K?
I knew my limits. I knew I had not trained nearly enough. And with a very swift wind sweeping in off the lake, I adapted the goal to just trying to run the whole thing and finish. When I found myself working hard in the middle, I knew the rest would be tough—and it was. In 1981, there were times during the last half of the race when I felt like I was flying. Not this time. I had to struggle to finish without walking.
What was the most training you did back in your peak years?
There were a couple of times when I aimed for 200 miles in a week and made it. After that, I decided to run maybe 100 to 150 miles a week and not get overtrained—at least not after just a few weeks. I never planned to run another ultra after the Chicago 100K in 1981. I needed to be able to see an end point to my ultras in order to proceed to the start and give it my all. Afterward I launched into the most productive and important years of my scientific career. The work I did was terribly exciting, for me at least, and also very physically taxing—from the high Arctic to the equator to the ravens. I had little time to run. Research is not like an ultra. You can't just stop in the middle. If you do, you have nothing at all.
What did you learn through your years of ultrarunning?
Gosh, I'm not sure about that one. I ran so few races. I hesitate to say I learned much about anything. All my big races were different, but it didn't seem to make a big difference in how I prepared. Maybe I learned that cranberry juice is the best fuel for me. I also learned that you need the fuel. My worst race was the Spartathlon in Greece, where I really screwed up because I didn't stop to eat or drink. One minute I was running smoothly and felt that I could go on forever. Then boom! It was over. My body was just like a car that had run out of gas. I had to drop out.
It doesn't seem that you've had many injuries during your career. More accidents than injuries.
Yes, that's right. I've mostly been injured by freak accidents like chopping wood, chasing deer through the forest, or the recent car accident. In California, during my very stressful academic years, I had a long spate of living with extremely painful joints. There were at least three times when I was told that I should seek a profession that didn't require as much physical exercise. But I was never injured by running. Running always seemed to cure me. Actually, I'm sure I had some injuries while running. They must have been minor, because I seem to have forgotten them.
Now that you're in your eighties, what's your view on aging and running?
Well, it's clear that slowing down with age is not just speculation, it's a biological reality. I'm sure there are ways to minimize it, just as there are ways to accelerate it. I think it's largely a matter of use versus abuse, and where the tipping points are. For me it's best to regularly engage in some sort of consistent running. For the greatest benefit, I need different distances, speeds, terrain, and scenery. I like to go by feel. Does it feel good? Then fine. Or does it feel killing? Then be careful, because maybe it is. I feel that my lifetime miles—70,000 or whatever they are—have not hurt me one bit yet. Not mentally, not physically. The mental controls the physical, anyway. There aren't two halves; there's only one whole. Biologically, if you don't use a muscle or a neuron, it atrophies. Sometimes that use might even involve discomfort, which is normal and natural.
You've said you motivated yourself in the Chicago 100K in 1981 by repeating some lines from the Cat Stevens song "Bitterblue": Cause I've been running a long time / On this traveling ground / Wishing hard to be free…. / I've done all one man can do. What did those words mean to you?
I felt that he was metaphorically, and in large part literally, singing about my life. He was talking about how utterly precious life is and also how it can be random at times. And so we should regard our opportunities as joyous events that are meant to be embraced fully. Because that's what they are.
In Why We Run, you wrote that humans are good distance runners because we can visualize an antelope hunt that won't be successful until several hours in the future, or a marathon finish line that's still 20 miles away. What are you now visualizing in your future?
That's a good question, and of course, I've asked it of myself many times. I'm aiming for another 20 years. I'm not thinking specifically about my running right now. There's so much else occupying me. Everything has its season. My main goal is to stay healthy. I'll run now and then, on a flexible schedule, and see how it goes. Otherwise, I believe we have to concentrate all our efforts on everything that exists already. I shall do my best to that end, whether we're talking about humans, chimpanzees, ravens, or bird of paradise plants. We need to protect the whole tightly integrated show on this glorious planet. It is, and will ever be, the only one we have in this universe.
Lead Photo: Matt O'Bryant