The Daily Rally
Joann Flaminio Believes in the Power of Doing Good
The kindness of a stranger helped the organizer for the Boston Marathon overcome tragedy. Now she wants to pass the gift along, every day.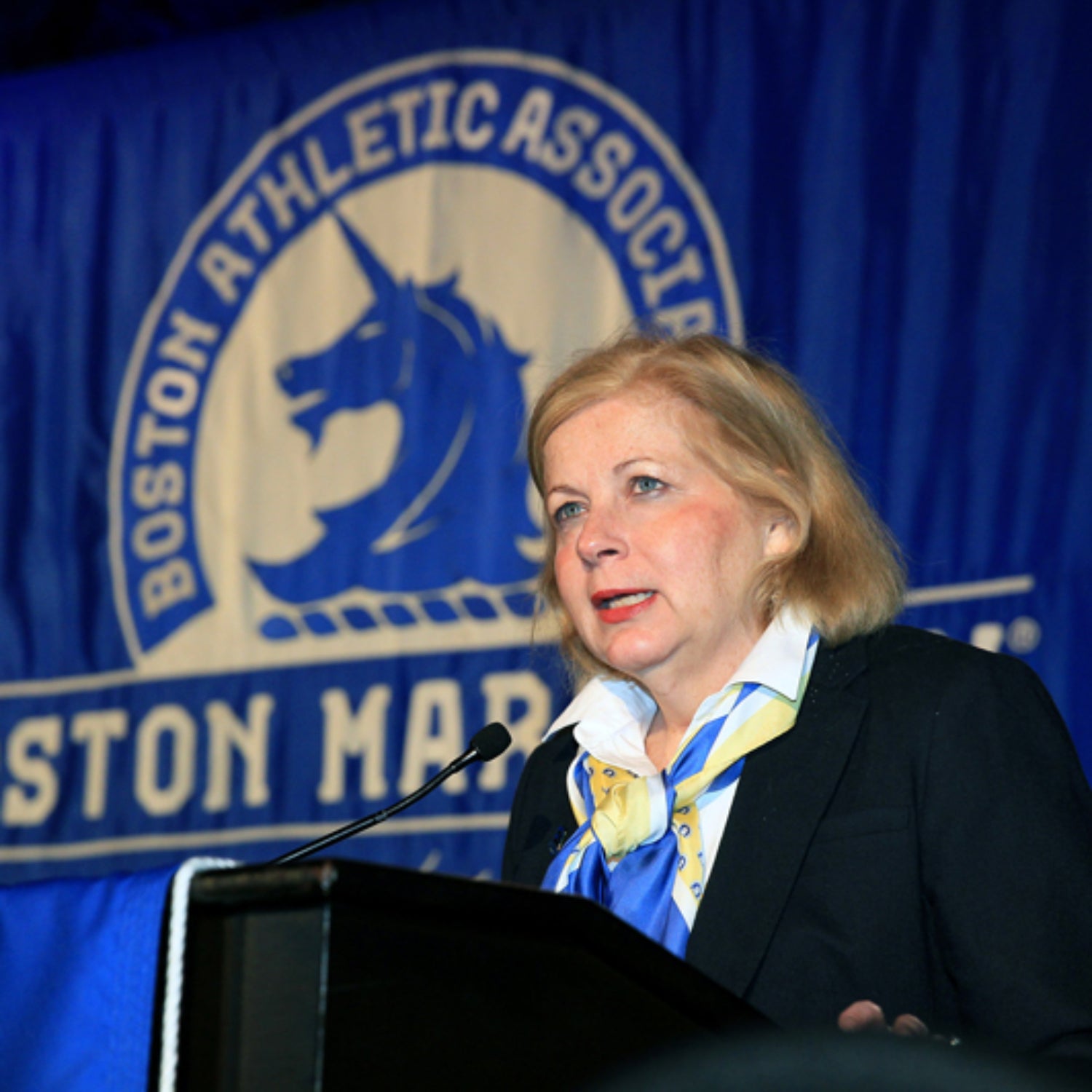 Heading out the door? Read this article on the new Outside+ app available now on iOS devices for members! Download the app.
Joann Flaminio shared her story with producer Stepfanie Aguilar for an episode of The Daily Rally podcast. It was edited for length and clarity.
It was just a very large, unnatural sound. And then I heard another one, and just instinctively I just knew something awful had happened.
My name is Joann Elizabeth Flaminio, and my nickname is Flame. Right now I'm in my home in Providence, Rhode Island. Although I'm no longer president of the Boston Athletic Association (BAA), I am still a member of the board of governors of the association of the marathon. I'm not a marathon runner, I'm a recreational runner at best. I help run the marathon—meaning administrative—and I know a lot about putting on the event.
In 2012, I went to the Summer Olympics to watch the men and the women's marathon. The 2012 London Olympics were efficient, modern, and just great. The only way you could get to an event was by using the London Underground.
The BAA treasurer and I were on the London Underground, and we started chatting with the people next to us, a lovely English couple and their kids who were also on their way to an event. We told them who we were. The dad said that he was an avid runner and would one day like to run a race like the Boston Marathon. At the end of our conversation, the treasurer gave him her card and said, let us know if you're ever interested in running.
The fellow's name was David Tribble.
It was a 20-minute conversation on a crowded subway on a hot August day. The very next year was April 15th, 2013. The Boston Marathon is a time when the whole city gets together, to watch the race. It's typically the end of winter, the beginning of spring, and it's a joyous day all around. It's a good day for the elite athletes who come from all over the world to run. It's a good day for amateur runners who have qualified to run this race and see it as the pinnacle of their running career. It's the longest continuously run marathon in the world.
On that day I was sitting in the grandstands, watching dreams come true. The sun was shining.The stands were very packed. So I decided to go back to our press room, just to check on things. I heard a large, unnatural sound, and I knew it had no place in what we were doing. And then I heard another one. I just knew something awful had happened.
I was transported to a secure room. I was locked in the hotel room because nobody could go in or out at that point. The TV was on, and so we started to watch the reporting, and then they described it as a bomb.
I was devastated. How could this have happened? I mean, it was a running race after all. And the most serious injuries were people who would no longer have an arm or a leg. To have their ability to do what they most cherished and wanted to do taken away from them was certainly heartbreaking.
I was just so worried about everything. I thought to myself, who's ever going to want to do this? What is going to happen to the Boston Marathon?
On the day after the bombings, my treasurer, the woman who I was with in London, came up to me and said, "Read this." It was an email, and here's what it said:
"Last summer when you were over for the Olympics, we met on the London Underground. You were good enough to offer me a place in the Boston Marathon. Here in the UK, we were all devastated at the bombing. London went through years of a bombing campaign, so we know something of the feelings you must be going through. Please know of our support and prayers for all of the Boston Marathon team, the city, rescue workers and medical workers, law enforcement agencies, and so the list grows. Boston is not alone. Around the world, many people are joining in support for you all. Signed, David Tribble."
Everything changed at that moment. I could not believe that email. Things became very clear to me after that. I scraped away the noise, the press, the confusion, the constant churning in my brain trying to make some sense of what had happened. There was good, and unfortunately there was evil. I quickly concluded after reading that email that there were more good people in the world than there were evil people, and everything was going to be OK.
I was able to continue and do everything I needed to do, with a feeling that we were resilient. We were strong. We will go on.
So, the very next year, all of those 5,600 runners were invited back by the Boston Athletic Association to finish an unfinished race. It was the greatest marathon of all time. It was a wonderful day. It was great weather. And Meb Keflezighi won the marathon. He's an American. It was the first time an American had won the marathon in many, many years. Striding down the street with such effort and such grace. Usually, people are very happy when people win, and they cheer. But there was something to that particular year and that particular win by him that was unbelievable. I've just never heard a roar like that before.
In the years since that happened, plenty of survivors have come back. They complete the race for themselves, for others, for a specific charity that they're now affiliated with. It wasn't easy for them. It wasn't easy for anybody. But they never gave up. And the Boston Marathon still remains probably the most cherished marathon for an amateur and elite marathoner.
I look at the letter all the time. It's a testament to what people say about little acts of kindness. Kindness rules the world. It really changed my outlook, and really made me feel better, for him to respond in that fashion and to take the time to write a note. I'm sure he thought he was only writing a note, but it really made a large, large impact on me and everybody who read it. It was life-affirming.
My message to everyone is simple. Carry through on your impulse to do something good every day. Do not underestimate it. Don't underestimate your act of kindness, because when you do something good and everybody else does something good, goodness multiplies. It serves as a counterbalance to the tough, tough situation we find ourselves in today in our country. Carry out on your impulse, because it matters. Kindness matters. Good matters.
You might say, Maybe I wouldn't do it. But do it. Kindness rules the world.
Joann Flaminio was the president of the Boston Athletic Association from 2011 to 2017 and is now a global advocate for 261 Fearless, a non-profit that works to create safe spaces for women to grow and learn through community running events. Outside is a proud partner of 261 Fearless, and in honor of Women's History Month we encourage you to join us in supporting them with a tax-deductible donation at pledgereg.com/261fearless.
Lead Photo: Courtesy Joann Flaminio