A Unique Program Is Inspiring Native Student Runners to Dream Big
The Wings of America Boston Pursuit program provides a life-changing opportunity for high schoolers to learn about college and experience a wider world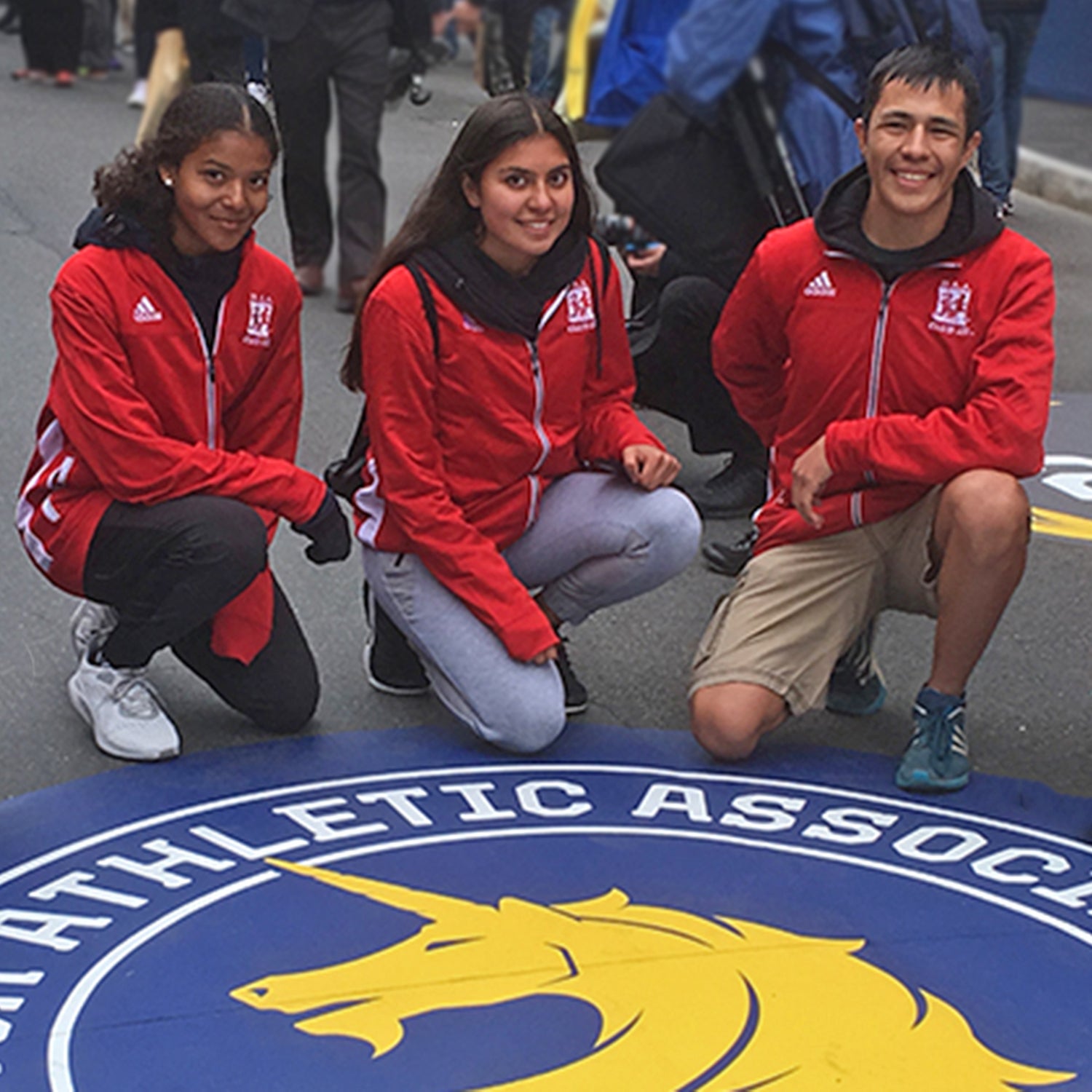 Courtesy Wings of America
Heading out the door? Read this article on the new Outside+ app available now on iOS devices for members! Download the app.
As a junior in high school, LaKyla Yazzie, of the Diné tribe, had rarely been outside of her small hometown of Kirtland, New Mexico. Apart from traveling to a couple of championship cross country races, her world was largely confined to the Four Corners region of the southwest. So getting an expense-paid trip to visit universities in Boston and watch the marathon was a big deal.
"That was my first experience of the real world," Yazzie, now a senior at UNLV, says about her 2018 Boston trip. "When we got to Boston, it was a huge culture shock—I had never seen so many nationalities at one time." Yazzie recalls marveling at how crowded the city was, how most people didn't own a car, the price of a small apartment, the lack of quiet, and that you couldn't see the stars at night. Staying in a dorm she observed how independent college students were, and, while it was hard to believe that she was only a year away from that situation, she decided the adult world was not all that scary. "That was the biggest takeaway," she says. "Stepping out of my comfort zone—it taught me how to do that and not be afraid.
But the trip was more than an urban cultural immersion, it also helped convince her that she could make it at college. A Harvard seminar about the application process, costs, and available funding—information she hadn't received from her small-school guidance counselor—allayed fears of being unable to pay for it. "I didn't want to go to college and be in debt," Yazzie says. "Before the trip, I thought, 'If I can't get scholarships, I'm not going to college.' Once I'd seen that there were scholarships available, I felt like, 'OK, I can do this.'"
This year, Wings of America, a non-profit that works to build healthy Native communities using youth running initiatives, will again select five American Indian high school juniors to join the Boston Marathon Pursuit program. Wings has been granted two Boston Marathon charity bibs to raise funds to pay for all travel, lodging, and meals during the four-day itinerary. Students will take part in college and museum visits, workshops on the realities of continuing their education, group runs, participate in the Boston Athletic Association 5K on Saturday, and view the marathon on Patriot's Day Monday.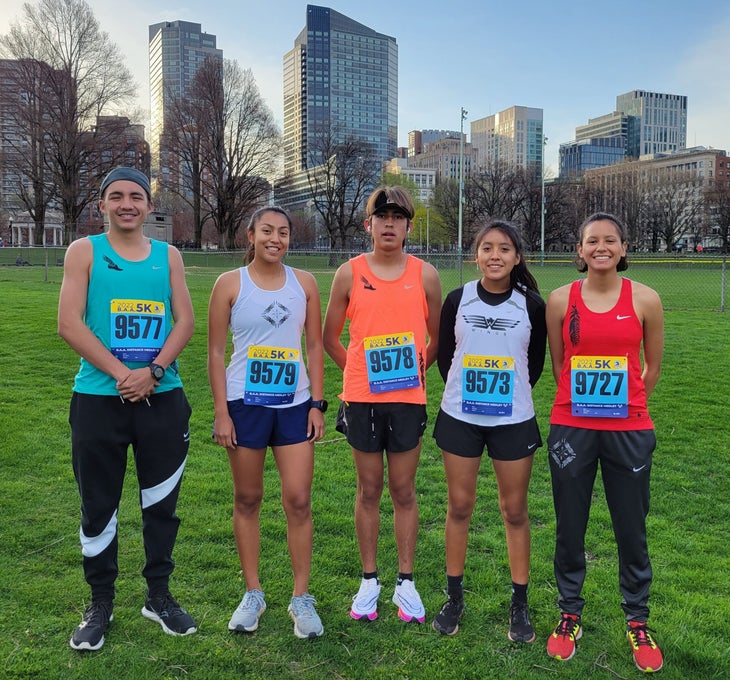 While the program revolves around one of the world's most competitive running events, the students don't need to be fast to participate—just passionate about running. The application process asks the students to describe their relationship with the sport: "Briefly explain the role running has played in your life thus far and how you envision the activity being a part of your practice as you grow older." Equally important, they need to tell why they want to attend college, the challenges they'll face, and how the Pursuit program might help them overcome those hurdles. And, finally, they're asked to research and write an essay on one of the Native champions in Boston history and why this runner inspires them.
It was the Native legacy at Boston that inspired the Pursuit program in the beginning. In 2016, to commemorate the 80th anniversary of Narragansett runner Ellison "Tarzan" Brown's first Boston victory (he won in 1936 and 1939), the B.A.A. and Harvard University invited the 1964 10,000m Olympic gold medalist Billy Mills (Oglala Lakota) to speak about his own path on the way to distance running legend. As part of the celebration of Tarzan's wins, Wings was asked to bring representatives of the newest generation of Native distance running champions. The "Pursuit" program aims to continue the conversations, learning opportunities, and inspiration of that 2016 celebration. After bringing groups to Boston in 2017-2019, the Pursuit Program was canceled in 2020 and 2021 due to COVID-19.
This year, two Native marathoners will be raising funds to support the student's travel, as well as serving as the chaperones for the trip: Courtney Lewis (Hopi and Fort Mojave) from Phoenix, Arizona, and Casey Long (Diné) from Gallup, New Mexico. Both runners have experienced the power of Wings programs personally. While in high school, Lewis ran on Wings teams at several USATF National Cross-County Championships, Long was a participant in a Wings summer running and fitness camp, and both have since served as facilitators at camps in their tribal communities.
Both runners are excited about the chance to give youth a wider perspective. "All of the things Wings does, they're an eye opener," Lewis says. "You never know what is out there unless you go explore. There's a stigma that kids never leave home on the res— There's nothing out there, it's such a different world. And it is. But through Wings, they're able to see all these different programs that are Native-led, to meet people and share their stories. It's empowering, that you as a Native American can go out and explore and do all these amazing things. It's a life-changing experience."
Long says, "To be given the opportunity to travel, at an early age, not only to a different state, but the other side of the country, is very unique."
This will be both runners' first Boston, and they're training hard to handle the hills. Lewis, in fact, has yet to run a marathon, but she has the creds to handle the distance, having gone straight from being a standout at Arizona State to running trail ultras. Long has run six other marathons, including Shiprock, Duke City, and New York City.
The students won't get to run the marathon, but will likely have some other memorable runs. During the last Pursuit trip, they visited the newly restored tribal homeland and reservation of the Mashpee Wampanoag Tribe, and ran together from their history and culture museum to tribal headquarters.
"It was very emotional and powerful, tribes from the southwest coming to the east coast," says Daan Haven, Wings program director who was a Pursuit runner/chaperone that year. "It was nice to make connections, to talk about how lucky we are to still come together as a community and be thankful for how running connects us. It's important to learn that running isn't just about competition but about connecting with others and running for your community and who you are."
Haven is thrilled to be part of the program again this year, helping a new group of young people have these types of rich experiences. "It's getting that perspective of a bigger world. It's making lifelong friends," she says.
"You never know," says Lewis, "which one of these kids will be inspired by the trip, and want to be their better selves so they can bring these things back on the reservation and be proud of who they are."
You can help create this opportunity for five young Native students this year by sponsoring Courtney Lewis or Casey Long at Wings Boston Pursuit.
Lead Photo: Courtesy Wings of America
Trending on Outside Online