Inside Lane: NCAA 800m Champion Bryce Hoppel's Undefeated Season
Bryce Hoppel shares how he got into the sport, his training and racing mindset, and his thoughts on chasing KU legends.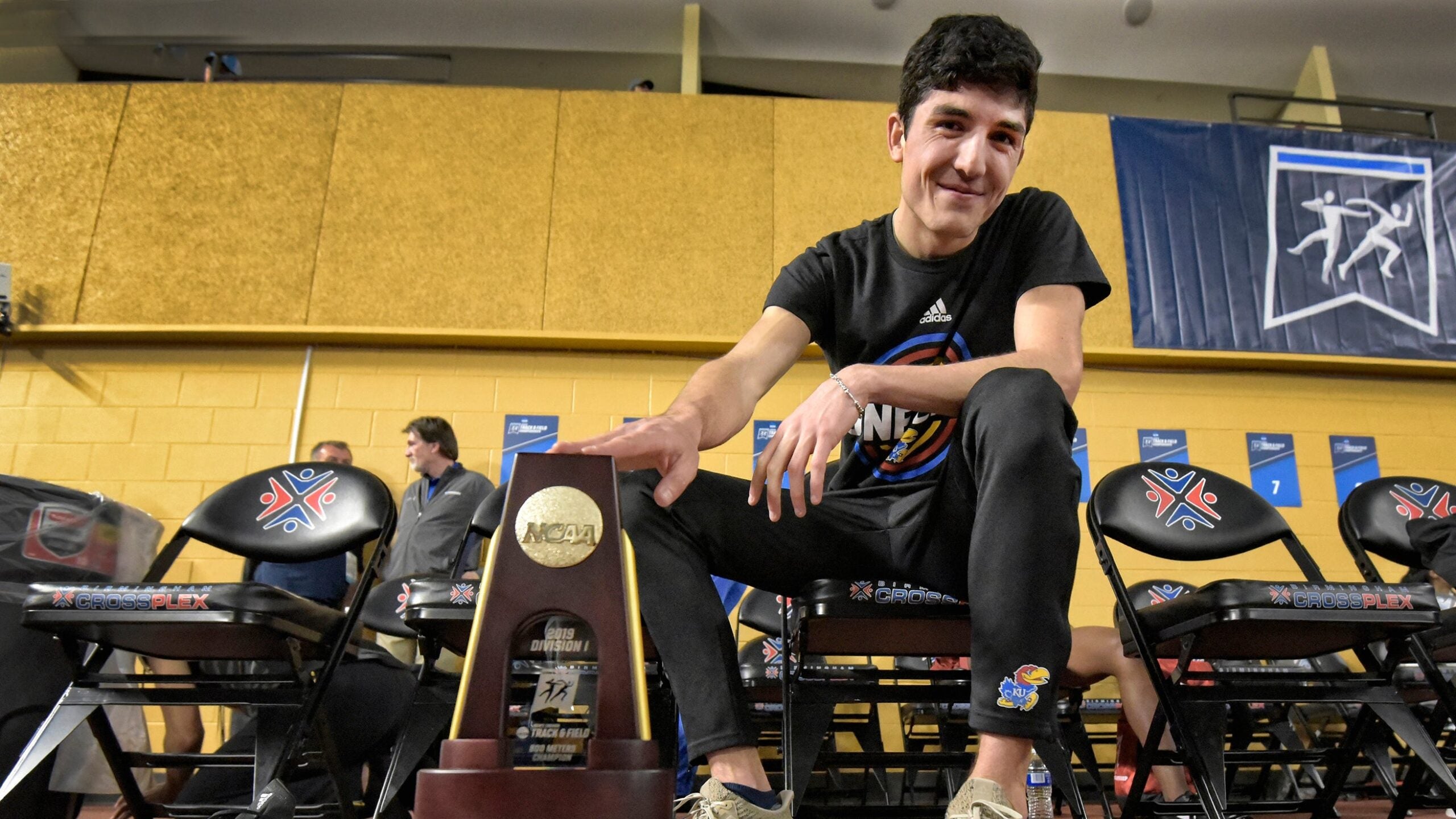 Heading out the door? Read this article on the new Outside+ app available now on iOS devices for members! Download the app.
The University of Kansas is famous for developing track and field legends. Billy Mills, the only American to win Olympic gold in the 10K, helped KU to back-to-back national championships in track and field in 1959 and 1960. Jim Ryun, the first prep sub-four miler, set world records and earned an Olympic silver medal as a student-athlete in the late 1960s.
Ryun's 1:44.3 hand-timed collegiate record in the 800m stood for 50 years before three men eclipsed it in the past three years, led by UTEP's Michael Saruni last year in 1:43.25.
A fourth man isn't far off. And he's a fellow Jayhawk.
In what is one of track and field's most notoriously brutal events, Kansas junior Bryce Hoppel launched an undefeated campaign this year. And by year, we mean not just this outdoor season—we literally mean the entire year. The Midland, Texas, native has not lost an 800m once in 2019, indoors or outdoors, racking up an astonishing 19-0 year record, two NCAA titles and a shiny new personal record of 1:44.41—which ranks him No. 5 on the all-time collegiate list and just a tenth of a second off Ryun's school record.
Outside of the NCAA, Hoppel is the second-fastest American this year and the sixth-fastest man in the world. He's run faster than the world and Olympic standards, and could very well qualify for the national team with a consistent showing at USAs in July.
Not bad for a kid from the west Texas plains.
We gave Hoppel a call in Lawrence last week to catch up on his whirlwind season and whether or not he'll break Ryun's school record before he turns pro.
You were an All-American last year (8th at NCAA indoors, 4th at NCAA outdoors), but made it to another level this year. What made the difference?
Maybe a little bit more focus. I built my confidence over time. That was the big jump… I always had my goals and got the feel of being at that level [of collegiate competition] my sophomore year. My fitness has always been around the same ballpark, but adding extra dedication and focus is what drove me to be better and better.
Have your workouts changed this season?
I'm on the lower end of mileage—usually at 55 [miles per week]. I do come from the strength side, doing cross country. My favorite thing to do is 800m-600m-1000m interval work with Coach Whittlesey on the track, but we also work in tempos here and there to build strength.
Is there a key workout that gave you confidence before NCAAs?
It was getting tough once it was coming up to [NCAAs]. I have to start working out on my own. I can't remember the specific intervals I was doing, but the aspect of being alone made me get into my thoughts and dig down. It's a lot harder than working with a group of guys.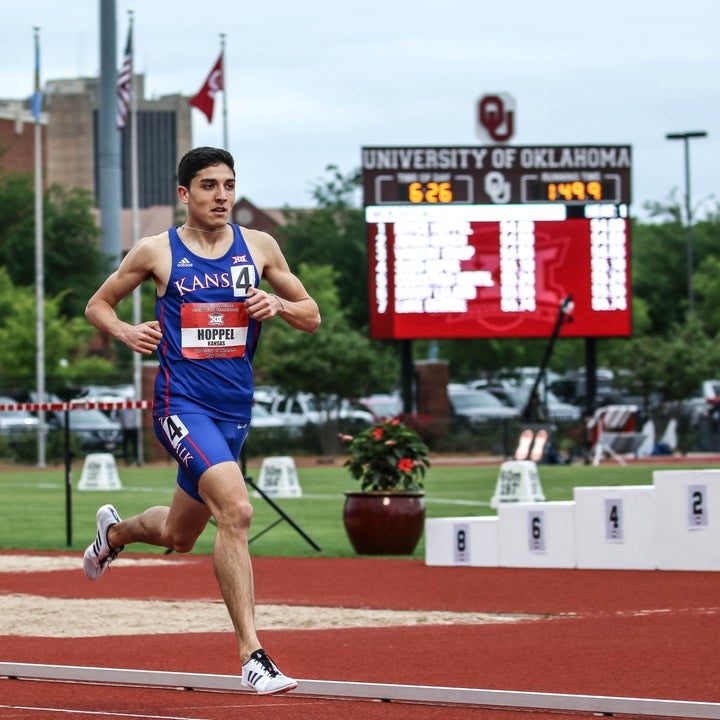 In the past few years, a lot of the top-ranked 800m runners in the NCAA (Donavan Brazier, Michael Saruni, Emmanuel Korir, Isaiah Harris) have turned pro early. Did you feel like there was a void open this year?
I viewed Michael Saruni as, dang, obviously, he's the college record holder. I always viewed him as a little out of reach. There was definitely a spot to be taken this season. I saw myself there and just went after it, but I don't want to discredit any of the athletes. We were all reaching for the same thing.
What was it like to win indoor nationals vs. outdoors?
Indoors was a little bit of a surprise for me. I saw myself at that level but I didn't know I was gonna win until I was coming into the last 50 meters and saw the finish line. I had more of a target on my back outdoors. There was a little more pressure, but I think [winning indoors] helped with my confidence and I also had the gimmick of the [winning] streak. That helped me build and go along with the outdoor title, which is a little more special for me because the premier season for track is outdoors.
What are you most proud of this season—your PR, national titles or the win streak?
They all come with each other. Obviously, the national title is one of the things that's most important. That gets a little more recognition. Personally, PRs is what we always go for. Now that I have a new benchmark, I want to keep pushing myself to see how fast I can go.
The perfect season doesn't exi–#KUtrack pic.twitter.com/E6KaRkaZki

— Kansas Track & Field (@KUTrack) June 10, 2019
Your 25-0 win streak is pretty amazing. How do you stay so consistent?
A lot of it came down to focus and believing in myself. A lot of things that drove it was my competitive nature. It's hard to lose a race. Sometimes, [people think], maybe, 'Since this is a prelim, I'll just get second so I can qualify [for the final].'
It's never been in my mind like that. I always run my heart out, that's the approach I've taken. Sometimes, you don't feel so good but you just gotta stay focused and do what you can. Obviously, through the season, I haven't been in the best and fastest races. No matter who it is, I have the same mindset.
Was it special to win NCAAs in Austin, in your home state of Texas? Did you have friends and family make the trip to watch?
It was incredible. It dates back to running high school there and winning a state championship. It was cool to come full circle. I have a lot of hometown friends who go to UT and a lot of my family traveled. It was special to have that kind of support. I remember walking up to the starting line and I had quite the little cheering section. They were screaming their heads off pretty loud for me.
Are your parents runners? How did you get interested in running?
Actually I was the first [in my family]. My dad played football and mom played softball.
I gotta give credit to my high school coaches, Tony De La Rosa and Hil Ochoa. They saw me play soccer and called me into the office and said, 'Hey, we can see you benefiting from cross country training for soccer.' I said I'd come out and I turned out to be pretty darn good for high school cross country.
That same summer, they entered me in the 1500m and 800m for USATF Junior Olympics or one of those meets, and I went along with it and ran. I did the 1500m and made the finals and thought, 'Wow, I actually could be pretty good at this.' So I really have to thank my coaches for just funneling me into cross country. I don't think I would have found my way into track and them guiding me into it.
Jeff Streun was the head coach of the track team and great moral support.
A feeling that is indescribable. Family, friends, coaches, teammates, staff members, and everyone in my life are what make me love what I do. Thank you for the unending support and love. pic.twitter.com/8rq4QZYVrH

— Bryce Hoppel (@BryceHoppel) June 8, 2019
Were your high school coaches in Austin to watch NCAAs? What has their reaction to your success been like?
Coach De La Rosa was there in Austin to watch. They've been awestruck. They figured they'd get a soccer guy who'd help the team a little bit and I ended up winning a state title. Having all that support has helped quite a bit.
Did you ever think about staying in-state for college and how did you decide on Kansas?
Growing up in Texas, I always had a little bit of pride of being from there but none of the [Texas schools] seemed to fit. University of Texas was one of the schools that I looked at in the recruiting process, but my mom was a graduate of the University of Arizona and my dad was from Gonzaga, so I never rooted for them growing up.
When I came to Kansas, the team was so welcoming. It's a family here. Coach Whittlesey is a huge part of my success.
The all-time collegiate 800-meter list now features ✌️ Jayhawks in the top-five.

4. Jim Ryun – 1:44.3
5. Bryce Hoppel – 1:44.41

👏👏👏#RockChalk #KUtrack #ncaaTF pic.twitter.com/vLIrpsZEcW

— Kansas Track & Field (@KUTrack) June 8, 2019
Who were your running idols when you first got into the sport?
In high school, I was more focused on other things. I started out in soccer for the first half of high school; running is still kind of a new thing for me. My first, earliest memory of [watching] running [as a fan] was watching Donovan run that 800m at NCAAs and break the record [in 2016]. Wow, that was incredible. That was the earliest memory I have of following professional or elite running. That was what got me into researching things.
Back then, did you imagine yourself being in this position now?
Definitely not. I did not see myself ever being at this point, especially now. A lot of it comes from the people I've been around and the support I've had to be successful. That late introduction to running has definitely fueled a passion that I never knew I had. I feel more in love with the sport than ever.
Have you taken any breaks this season? Or are you rolling straight through from indoors to USAs in July?
I just go along with everything my coach has coming toward me. It feels like we're just rolling straight through. I can't remember the last time I wanted to slow down or hold myself back. I'm excited for everything to come. Workouts have dialed back to more strength since the season is going to go on to late July. We're definitely keep it rolling all the way to USAs [in Des Moines, Iowa, July 25-28], trying to figure out [what meet] we're going to [as a tuneup].
What did you learn from competing at USAs last year? [Hoppel ran 1:48.09 and did not advance from the prelim].
I was still young and inexperienced and it didn't go too well, not to my standards. But I was also winding down from getting a fourth-place finish at NCAAs. I'm ready for it. I think there's some big things coming ahead, I'm just trying to stay focused. I'm definitely excited to get in a race with Clayton [Murphy] and Donavan. I don't want to hype it up too much, but I'm ready for whatever.
Now that you're looking at racing professional athletes, is there a goal time you're targeting?
I've never really put numbers on myself. But again, I always run to my competition and hopefully haven't found my limit yet. Whatever it takes to be at the top at USAs. I definitely have my eye set on getting under 1:44 right now, that's the number.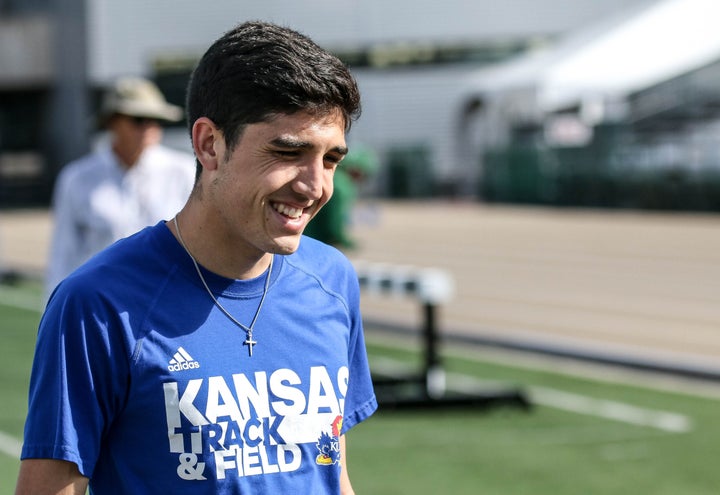 What would it mean to break Jim Ryun's school record?
It means a lot to wear the red and blue and to chase after Jim Ryun [in the school record books] is something that's really fun. Obviously, I want to come in at the top but I've always seen him as a legend, so I don't see myself up there with him. I guess I'm getting closer there on time but it would be unreal. I met him for the first time at Kansas Relays, he's a really Christian man and had some kind words to say to me. He's definitely one that I look up to.
How is your strategy going to change from racing NCAA athletes to pro athletes?
That's one of the big things, the strategy part of the 800m. That's a big part of racing. Coming into this, [my coach is like], 'Don't let their stats get in your mind. Make sure to position yourself so you're ready to go when the time comes.'
Devin Dixon [from Texas A&M] is a great front-runner, so it's the same plan as racing him: Hang on as much as you can and kick at the end—and that's worked out for me.
Have you thought about turning pro this year?
It's tough. I feel a little wrong not giving everything I can to KU because Kansas has given everything to me. Also, education is one of the reasons I'm here. I think I still have a lot to give in my athletic career, so whether it's [going pro] this year or next year, there's still more to give.
This interview has been edited and condensed for clarity.
From PodiumRunner