On His Way to a PR, a Marathoner Collapsed at Mile 26
Aaron Kuen was en route to a 2:48 marathon at the California International Marathon, but remains in a coma in a Sacramento hospital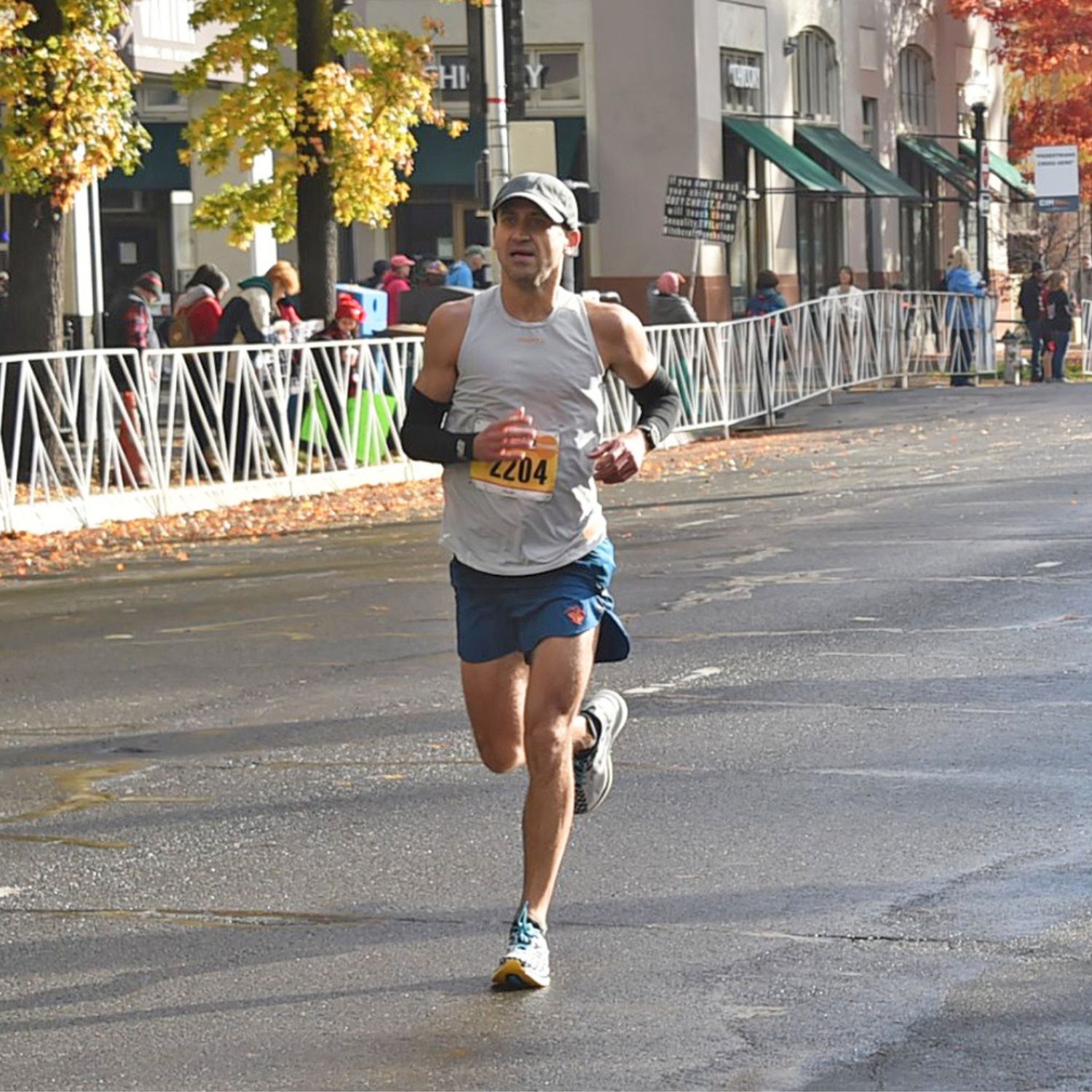 Heading out the door? Read this article on the new Outside+ app available now on iOS devices for members! Download the app.
Aaron Kuen was looking forward to this year's California International Marathon more than any race he'd ever run.
Prior to lining up at the starting line of the December 4 race, the 37-year-old finance administrator and Iraq War Army veteran from Elk Grove, California, was in the best shape of his life and hoping to qualify for the both sub-elite division of the 2023 New York City Marathon and the 2024 Boston Marathon for the first time.
Based on his splits transmitted by his Garmin GPS watch, he was having the run of his life. For most of the net downhill point-to-point course from Folsom to Sacramento, Aaron was running 6:25 per-mile pace or faster. He was on target for a 2:48 marathon, which would have been a 17-minute PR from the previous year's CIM race.
But because of a freak medical incident brought on by rhabdomyolysis, Aaron never made it to the finish line. He suffered a cardiac arrest and collapsed near the 26-mile mark, lost consciousness and stopped breathing. Rhabdomyolysis is a condition in which skeletal muscle tissue breaks down from intense physical exertion and releases proteins and electrolytes (such as potassium) into the bloodstream.
Although he was revived by emergency medical personnel, Aaron never regained consciousness and, two weeks after the race, he remains in a coma. As of December 19, he is still unconscious but has brief moments where he responds to stimuli.
"We care for every one of our participants and it's such a positive event for so many people, but it hits really hard when someone has a medical incident on the course," said CIM race director Scott Abbott. "When you're planning a race, there are so many 'what ifs' and there's 26 miles of the course and you're trying to think about everything that could possibly happen. We have a robust medical and emergency plan in place and it was executed optimally and effectively. In situations like this, you have to hope for the best possible outcomes. We don't know what the final outcome will be, but it will likely be a long road for him and his family."
Running a Masterful Race
Aaron's wife, Augustina, had been following his progress the whole way on the tracking app on her phone that was synced to his watch and was planning to meet him at the finish line with the eldest two of their three daughters, Norah, 9 and Olivia, 4.
As they waited eagerly near the finish line with signs of support and congratulations, she was excited to see Aaron was still averaging in the low 6:20s as he approached downtown Sacramento. She knew it wouldn't be long before he arrived, as he had less than 2 miles to go on the final 24-block stretch along L Street. Then he'd pass the 26-mile mile, make a left turn onto 8th Street and then another left turn onto Lincoln Highway where they'd be able to see him on the block-long homestretch to the finish line.
But in the anticipation of his arrival, too much time had passed for him not to have approached the finish line. She checked the tracking app again and her heart sank. The last split registered was at the 40km (24.8-mile) mark, showing he had still been on 6:26 pace, but he was overdue to finish and she sensed something was wrong.
For reasons that are still not entirely clear, Aaron Kuen collapsed on L Street near 10th Street and lost consciousness. A race official and a Sacramento police officer were among the first to rush to his aid, assessing his vital signs and beginning chest compressions to try to revive him.
A call went out over race radios for immediate emergency medical help and within moments several EMTs from the University of California-Davis medical team assigned to the race arrived and began administering life-saving procedures. Within a few minutes, they revived him and achieved a return of spontaneous circulation and the resumption of a sustained heart rhythm, but Aaron remained unconscious. He was sent by ambulance to Sutter Medical Center less than a mile from the CIM finish line where additional care was administered by emergency room doctors.
Rhabdomyolysis is very common, but it usually presents as muscular soreness in the hours and days after intense physical exertion, said Dr. Katren Tyler, Clinical Professor of Emergency Medicine at University of California, Davis, who was the acute care director for the race.
"There is nobody who has run a marathon who hasn't had some small component of rhabdomyolysis," Tyler said. "Getting such severe rhabdo in only three hours and being severe enough to give you cardiac arrest is very unusual." 
Back at the finish line with their daughters, Augustina hadn't heard anything and couldn't see any of the emergency medical activity or the ambulance on the other side of the park adjacent to where he had collapsed. But then she checked the app again and the map on the GPS tracker showed that he was at the medical center.
After receiving confirmation from the finish line medical tent manager, Augustina quickly guided her daughters back to where they had parked their van and then drove to the hospital. When they arrived, Augustina was told that Aaron had been intubated and was alive and breathing. He was still unconscious, but in stable condition.
"It seemed like we had dodged a bullet," Augustina said. "We've been there waiting for him at finish lines before at other races, so it was by far the last thing we expected. It was beyond a shock."
After a battery of tests during the first several days in the hospital, doctors determined that Aaron had suffered from the quick onset of rhabdomyolysis. That condition strained his kidneys and threw off the electromagnetic signals in his heart, sending him into cardiac arrest and causing his heart to stop beating.
In the ensuing days, the medical team at Sutter Medical Center administered an MRI and additional scans, determining he had suffered a severe hypoxic ischemic brain injury due to a lack of oxygen circulation when he wasn't breathing. Doctors told Augustina that Aaron's kidneys, liver and heart recovered from the rhabdomyolysis fairly quickly, but there has been no noticeable change in the significant brain trauma he suffered.
"It really was a freak event in his body," Augustina said. "He has no underlying health conditions, no means for this to have happened. One of the nurses told me 'he has a runner's heart' and … I had to chuckle … because it's true. He's so healthy and fit."
On December 11-12, Aaron underwent tracheostomy and percutaneous endoscopic gastrostomy procedures to insert a feeding tube into his stomach. After 10 days at the Sutter Medical Center, he was transferred on December 15 to the intensive care unit at Kaiser Permanente South Sacramento Medical Center for an evaluation period.
"This kind of thing rocks you," Abbott said. "He was well-prepared for this event. He went out and trained his butt off and was executing a masterful race and was running 6:20 miles right up to the moment he collapsed. Sometimes when you see cardiac arrests in a race, there are underlying health conditions there. You find out later there were clogged arteries and that kind of thing could have happened mowing the lawn or anywhere. But this is a case that rocks a lot of people because it's almost like getting struck by lightning."
Indeed. Many runners who passed Abbott after he collapsed, as well as others who know him through the local running community have reached out to express their support. Jenny Iskandar, a former colleague, had talked to Aaron about his training and was tracking his progress on Strava during the race. She, too, was immediately curious and then concerned about why his watch stopped posting splits at the 40km mark.
"We are all very heartbroken with what happened to Aaron and praying for his recovery," she said.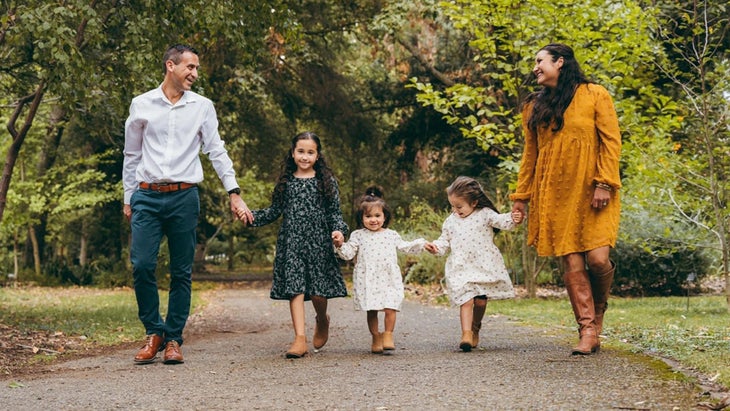 Preparing for the Unknown
The last two weeks have been a whirlwind for Augustina, who has been a stay-at-home mother since she and Aaron started their family. While nurturing Norah, Olivia and their youngest daughter, Amelia, who is 2, she has visited Aaron at the hospital every single day, even though she knows there might not be any change in his condition for weeks or months.
She's been reading him passages from Harry Potter books — something that he told her helped him keep him balanced while serving in Iraq — and playing videos of their daughters so he can hear their voices, as well as playing songs from his favorite musicians.
"I treat him like he's not asleep in hoping that the normalcy of life will help him," Augustina said. "He and I are always together, so there is no way I am going to leave him alone. When I am not with him, I am with my girls."
While scrambling to get their affairs in order, she's had to quickly learn a lot about medical terminology, insurance clauses and long-term care options.
"Sometimes it's hard for me to even know what to ask for because things are flying so fast," she said. "Literally everything is happening all at once for me. But it's one foot in front of the other. I'm a pretty diligent person. I'm in grief, for sure, but I realized pretty early on that I have to step up and show up for our family, be a mom to our daughters and be an advocate for him and not give up what we still have."
On December 15, several of Aaron's co-workers at VSP Vision Care/Altair Eyewear set up a crowd-funding account to help offset medical bills the family will be facing. In the first three days, GoFundMe fund had raised $24,000 by 288 donors.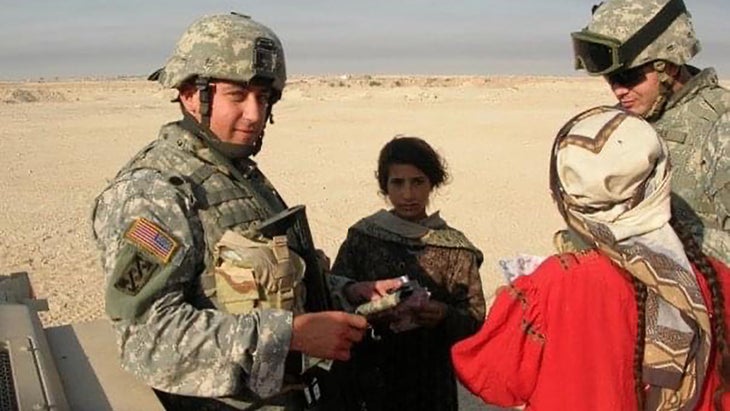 A Hardworking Family Man
Aaron Kuen grew up in Horicon, Wisconsin and enrolled in the U.S. Army after high school. While serving in the Iraq War from 2003 to 2006, he took up running to manage the stress of his military experience. He kept running to help him stay balanced as he earned an accounting degree and an MBA in Milwaukee, and as he started his professional career in finance.
He and Augustina met in 2008 in the San Francisco Bay Area when Aaron was the roommate of her best friend. They hit it off immediately, and after they got married in 2010 and started a family, Aaron kept running and eventually became interested in testing his mettle in marathons.
He started with modest results, but with each one he learned more about training and how to improve his aerobic fitness. At CIM in 2021, he lowered his PR to 3:05:53 (7:06 mile pace). During his buildup to this year's marathon, he averaged close to 60 miles per week, according to his Strava data, about 20 percent more than he did during the same period in 2021.
The effect of his enhanced training was already evident. In the Run the Parkway 20-mile race in Sacramento on November 6, Aaron placed eighth out of 700 runners in 2:06:38 or 6:20 mile pace. He ran so well in that race, he actually moved up several places and increased his pace over the final 7 miles.
"He really studied it, it was a passion for him," Augustina said. "He was talking about how his training had really enhanced his abilities and how his body felt better, and you could see the improvements in his body and that his overall health was better. It wasn't so much about being super competitive and there was no ego in it, it was just a love of running. He really loved what it gave him.
The reason he wanted Augustina to bring their daughters to the finish line was to show them the beauty of running and inspire them about what your body can do, she said. Indeed, running has become a fun family activity, as Norah has run a couple of 5km races with her parents, including a virtual race during the COVID-19 pandemic.
Race Day Joy
On the day of the race, Aaron got up at 3:30 a.m., ate breakfast, got his gear organized, then returned to give Augustina a kiss goodbye before boarding the bus that would shuttle him to the starting line in the city of Folsom.
Later that morning, Augustina was excited for his race to begin and texted him one final time before the 7 a.m. start.
"I texted him 'Hey baby! Thinking of you! I see you got there safely, I am so glad," she recalled. "You are going to do great, you have trained for this. We will be there at the finish line! We love you!' "
Aaron was just about to start the race, but he texted back: "Thanks for all of your support! Here & getting ready. See you at the finish line!"
From the moment the start gun went off, Aaron was running the race of his life. Wearing a pair of Saucony Endorphin Pro 2 shoes, blue Rabbit shorts, a white singlet, black arm warmers and a nondescript gray cap, he used the downhill profile to his advantage, clicking off ahead-of-pace splits through 5km (19:25 or 6:15 pace) and 10km (38:46, 6:14 pace).
He was still running fast when he reached the halfway point at 1:22:17 (6:16 pace), then slowed only slightly as the course began to flatten out. He came through the 30km (18.6 miles) running 6:22 pace and was still projecting for a sub-2:50 finish through 35km (21.7 miles) and 40km (24.8 miles).
In most of the photos captured by Marathon Foto on the course — including some of the latter miles close to the finish — Aaron could be seen running with upright form and sporting a slight smile.
"Aaron was actually running a masterful race as we retroactively look back on what he was doing that day," Abbott said. "He was in the midst of another good mile and had just put together a string of 6:20 miles, so nothing in his pacing indicated he was fading or having any sort of distress. That kind of stuff shakes the running world. We all think we're engaging in this healthy pursuit and he's probably the picture of health, and for him to have a negative outcome in an event like this is difficult and something I think our community struggles with."
Augustina said she's grateful for the outpouring support and offers for help she's received from the local community, Abbott, the race and the local running community, the local medical community and family, friends and colleagues of Aaron from across the country and around the world. Aaron's parents, Chuck and Sue Kuen, arrived the day after the race from Wisconsin and stayed for a week.
Abbott has visited Aaron in the hospital twice, delivering a CIM 2022 finisher's medal and a few other items to her. Aaron's Army unit, Alpha Co. 2-127th Infantry of Wisconsin, has reached out to her, sending meals to the family from afar.
"I'm grateful to have a lot of support around me, so I'm getting through it. Day by day," Augustina said. "I love him even more and I know he's really hurt and the future's unknown. For me, it's just about focusing on what's in front of me and what I can control, and keeping in my mind that this is long-term. I wish it was going to be one of those fairytale stories about how after two weeks he woke up and he's going to be fine, but it's going to be a long haul. "I love him even more and I know he's really hurt and the future's unknown. I am leaning on my community and my own skills and having faith and trying to get through it."
Lead Photo: Courtesy Kuen Family