What's the Connection Between Running and Playing Music?
Running and composing music require a similar problem-solving area of the brain, so it might not be a coincidence that there's crossover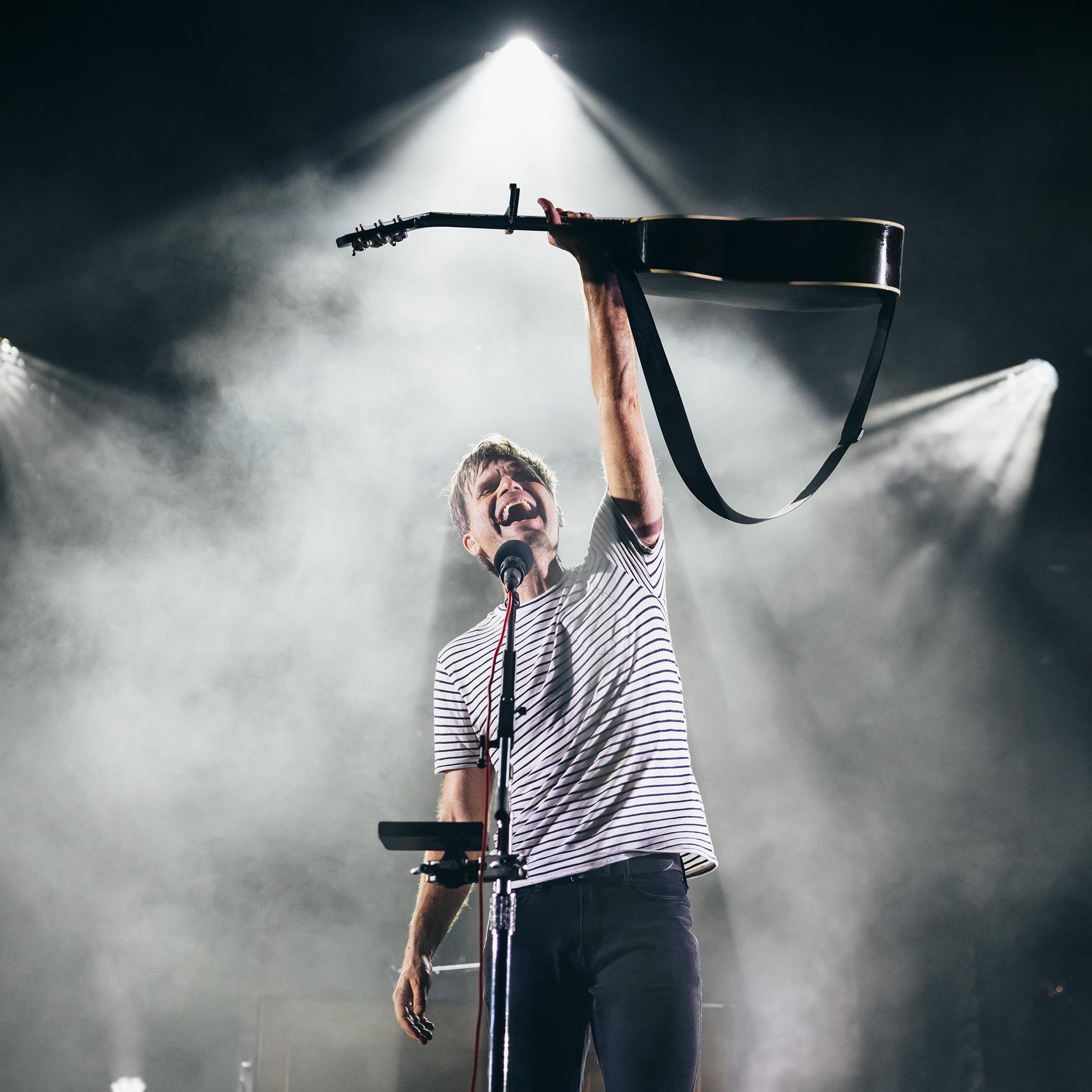 Heading out the door? Read this article on the new Outside+ app available now on iOS devices for members! Download the app.
Anyone who has spent significant time running has likely experienced a flow state—"getting in the zone"—the mental experience of deep presence and moment-to-moment immersion. People often report this state as if they were feeling part of a rhythm. While in the flow state, runners recount getting part of a song stuck in their head. Sometimes it's just a beat, sometimes even a single word.
If you haven't experienced this version of "flow," it doesn't mean you're doing anything wrong, but if you have, you're not alone. And while there's no strong correlation or causation, there seems to be a considerable overlap between musicians and long-distance runners.
Perhaps that's because the brain gets a similar response from running and, say, playing the piano. Playing a musical instrument is the brain equivalent of a full-body workout. Unlike other activities that require intense brain work, like chess or puzzles, playing an instrument recruits almost every part of the brain, including multi-sensory responses. Making music requires vision, sound, movement, and memory, and similar things go on in the brain while running.
Your Brain on Music
Dr. Amy Lauer is an Associate Professor of Psychology at Mount Mary University, holds a PhD in Neuroscience, and happens to also trail run and play the violin. She cites a 2016 study from the University of Arizona to help explain brain activity in runners and musicians. The study looked at the brain scans of 18- to 25-year-old cross-country runners, and a control group of adults of the same age who hadn't engaged in sustained moderate-to-vigorous physical activity for over a year.
"Researchers focused on functional connectivity," Lauer said. "The way our brains function is through different groups of neurons talking to each other. So functional connectivity is connections between areas of the brain that are geographically separate from each other, but functionally related."
Researchers looked at how the brain functions at a resting state. "Participants were told to do nothing in particular, to relax," Lauer said. "There are specific brain networks that kick in when we're not doing anything—when we're mind-wandering, or imagining things about the future, or remembering things from the past. If we're doing nothing, cognitively, there's a brain network known as the default mode network that takes over."
Other studies show that activities such as playing a musical instrument, which requires fine-tuned motor control, can alter brain connectivity and function. But this investigation really looked at the impact that more repetitive aerobic exercise, like running, has on brain structure and connectivity.
The findings of the 2016 study suggest that both fine-tuned complex motor activities (playing music) and endurance running may promote similar brain changes. In the runners, functional connectivity was much stronger than in non-runners, "pretty much across the board in the default mode network, as well as motor networks," Lauer said. Greater functional connectivity generally helps a person do things like plan, make decisions, and switch easily between tasks, so it makes sense that trail runners do well with the problem-solving nature of the sport.
To better understand this connection between running and musical composition, here are three top musicians who have unique perspectives on their own experiences as trail runners.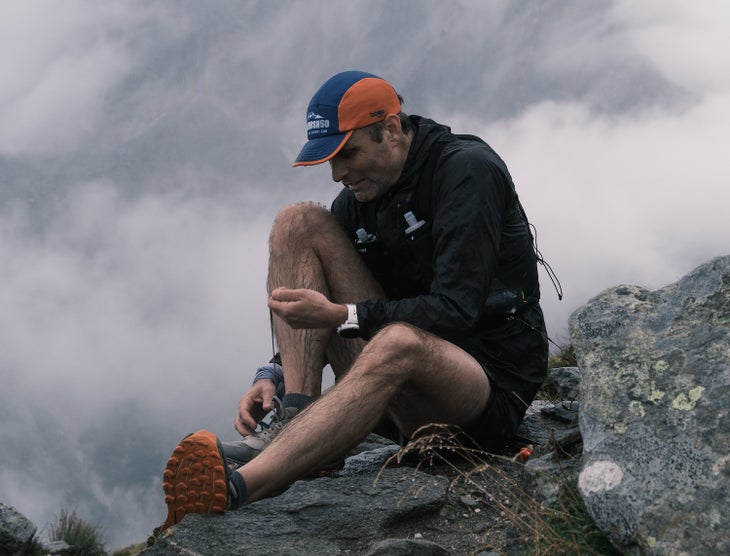 Ben Gibbard | Ultrarunner, Frontman for Death Cab for Cutie and The Postal Service
Ben Gibbard, lead vocalist and guitarist for Death Cab for Cutie—who just released their new album, "Asphalt Meadows"—also excels at ultra-distance trail running. Gibbard completed his first road marathon in 2011 and quickly switched to the trails and longer distances. These days he takes on anything between 50K and 100 miles.
For Gibbard, writing and playing music is very different from trail running, but there are some significant overlaps. "For me, trail running or ultra running is a place where I can escape to. I'm often thinking about music, but I'm not necessarily composing music in my head," says Gibbard. "To me, running gets me away from the anxiety of creativity. My goal as a runner is to give myself ample space and time away from creative impulses."
When Gibbard was first finding his way as a musician, he remembers needing to constantly be working on music, or his talent and inspiration might evaporate. Now he feels much differently, that it's necessary to have varied ways of being.
"I do think that writing is very much like running," he says. "Writing anything–certainly as a songwriter and musician–is a muscle that you need to exercise. If you let those muscles atrophy, it'll take you a while to get back up to the level and the quality of work that you were able to do when you were exercising those parts of your brain more frequently."
In that way, Gibbard thinks of making music as being very similar to training as a runner. "If you're training for a 100-mile race and you spend a lot of hours in the mountains and you're feeling really fit, it will still be a challenge, but you'll be able to accomplish it. If you just get off the couch and run 100 miles, you might be able to do it, but you'll end up severely injured or it won't be the experience you probably want."
Gibbard sees similarities in the passion of the music community, where he found his start, and the trail and ultra running community. "The strongest parallel between my career as a musician and my love of trail running is that when I came up as a musician, it was a very grassroots kind of thing. When Death Cab started, the idea that you could make a living playing music was laughable. There was nothing about the style of music that we were playing that telegraphed 'you can make a living doing this.' The early days of touring with the band, we were playing small, all-ages shows, crashing on people's floors who came to the show. It was this very community-oriented scene."
When Gibbard first got into trail running, he says it felt very similar. "It felt like everybody was doing this for the love of doing it. There's a similar passion coming out of punk and independent music circles that requires you to love what you're doing, because it's not going to be easy, and it's probably not going to be lucrative."
It's one of the things that Gibbard loves most about the sport—the shared passion that fills the air. "Why else would we go out and spend 12 hours on a weekend running in the mountains? Because we love it — that's the only reason we're doing it. There's no prize money, there's no glory. You're doing it because you love it."
The goals Gibbard sets in music, and in running, occasionally mirror each other. "When you hear something new—a band or a song that feels familiar, but also so fresh and new, that's a special kind of accomplishment, and it's something that I'm always chasing. With running, it's similar. It's never going to be easy. Every time you do a race, especially long ones, you're going to stumble across some problem that you have to solve that you've never had to solve before. That's what keeps me coming back to both."
RELATED: DNF Podcast : How a Divorce Led Ben Gibbard to Reexamine His Creative Approach to Songwriting and Trail Running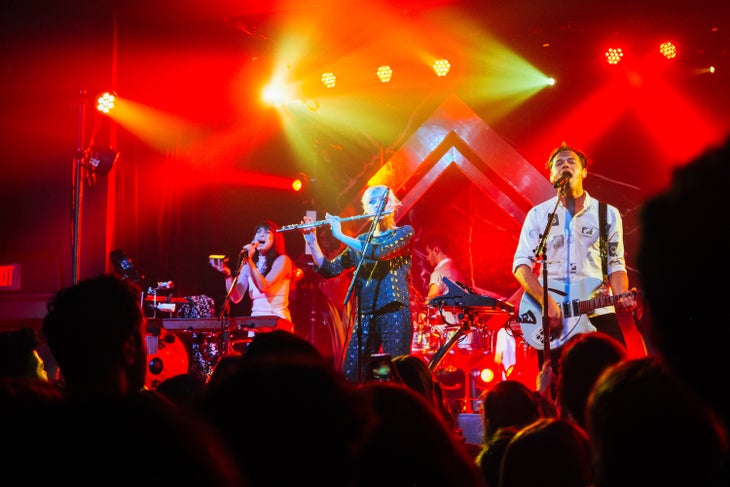 Liz Derstine | Appalachian Trail Record Holder, Pianist, and Songwriter
Distance runner Liz Derstine, trail name Mercury, is currently pursuing a Master of Music at Longy School of Music of Bard College. She also holds FKTs on the Appalachian Trail (women's supported, northbound), Long Trail (women's self-supported), and the Pinhoti Trail (women's self-supported). She recently became the last woman standing (4th overall), after logging 109-miles, at Aravaipa Running's 2023 Last Person Standing event.
Derstine can't imagine life without music and running.  She started playing the piano when she was seven years old. She took private lessons through high school and picked up other instruments along the way.
"I started to become more interested in rock and pop music in the late 90s," says Derstine. "I picked up guitar, bass, fiddle, and mandolin." She continued playing music through college and earned a BA in music with a performance piano focus. She then toured the world with RAC and got a taste of the rockstar life.
The thing that kept her grounded was running. "I started running the summer before my freshman year of high school. My dad suggested that I join a sport because it was a new school, and I think he was worried about me making friends. So I joined the cross-country and track team." Derstine finds that the two passions keep her balanced. "I stopped running for a few years to focus on music during college, but then realized I really missed it and was still kind of doing it on my own, so I joined my college cross-country and track team my senior year."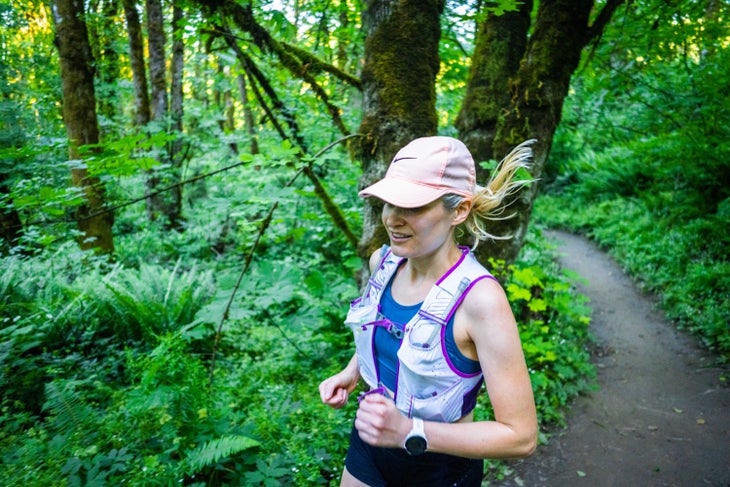 When Derstine finished competing at the college level, she fell in love with trail running. "I started to really nerd out on trail running," she says. "When I first began spending time on trails and thinking about doing the Appalachian Trail, that opened up a whole new can of worms."
Derstine went to an Appalachian Trail workshop led by Warren Doyle—famous for having hiked the AT more than anyone else—to learn more about the route. Doyle offered to help Derstine if she wanted to go for a record. "I met [Doyle] out in New York—he was already helping some other hikers on a supported trip. He'd drop me off at the beginning of the day, and we'd just see what happened—see how far I could go. I didn't know anything about ultra running at that point."
The first day out, Derstine started around noon and did 20 miles before dark. She felt good. "The next day I started in the morning and did 40," she says. "Then the third day and I did another 40 miles and it was just really fun. Doyle was having a great time meeting me at different road crossings, and it was this natural fun thing. I got completely hooked."
When Derstine decided to go for the AT record in July, 2020, music became part of her flow state. "It really was just me in my head out in the woods." Derstine got into a repetition and started creating melodies. "It just kind of happened in this meditative state. I saw these little melodies, which just started to formulate in my head. They were very repetitious, probably because what I was doing was very repetitious. I remember it all being an unexpected part of the journey." As Derstine continued north, four or five melodies kept her company, over and over. Nothing complicated, just simple chords. She was averaging over 40 miles a day, topping out at 69 miles in one day, sleeping less than four hours a night.
When she finished the trail, she almost immediately composed a collection of songs for the piano. "After I finished the AT, I spent a week recovering in Philadelphia with my parents. They have an apartment and a piano, and I remember thinking, 'Boy, I've had these songs etched into my brain.' I sat at the piano and made them into something a little more cohesive."
Derstine thinks of music and trail running as intertwined. She's not constantly thinking of music when she runs, nor is she longing to run when she's making music, but they're two equally important parts of her. Deep down, there's something about the two that's very much the same.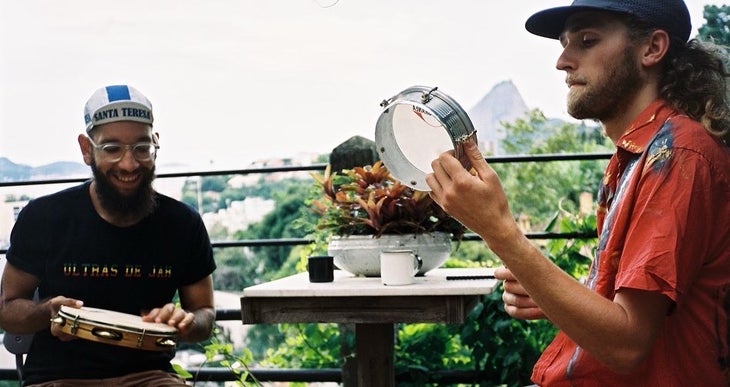 Kyle Richardson | Mountain Runner, Percussionist
Kyle Richardson is a Colorado-based professional runner and mountain athlete who is best known for his high-stakes, high-speed endurance feats in the Rocky Mountains. He's also a formally trained musician who has created percussion soundtracks for various films and brand partners. For Richardson, all of life is rhythm, repetition, and beat. Like Gibbard and Derstine, he doesn't actively attempt to compose music while he's on the trails, but he's aware of how rhythmic running can be. It fits into how he thinks.
"A lot of times I'll think about it on the downhills, where I can let loose a little bit more and tap into some of the more playful rhythmic kind of stuff," says Richardson.
Richardson thinks about running and music in similar ways because of the repetition necessary for both. He's the kind of person who doesn't get bored running the same trail over and over again, or playing the same song on repeat until he's mastered it.
"Playing percussion requires a lot of repetition to build your skill set and learn the rudiments," he says. "It's all about just doing it over and over and over again with the metronome. You're always trying to reach a state of perfection, which is really hard to achieve."
For Richardson, it's the same on the trails. "My brain works the same way with running. I run the same mountain every day. There's something about the stability of doing the same thing that allows me to track my progress. I feel like I can dive into the nuances of how to be more efficient." Once Richardson knows a song or a trail intimately, then he can have fun with the details—how he's holding a drumstick, how quickly he takes a turn on the trail.
Richardson just released his second film, "Tempo II — Movements in the Jungle," which combines running and music in Brazil. In Tempo, the first film, Richardson was the main character, and it was set in the Flatirons of Boulder, Colorado. But in the second film, the focus is on other characters, and the feelings we all get when we're out on the trails. "It's all about the feelings that we get when we're out in these wild places and then, too, the feelings we get when we're playing music," he says.
Functional Connectivity and Creative Flow
Gibbard, Derstine, and Richardson all acknowledged that it's difficult for them to turn their brains off—to assign real mental rest. Their do-nothing state is usually filled with thoughts, and not necessarily because they're creative geniuses who are constantly composing and orchestrating, but because their brains seem used to near-constant problem-solving.
One thing Dr. Amy Lauer finds interesting is that it's unclear whether music and running create functional connectivity, or if people are born with it. "What you can never tell from these kinds of brain imaging studies is whether it's the doing of the music and the running that has caused the changes in functional connectivity, or if these people were born with brains that are just functionally more connected, and that's why they happen to be drawn to music and running."
Lauer is also quick to avoid generalizations. While there's interesting overlap in musicians who excel at trail running, there are plenty of trail runners who have no interest in music. "How many ultra runners out there have no musical ability whatsoever?" She says. "Clearly there's some overlap here [between musicians and runners]. But we need to be cognizant of the rest of the Venn diagram." In other words, there are some interesting studies and findings, but nothing incredibly conclusive about runner brains or musician brains.
In many ways, everything we face in life could be considered a "problem," a word that loses its negative connotation if we think about the creative process of solving that problem. For many trail runners and musicians, living in the problem — in the flow — is about as good as it gets. Practicing over and over, in slightly different ways. Flexing the brain so that it learns how to connect and perform even better. Whether it's through rhythm, melody, or pace, the brain's ability to learn and direct us is endless.
Lead Photo: Michelle Shiers