Running for Charity: A Billion-Dollar Enterprise
Why running is one of the biggest philanthropic sports in the world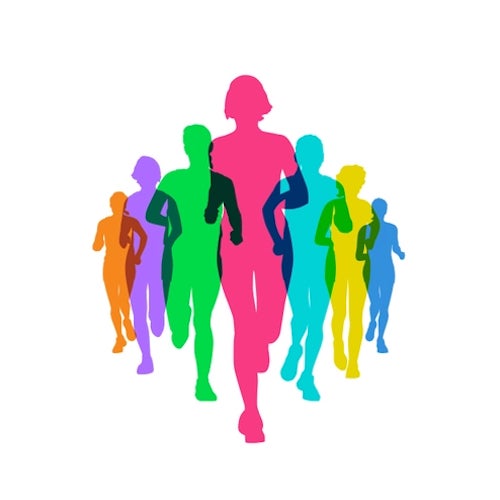 Getty Images
Heading out the door? Read this article on the new Outside+ app available now on iOS devices for members! Download the app.
There's something electrifying about standing on the start line of a running race: the nerves, the excitement, the feeling of being part of something larger than yourself as you wait for the starting gun, shoulder-to-shoulder with fellow athletes. That bolt of energy can often extend from the idea of "running for more," a phrase commonly used to describe combining a race registration with a fundraising effort.
In fact, running is one of the biggest philanthropic sports in the world, where the London Marathon is the world's largest one-day fundraising event—it has raised more than $700 million since 2010. On race day, approximately 75 percent of its runners are tied to some sort of fundraising effort, according to the team at London Marathon Events.
Even for those opting for smaller, local events, or entirely solo outings, having a goal that transcends individual and external motivations, and instead focuses on something intrinsically motivating—like contributing to a charity—can be a powerful motivator. So powerful that, to date, over $2 billion has been raised by runners for charitable organizations worldwide, when looking at combined fundraising totals just from the New York City Marathon, Boston Marathon, and London Marathon.
Running for More: On a Global Scale
Running as part of a charity team, or to raise money for a nonprofit, is a primary reason athletes choose to add in a philanthropic goal for their journey to the start line. Running for a cause can be a positive release for those who have experienced challenges or trauma, for those who have lost a loved one, overcome addiction, or are a caregiver to someone with illness. In these instances, running can be a tangible way to connect to, and make meaning of, the overwhelming obstacles we face in our personal lives.
The London Marathon, which usually sees roughly 40,000 runners annually at the start line, has raised $1.4 billion since its inaugural race day in 1981. There are more than 2,000 charities from which participants have the option to choose. The London Marathon works with many digital fundraising providers, including Enthuse and Just Giving, to verify the total funds raised for charity by participants.
Charities on the London Marathon's official list offer "charity places," reserved spots which are awarded to athletes who provide an authentic commitment to fundraise for the organization, which are then tracked by each individual charity and reported to the London Marathon. Arguably UK's most famous running race, the London Marathon sees about a half-million applications each year, so one can imagine how important these "charity spots" are.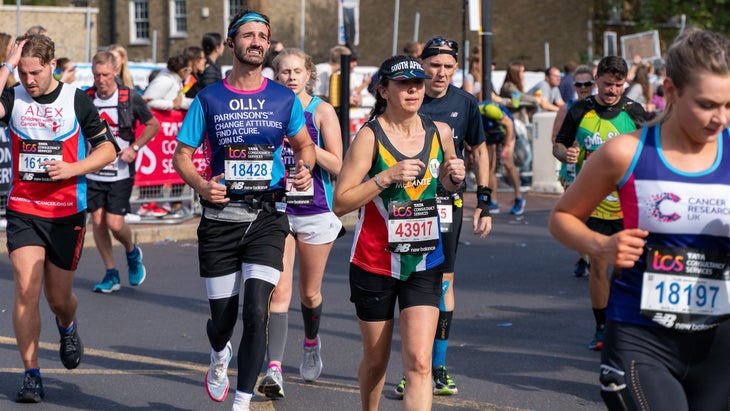 "Charity fundraising is part of what makes the London Marathon so special for both participants and spectators, on the streets or watching on television," says Hugh Brasher, events director for the London Marathon. "The extraordinary stories of why participants are running for [their chosen] cause is truly moving and what makes London 'the world's most human race.'"
One such story is that of Gill Punt, a 52-year-old mother of three based in Bromsgrove, England, a two-and-a-half-hour drive north of London. For the past 10 London Marathons, Gill has fundraised for Cancer Research UK (CRUK) as a charity athlete.
"I lost my father at a young age due to cancer, and this awful event began my fundraising adventures," Punt said. "It has never been more urgent to beat cancer, which is why I do all I can on an unpaid, voluntary basis [to fundraise]." So far, Gill has raised nearly $1.5 million for CRUK.
Punt has organized many charitable races and race teams outside of the London Marathon, as well, but her efforts may be best known by the London Marathon community. In 2016, Punt was awarded a Guinness World Record title for the fastest marathon in a full animal costume (4:22:08). Punt ran the London Marathon dressed as a polar bear, also the CRUK mascot. In 2019, Punt was honored by the late Queen of England with the British Empire Medal "for services to charitable fundraising."
Punt said that the London Marathon holds a special place in her heart when it comes to racing for more. "Runners of all abilities, shapes, and sizes are at the London Marathon. All running for their own special, personal reasons, but also to be part of a bigger movement for good. I often say that if you could bottle up the energy and humanity exhibited on the streets of London on marathon day, the world would truly be a better place." Punt will be racing her 11th London Marathon on April 23.
The London Marathon is not the only major race to prioritize fundraising. All World Marathon Majors races offer opportunities to enter the race as a charity athlete. The Boston Marathon, for example, stipulates that once chosen as a charity athlete, a runner must raise a minimum of $5,000 for their charity prior to race day.
Along with the higher calling of raising funds for nonprofits, London Marathon charity athletes get to experience special benefits just for fundraisers. Generally, charities offer many perks—free gear, special training sessions, exclusive cheer zones, post-race receptions—and it's up to each individual charity to choose what they'd like to offer.
London Marathon charity athletes can also take part in the event's Meet Our Experts Day, aimed at first-time charity athletes to offer information about training for a marathon, tips for successful fundraising, and what to expect come race day. If you are dedicated to a particular cause and have the dream of running in one (or all six!) World Marathon Majors, linking up with race-affiliated charities is one way to achieve your goal while making the dreams of others possible, too.
Running for More: On a Smaller Scale
Fortunately, there are many ways to combine running and philanthropy outside major world running events. It is not uncommon for local half marathons, 10Ks, and 5Ks to be affiliated with community charities, with either a portion of race entry fees or a matching donor supporting the charity. Some races may even give the opportunity to donate funds during the race registration process or post-race.
For example, run/walks supporting cancer awareness, Alzheimer's research, community food banks, or animal shelters take place year-round in small towns and large cities around the world. In 2022, the well-known Susan G. Komen Race for the Cure initiative to fund breast cancer research through charitable run/walks raised $11.4 million dollars.
Also, many athletes will turn to a personal challenge that isn't a race—such as a run streak, a fastest known time (FKT) attempt, or world record attempt—and join a network of several hundred GoFundMe stories of everyday people raising money for charity, all through the power of running.
Amputee Jacky Hunt-Broersma set a since-broken world record of running 106 marathons in 106 days in early 2022. During this journey, Hunt-Broersma raised money for Amputee Blade Runners, initially setting a goal of a couple thousand dollars. Hunt-Broersma surpassed her goal in a way she never could have imagined, generating nearly $200,000 by the time her 106-day journey came to an end. Hunt-Broersma was unaffiliated with any race, organization, or matching donor, and she exceeded her fundraising goal through social media, press coverage, and sharing with her local Arizona community.
Hunt-Broersma told Women's Running after her successful 106 consecutive daily marathons that fundraising during her endeavor gave her a reason to press on. "I wanted to show people that no matter who you are, you can do hard things," Hunt-Broersma said. "Knowing my miles were helping others was a big part of my 'why' for running each day."
Another example is Australian Erchana Murray-Bartlett, who broke Hunt-Broersma's record in early 2023 by running 150 marathons in 150 days. Murray-Bartlett ran the length of Australia, from Queensland to Victoria, in an effort to drive fundraising to at-risk plant and animal species across the country. She raised more than $80,000 during her five-month run, largely through efforts on social media, press.
"Murray-Bartlett's record-breaking marathon shows the determined attitude that's needed from Australian political and business leaders on the urgent issue of wildlife extinction," said Amelia Young, National Campaigns Director for the Wilderness Society. "With national environmental law reform underway, Murray-Bartlett's fundraising is already having an impact."
Despite the many legitimate fundraising athletes and charitable running events out there, not all exist purely for ethical reasons. Some runners will sign up for hard-to-get-into running events as a charity athlete and then fail to honor their fundraising commitment, and still attempt to start the race. Other times, runners connect with a charity not because of the fundraising component, but more to bolster a self-as-brand following. In fact, races might not even be a particularly efficient way to fundraise, according to Charity Navigator, which assesses the legitimacy of charities in the United States.
Still, there are countless legitimate and impactful examples across the world of runners who were intrigued by an epic journey, seized the opportunity, and made their miles count for more than personal gratification, by encouraging donations to a nonprofit along the way. From major marathons to self-designed projects, running is a rewarding endeavor on its own, but adding in a philanthropic component to your next race or solo attempt can add significant meaning and purpose, additional rocket fuel for each mile and footstep along the way.
Lead Illustration: Getty Images