In Stride
Why Twitter Is Good for the Running World
Between fan engagement and professional-athlete interaction, the beleaguered social network still offers plenty of upsides for a niche sport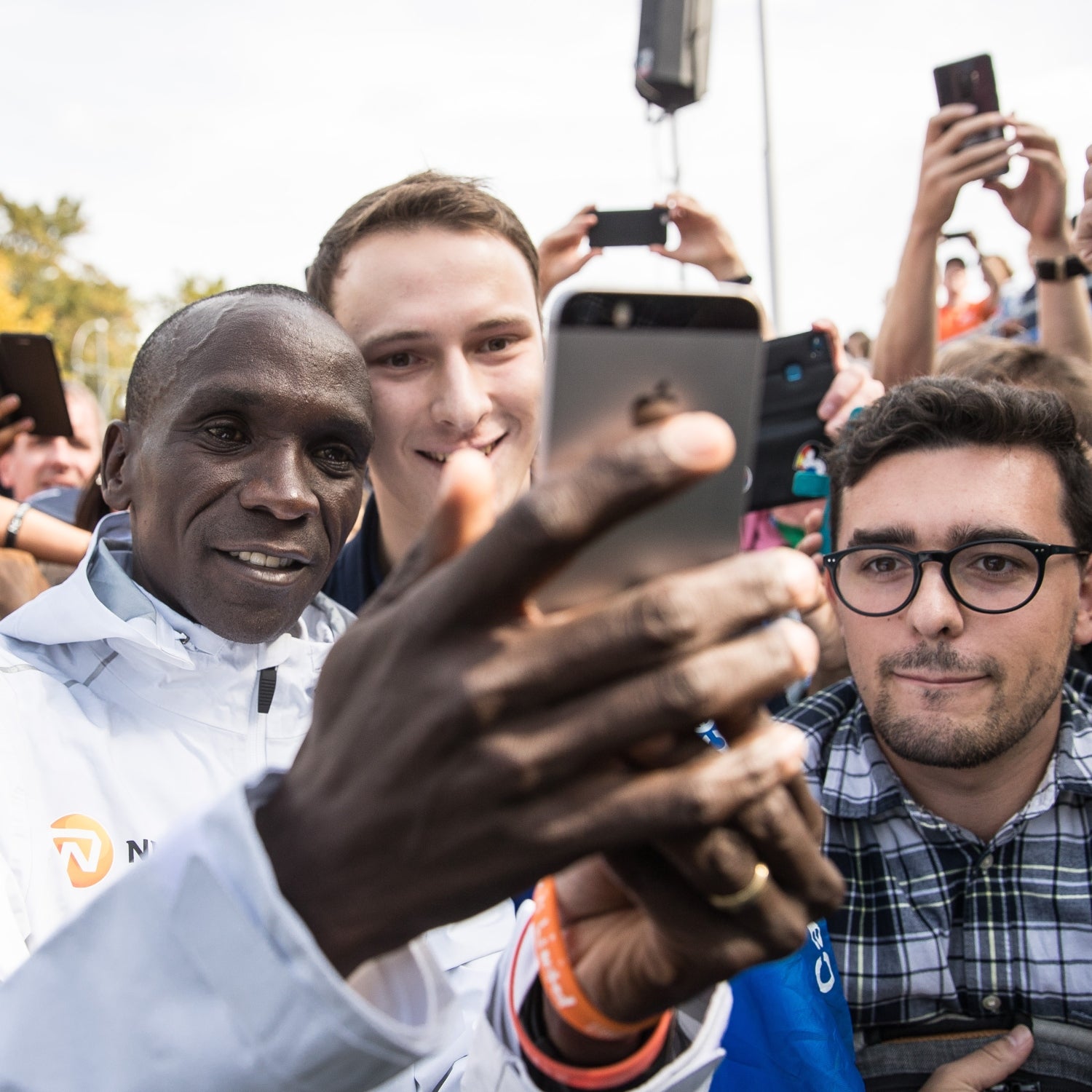 Maja Hitij/Getty
Heading out the door? Read this article on the new Outside+ app available now on iOS devices for members! Download the app.
As you may have noticed, Twitter has been in the news a lot of late—ever since Elon Musk tricked himself into acquiring the company for 44 billion dollars. The news has generally not been good: Mass layoffs, billions in consolidated debt, daily losses in the millions. Among users, it's become fashionable to speculate on the site's prospective demise. Some prolific posters have stated their intention to leave the site; a few have actually followed through. In the spirit of the premature elegy, I reached out to a few people to get a sense of Twitter's place in the running and track and field community. Does running need Twitter? How, if at all, does the platform enhance how we collectively experience the sport?
"Of course I've been trolled a lot, but the positives have outweighed the negatives for me," says two-time Olympian Kara Goucher, who currently works as a running analyst for NBC Sports and recently published a memoir. While she acknowledges Twitter's occasional "dumpster fire" vibe, Goucher thinks that the site is still essential for connecting with other running enthusiasts and keeping track of races as they are happening.
Jesse Williams, a former marketing executive at Brooks and the founder of the event company Sound Running, echoed Goucher's point. "The live tweeting of splits, placing, and other important info during races is huge for fans and for brands that understand the space," Williams says. In his eyes, this real-time interaction aspect is the biggest thing that Twitter adds to the sport—that sense of "sitting in a room with thousands of running fans watching the same race and casually speaking our opinions, stats, and complaints."
Obviously, this effect isn't unique to pro running. For millions of users, Twitter commentary has become an indispensable extension of the live TV experience—from sports, to the Oscars, to political debates. But the case can be made that an incessant flow of fan-generated input is especially vital for a sport where the in-competition drama can be somewhat lacking at times. Running Twitter was essential in animating Eliud Kipchoge's initial attempt to run a sub-two hour marathon in 2017, a spectacle that Nike wisely live-streamed on the site. For U.S.-based viewers who tuned in in the middle of the night to watch a bunch of guys silently make their way around a closed-off auto-racing track in northern Italy for 120 minutes, Twitter was an additional source of entertainment and community––as well as a kind of reassurance that we weren't insane for being emotionally invested a two-hour shoe commercial.
So much for the fans, but what does Twitter do for the athletes? While a robust social media presence has become an asset for professional runners seeking corporate sponsorship, in the hierarchy of athlete-as-influencer platforms, Twitter is generally not as essential as photo- and video-based sites like Instagram and TikTok.
Nonetheless, Ben Rosario, the executive director of the Hoka-sponsored NAZ Elite team and a longtime evangelist for runners using social media as a means of self-promotion, feels that Twitter can be a particularly good forum for runners to interact with their fans. When it comes to  burnishing a personal brand, however, Rosario is adamant that competitive performance is still the most important thing. "High-level performances, for better or worse, give an athlete's tweets, posts, etc. more credence," Rosario says.
The real time, stream-of-consciousness aspect of Twitter arguably gives the site an edge over the carefully choreographed world of Instagram. Keturah Orji, a two-Olympian for the United States in the triple jump, says that this unfiltered aspect can give the site a more authentic feel. "Instagram is much more visual and planned while Twitter is straight to the point, unedited, and tweets are in the moment," says Orji. "I think you can get to know an athlete's personality more from Twitter, but both provide unique ways to build your brand."
Needless to say, there are always potential downsides to having the power to make your unedited, private opinions public at any moment. The financial precarity of trying to make a living in professional track and field might make some runners a little leery about blasting their hot takes on contentious subjects into the Twittersphere. In recent years, no topic has been more divisive in the running world than debates about trans inclusion and World Athletics testosterone regulations. Yet, even as media outlets have dedicated endless op-eds on the subject, for the most part the athletes themselves have stayed out of the fray. I don't think it's a coincidence that some of the more outspoken opinions—on both sides of the inclusion question—come from athletes who have retired from competition. Meanwhile, the two distance runners who have some the largest followings on Twitter, Kipchoge and Britain's Mo Farah, have consistently anodyne accounts.
Ultimately, however, for a niche sport that doesn't exactly suffer from too much publicity, there are more upsides to Twitter than potential drawbacks. As I've noted before, the fact that even very accomplished professional runners are not mega-celebrities can be an asset for the sport—and not just for fans. Rosario hypothesized that Twitter might be a "safer place" for professional runners to interact with the public than it is for the big names in stick-and-ball sports where fans often have more emotional and financial investment in the outcomes of games.
"At this point, I haven't seen anything to suggest we should all give up on Twitter just yet," Rosario says. "But of course, as has been the case with social media since its inception, things will inevitably change and athletes and brands will have to keep up."
Lead Photo: Maja Hitij/Getty
Trending on Outside Online