Rickey Gates' Mexican Pilgrimage
Continuing his #everysinglestreet quest to know his world intimately, on the street level, ultra-runner Rickey Gates explored nine neighborhoods in Mexico City.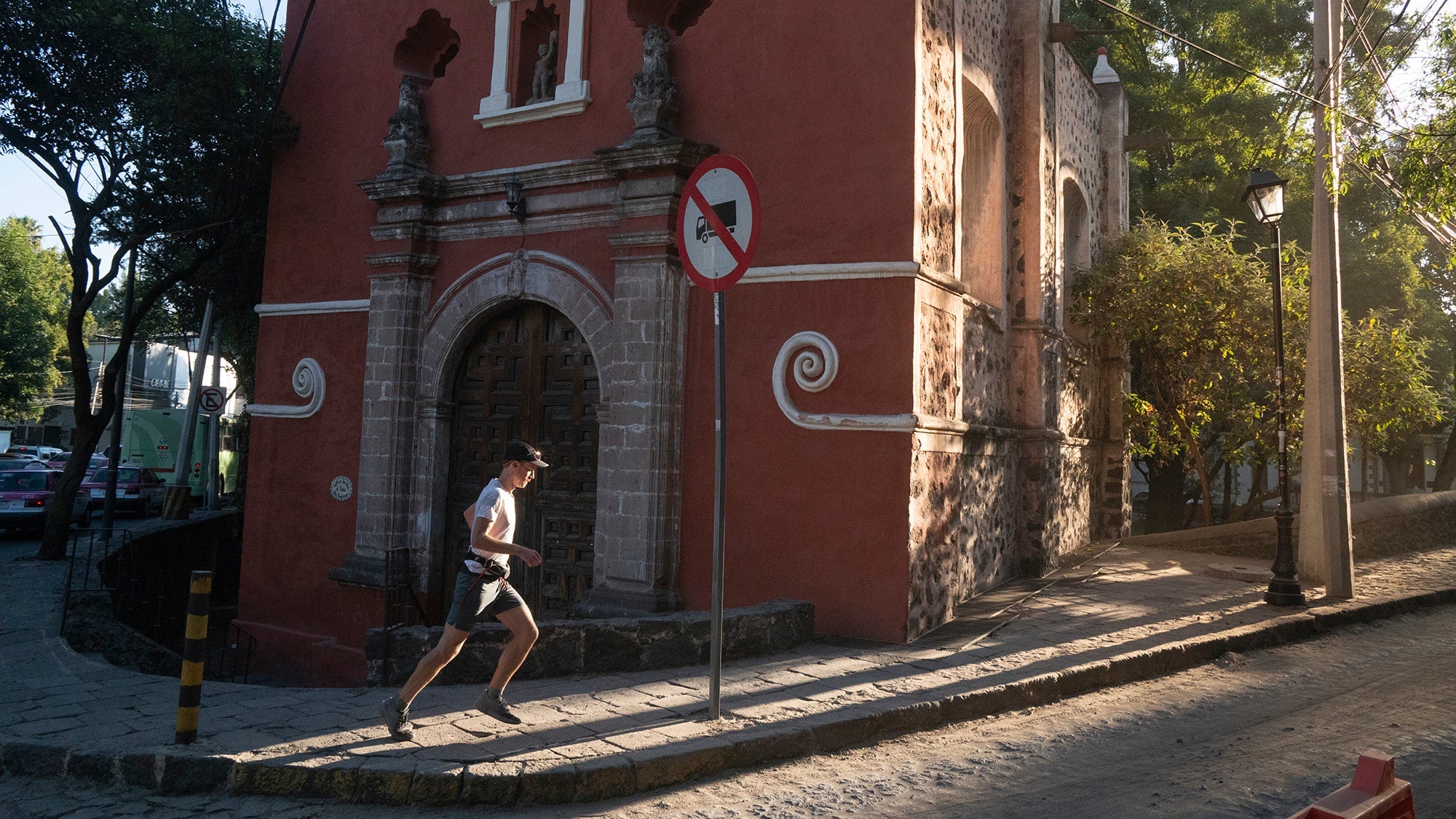 Heading out the door? Read this article on the new Outside+ app available now on iOS devices for members! Download the app.
Rickey Gates is an ultra runner who does not seem to be much interested in traditional competition. His ideas of fun are much more creative, artistic really. Following the original #everysinglestreet project, born in San Francisco last November, the Californian free runner and poet embarked in a nine-day similar experience in the heart of Mexico city. Taking with him only a small camera, eating lots of street food, he visited a variety of neighborhoods in la Ciudad de Mexico, aka CDMX, the most populous city of North America.
Prior to his #everysinglestreet quest in Mexico, that took place from March 9th to March 17th, Gates was in Oaxaca for two weeks as one of the leaders of a running tour with Aire Libre  and to acclimatize to the local elevation. Then, moving on to the city of Mexico where his artist girlfriend Liz Thorp had recently earned an art residency, Gates applied the same sociological grid as he did in San Francisco. For this 9-day mini #everysinglestreet project, however, he carefully selected specific neighborhoods, some of the nicest, some of the safest, and ran every single street of them.
He started this Mexican experiment with a run throughout Avenida de los Insurgentes, the longest street of CDMX, stretching 18 miles on a north-south axis across the city. Gates then visited, always running, only stopping for local street food bites—and once, a one hour nap on a public bench—six other neighborhoods (Noche Buena, Polanco, La Condesa, Juàrez, Roma Norte, Del Carmen). He then toured the National Autonomous University of Mexico, whose campus is a UNESCO World Heritage site, and, accompanied by Mexican friend and photographer Marcos Ferro, ended this new city project with a 25-mile run of most streets in the Mexico city historical center, in the heart of the old CDMX.
For a journalist who grew up in the city, it was my privilege to interview him over email:
Competitor Running: Why Mexico? How well do you know Mexico DF and what attracted you to this busy, beautiful, colorful but polluted city?
Gates: When I was 19 years old I spent five months traveling through Central and South America. I returned again for another five months when I was 23. On both of these trips, I avoided Mexico City. It was too big, too polluted, too dangerous. Or so I had thought.
I have spent a lot of times in cities since my teens and early 20's and have come to love them in a sort of way. When I think of human beings as just another animal, cities make sense as a sort of hive. My fear of cities has morphed into curiosity: Why do these hives exist? Why are we attracted to them? With a four-month road trip planned throughout Mexico, and with my partner landing an art residency program in Mexico City, it only made sense to try to get to know this place on the same level that I had gotten to know San Francisco.
Competitor Running: If you could go anywhere you want, which other cities in the world would you be attracted to run in and why? What makes a city attractive to you as a runner?
Rickey Gates: Density of a city is something that is very appealing to me. A city with natural barriers prevents sprawl and encourages density. The cities in the world that are most encouraged by this and most interesting to me for this reason are Venice, Amsterdam, Hong Kong, Iquitos, Tangier and Singapore.
Competitor Running: Looking back, what did you get from the #everysinglestreet San Francisco, as a runner and, more generally, as a human being? You had fun, I'm sure, but what else was there for you to find?
Rickey Gates: One of the things that's most interesting to me about doing a project like this is contemplating how a city forms… how neighborhoods form… how they change… so many things. My studies in the University were centered around sociology, which is the study of society on a macro level (really it's just a bunch of numbers). In undertaking a project like Every Single Street, I was forced to turn the Macro into Micro.
Hearing that there are several thousand homeless people in San Francisco is one thing, running or walking past thousands of homeless people is completely different. It actually makes you feel the issue. When you run past a thousand mansions a couple days later, it really makes you pause and think, how did this happen? The bottom line is empathy. How can we understand and feel more for and about our fellow human beings. I think empathy use to be a lot simpler when our societies were smaller and more uniform. As the world population continues to grow and our micro communities diversify by the year, an understanding of our neighbors and fellow human beings is paramount to the simple state of getting along.
Competitor running: About your runs there in Mexico DF, what was the most exciting part of it all?
Rickey Gates: The most exciting part was… the food. Of course. Ha. That's only partly true. No, really, the most exciting part of doing this run in Mexico City was getting to try out a new "technique" in getting to know a place.
Mexico City is such a huuuuge place. It's simply not possible to ever visit the entire city in a lifetime. It is a living being and the moment  you think you've seen it all, it has already changed. I am fine with being a tourist, but am always looking for ways to have a different experience than what the Lonely Planet or the New York Times is telling me to do.
Covering entire areas of, say, the Coyoacan neighborhood of Mexico City where Frida Kahlo and Diego Rivera lived, allows me to experience that place in a similar way that they did. Finding dead end streets, eating at random restaurants, observing the jacaranda trees loose their purple flowers.
Competitor running: And what truly, strongly inspired you there in Mexico?
Gates: The most inspiring thing in Mexico City is the diversity from neighborhood to neighborhood and the overall kindness of the Mexican people. I can't express how amazing it is to me that you can walk into any restaurant and every body will wish you "buen provecho" or "buon apetit".
Competitor running: I'm sure it was worth it for the food at least. Tell us how you ate, where you ate, if you followed rules about nutrition when you were there?
Gates: I don't have any strict nutritional guidelines when I'm doing something like this. I enjoy trying out street food and quick-bite restaurants. All of it. I tend to be a bit cavalier about questionable food. I kinda figure, if I'm going to get sick, I'm going to get sick. I find that people that avoid street food will get sick some other way. For me, the street food is a huge part of the reason that I do projects like this—to experience what everybody else is experiencing in that neighborhood, on that day.
Competitor running: It's been a while since I've been to Mexico myself. Were you even concerned about your safety and do you recommend running there?
Gates: I never give much thought to my safety… I do have the luxury of being male in that sense (we are statistically much less likely to get "attacked" than women, which almost goes without saying). In Mexico, I don't think about it much. I figure, if I'm going to get robbed, how do I minimize the loss?
But truth is, I didn't really go to any "dangerous" neighborhoods. In San Francisco, having visited all of the neighborhoods (obviously this includes the dangerous ones), I never really felt in danger… just occasionally out of place. But the end result of this is always more understanding of, not just that neighborhood, but also of the city, country and society as a whole.
Note: If you want to spend some miles with Rickey Gates, he organizes running experiences in back country Colorado and across some of the most iconic national parks of the American West, Yosemite, Grand Canyon and Death Valley. Hut Run Hut and Bus • Run • Bus.
From PodiumRunner