Desperate Housewife Stalks Male Supermodel in Sports Death March
She: "I just ran 300 miles!" He: "Check out my rippling quads!" It ain't easy being Pam Reed. When the skinny Tucson mom ran 11 marathons in a row without stopping this spring, did anybody notice? No, they were too busy fawning over her nemesis, the buff Dean Karnazes, as he dashed gaily from magazine shoot to book signing. So what gives?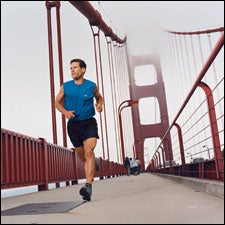 Michael Lewis
Heading out the door? Read this article on the new Outside+ app available now on iOS devices for members! Download the app.
IF YOU HAD WON ONE OF endurance sports' most grueling contests, twice, and your chief rival had won it once, and if his tanned mug and chiseled pecs had appeared on the covers of Runner's World, Trail Runner, Marathon & Beyond, SF Weekly, and this very publication, and he had bantered with not one but two late-night talk-show hosts and had been granted a 44-city book tour and a product-endorsement deal from a national cosmetics company and a major sponsorship from The North Face, and you had not—if, in fact, you'd gotten only one late-night TV appearance, along with The Tony Danza Show, as well as some free sneakers and sports drinks, and you'd had to share your big 60 Minutes segment with your rival—you could go about things one of two ways. You could shrug and chalk it up to "that's how the shallow world works; he's a sex symbol and I'm not," or you could set out to prove that you deserve some attention around here.
Pam Reed

Pam Reed in the sauna behind her Jackson Hole, Wyoming, summer home
Dean Karnazes

Dean Karnazes in the Marin Headlands, near San Francisco
Pam Reed

Reed on a Jackson, Wyoming, trail
Dean Karnazes

Karnazes at home in San Francisco
Pam Reed

DAILY RUN NUMBER FOUR: "I'm very hyper," says Reed. "I've never not run, even two days after my C-sections."
Dean Karnazes

"SUFFERING IS THE SOLE ORIGIN OF CONSCIOUSNESS": On a typical weekend, Karnazes will run all night and play dad during the day.
If you were Pam Reed, you'd choose the second option. Which is why, just north of Tucson, Arizona, on a Sunday morning in late March, the 44-year-old couldn't remember if she was running north or south, or what she was supposed to do when she got there. By that night, she was still running. She'd been running since Friday morning without stopping—except to pee, standing up, among the roadside brittlebush—for a total of 238 miles so far, and her goal of 300 miles dangled at least another night away. The pee thing was an art she'd perfected during 15 years of ultramarathons, and she's scarily good at it, to the point that it involves no undressing and no sticky legs. She hasn't yet worked out how to pee while running, as many men do, but don't put it past her.
Reed's course was a 12.5-mile-long stretch of I-10 frontage road. The plan was to run back and forth on it for 24 circuits without sleep breaks—past the casino billboards, the derelict black Dodge van, and the sign that read truck hauling. The terrain was flat and unspectacular, humming with semis from the interstate.
"God, I can't believe how long this is taking," she said, but casually, as if she were standing in line for postage stamps. Her bent arms swung mechanically. Her feet glided low over the asphalt, planting without a sound. Thin and spindly, she appeared smaller than five foot three; her face looked vacuum-wrapped, like skydivers' faces look when they're free-falling, an image aided by the upward spikes of her short blond hair. Reed's pretty blue eyes shone with determination. Although there were no competitors around to spur her on, she did have one specter in mind: Dean Karnazes, a fellow ultrarunner who'd appeared glowing and nearly naked on the cover of the February 2005 Runner's World. That image was enough to propel her through three sleepless nights and 45 bottles of vanilla Ensure.
Karnazes, the 42-year-old San Francisco–based president of Good Health Natural Foods, had broken Reed's two-year winning streak the summer before at the Kiehl's Badwater Ultramarathon, a grueling 135-mile race from the bottom of Death Valley to a finish line halfway up Mount Whitney. The year before that, Reed had beaten him there by 25 minutes, in a race that lasted more than 28 hours, in up to 127-degree heat. And the year before that, in her very first Badwater, Reed beat her nearest competitor by more than five hours, and the nearest woman by ten.
None of that helped ease the sting of the Runner's World cover, the latest in a mounting stack of glossies and television appearances by Karnazes. And this was all before his memoir, Ultramarathon Man: Confessions of an All-Night Runner, published in March by Tarcher/Penguin, sold 50,000 copies and climbed to number 18 on the New York Times bestseller list.
"When I won Badwater, I didn't think that much of it," Reed said the night before starting her 300-mile run. "But what bothers me is he gets a cover of Runner's World. They only did a little blurb on me."
Her feelings, she said, were not personal. "It's not him; it's our society. Dean is a really nice guy. I'm not jealous of him, but women need to get some recognition at some point. Running has politicized me."
On the cover, alongside Karnazes's heaving quads, ran the text DEAN KARNAZES WANTS TO RUN 300 MILES (WITHOUT STOPPING).
So Reed had an idea. She'd scoop Poster Boy. As a goal, it was arbitrary. Only a handful of ultrarunners had run so far in one outing, and going 300 miles without resting at all, Karnazes and Reed each hoped, could be a first.
Reed is as tough as a desert tortoise. She runs 110-plus miles a week in the Arizona sun, and she doesn't use sunscreen, her theory being that it blocks the body's evaporative cooling. Her skin is more like a hide, and it has served her well. She's given birth to three children, Timothy, 20, Andrew, 16, and Jackson, 10; stepmothered two others, 16-year-old Jonathan and 19-year-old Greg; been a high school cheerleader and run track in Negaunee, Michigan; played tennis at Michigan Tech; suffered 15 years of anorexia, including two hospitalizations; lost most of her teeth (thanks to a genetic predisposition); and become an ultrarunning phenom. Since she started competing in Ironman Triathlons in her late twenties, she's run more than 40 races longer than 100 miles, and 100-plus marathons, including two "double Bostons"—back-to-back laps of the Boston Marathon. In 2003 she broke the U.S. women's 24-hour track record and, last year, the 48-hour women's record for her age group.
All this, and in dentures.
DEAN KARNAZES IS THE KIND OF GUY who does pee while running, as detailed in Ultramarathon Man, along with other amusing anecdotes of the running life, such as puking all over his company Lexus after his first ultra, in 1993, and passing out spectacularly at mile 72 of his first Badwater attempt, in 1995.
This past June in Squaw Valley, California, Karnazes arrived at the 100-mile Western States Endurance Run in top form, sauntering toward the medical check-in flanked by his wife, Julie, a dentist; kids Alexandria and Nicholas, ages ten and seven; and a representative from The North Face, which sponsors the event and has sponsored Karnazes off and on since 1999. Western States is the country's oldest and most prestigious ultra trail race, and Karnazes was eager to earn a special 1,000-mile silver belt buckle for completing the event for the tenth time. He wore snazzy red North Face surf shorts and a pair of North Face trail shoes he helped design, and his veins popped commandingly from his calves, which were shaped like paleolithic clubs. People snapped his picture while he ate lunch or strolled around, and, at one point, a man in running clothes sidled up and excitedly thrust out his hand.
"Hi, my name is Mark, and I just read your book," he said. "I want you to know it really inspired me. This is my first 100-mile race."
"Hey, thanks, man. Glad you enjoyed it. Good luck tomorrow," said Karnazes, flashing his high-voltage smile. "Karno" appears at ease with his celebrity, a status that was, until he came along, completely foreign to the world of ultrarunning. For most competitors, Zenlike suffering is its own reward, but Karnazes is either a more social or more pragmatic animal. After weighing in at race headquarters (157 pounds at five foot nine, blood pressure 108/70, heart rate 40 beats per minute), he jogged to the concession room to sign his book.
To almost everyone's surprise, including his own, he says, crowds have flocked to Karnazes's book signings, lining up to hear his moving account of how he runs to live life to the fullest and to honor the memory of his sister, who died in a car accident as a teenager. "I like to get up there and tell my story," he says. "If it's inspirational, if that's what people get out of it, it's kind of a rush, actually. Almost like an ultra in a sense, like a drug, and then when you're finished, people are applauding."
Karnazes's unlikely media breakout is all the more surprising given that he's not even the world's best ultrarunner, though both he and Reed routinely finish near the top of the pack. But the two have managed to shake up the sport in ways that other ultrarunners can't—or won't. They've done this in two ways: first, through their over-the-top pursuit of brutal distances, and second, through their wholly unapologetic pursuit of fame. Since Karnazes started competing in ultras in 1993, he's won only one major title, the 2004 Badwater, where he bested Reed. But no one can touch Karno in the marketplace.
A cross-country, volleyball, and surfing star in high school in San Clemente, California, and a windsurfer at Cal Poly in San Luis Obispo, Karnazes started running long distances on his 30th birthday, when he jogged all night to stave off an early midlife crisis. By the late 1990s he was wowing the Bay Area by soloing the 199-mile Relay from Calistoga to Santa Cruz, a feat he's now accomplished seven times. He ran the first South Pole Marathon, in 2002, posing nude post-race at the bottom of the world. Last year, he ran 262 miles, ten marathon distances in a row, to raise money for Organs 'R' Us. Did we mention that he cross-trains by surfing, rock-climbing, and mountain-biking?
"He's a dream," says Katie Ramage, who manages The North Face's athlete team. "He's smart. He's driven. He's photogenic. We have a category called media darling, and he gets the highest ranking." The cosmetics company Kiehl's, which sponsors Badwater, underwrote Karnazes's book tour, a fine complement to its line of Vital Sun Protection and Facial Fuel Energizing Moisture Treatment. Dashing into the Kiehl's store in Las Vegas for a signing last summer, Dean joked to the crowd that he was late because he'd had to mousse his chestnut locks.
It's a tough act to follow.
"Have you seen him? He's great-looking," groans Pam Reed. She was also at Western States this June, sans entourage. Her husband, Jim, would serve as pacer, chauffeur, and hander-over of Red Bull and Ensure. Reed almost didn't come to the 2005 event, but, like Karnazes, she wants to nail ten of these babies, and this was number six. Lately, though, she'd been pushing herself too hard, first on her Arizona highway solo, then by running a London Marathon, followed the next morning by a double Boston ("That was a mistake!" she said afterwards), then running 178 miles at a 48-hour race in France.
On race day, bounding into the aid station at the top of a 36-switchback climb at mile 47, Karno looked as fresh as trailside lupine. He unfurled his shirt, poured ice water over his head, and filled his bottles. "I feel good," he said. "I enjoy watching the sky." Then he grabbed a cookie and chased off after the Tanzanian in 11th place.
Reed, for her part, was struggling. At 5:30 a.m., she was slogging the remaining few miles en route to a 25-hour-59-minute time, four hours before the race's 30-hour cutoff. Her husband had quit pacing her after 20 miles, leaving her to navigate the nighttime forest on her own. "This is the worst ultra I've ever run," she said at mile 96.8. "Everything hurts. Everything." Karnazes, meanwhile, had leaped across the finish line in seventh place at around 11 p.m. the night before, finishing in 18 hours and 14 minutes. After a quick water douse, he peeled off his socks. Not a blister or blackened toenail in sight. "Hey," he said, standing up and shaking his arms. "That was fun!"
No wonder Reed wants to gag on her GU2O.
NEITHER OF THEM HAD WON. While Karnazes stood with his sponsors posing and hugging, the race's victor, a sweet, skinny 31-year-old named Scott Jurek, lay wrapped in a sleeping bag, tethered to an IV. Jurek is Western States' Lance Armstrong: He's won the thing seven years in a row, setting an astounding course record of 15 hours 36 minutes in 2004. After his 2005 win, he gave a short interview to a local TV station, then threw up. What's that about?
First, you need to understand that Jurek's obscurity is not only typical; it's standard, part of the sport's unspoken code of modesty, humility, and silent suffering. Up until recently, there's been no fame or glory for ultrarunning, which shows little sign of becoming a mass phenomenon. Last year, 12,000 to 15,000 people finished an ultra in the U.S., compared with some 150,000 triathletes and 423,000 marathoners. Fewer than 20 runners participated in all four races of ultra's trail-running grand slam: Western States, Colorado's Leadville 100, the Vermont 100, and Utah's Wasatch 100.
Ultrarunning is bigger internationally, but it's still such an underfunded addition to the global roster of sports—the International Association of Ultrarunners' 24-hour world championship has been held regularly for only the last three years—that members of the U.S. team, to which both Karnazes and Reed belong, had to pay their way to the July 2005 race in Austria. While triathlon is now an Olympic sport, ultrarunning probably never will be, since nobody wants to see the marathon, being ancient and Greek and all, getting upstaged. And because ultramarathons are not exactly spectator-friendly—who wants to watch a bunch of endlessly running runners endlessly running some more?—there's barely any TV coverage or big money in the game.
The sport's figurehead in this country is Marshall Ulrich, a 54-year-old veteran of 111 ultras, including 13 Badwaters (which he won four times). Ulrich has a reputation for suffering some of the best hallucinations in ultra lore—chasing a silver-bikini-clad siren through the desert and watching Mount Whitney squirm violently with millions of lizards. He's climbed the Seven Summits and competed in nine Eco-Challenges, and he's appeared on Dateline and the Today show. But he gets nowhere near the exposure of Karnazes.
Ulrich and Jurek aren't the only ones achieving great things under the radar. Few Americans have heard of ultra's greatest living star, Yiannis Kouros, a Greek racer living in Australia. In addition to breaking records in almost every road or track ultra event—from 24- and 48-hour races to 100-mile competitions—he ran 300 track miles in 60 hours in 1984, did 1,000 miles in ten days in 1988, and still competes at age 49.
And no one paid attention when John Geesler, a 46-year-old maintenance man from St. Johnsville, New York, ran 300 miles in 69 hours on a track a few months before Pam Reed's long solo. No official records are kept for three-day races, so it didn't make a splash, and Geesler didn't think to seek one. "Right after I did that race, I heard Dean was on the cover of Runner's World," Geesler says. "It's a coincidence that he's getting all this publicity for wanting to do 300 miles when I had just done it. Maybe it doesn't count in their eyes because I took a one-hour nap. That's OK with me. To each his own."
Geesler's next goal is to break the U.S. track record of 554 miles over six days. Even if he pulls that off, it's unlikely to make prime time.
So why do it? Because other people can't, and because there just may be something deep inside the human animal—or at least some human animals—that hungers to run this far. According to a paper published last year in the journal Nature, humans may have evolved to a higher plane specifically because of our predilection for running. Bipedalism, sweating, and springy tendons like the Achilles are handy for walking, the theory goes, but critical for running long distances. Two million years ago, endurance may have allowed our ancestors to run prey to exhaustion. Eating more fat and protein, we could develop smaller guts and larger brains. Running is us.
"People think we're crazy and psychotic and bizarre, and yes, some of us are very Type A or competitive," says Jurek, "but there's a spiritual side, too. You really learn about yourself when you bring yourself to that edge. It gives you a glimpse of what you're really made of and even the meaning of life, a vision of the soul. It's an evolved, instinctual thing to do."
Although Jurek does receive a modest sponsorship salary from Brooks running shoes, in addition to his job as a physical therapist, he hasn't written a book or graced a box of cereal. That suits him fine. I caught up with him the day before Western States. He was busy whipping up avocado-and-algae pudding and happily staying out of the spotlight.
"I think I'll pass on Dean Karnazes's image," he said. Like many runners, he finds the Pam-and-Dean rivalry annoying.
"To have this little sideshow going on," he said, "I don't think that's the essence of the sport."
JUREK ISN'T ALONE IN feeling that way. Here's an obscure sport finally getting some attention, but for a reason that makes many competitors break out in the mental version of athlete's foot: the preening of two of its stars. Racers joke about Karnazes leaving a mirror at the midway aid stations. When he was described on 60 Minutes in March as possibly having run farther than anyone else alive, computer listserv junkies jumped all over the claim as bogus, citing Kouros and others. While other runners have certainly gone farther, the question of whether running so far nonstop is a "first" opens up a morass of other questions, like what constitutes "nonstop" and how fast you have to be going to still call it "running." When Karnazes appeared on the Late Show with David Letterman that same month, one scribbler on the Ultra listserv vented, "Dean Karnazes is just another self-promoting huckster."
It was the 60 Minutes segment that really hyped the rivalry, focusing as it did on the two Badwater front-runners as they competed in 2004. Before the race, Karnazes told Lesley Stahl, "Coming in second is the worst thing you could ever do, because no one said, 'You had a great finish at Badwater.' They just say, 'You lost to Pam.'"
Still, Karnazes maintains, being targeted by Reed for one-upmanship is a surreal experience. "We've raced a dozen times together, and she's won once," he says. "I'm a little bummed she's playing up the Badwater thing. She wants to get revenge. It's not like I'm the only one who beat her." (Reed came in fourth.) But the envy makes sense. Karno has what Reed yearns for: a lucrative running life.
Cash helps, because the road to glycogen-powered enlightenment isn't cheap. Like most elite ultrarunners, Pam Reed loses money. Between event fees, travel, and gear, she spent close to $25,000 last year. A fraction of that was covered by two speaking fees and a few free products—shoes from a Tucson running shop, some Ensure, and all the Red Bull she can drink. (As a "friend of Red Bull," Reed does get some expense money, but she still sits a rank below their top athletes. "I want to be that, their top level," she says.) Although the family is comfortable—her husband, Jim, is a tax accountant and they spend summers in posh Jackson Hole, Wyoming—Reed's global competitions strain their finances. What Reed would like is, yes, a little validation, but mostly some cold, hard cash.
Hence the stunts. "Dean and I are oddly similar," says Reed. "We've done off-the-wall things."
Karnazes seeks out his very own categories. Only three men ran in the 2002 South Pole Marathon, the other two in snowshoes. Although Dean finished second, he made it known that he won the "running division," becoming the first person to complete a polar marathon in sneakers. Last year, he traversed the Western States course in winter, a supposed first. In 2003, he set out to run 300 miles nonstop on a mountainous course, but quit at mile 226. Now he's considering retracing the steps of legendary Greek messenger Pheidippides, who carried dispatches from Athens to Sparta in the Battle of Marathon in 490 b.c. In his book, Karno compares himself to Pheidippides; for good measure, he plans to run wearing full armor.
Karnazes knows that some of his colleagues rag him, and responds by pointing out that his runs raise hundreds of thousands of dollars for leukemia and organ donation and increase the sport's visibility. "In my defense," he says of his book, "it's a memoir. It's not a definitive statement on ultrarunning. I never claimed to be an authority on ultrarunning or necessarily a good ultrarunner.
"It's either jealousy or whining," he says of his detractors. "I wish they'd come to the bookstores and see how inspired people are about it."
Their real problem, he feels, is with the very idea of the chummy, clannish sport undergoing a makeover. Many runners want to keep the races small and obscure, an attitude that chafes him. "I find it comical that people are saying you're giving away the Garden of Eden," Karnazes says. "I'm like, Shit, I can see that about a fishing hole or a secret surfing break, but there's a lot of open road in this country."
And some ultrarunners agree with him. "This sport needs to be a little more mainstream, as opposed to so extreme and underground and hidden," says Shannon Farar-Griefer, 44, who in 2001 became the first woman to run a "double Badwater"—for a total of 292 miles (with naps). A Los Angeles resident who looks like a cross between Goldie Hawn and Olympic marathoner Paula Radcliffe, Farar-Griefer appeared in a Slim Fast commercial and is writing a memoir.
"I love it that Pam and Dean are doing this," she says. "Three years ago people would have whooshed me away. Now I can jump on their thing. I just sent Energizer my portfolio. It's time for a new bunny."
IT'S TOO EARLY TO TELL how many converts Karnazes and Reed will bring to ultrarunning, since it takes newbies a solid year to train for their first race. But no one can deny that Karnazes is revolutionizing the sport, inspiring many weekend warriors to take it up a notch.
"We'll see bigger numbers," says Western States race director Greg Soderlund, "and a lot of that is because of Dean's book." Reed, too, wants to spread fitness fever. "I want to be an inspiration to girls and other women that they can do anything they want," she says, "and not just let categories like 'mother' limit them."
Money and fame aside, both Karnazes and Reed are motivated more by primal need than anything else. For years they toiled in obscurity, running simply because they couldn't stop. On the surface Karno is a jokester who says he has no problem balancing his training schedule, his job, and his family life. But an easygoing ultrarunner is an oxymoron: On a typical weekend, he'll run all night and play normal dad during the day. And easygoing people don't generally quote Dostoyevsky ("Suffering is the sole origin of consciousness") or write things in their book like "If you're not pushing yourself beyond the comfort zone . . . you're choosing a numb existence."
Reed races almost monthly, because she is, by all appearances, completely obsessed. She simply can't sit still: If she's at an airport, she runs laps around the parking lot; if she's in the car with her family, she gets out while they eat, and they pick her up down the road an hour later. "I might have ADD," she says. "I'm very hyper. I've never not run, even two days after my C-sections."
It's possible to view Reed's drive to outrun Karnazes as a spin cycle of desperation. No matter how many races she wins, she'll probably never achieve his media stature, and she'll put her body through hell in the process. In other sports, ability is determined by points or scores or time limits, but in ultrarunning, rogue competitors like these two could theoretically just keep running until they drop.
The jury is still out on how running ultras may affect bodies like Karnazes's and Reed's. Over the short term, it's not uncommon for runners to seize up, retch, or pass out. Some suffer acute renal failure caused by tubular necrosis (when waste from muscle breakdown infiltrates the kidneys), or hyponatremia (a life-threatening low sodium concentration). On a 100-mile run, racers can lose and consume up to one-third of their weight in fluids and damage muscle tissue to the extent that it can take months to recover. They may suffer "leaky gut" syndrome, in which intestinal contents make their way into the bloodstream, resulting in nasty digestive problems. And they may be suppressing their immune systems, aging prematurely, and lowering their sex drive.
As a woman trying to prove herself against men, Reed pushes it even harder. Although she works from her home office as the race director of the Tucson Marathon, she still runs carpools, gets dinner on the table, and attends Jackson's Little League games. Further complicating the picture is her history of anorexia. Off and on for 15 years, starting in 1976, Reed struggled with the disease, taking laxatives, except while pregnant. In 1991, she quit after it finally dawned on her, during a hospital stay, how skeletonized the bodies of other anorexics were.
"It was so stupid," she says. "Just stupid. I was like, Never again." So she replaced one compulsion with another, relatively healthier one. And she's taking it as far as she can.
IN ARIZONA, SOMETIME before the moon set on Picacho Peak at an ungodly hour Monday morning, Pam Reed passed Dean Karnazes's personal best—262 miles. It had taken him about 75 hours, and it took her 67. "It felt good to pass Dean's record," she says. "But, you know, he was running on hills. It's just going to feel good to go 300 miles." Her form looked almost no different from nearly three days earlier, but her speed was even slower, down to 20-minute miles. Earlier in the night, she'd nodded off for a few seconds as she ran; now she was listening to AC/DC on her 16-year-old's iPod Shuffle.
At 1:57 p.m., 79 hours and 57 minutes after beginning, Reed shambled across the 300- (actually the 302-) mile mark. She hugged her three sons and her parents, who'd been camped beside the road for four days in a Minnie Winnie, cooking her pasta and oatmeal. A few local reporters gathered, and she answered questions and took off her shoes. After 302 miles, she had exactly one blister. The previous evening, the 60 Minutes segment had aired, and by June she would finally secure a long-sought book deal from Rodale Press to write about overcoming anorexia to become an elite athlete. "I want my book to be more on life and how hard it is to be a mom and person and wife," says Reed. "To continue on with training, there's a huge price you pay."
Still, the feeling of achievement was sweet. "I love it that I did it," she said.
Karno probably didn't feel so good, although he acted as if he hardly noticed. He said he'd revised his goal from 300 miles to 500 miles anyway, and that he'd try it on a flatter course, possibly from San Francisco to Los Angeles. "I would never discount what Pam's done," he said. "I applaud anyone who can run that far, but it seemed kind of contrived. It's just not where my heart is, running around in circles. What she did and what I did are so different. I ran 262 miles through the mountains.
"As in every ultra," Karnazes emphasized, "I just compete against myself. I gotta say, I think her ego is bigger than mine."
Not one to take a challenge lightly, Reed upped the ante. In May, she invited Karnazes to join her in a head-to-head 500-mile race sometime within the next year. "The rule would be 500 miles and whoever gets there first," said Reed. "Whatever happens, it would be a win-win." In June, Karnazes said he would accept if the right course and charity could be lined up.
Finally, their rivalry could be openly expressed.
It would be like Billie Jean King and Bobby Riggs!
Like Seabiscuit and War Admiral!
Or not. By early August, Reed was reconsidering, thinking maybe she'd do a 500-miler across the state of Arizona instead. In July at Badwater, she'd had to settle for fifth as Jurek, in his first appearance at the race, wiped out the competition. She hadn't even gotten to face Karno: He'd skipped the event to compete at the world championships in Austria, where he came in 34th overall. Now Reed just seemed tired of it all. "How much more do I have to prove here?" she asked. "I'm not getting any younger. I should forget about Dean." But then again, she added, laughing, "I really would like to run 500 miles. How sick is that?"
For many in this publicity-shy sport, a cease-fire would be a relief. "There are some people for whom any race is never enough," says Ulrich, the Badwater master hallucinator, who describes himself as a "recovering" endurance addict. "I look at them and see they've got a long way to go and a lot to learn. I have respect and appreciation for them. But when you start comparing yourself to other people, it's a bad road to go down. You should be happy with yourself."
Words to run by, no doubt. But perhaps not just yet.
Trending on Outside Online