The Best Books, Movies, and Magazines About Running
For those who run, the sport is a subject of inexhaustible interest. From goosebump-inducing trail porn to the most thoughtful ruminations on running and life, here's how we stock our running library.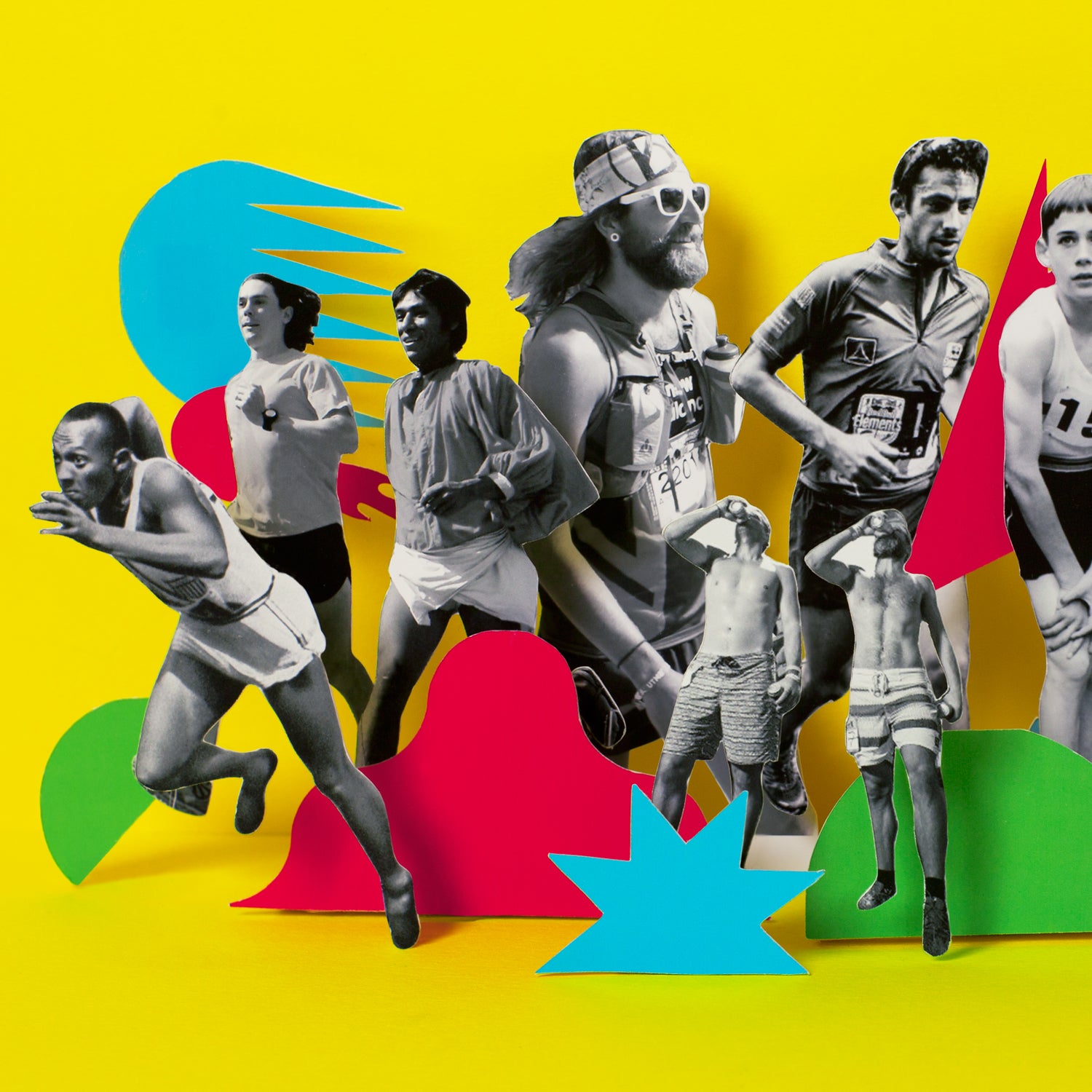 Heading out the door? Read this article on the new Outside+ app available now on iOS devices for members! Download the app.
The appeal of running is hard to articulate. One sacrifices sleep, free time, and pain-free joints to do something that, regardless of how athletic you are, requires some degree of suffering. Yet for those who heed the 5 a.m. wake-up call or feel most at home on the trails, running is an essential part of life and a subject of inexhaustible interest. For decades, writers, filmmakers, journalists, coaches, and podcasters have tried to capture the sport's elusive allure. Here, we've collected what we think are some of the best running books, films, videos, podcasts, websites, and stories, from the obvious classics to the best how-tos to the most inspiring trail porn. After you're done reading this, we dare you not go for a run.
Most Thoughtful Meditations on Running
'Curiosity'
https://youtube.com/watch?v=GNWkehVuO84
In Curiosity, production company Camp 4 follows three ultrarunners—the bubbly Rory Bosio, the reflective and stoic Timothy Olson, and optimistic veteran Hal Koerner—before the 2014 Ultra Trail du Mont Blanc, the annual circumnavigation of Mont Blanc through France, Italy, and Switzerland. The contrasting profiles give viewers a glimpse of what makes truly great trail runners.
'What I Talk About When I Talk About Running,' Haruki Murakami
Haruki Murakami, the bestselling author of The Wind-Up Bird Chronicles, first experienced the transformative powers of running when he took up the sport in 1982 at the age of 33. Twenty-six years later, he published this philosophical memoir, which poetically explores the sport as a metaphor for life.
'Fast Girl,' Suzy Favor Hamilton
Suzy Favor Hamilton is a former Olympic middle-distance runner and six-time U.S. National Champion. She is also a one-time high-end escort who battles manic depression and bipolar disorder. Her memoir, sad and surprising, is an empathic story about mental illness and escape, as well as what it means to find redemption.
'Run for Your Life,' Matthew Batt, Outside, October 2015
What motivates an amateur racer to rack up thousands of training miles and take on the pain and tedium of marathons and ultramarathons? For author Matthew Batt, it's about keeping a step ahead of his ghosts.
'The Perfect Mile,' Neal Bascomb
In this 2005 book, author Neal Bascomb tells the true story of Roger Bannister, John Landy, and Wes Santee's attempt to break the four-minute mile half a century ago. Like the two-hour marathon, there was a time when running a four-minute mile was considered impossible. The Perfect Mile gets at just what made it possible.
Most Likely to Make a Difference
Sponsor Content: Patagonia 'Takayna'
Come for the running. Stay for saving the rainforest. Takayna, a new film from Patagonia, tells a rich story, intertwining both of these subjects. The Tarkine, called takayna in the Aboriginal language, is a 1.2 million-acre swath of temperate rainforest on the Western coastline of Tasmania. The landscape is home to old growth forest, 60 threatened and endangered species, uncontaminated rivers, and the artifacts of the Aboriginal people who were nearly wiped out by a largely-unacknowledged genocide. It's one of the world's last wild places—and it's under threat.
While Tasmania is thousands of miles away from the United States, the public lands conflict happening there will feel surprisingly familiar and relatable for an American audience. Takayna, which made its North American debut at Telluride MountainFilm over Memorial Day Weekend, tells the story of the Tarkine from all sides: a trail running doctor who uses her feet to help activists, a storied environmentalist, Aboriginal voices, and locals who rely on extractive industries for their livelihood.
"This film is about the intrinsic value of wild places and the necessity of protecting them," says the film's director, Alex Lowther. "The threats to these places are underpinned by this old narrative of extraction vs. conservation and I think both sides have lost sight of each other. It underlines the necessity of compromise—even though that's not easy."
The film's most gripping moments come as the doctor's role in the story is fully revealed: her long-distance runs are instrumental for environmentalists tracking logging operations, and showcase the contrast between pristine landscapes and almost dystopian-looking logged forests. That contrast is one of the film's most powerful devices for inspiring activism. "This film was made as a tool for the campaign and I'm hoping that it legitimately moves the needle in Australia," says Lowther, adding that not enough people—even in Australia—know about what's going on in the Tarkine. "We originally set out to make something much shorter, but it turned out to be a lot more complicated than we expected."
Most Likely to Inspire
'Born to Run,' Christopher McDougall
A tribe of distance runners in Mexico, an enigma named Caballo Blanco, and a ragtag group of ultra-endurance athletes. These are the ingredients in Chris McDougall's bestselling, worldwide trend–inspiring 2009 book. Through personal experience, science, and the stories of some of the weirdest and most compelling characters in the world of endurance sports, this first-person adventure meets ethnography teaches us why humans were—wait for it—born to run.
'Running the Sahara' (2007)
While traversing the Sahara Desert, ultrarunners Charlie Engle, Ray Zahab, and Kevin Lin run 4,300 miles across six countries over 111 days. The trio suffers injuries, extreme fatigue, and personal conflict, yet—spoiler alert—ultimately complete what is still considered one of the greatest achievements in long-distance running. It's worth watching just for the panos of African desert. Bonus: Matt Damon narrates.
'The Barkley Marathons: The Race That Eats Its Young' (2014)
With some 60,000 feet of elevation gain over 100-plus miles, the Barkley Marathons—run in a wooded, mountainous section of Tennessee—is considered one of the hardest, most sadistic, unrealistic endurance challenges in the world. It was first held in 1986, and fewer than 20 runners have ever finished. The course is never the same, and the trail isn't marked. The application process is long and confusing and requires both a handwritten letter and sacrificial license plate. And the race begins with the ceremonial lighting of a cigarette. Filmmakers Annika Iltis and Timothy Kane captured the backwoods insanity at the 2012 running.
'Unbreakable: The Western States 100' (2012)
This documentary follows champion ultrarunners Geoff Roes, Anton Krupicka, Hal Koerner, and Kilian Jornet as they battle for first place at the 2010 Western States 100. What makes this film remarkable, despite its amateur feel, is its ability to deftly explore the discipline, training, mental strength, and positivity it takes to race a hundred miles.
'Kroger's Canteen'
Hardrock 100, the annual ultramarathon in Silverton, Colorado, is one of the hardest races in the world to run. It's also one of the hardest to support. This gorgeous, emotional short video is about more than just Kroger's Canteen—the notoriously dangerous and difficult-to-reach aid station at the top of the 13,000-foot Virginius Pass—and its captain, Roch Horton. It's about what Hardrock means to the people who run it and those who truly risk their lives to make it happen.
Meter Magazine by Tracksmith
This glossy coffee-table quarterly, published by retro running apparel company Tracksmith, is full of high-quality long-form stories on the history, culture, and personalities of running. With stunning full-spread photography and thick paper stock, Meter feels like something that deserves to be preserved.
'Unbroken,' Laura Hillenbrand
In this bestselling true story, former Olympic track star Louis Zamperini survives a plane crash during World War II, 47 days floating on a raft in the Pacific, and then more than two years in a Japanese POW camp. Though running is only part of the story, Hillenbrand uses it a wonderful metaphor for Zamperini's strength and drive to succeed at all costs.
'Town of Runners' (2012)
A small village in the Ethiopian highlands called Bejoki has produced some of the world's best distance runners—runners who have gone on to win eight Olympic gold medals and 32 world championships and set ten world records. This documentary follows two young girls and their coach as running slowly transforms their lives, taking them from their rural village to national competitions.
'Triumph,' Jeremy Schaap
This biography tells the story of Jesse Owens, the sharecroppers' son who won four gold medals at the 1936 Olympics. The games took place when Hitler was coming into power, just before World War II. It's a story about an athlete competing on a very complicated geopolitical stage and making history in the process.
'Saint Ralph' (2004)
https://youtube.com/watch?v=cFGS9FocQN0
This incredibly cute film follows a Catholic schoolboy who trains to run the 1954 Boston Marathon, believing that if he wins, his mother will wake up from a coma. The zero-to-hero cliché is heartwarming in a way that might make you cry.
'Prefontaine' (1997)
Jared Leto, who recently won an Oscar for Dallas Buyers Club, plays the famous Oregonian runner in this biopic, which chronicles the college years of the young Olympic hopeful. It also covers the work Pre did as a leading advocate for athletes' rights, which led to the Amateur Sports Act of 1978.
'Run for Your Life' (2008)
Romanian immigrant Fred Lebow founded the New York City Marathon in 1970 and over 40-plus years turned it into one of the most popular races in the world. This documentary is told through great archival footage and features interviews with everyone from Alberto Salazar to former New York City mayor Ted Koch.
'Duel in the Sun,' John Brant
Running star Alberto Salazar and underdog Dick Beardsley duke it out at the 1982 Boston Marathon. The race captivated a generation. In the aftermath, neither man ever ran well again—Salazar because of complications with overtraining syndrome and Beardsley because of a number of accidents and subsequent drug addiction. Their duel is considered one of the best marathon moments in history.
'Marathon Man' (1976)
Dustin Hoffman plays a runner who accidentally gets caught up in a Nazi diamond theft in New York City. This suspense thriller, based on the eponymous novel, is partly about endurance but also covers the much more complicated themes of violence and war crime, making it uniquely compelling in the canon of running films.
'Running Down a Dream,' Joe Spring, Outside, November 2012
Shaun Martin, a Navajo cross-country coach from Chinle, Arizona, uses running as a powerful motivator for high school students who yearn for opportunities beyond the reservation. But make no mistake: These kids race to win, and they usually do.
Best Training Guides
'Where the Road Ends,' Meghan Hicks and Bryon Powell
Meghan Hicks and Bryon Powell, founders and editors of iRunFar.com, are something of authorities in ultrarunning. Consequently, what's unique about their new guide—which covers everything from proper downhill form to handling treacherous conditions—is the authors' ability to bring a nuanced and comprehensive perspective to a sport that has from the beginning been a lot of trial and error.
'Training Essentials for Ultrarunning,' Jason Koop
Dakota Jones, Dylan Bowman, and Mike Foote all have one thing in common: They're coached by Jason Koop. Training Essentials for Ultrarunning is a look inside the mind of the guy responsible for getting the world's best ultrarunners to the podium.
'Eat and Run,' Scott Jurek​
Having won the Hardrock 100, Death Valley's Badwater Ultramarathon, and the Western States 100 (seven consecutive times), Jurek is an ultrarunning icon who helped set the stage for competitive trail running at an elite level. He's also a vegan. Equal parts memoir and cookbook, Eat and Run gets at what drove Jurek to be so good and how he accomplished it on a diet of plants.
'Fast Track,' Suzy Favor Hamilton and Jose Antonio
Suzy Favor Hamilton and sports nutritionist Jose Antonio's 2004 book is arguably the best guide catering specifically to the needs of female athletes, many of whom are at risk of developing eating disorders and the female athlete triad.
'Run or Die,' Kilian Jornet
Kilian Jornet's autobiography gives the reader a look inside the training and personality of one of the world's greatest endurance athletes. The takeaway: How can you not be happy when you're running around Mont Blanc every day?
The Science of Running
'The Sports Gene,' David Epstein
Sure, The Sports Gene is about more than just running, but the chapter on the Jamaican sprinters alone is worth it. David Epstein's book is a remarkably thorough and fascinating look at both genetics and training as factors for athletic success.
'How Bad Do You Want It?,' Matt Fitzgerald
Coach and nutritionist Matt Fitzgerald writes about mental strength and what it takes to achieve it. Through stories of athletes who overcame their own psychological hurdles to achieve success, this may be the only book that goes beyond the standard mindfulness training, which focuses primarily on visualization, and gets at the heart of how champion endurance athletes achieve greatness.
'Running on Empty,' Meaghen Brown, Outside, July 2015
Over the past decade, ultrarunning has gone from a fringe pursuit for distance freaks to a hypercompetitive sport attracting big-time sponsors. But a mysterious training condition is suddenly plaguing its ranks, robbing a generation of top athletes of their talents and forcing victims to wonder: Is it possible to love this sport too much?
'Two Hours,' Ed Caesar
Ed Caesar explores what it might take to run a marathon in under two hours, something some scientists believe is impossible and others have devoted their lives to trying to achieve.
'Why We Run,' Bernd Heinrich
Part memoir, part anthropology text, Why We Run, by biologist and distance runner Bernd Heinrich, is a straightforward explanation of what it takes to run and why humans are uniquely good at it.
'Endurance Predator,' Bernd Heinrich, Outside, May 2004
Four-minute mile? No problem. Twenty-nine-foot long jump? Cakewalk. The real question: How far have we come and how far can we go as athletes?
'Lore of Running,' Tim Noakes
South African physiologist Tim Noakes delves into everything you've ever wanted to know about running and the body. It's a lot like a physiology textbook, discussing overtraining syndrome and the necessity of carbohydrates, but it's also digestible and a must-read for anyone interested in the relationship between running and the body.
Best Running Geekery​
The Rich Roll Podcast
Before transforming himself into a vegan ultra-athlete deemed by Men's Fitness as one of the fittest guys in the world, Rich Roll was a self-admitted overweight alcoholic. The bestselling author of Finding Ultra now hosts a weekly wellness podcast, with guests ranging from celebrities (vegan hip-hop mogul Russell Simmons) to athletes (Western States record holder Timothy Olson) to scientists (leading microbiome researcher Robynne Chutkan). He also recently started a series of vlogs that give viewers a look inside the life of a wellness entrepreneur.
iRunFar.com
Covering everything from pre-race predictions to post-race analysis, plus video interviews, trail guides, gear reviews, well-reported features, and regular columns from some of today's best runners, this site, started by former lawyer Bryon Powell, is the inside baseball of all things ultrarunning. The site has also become known for its unparalleled race-day coverage.
LetsRun.com
With epic comment boards that amass thousands of posts, LetsRun.com has become the digital home for running geeks—geeks who take the sport very seriously. The site has developed a reputation for attracting amateur sleuths who crowdsource information to keep everyone honest, from Boston Marathon racers to trans-American record breakers.
The Ginger Runner
We're trying to figure out what Los Angeles–based actor, comedian, and ultrarunner Ethan Newberry doesn't do. Check out his YouTube channel and you'll find gear reviews, race recaps, live hour-long interviews, training logs, and even original music. Be careful: The Ginger Runner is the type of site you can accidently lose four hours in.
Ultra Runner Podcast
With news and interviews with some of today's most interesting ultrarunners, this podcast is the most thorough and efficient way to keep tabs on all things mountain running. While the show celebrates the sport, it isn't afraid to tackle tough, important issues, like depression among trail runners and overtraining syndrome.
'It's Gonna Suck to Be You,' Steve Friedman, Outside, July 2001
"There is a reasonable chance somebody could die," says a Dallas-based doctor and Hardrocker. "I've fallen and almost been swept away by a waterfall." Journalist Steve Friedman details the masochistic undertaking that is running the Hardrock 100.
'Once a Runner,' John L. Parker Jr.
Though originally self-published, this story of a college athlete who gives up everything to run a perfect mile has since become one of the most popular works in running literature. Whether author John L. Parker is describing the quotidian details of individual workouts or opening a window into the devotion of an elite runner, this book is engaging and inspiring from start to finish.
'15 Hours'
Over the past year, Los Angeles–based Billy Yang has established himself as one of the most talented filmmakers in the trail running space. His short documentary series, 15 Hours, follows runners like Anton Krupicka and Ann Trason during a full day of training. But what sets these videos apart is their thoughtful, introspective quality—they present a side of these athletes that fans aren't usually privy to.
'Running with the Buffaloes,' Chris Lear
Written as a series of journal entries, this nonfiction book about the University of Colorado, Boulder cross-country team and coach Mark Wetmore during their 1998 season is an unparalleled look at the inner workings of a team that has since won the NCAA championship five times. When it was first published in 2000, Running with the Buffaloes almost immediately mythologized Magnolia Road, an eight-mile, mostly dirt stretch west of town that has become a famous training ground for elite runners.
'The Toughest Footrace in the World,' Lee Green, Outside, 1979
In 1974, Gordy Ainsleigh, a woodcutter from Colfax, California, decided to run the Tevis Cup, a 100-mile horse race in central California, on foot. In doing so, he laid the groundwork for the Western States 100 Mile Endurance Run. Writer Lee Green details the history of the most prestigious ultramarathon on U.S. soil.
Lead Photo: James Taylor