The Crazy, Record-Breaking, 13-Country Great European Half Marathon
Have You Ever Considered Running In 13 Countries In One Day? Probably not. But Josh Sanders did. And then he tried it. With 15 friends.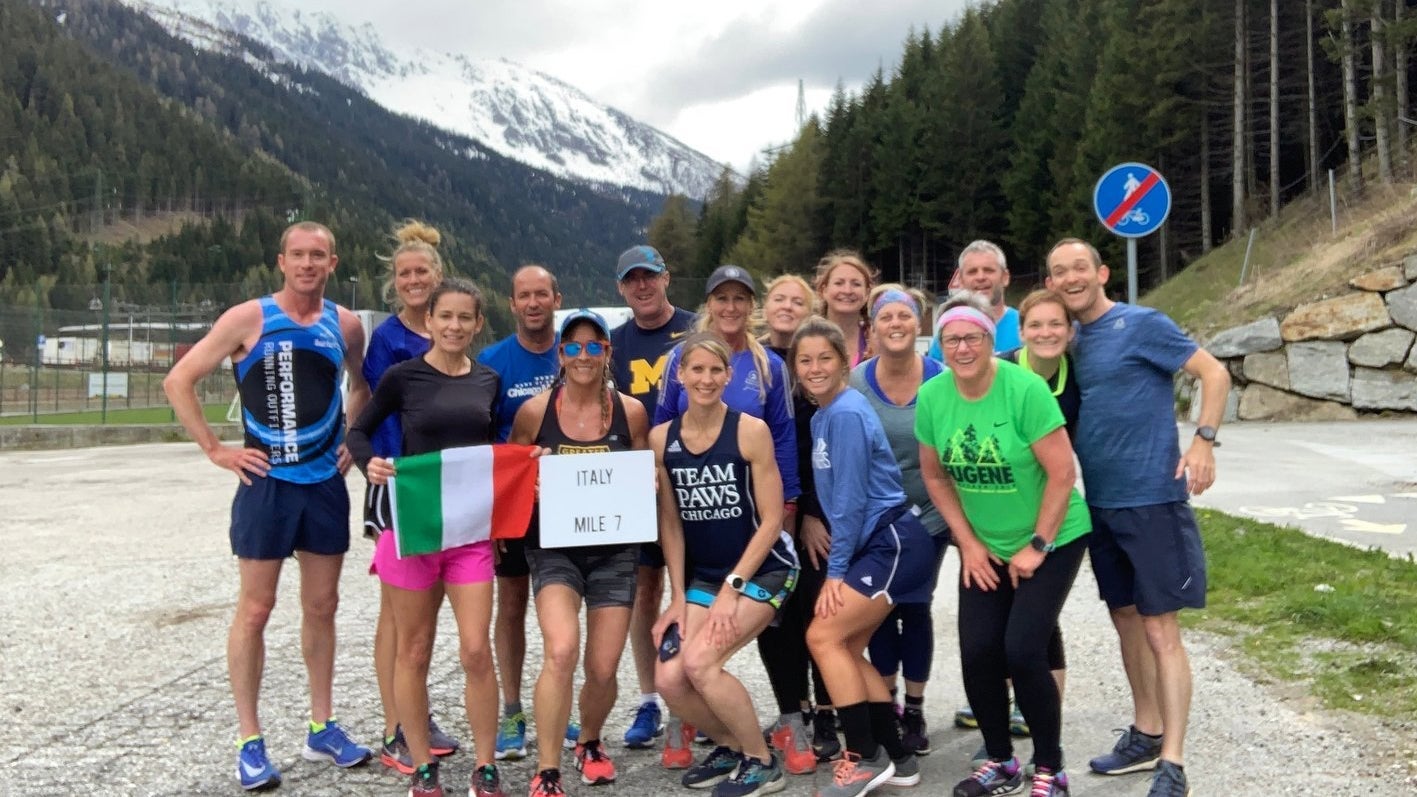 Heading out the door? Read this article on the new Outside+ app available now on iOS devices for members! Download the app.
You've heard plenty of stories about marathon-pacing plans that ailed when a runner ran out of fuel and hit the Wall. This is a similar story, but with a twist. The pacing plan sputtered because the transport vehicles nearly bonked.
Welcome to a new chapter in adventure running, courtesy of Josh Sanders, 37, from Kalamazoo, Michigan. Sanders called his brainchild "The Greatest Half Marathon." Okay, that's a stretch.
A more precise title might be "The 13-Country Half Marathon." But even that begs explanation. So here's the deal: Sanders and 15 other Michiganders planned to run at least 1.01 miles in 13 different European countries in a 24-hour period.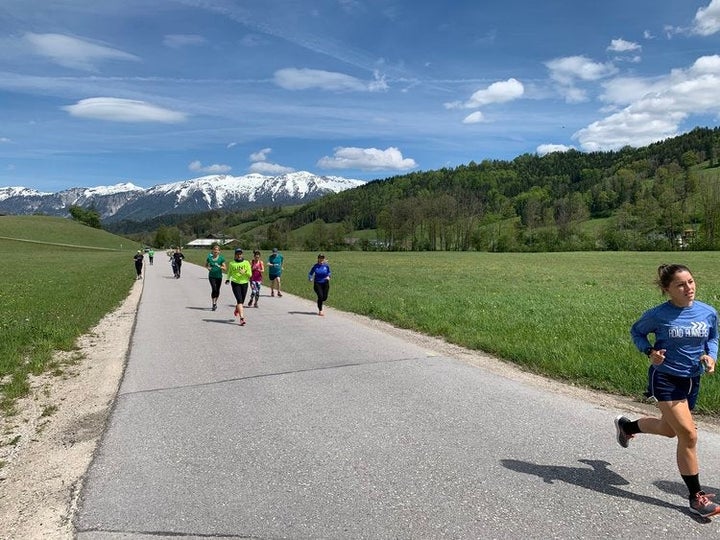 The idea first struck Sanders several years ago when he was reading about the famous 106-mile Ultra-Trail du Mont Blanc (UTMB). That course passes through parts of France, Italy, and Switzerland—three countries.
Hmmm. Are there any runs that hit four countries? Sanders couldn't find any. How many countries might be possible, in a 24-hour period, with optimal planning, minimal running and maximal driving? Sanders pulled up some internet maps and figured 13.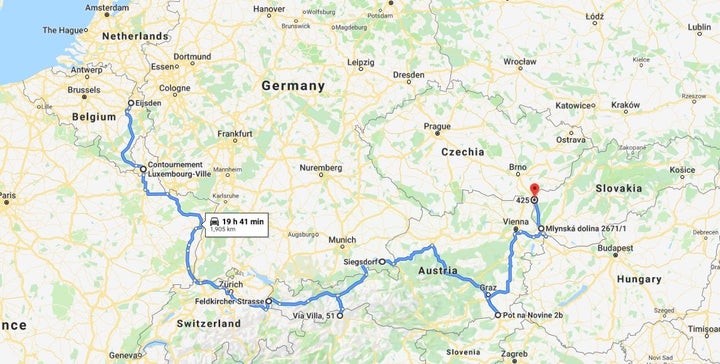 The key word here is planning. Sanders estimates that it took him 200 hours of logistics analysis to put the trip together. The hardest part? He had to read the "small print" on dozens of rental-van insurance policies. Most offered insurance in many, but not all, of the countries he wanted to drive and run though. Finally he found one that fit the bill.
Why?
"There's a quote or proverb that I've been trying to live by the last year," says Sanders. "We overestimate what we can do in a year, and underestimate what we can do in a day. I've been pushing to see what I can complete in a day. My strategy is: Every. Second. Counts."
And he's been succeeding. Last summer Sanders set a record for the most Colorado peaks above 14,000 reached in one day. He hit 10 in 23 hours, 33 minutes. At the end of April, he established the fastest known time for running from the Atlantic Ocean to the Pacific (just over 50 miles across the isthmus of Panama) with a clocking of 14:12:48. All told, FastestKnownTimes.com credits Sanders with 10 FKTs.
After working out the 13-country logistics, Sanders wondered if anyone else might like to tag along. He sent out a few emails, expecting two or three responses. Instead, 17 other Michigan runners quickly signed up for the $2000 (including flights, hotels, and van rentals) escapade.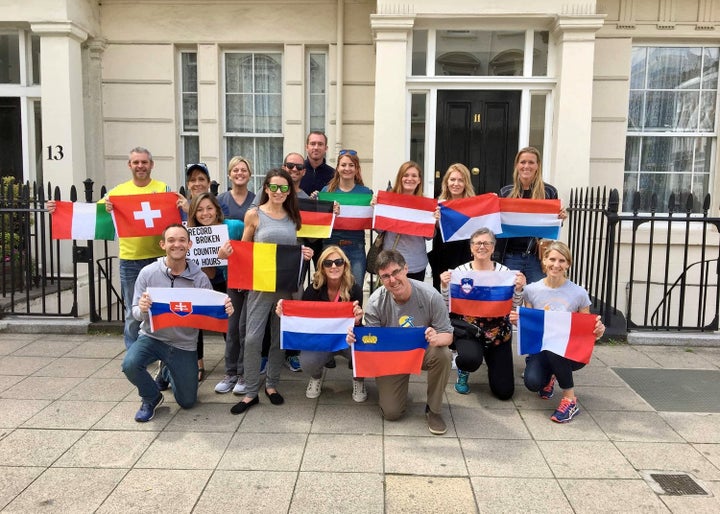 Most were less obsessed with record-setting than Sanders. Fifty-two-year old Debbie McIntyre had only begun running three years ago, though she has progressed to a sub-2-hour half-marathon. "I love running in different places, was eager to meet new people, and was curious about running through so many European countries," she says.
Pacing
The pacing plan demanded that each run should be 1.01 miles, and should be completed in 13 minutes. Sanders allotted an additional two minutes for scrambling in and out of the vans, and for taking a hastily-assembled group photo. There would also be several micro stops for gas and bathroom visits. One runner, a 2:27 marathoner named Kyle Fraser, hoped to cover 2.02 miles at each stop. That would give him a total of 26.2 mile in 13 countries in 24 hours.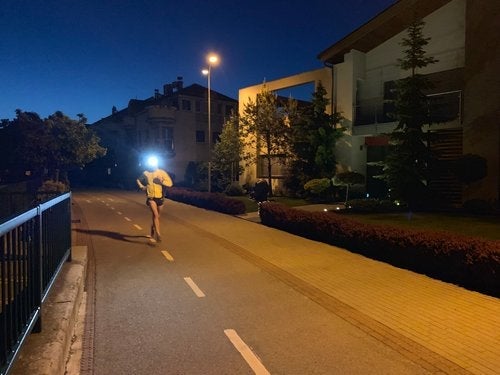 Since 13 runs of 13 minutes each would take 169 minutes (2:49), this meant the day's schedule included 21 hours and 10 minutes of drive time and 2:49 of run time. "We didn't stop to smell the roses," Sanders admits. "But we passed through an amazing amount of Europe in 24 hours, with lots to see." All the countries had to be members of the Schengen Agreement, which allows free flow across borders.
The early-going was smooth. The team assembled at 3 a.m. and drove to the first run location outside Brno, starting their watches at precisely 4 a.m. The runners jumped out of the vans, ran their 13:00-or-under mile, snapped a group photo, and hopped back in. Start the engines, go!
The drive from Czech Republic to Hungary (run 3) took just 17 minutes, and everyone basked in the warm glow of the rising sun. Sweet. The next drive, to Slovenia, took 3 hours—the longest of the trip. But since this was the day's fourth country, it represented a new "world record." Best of all, Sanders figured the group was 20 to 30 minutes ahead of 24-hour pace. Photo op, jump back in vans, go.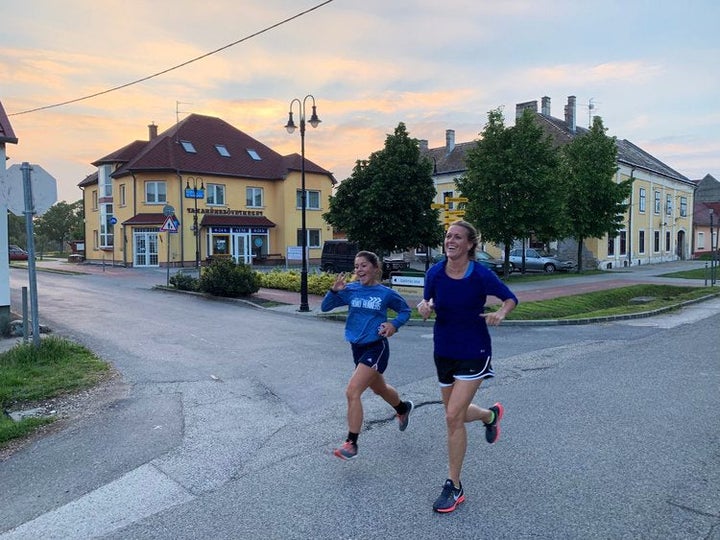 Some of Europe's better highways had speed limits of 130 km/hour—about 81 mph. Austria. Germany. In Brenner, Italy, the group ran their mile at 5000 feet, the highest altitude of the day. Liechtenstein. Switzerland. Zoom, zoom.
Sanders drove one of the two vans, and pushed it to the speed limit. But not, he swears, beyond. "Safety was job one," he says. "We didn't speed, and we didn't run on highways or other dangerous locations."
Bonking
Switzerland was country 9 on the list, and the last with a daylight run. France presented the day's first major obstacles. The trouble started when a planned run location proved unsuitable, so the vans had to drive extra distance to a second location. Then came a gas snafu.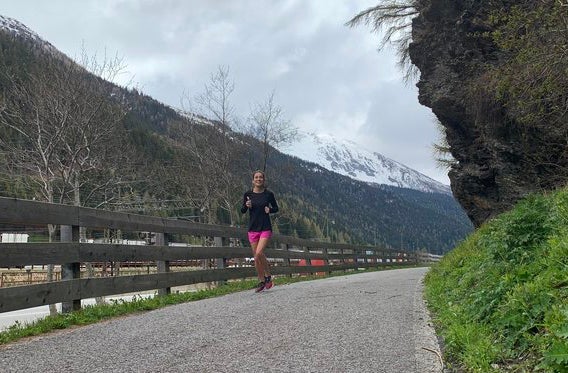 At 19 hours, a pump in France wouldn't accept any of Sanders's three credit cards. He had to shovel his last 20 Euro note to an attendant, hoping it would yield enough fuel for the rest of the trip. It was 11 p.m. The team still had three countries and five hours to go.
Three hours later, at 2:00 a.m., on the highway to Liege, Belgium (the 12th run), the vans' low-fuel lights began blinking. Sanders asked his passengers to mobile-search the nearest gas station. The results pointed, improbably, to a small village in the middle of nowhere, seven hilly miles off the highway. Someone called the number; no answer. "We took a leap of faith," says Sanders. "We didn't have much choice."
The curvy, remote road offered little promise. It featured farms and cows, more farms and more cows. Spirits had sunk to a new low when the vans swept around a bend, and spotted the neon-bright Shell station. The bad news: No attendants, and Sanders's credit cards were declined again. Amex? No. Visa? Nein. Mastercard? Non.
Oh, WTF. Sanders jammed a debit card into the pump. It sparked to life. But the runners were now a handful or more minutes behind 24-hour pace.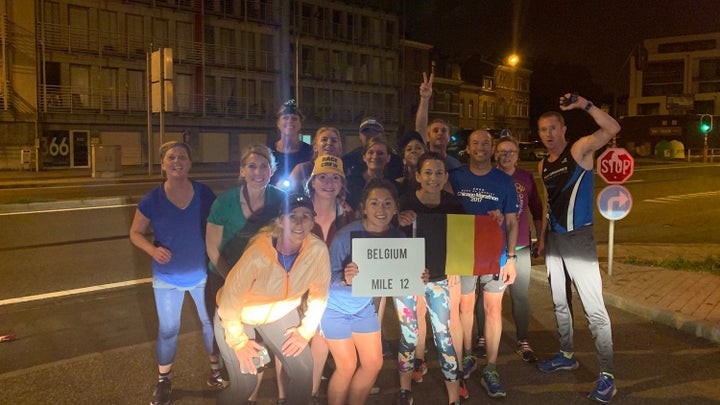 At run 12 in Liege, Sanders asked his followers to aim for 11 minutes. Every. Second. Counts. And they managed it, even Fraser, the 2-mile guy.
They had 20 miles to go to reach the last run in Eijsden, The Netherlands. The on-board GPS system said they'd arrive at about 3:57 a.m. Not. Quite. Good. Enough.
Final Kick
Did the two vans hurtle past the speed limit on the final stretch of road in Belgium and into The Netherlands? Maybe. Sanders remembers only that he swerved down the exit in Eijsden, slammed on the brakes, slid the van into a high-grass field, opened his driver door, and hit the ground running. He looked down at his watch. It said 3:54.
Fraser was already a stride ahead, having bolted out the back door before the van stopped moving. He finished this last effort, giving him 26.2 for the day, at 24:04:39 on the running clock. "It was the hardest physical test I've ever done," he says. "Splitting up a marathon into 13 legs was much worse than running continuously. I had so much lactic acid in my legs. But I wasn't disappointed. It was such a team effort with a common goal."
McIntryre felt the same: "l love that I set foot in so many different places and met so many badass people with different backgrounds, goals and philosophies on life."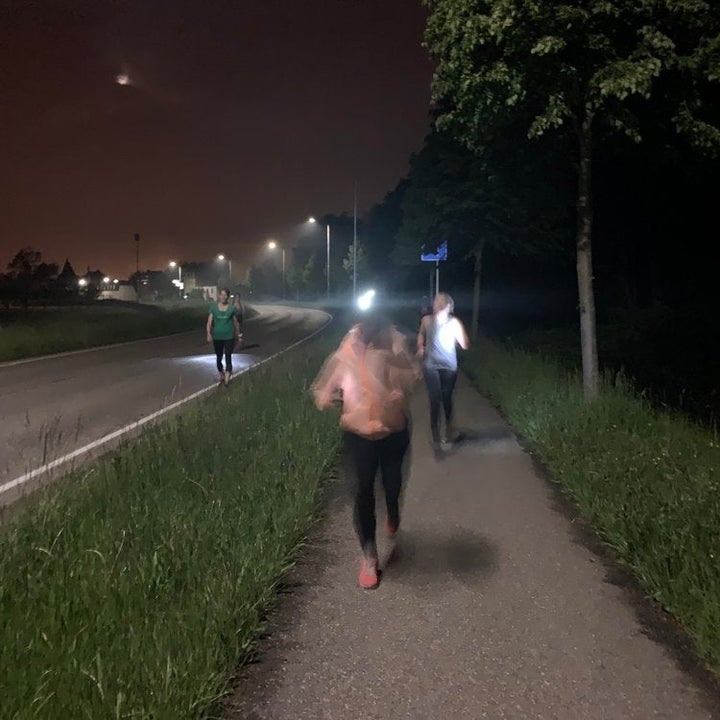 Sanders had no idea how fast he could run the last mile. "I'm not a sprinter, I don't do speed work," he notes. But he went out hard on Fraser's heels, hit the half-mile in 2:30 according to his Garmin, and "pushed as hard as I could the last half mile." When he reached the 1.01 mile mark, he took a time-stamped photo of his watch. It read 23:59.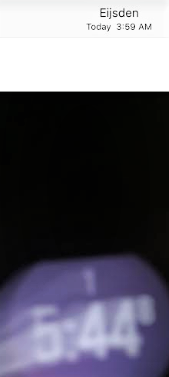 You could call it a world record for a half marathon in 13 different countries. Or maybe "stupid." Or something in between, like a flight of creative fancy. Sanders knows what it means to him: "I think it's great to spend every single second of a day chasing something truly awesome."
Now he's considering another whack at 13 countries this fall. "I think I can find a better, faster route," he says. (To stay tuned, follow him at instagram.com/run.josh)
Towns and Countries Run 
(May 18/19, 2019)
Brno, Czech Republic
Bratislava, Slovakia
Rajka, Hungary
Sentilj, Slovenia
Pyhrm, Austria
Lake Chiemsee, Germany
Brenner, Italy
Vaduz, Liechtenstein
Zurich, Switzerland
Strasbourg, France
Luxembourg City, Luxembourg
Liege, Belgium
Eijsden, The Netherlands
From PodiumRunner
Trending on Outside Online