In Stride
Eyes on the Pack: How Meb Keflezighi Will Blitz the Boston Marathon
The Marathon superstar knows all the right—and wrong—moves required to win a race. Here's his game plan following the starting gun.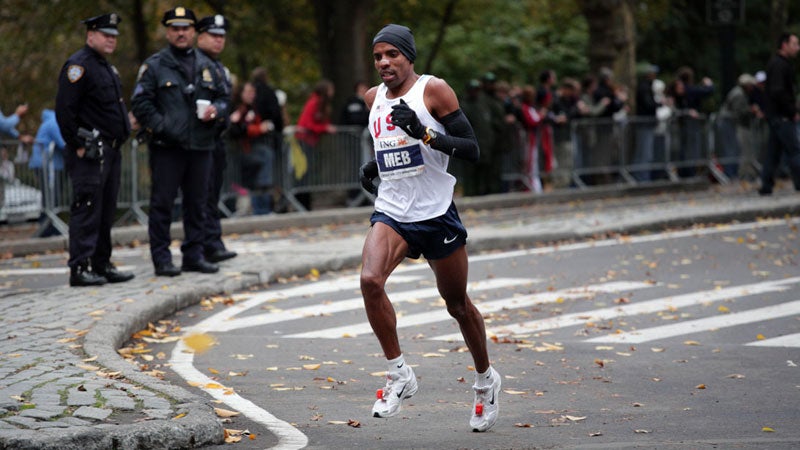 Heading out the door? Read this article on the new Outside+ app available now on iOS devices for members! Download the app.
American marathoner Meb Keflezighi doesn't wind up on the podium—including the top spot at the 2009 NYC Marathon—from sheer luck. It requires months of hard training, perfect pre-race preparation, and some smart strategy once the race starts. That combination has helped him claim third place at Boston in 2006. He'll be back in the hunt this year. We caught up with the 38–year-old to learn how he watches, waits, and makes his move to victory.
The Start:
I definitely like to be in the front, hopefully not in the lead. It's a narrow start. You don't want to get stuck in the middle. This year, the start is going to be very emotional.
If the Early Pace Is Slow:
You have to wait. Somebody will go. Kenyans usually hammer early, so you have to know their background. A couple days before the race, I'll study names and numbers. If three or four take off, I have no choice but to go with them—just make sure those guys are legit. One might falter, two might survive. Or vice versa, but that one guy has it won already. Ethiopians will never take the lead. Never. They're going to wait till the last 5K, the last mile, even the last 500 meters.
Once the Pack Shrinks:
You're trying to beat their psyche. You have 25 miles to solve it.
If Ryan Hall Starts Singing Like He Did in the 2011 Chicago Marathon:
I always believe as elite athletes, we should make it very comfortable through 18 or 20 miles at whatever pace it is. But if he's singing at mile 23 or 24, then he has the energy to do whatever he wants.
Where to Make a Move:
The course can't tell you. No way. It depends who's in the mix and what their strengths and weaknesses are. That's where the intelligence of competition comes.
Read the Competition:
You have to test them uphill, downhill. Study their mechanics. If they're leaning back going downhill, you know they're fried. Uphill, if they put their head down, okay, he's trying to do everything he can just to pump.
If they're right behind you, they're trying to draft off you. Somebody trying to draft will clip your feet. It happens all the time. That's a sign of fatigue. They cannot concentrate enough to stay away.
If they are not next to you, they're struggling. When they're struggling, take advantage of it—whether it's 10 miles to go, five miles to go, or three miles to go. You just have to make a calculated decision.
Once you get to those Newton hills or Heartbreak Hill, take advantage of your strength. If they let you go, you gain confidence, spread the gap, and you're going to be home free.
In a marathon, if you have [created] 20 feet or 20 meters [of space]—it's hard to make up with two miles to go. In a 5K or 10K, you can probably pick it up, but in a marathon, your mind says Go, your body says No, thank you.
The Gap:
If I'm in the lead and people cross the road right behind me, I know I have a good gap—because otherwise they would be courteous to let the runner go first. If you hear less people cheering after you went by, you know you have a gap. If you hear someone saying their name and 'Come on!' it's very close.
I'd rather do anything and everything to get away from everyone with a mile to go versus making it down to the last 400 to 500 meters.
Nobody likes to lose, nobody likes to get passed. In 2010, I spent every ounce of energy I had with a ruptured quad and I finished, but Ryan [Hall] passed me. He played it smart. But misfortunes do happen. Unless it threatens my life—if I fall and I'm bleeding, then I have to think twice. But if I can manage to go at a decent pace, I'm gonna go. Even if you're hurting, it's hard to stop in Boston.