In Stride
The Gear You Need to Run In the Snow
Seconds after giving an interview about running in the snow, a Portland woman wiped out—on television. Don't repeat her mistakes.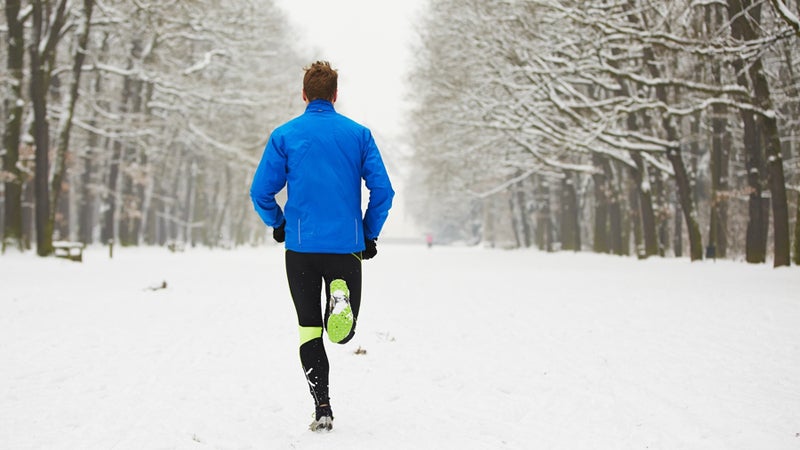 Heading out the door? Read this article on the new Outside+ app available now on iOS devices for members! Download the app.
You have nothing to whine about when it comes to cold weather running. Moments after giving a gushing interview about running in the snow, a Portland woman wiped out—on television. Epic fail.
Needless to say, you don't want this to ever happen to you. And there are, thankfully, products designed expressly for the purpose of providing traction on icy, snow-covered streets. Oregon runners would be wise to take note of the two main options: Yaktrax and MICROspikes. But which product should you buy for winter running?
https://youtube.com/watch?v=v2tA7fzugxM
Short answer: Yaktrax for road running and MICROspikes for trail running.
Long answer: Yaktrax use steel coils to provide traction while MICROspikes (made by snowshoe manufacturer Kahtoola) use chains and teeth (sounds kinda like a torture device, huh?). Both products fit easily and securely over the bottoms of your shoes.
Yaktrax work best on a variety of terrain, including hard surfaces. That last part is key. Including hard surfaces means you can run on pavement. "We promote the Yaktrax Pro and the new Yaktrax Run for running in urban and rural environments in which a person may encounter ice, snow, slush, and potentially transition across bare asphalt and cement," explains Jay S. Couder, national accounts manager at Yaktrax. "Our innovative design provides traction from heel to toe, and there are no pressure points that may bother a runner when running on hard surfaces."
But if you're hoping to hit the trails—and possibly encounter some deep powder or ice along the way—opt for MICROspikes. Even Couder will endorse the competition for running off-road in harsh winter conditions. "For runners who prefer to run on trails or deep snow, I think MICROspikes would be a better option due to their aggressive tread design," he says.
Jared Scott, elite mountain runner and a member of the U.S. National Snowshoe team, agrees. "Yaktrax work fine on the roads where there is an occasional icy spot here and there," he explains. But when he encounters steep, icy, or snow-packed trails, frozen-over puddles, or a wintry mix of snow, ice, and mud, Scott prefers MICROspikes. "When these conditions exist, I get out my MICROspikes and go at it with no fear of slipping or cracking my skull open," he says. "They can take on the most extreme conditions, and they have amazing durability."
MICROspikes have heavy duty teeth and, unlike Yaktrax, are not intended to be worn on roads. If you wear MICROspikes on hard surfaces, you'll likely feel pressure from the spikes through the soles of your shoes. "When I encounter a situation where I need to wear my MICROspikes for a majority of the run but have to run occasionally on a dry road, I just simply take of my MICROspikes and carry them in hand or stuff them in my waistband until I need to use them again," Scott says. "MICROspikes are so easy to take on and off that this is no problem to do repeatedly during a run."
One last note: Starting at $30, Yaktrax are slightly less expensive than the competition; MICROspikes will set you back $60.
The DIY Solution to Your Winter Running Problems
Trending on Outside Online