8 Great New Running Shoes for Summer
Here's what we liked about these newly released running shoes from our initial wear-testing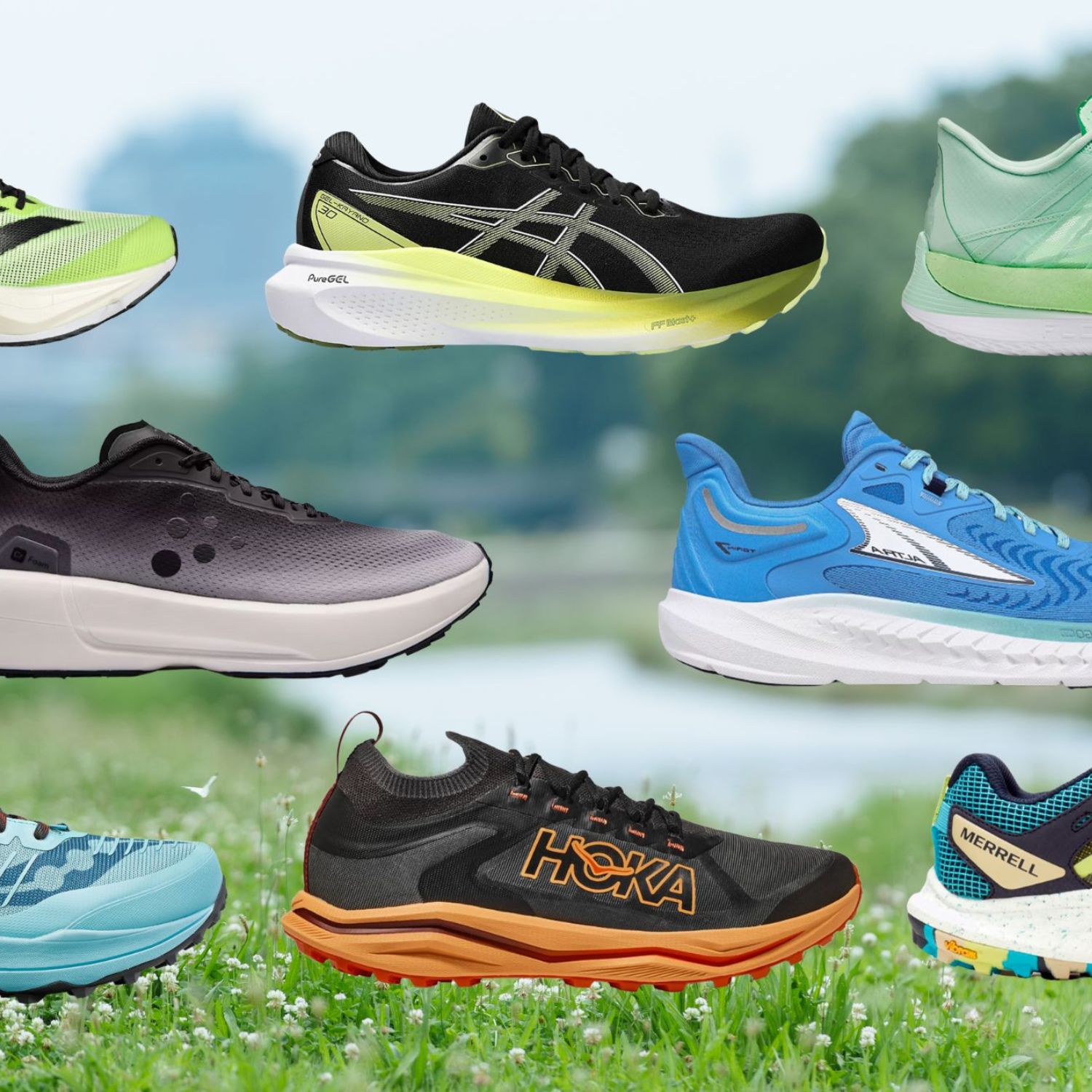 Heading out the door? Read this article on the new Outside+ app available now on iOS devices for members! Download the app.
With longer daylight hours and warmer, more consistent weather, summer is ideal for tuning up the fitness you built in the spring or the time to start a new training plan for a fall marathon.
No matter if you're already very fit and ready to race, just starting to build your aerobic base or ready to explore on long trail runs, you need a good pair of shoes to get you there.
Our Top Running Shoe Selections for Summer
Here are eight newly released shoes for summer that we've enjoyed on our initial wear-testing runs in late spring.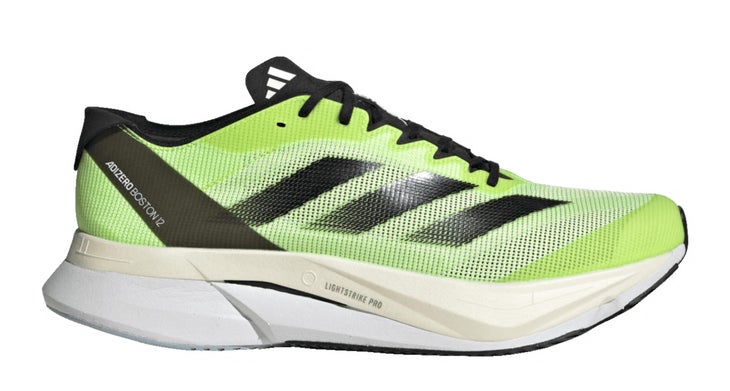 Adidas Adizero Boston 12, $160
Weights: 8.0 ounces. (women's size 8), 9.4 ounces (men's size 9)
Heel-Toe Offset: 6.5mm (37mm in the heel, 30.5mm in the forefoot)
One of the top training shoes in the Adidas lineup for years, the iconic Adizero Boston performance trainer has been revamped considerably over the past few years as the high-end materials have trickled down from the brand's top-tier racing shoes. The newly released Adizero Boston 12  has been tweaked with an enhanced midsole package and a new engineered mesh upper that we've found have made it feel slightly lighter, livelier and lower to the ground.
The new midsole consists of a top layer of Adidas' high-rebound Lightstrike Pro foam and a bottom layer of its new softer Lightstrike 2.0 foam with the updated Energy Rods 2.0 propulsion mechanism embedded in the middle. That's the same cohesive carbon-fiber-infused energy-return system found in the Adizero Adios Pro 3 racing model, and it gives this trainer a much livelier feel than the previous edition. The stack height and heel-toe offset have both been reduced slightly, for enhanced agility and better proprioceptive feel for the ground. The new light and airy engineered mesh upper—made from 50 percent recycled materials—no longer has support overlays and now resembles the upper of the Pro 3.
Wear-test takeaway: The Adizero Boston 12 is returning to its perch among the top up-tempo training shoes. It's about ⅓ of an ounce lighter than the previous version and noticeably more agile and energetic, making it ideal for faster workouts and progressively paced race-prep long runs.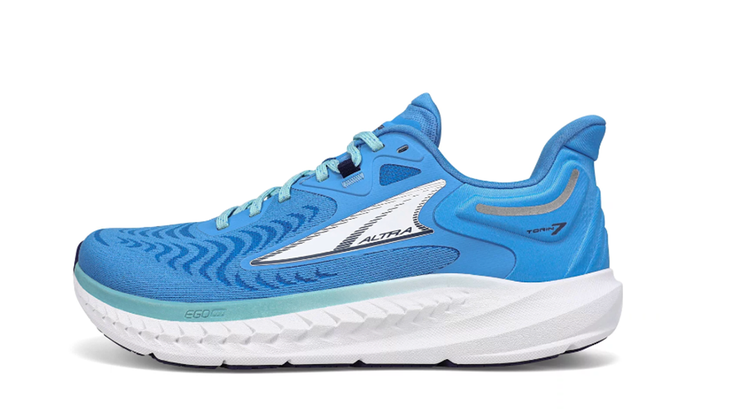 Altra Torin 7, $150
Weights: 8.1 ounces. (women's size 8), 9.8 ounces (men's size 9)
Heel-Toe Offset: 0mm (30mm in the heel, 30mm in the forefoot)
One of Altra's OG training shoes, the Torin has been known as Altra's neutral-oriented high-mileage workhorse since its inception. But it's a shoe that has continued to get livelier, even though it's gotten slightly heavier from some of the earliest versions. Although Altra has tweaked some of its classic design features since its been under new corporate ownership over the past five years, the Torin retains the brand's balanced cushioning platform—aka a zero-drop midsole/outsole chassis—and a slightly wider, foot-shaped toe box.
The latest edition of the Torin has been updated with an additional 2mm of the brand's highly responsive Altra EGO Max foam, a new engineered mesh upper, a more sculpted heel design and a new tongue that's softer and, although not gusseted, doesn't migrate during a run the way it did in the previous model. The new heel and upper provide a softer and more plush feeling, as well as a more locked-in fit in the heel and midfoot.
Wear-test takeaway: While it still feels like an Altra shoe, the Torin 7 is on par with other top-tier everyday trainers, offering a savvy blend of comfort, shock absorption and energy return. 
RELATED: Outside Buyer's Guide — Best Road Running Shoes of 2023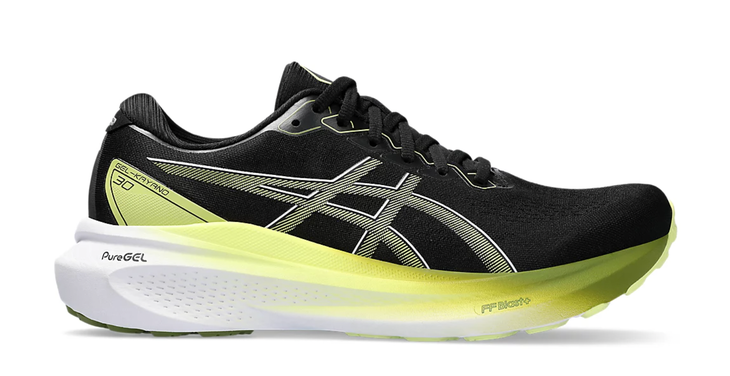 Asics Gel-Kayano 30, $160
Weights: 9.2 ounces. (women's size 8), 10.7 ounces (men's size 9)
Heel-Toe Offset: 10mm (40mm in the heel, 30mm in the forefoot)
More than any other brand, Asics has greatly revamped its line of legacy training shoe models in 2023. It started with the higher-stacked and more energetic midsoles in the Gel-Nimbus 25 and the Gel-Cumulus 25 neutral models and now the new Gel-Kayano 30 stability trainer follows suit with radical changes that include a maximally cushioned midsole (4mm higher than the previous version) and a new guidance system to provide more inherent stride stability.
The first thing you'll notice about the Gel-Kayano 30 is the thick and cushy FlyteFoam Blast+ Eco midsole—a partially bio-based material that's extremely soft and absorbent but also provides a noticeable amount of energetic pop, too. (There's also a new, softer PureGel cushioning pod embedded in the heel and an increased heel bevel slope for improved shock absorption and stride transitions.) The other outstanding update to this shoe is the modern adaptive stability mechanism (called the 4D Guidance System) that serves up stability from a 5mm wider footprint, and a less obtrusive secondary foam wedge under the medial arch and a less abrupt heel counter (but no lightweight flexible plastic shank from the previous edition).
Wear-tester takeaway: The Gel-Kayano 30 looks, feels and rides vastly different from its predecessor, with a much softer and springier sensation in each stride and less abrupt stability-enhancing features. It's a true modern version of a stability shoe that feels as soft and fresh as many neutral shoes.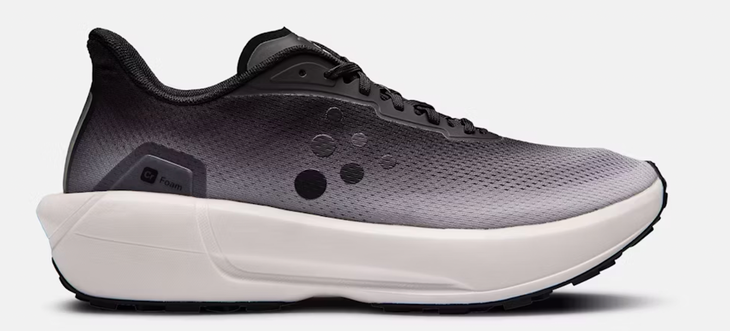 Craft Nordlite Ultra, $160
Weights: 9.4 ounces. (women's size 8), 10.7 ounces (men's size 9)
Heel-Toe Offset: 6mm (40mm in the heel, 34mm in the forefoot)
Despite only being in the footwear game for a few years, Craft has bucked traditional design paradigms by developing training shoes with high-rebound cushioning for a wide range of surfaces. The Nordlite Ultra is a new everyday trainer that follows that pattern with a maximally cushioned midsole and luggy, low-profile outsole that's ideal for running on pavement, gravel roads and mild trail surfaces.
The crux of the Nordlite Ultra is the singular layer of high-rebound supercritical nitrogen-infused Cr foam in the high-stack midsole that, combined with a significantly rockered geometry, serves up a propulsive ride that feels semi-soft and cushy at footstrike but firmer and more energetic during the transition to toe-off. The clean design includes a thin form-fitting tongue and a semi-stretchy perforated one-piece upper provides subtle but effective structure from an interior support strap and thin thermoplastic overlays on the heel.
Wear-tester takeaway: Despite a slightly snugger fit (and some runner's might prefer a half-size larger than their typical size), the Nordlite Ultra's combination of a flowy, resilient ride, interior comfort (enhanced by a premium footbed) and all-surface versatility favorably correlates to it being the gravel bike of running shoes.
RELATED: Outside Buyer's Guide — The Best Trail Running Shoes of 2023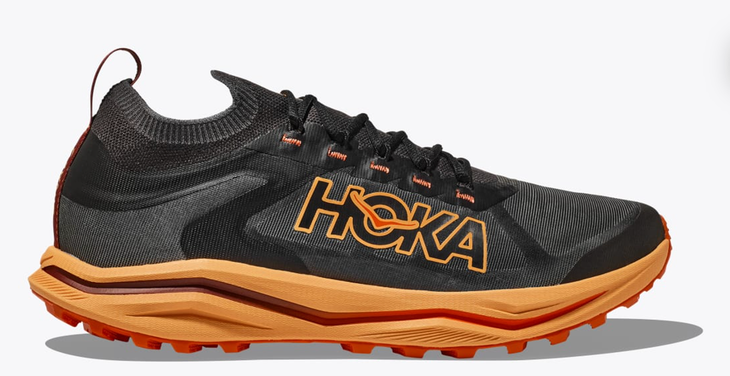 Hoka Zinal 2, $160
Weights: 6.8 ounces. (women's size 8), 8.0 ounces (men's size 9)
Heel-Toe Offset: 5mm (30mm in the heel, 25mm in the forefoot)
Hoka is prominently known for pioneering the maximal cushioning trend, but it has also produced a few low-to-the-ground shoes for fast training and racing with a more traditional feel and ride. The Zinal 2 is a newly updated lightweight, moderately cushioned shoe with exceptional traction and proprioceptive feel for the ground designed to move fast on mild to moderately technical trails.
About half-ounce lighter and considerably more flexible and agile, the Zinal 2 has been updated with a Vibram Megagrip Litebase outsole with an aggressive array of 5mm directional lugs that allow it to excel at uphill climbing, precise cornering and aggressive downhill running. It has a new interior bootie construction that combines stretch-fit knit heel collar and integrated tongue that keep the foot locked down and contribute to the natural-striding ride.
Wear-tester takeaway: Although it feels exposed and vulnerable on rocky trails, the speedy Zinal 2 feels light, fast and unfettered on smooth dirt paths and moderately technical trails.
RELATED: Hoka Tecton X 2 Review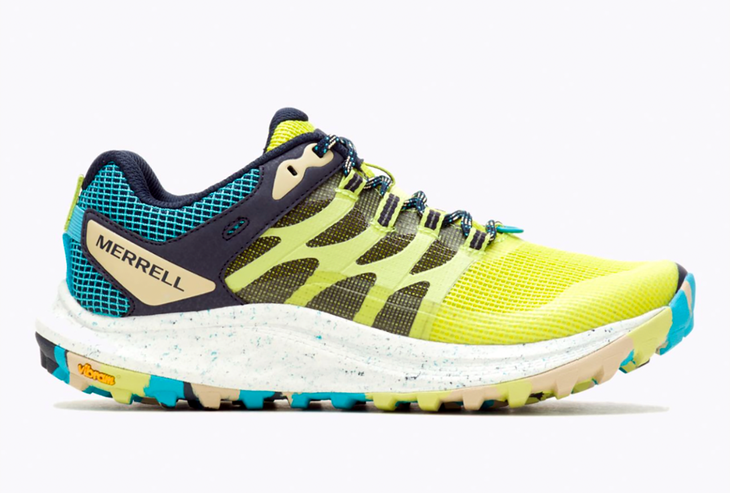 Merrell Antora 3/Nova 3, $125
Weights: 9.0 ounces. (women's size 8), 10.4 ounces (men's size 9)
Heel-Toe Offset: 8mm (29mm in the heel, 21mm in the forefoot)
Merrell has been in the trail running business for years, but it's put a lot more effort and resources into it over the past few years via the Merrell Test Lab that incorporates input from its relatively new elite athlete team. The new women's Antora 3 and men's Nova 3 aren't high end shoes from that program, but the trickle-down effect of materials and quality of construction have helped make this model a very capable, do-everything trail running shoe.
Built on a semi-firm EVA midsole platform, open mesh upper and grippy Vibram rubber outsole, it offers a good mix of comfort, durability, protection and performance at a value-oriented price. The 4mm outsole lugs can handle soft dirt, muddy terrain, loose gravel, tree roots, jagged rocks and snow, while the protective features (an midsole rock plate, reinforced toe box and sidewalls) guard against sharp rocks underfoot, stubbed toes and sidewall abrasions that can be common while running on more rugged routes.
Wear-tester takeaway: After testing this on a wide variety of trails this spring, we found this to be a durable, versatile trail runner that excels on all types of surfaces, from soft dirt trails to more rugged technical terrain. Although not as soft and springy as some other contemporary trail runners, we loved the protection, reliable traction and interior comfort.
RELATED: Merrell MTL Skyfire 2 Review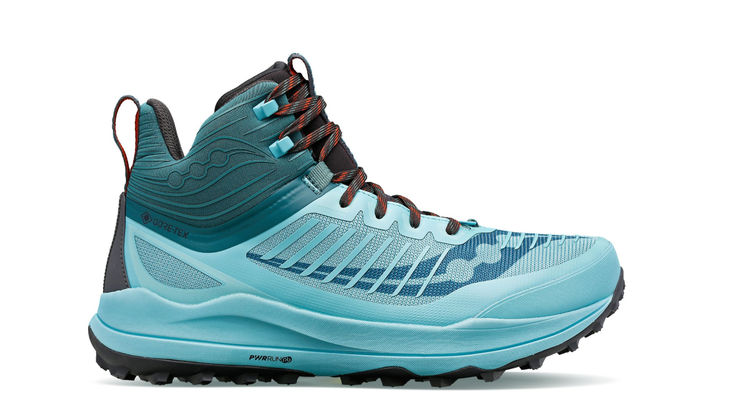 Saucony Ultra Ridge GTX, $190
Weights: 11.0 ounces (women's 8); 12.0 ounces (men's size 9)
Heel-Toe Offset: 6mm (32.5mm in the heel, 26.5mm in the forefoot)
Yes, this one is not like the others! Saucony has made its mark in off-road running for years with its popular Peregrine and Xodus trail models, but its new Ultra Ridge GTX is actually performance-oriented hiking boot built with some of the same features and materials.
The Ultra Ridge GTX is an interesting shoe for adventurous trail running and hiking that provides a comfortable vibe, responsive ride and exceptional traction and support.
It's built around Saucony's super-springy PWRRUN PB midsole foam utilized in some of its energetic road running shoes and incorporated a similar aggressively lugged PWRTRAC outsole from its Xodus Ultra 2 trail running shoes, then topped it off with a high-top design and a waterproof Gore-Tex upper.
Wear-tester takeaway: While it might not be ideal for traditional backpacking, it thrives on long-distance day hiking outings, adrenaline-fueled peak-bagging and fast-packing and everyday trail running on especially rugged routes or on any terrain in snowy conditions.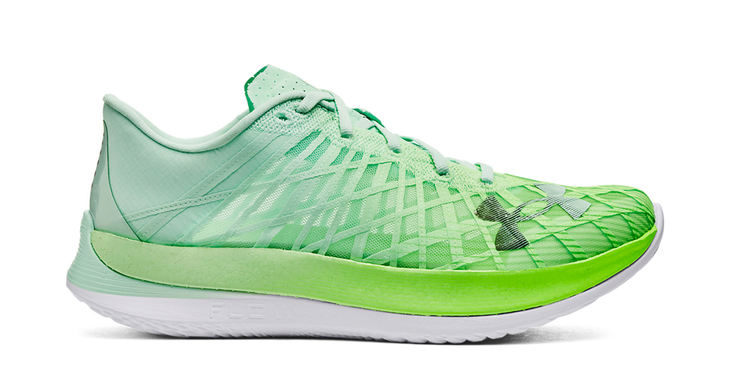 Under Armour Flow Velociti Elite, $250
Weights: 6.4 ounces. (women's size 8), 7.5 ounces (men's size 9)
Heel-Toe Offset: 8mm (36mm in the heel, 28mm in the forefoot)
Under Armour was one of the last brands to join the supershoe party, but when it arrived it brought something different and made a big splash. Even though it only became available to the public late this spring, the carbon-plated Flow Velociti Elite had an auspicious debut last fall as Kenya Sharon Lokedi wore a pair en route to winning the New York City Marathon in her 26.2-mile.
Like many other marathon racing super shoes, the Flow Velociti Elite has a full-length carbon fiber plate sandwiched between two vastly different foams that allows the midsole to compress and spring back for added lift and energy return and also creates a smooth, seamless ride. The top layer of foam is a soft, bouncy Pebax material, widely acknowledged as the industry standard for lightweight cushioning and energy return. The bottom part of the midsole and the rubber-less outsole is made from the brand's proprietary supercritical Flow compound, a lighter, bouncier, nitrogen-infused version of the Olefin-based material the brand has used in previous Flow models.
Wear-tester takeaway: Although the lack of outsole rubber might reduce its long-term durability, it allows the Flow Velociti Elite to have a soft, flowy and energetic vibe without sacrificing traction or smoothness.
Trending on Outside Online