Cross Country Spike Review
Seven new spiked racers to take care of your feet when tearing up the turf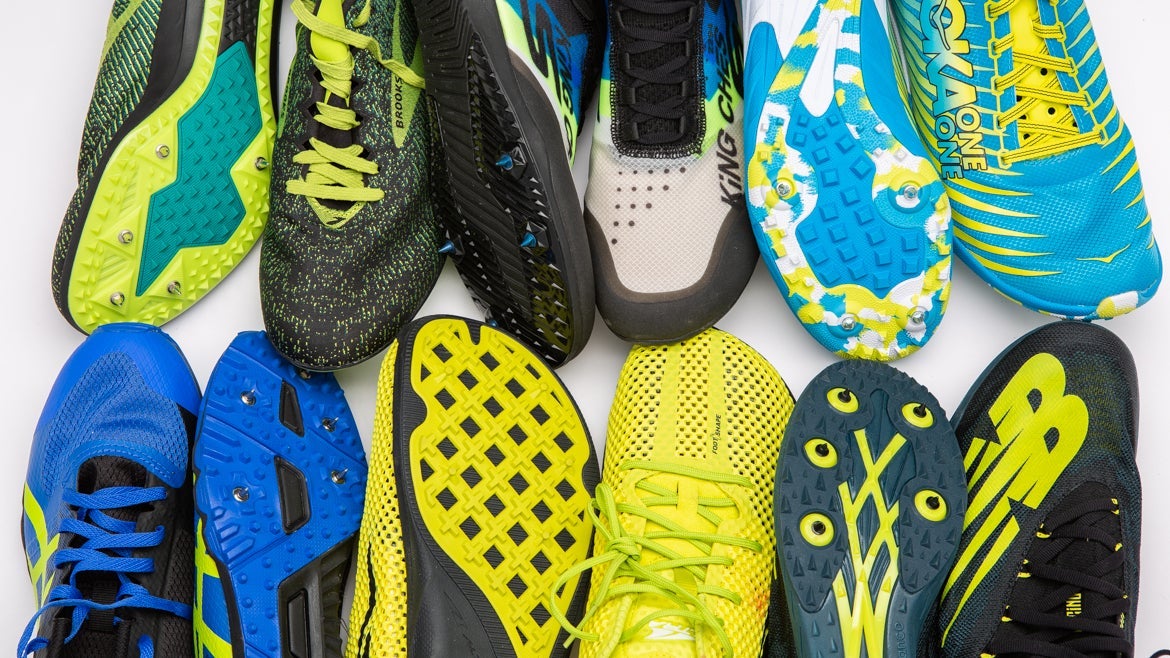 Heading out the door? Read this article on the new Outside+ app available now on iOS devices for members! Download the app.
It's a great time to be a cross country runner. Today's cross country spikes are more comfortable and more supportive than ever, while also lighter and faster. This season's selection of new spikes introduces new brands to the category and delivers a wide range of styles to provide strong options for every type of runner and stride.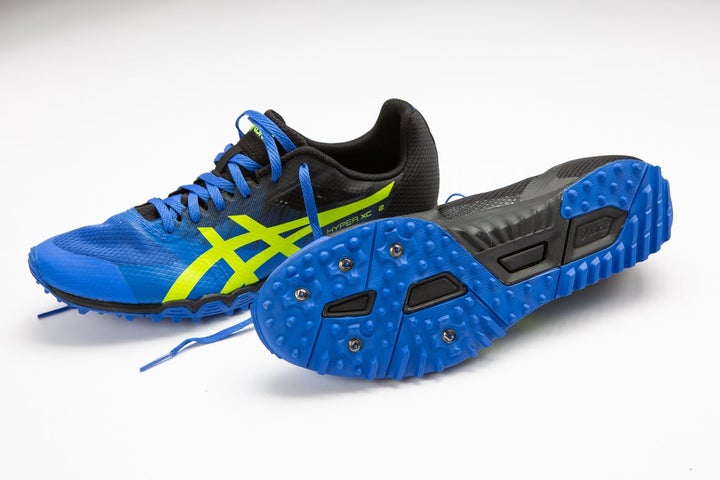 Asics Hyper XC 2
Price: $65 Weight: 6.1 oz Unisex
Asics updated the upper on its only cross-country spike, making it more flexible, breathable and comfortable. While the sole remained unchanged, we found the new upper also improved the ride, which didn't surprise Asics. "Often times, due to the construction techniques—such as the way the upper is connected to the sole—and enhanced materials, the overall feel and sensation of flexibility can be improved," says Madeline Clarke, Merchandising and Product Manager of Core Performance.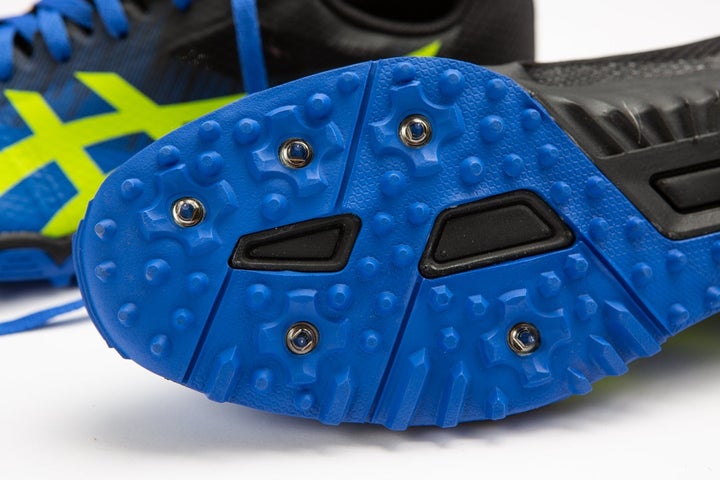 Underfoot, the five spike pins are embedded into the rubber outsole/midsole without any propulsion plate, keeping the sole flexible and the ride smooth and accessible. The heel-to-toe layer of cushioning and molded arch support also made the spikes easy for new racers to adapt to. "Many new athletes find the Hyper XC 2 as a great transition shoe from the traditional trainer or racing flat feel they're used to," says Clarke.  That ride, the accommodating fit, and the price tag make this an easy choice for middle school and entry-level high school runners.
Bottom Line:  A great value for entry-level runners for its comfortable, familiar ride underfoot, with improved fit.
Altra Vanish XC
Price: $80 Weight: 5.5 oz Unisex
This new racer from Altra is lighter than their Golden Spike, and we found they feel even nimbler and faster. The mesh upper lacks any structure except for light padding in the tongue and heel collar, and the laces can be looped through the large mesh wherever they will best hold your foot—both of which let the shoe wrap your foot securely, eliminating any slop from the generous forefoot, without decreasing any of the comfort that shape provides. The fit lives up to its name, the shoe simply vanishes on your foot.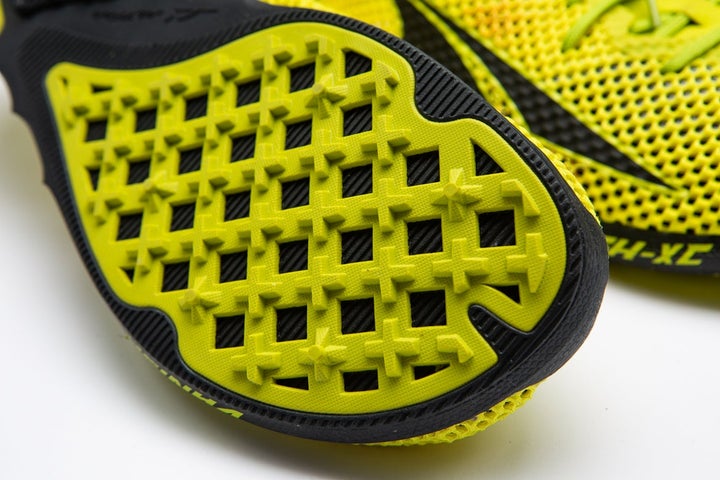 You won't find any metal spikes up front, or a plastic spike plate. Instead, the rubber outsole has firm x-shaped lugs and five protruding rubber "spikes" around the forefoot. There's a full-length layer of cushioning underfoot but it is firm and thin enough to provide plenty of proprioception and not interfere with propulsion. The Vanish XC's flexibility, cushioning and foot-shaped design makes these easy on young strides, allowing runners to safely train in them as well as race, without sacrificing performance.
Bottom Line: A minimalist racer that wraps your foot and disappears, with a studded rubber sole that should work on all but the soggiest courses.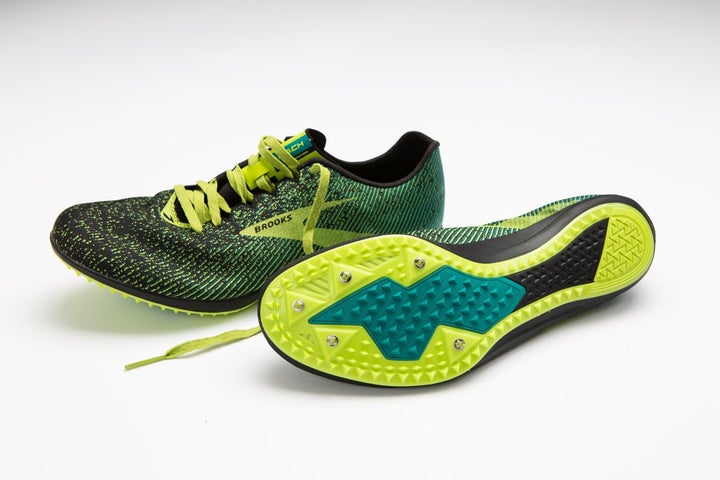 Brooks Mach 19
Price: $100 Weight: 4.5 oz M, 3.9 oz W 
Over the last few years Brooks' popular Mach XC spike has been evolving from what was more of a "splat" (spike/racing flat) into an aggressive turf racer. This year completes that transition. This 19th edition is more closely related to their long-distance track spike, the Wire, than to previous Machs. It shares the same last as their track spikes, which Brooks says runs more true-to-size. The shoe curves dramatically upward at the toe, with a propulsion plate that reaches back to the midfoot to propel powerful push-offs, plus circles the perimeter of the heel and provides some rearfoot traction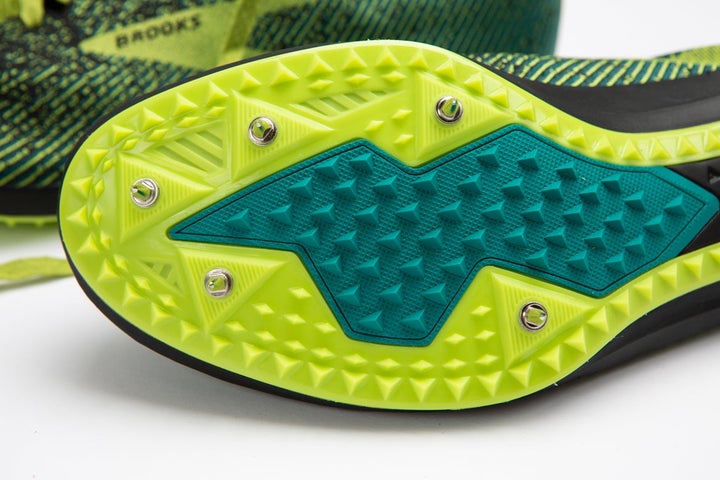 Up top, the exterior of the new, one-piece upper is a full woven mesh, which is exceptionally thin yet durable. "With normal thin meshes, you much higher chance of it tearing," says Jena Winger, Footwear Product Line Manager. With the woven, however, "Even if you get spiked, it's not going to rip." The woven mesh is also highly flexible so it wraps your foot closely, but intentionally doesn't stretch much. "It's locked and loaded, keeping you on that platform," says Winger. Inside, a suede-like lining wraps the instep from sole to eyelets, further enhancing the hold. 
Despite the thin, light upper and the high-performance sole, the fit was surprisingly comfortable and accommodating for a wide variety of runners. These spikes also work well on the track for the runner who isn't ready to buy two pairs in a year. That said, the Mach 19 is best for runners who mostly stay on their toes and are ready for the powerful position the shoes put you in.
Bottom Line: A cross-country shoe built like a track spike, this fast racer will bridge seasons for most any runner, but is ideal for the front of the pack.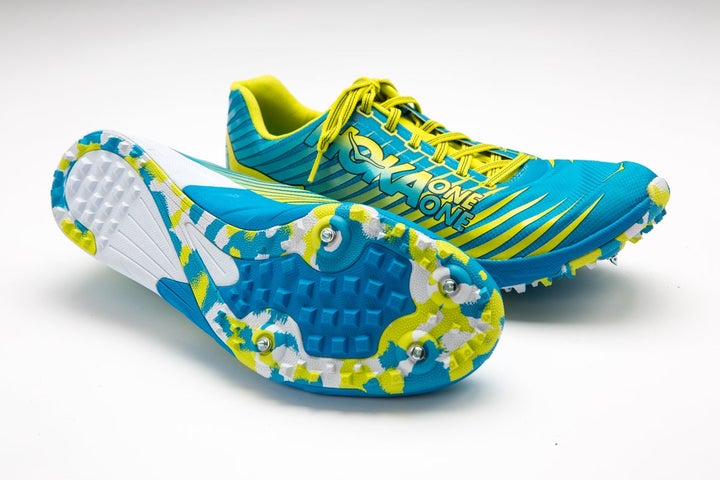 HOKA ONE ONE EVO XC
Price: $110 Weight: 5.7 oz M, 4.8 oz W
HOKA's first cross country spike has as much midsole as many road racers, but is surprisingly light, flexible and nimble. As with other fast models in the HOKA line, the midsole is softer in the heel—to cushion landings—and firmer in the forefoot—to provide a stable push-off. Four perimeter spikes add traction to the lugged sole, but the shoe doesn't try to enhance push off with a plate, instead, your stride rolls smoothly off the rockered and flexible toe.
Overlaid stripes add support from heel to toe without interfering with the wrap or flexibility and a well-padded tongue coddles the instep. Overall, this spike—staying true to the HOKA philosophy—cushions and supports any stride throughout the length of the race, allowing you to finish healthy and strong. This is a great spike for both developing runners and masters racers, and the spikeless version might even double as a lightweight trail shoe for some.
Bottom Line: A well-cushioned, flexible racer supports any stride yet stays light and fast.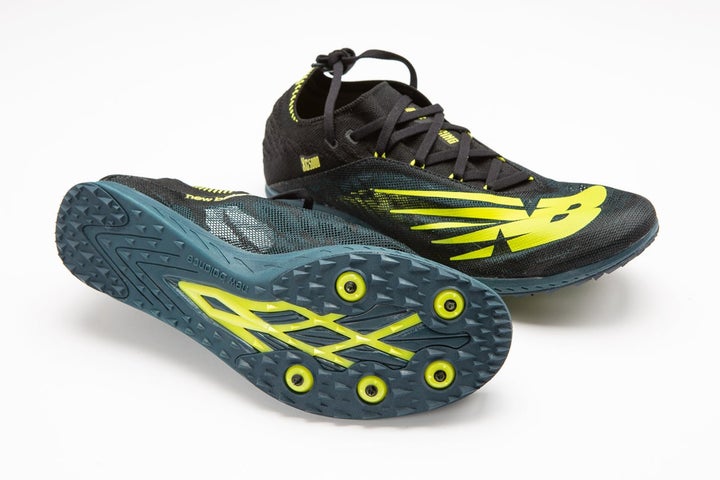 New Balance XC5K v5
Price: $110 Weight: 5.0 oz M, 4.3 oz W
New Balance's XC5K shares its shape and thin, responsive midsole with their distance track spikes. This year's update also echoes the track models' thin, sculpted heel collar. On this cross country shoe, that knitted heel collar wraps all the way around the foot and over the instep in a snug, stretchy booty. The forefoot is surrounded by a light but rugged transparent mesh that ties across the stretchy tongue in a burrito-wrap construction. If it fits your foot—and that wasn't the case for all testers—the foot-wrapping feel is incredibly secure and comfortable.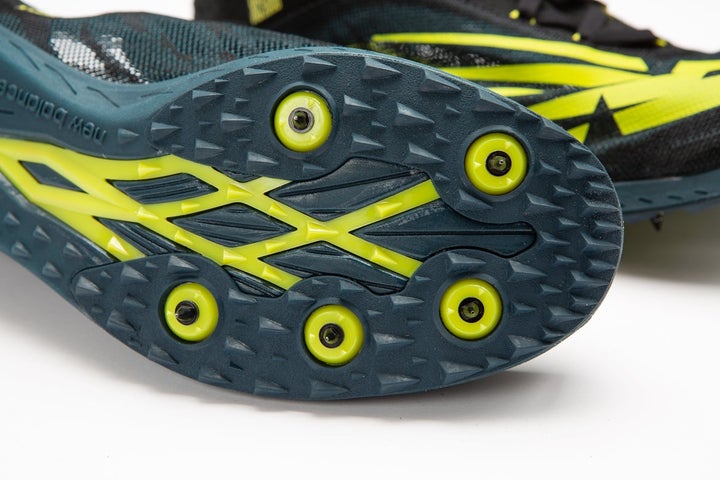 Underfoot, five spikes line the perimeter of the forefoot, connected to a lattice-work plate that reaches back into the midfoot and provides just the right amount of flex and rebound. The lattice place and the rubber sole help with traction with small, multi-directional lugs from heel to toe.
Bottom Line: A fast-feeling, form-fitting speedster hits the sweet spot of cushioning and propulsion—for those whom it fits.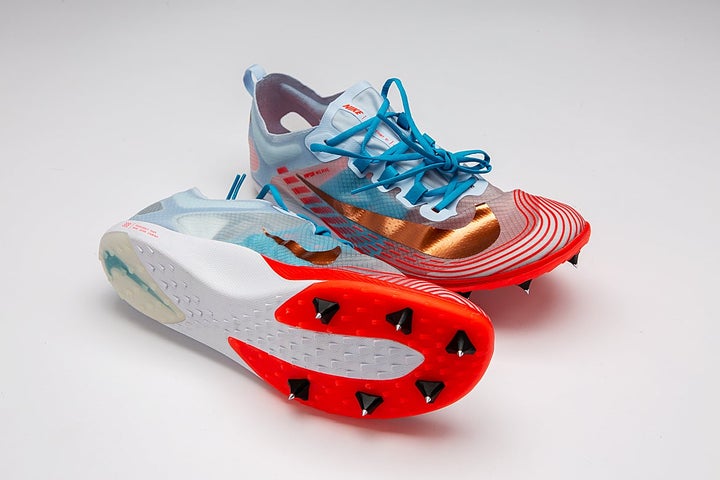 Nike Zoom Victory 5 XC 
Price: $110 Weight 4.4 oz Unisex
Facing a wet, sloppy course but still want to fly? Nike's flashy Victory 5 XC spike will dig through the mud while staying light and spry. The ultra-thin, almost plasticy, translucent woven mesh that covers the outside of the entire upper won't hold any water, but will hold up to abuse. It wraps the foot flexibly and secures the foot with the help of a midfoot internal saddle that ties into the laces and a lightly-padded heel/ankle overlay. The thin, connected tongue stretches just enough to let you get into the sleek package, which holds so snuggly some testers suggested you go up a half size.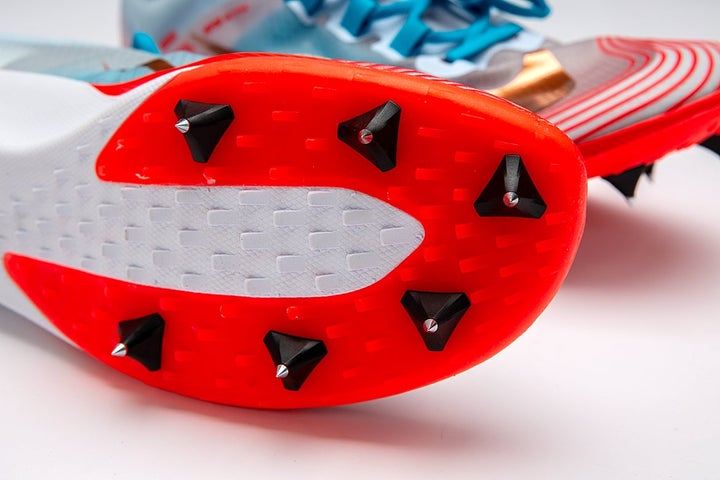 Underfoot, a thin, sculpted layer of foam provides full-length cushion and a bit of support under the arch. Six long "pyramid" spikes dig into any turf or mud without getting bogged down. They are anchored by a horseshoe plate that adds some stability and a light pop-back on propulsion. While these shoes are made for speedy runners, on the heel a rubber pad of outsole with small traction lugs gives a nod to the fact that even front-of-the-pack runners often heel strike over the course of a 5-10K. 
Bottom Line: This light, snug-fitting spike works like claws on the bottom of powerful, efficient speedsters' feet when tackling tough, squishy courses.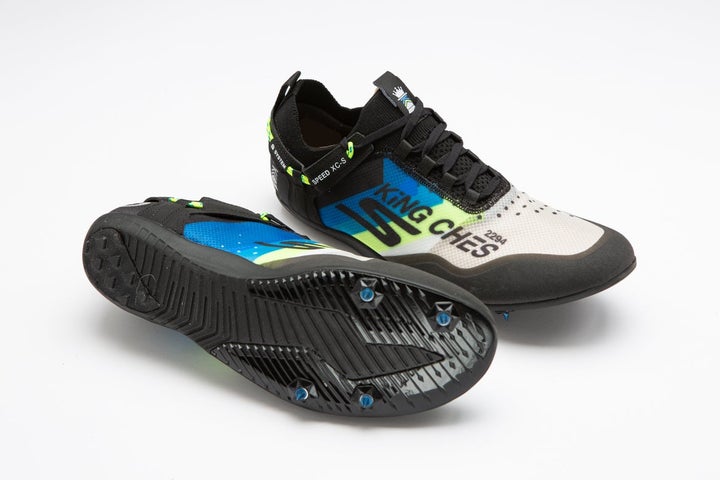 Skechers Performance GOrun Speed XC-S Ultra
Price: $100 Weight: 3.8 oz Unisex
The lightest spike in this review, Skechers says it built their new entry with insights from 3x National XC Champion Edward Cheserek. "These are the shoes he wishes he had access to in high school and at the University of Oregon," says Kurt Stockbridge, Footwear Development Vice President. As to be expected, that shoe is speedy! 
The upper stands out with its stretchy knitted collar and external heel-lock system that ties into the laces and straps you securely to the sole. In front of that, the upper is a non-stretch, non-absorbent ultra-light transparent mesh that initially feels a bit plasticy, but wraps the foot nicely, disappears quickly on the run, and holds up to wear and tear.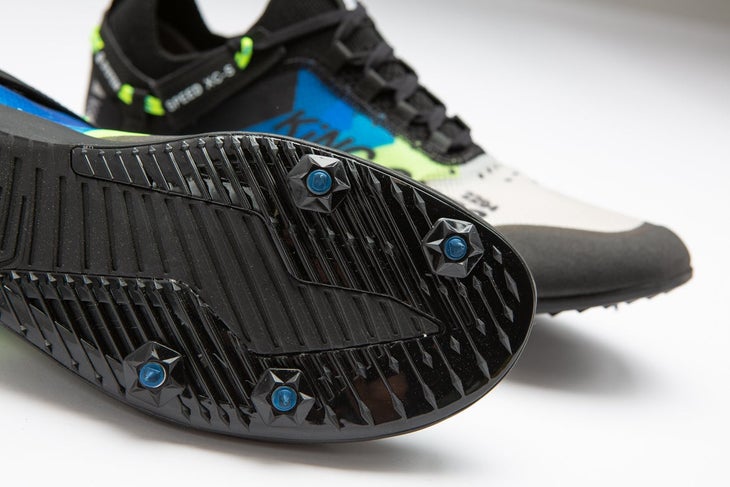 Underfoot is a thin, light, highly flexible layer of cushioning, with a small amount of stability from the thin PEBAX plate that wraps the forefoot in a horseshoe and anchors the four spikes. The spikeless version is a rugged, minimalist slipper for going fast—essentially a light covering for your feet. Not surprisingly, Stockbridge says, the shoe "excels with runners who are light on their feet and mostly toe strike—the varsity kids and team influencers." 
Bottom Line: Skechers Performance delivers the lightest, fastest, most minimal spike this year, built for the fast, efficient runners at the front.
From PodiumRunner