On Cloudswift Review: 100 Mile Rundown
The On Cloudswift is a comfortable and light, yet powerful, shoe to put in your rotation for up-tempo running—as long as you're not looking for a lot of security and traction.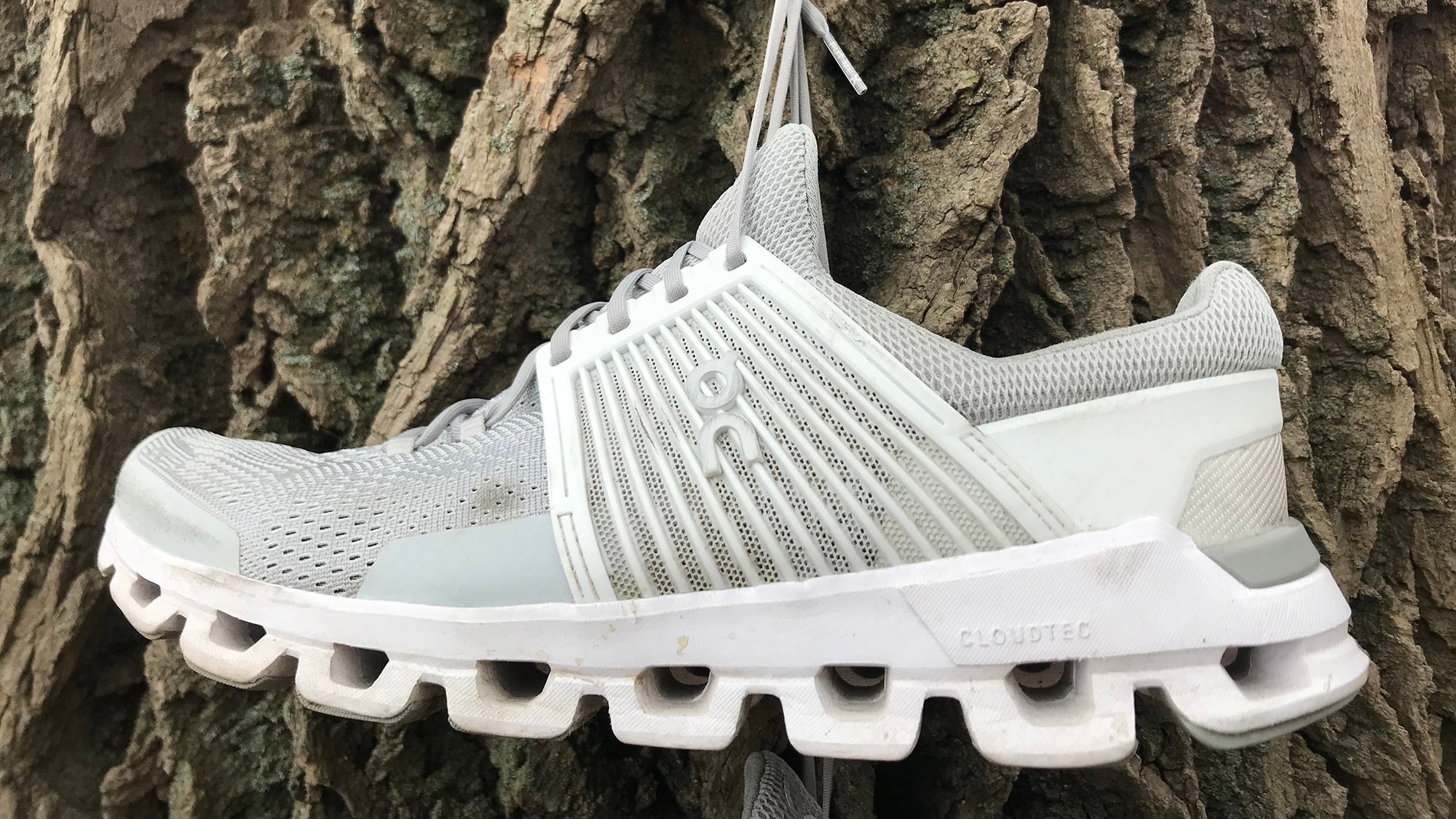 Heading out the door? Read this article on the new Outside+ app available now on iOS devices for members! Download the app.
The Rundown
On Cloudswift offers comfort and responsiveness for runners seeking speed, but lacks adequate traction and security for those needing quick-footed agility.
Surface

Road

Stack Height

Medium
With the Cloudswift, the Swiss shoe company ON has made a clear attempt at producing the ultimate road performance runner, integrating comfort, durability and responsiveness into a lightweight package. On makes a play for the attention of the urban runner, highlighting its new cushioning foam and the easy fit and airflow offered by its unified mesh upper. Together, they provide speed and comfort while you run on the hot, unforgiving pavement of city streets. They also claim superior durability and traction from the rubber outsole pads. A city runner makes lots of quick movements and deals with a variety of weather conditions, and the Cloudswift is supposed to deliver what that runner needs.
We put the On Cloudswift to the test in the ultimate urban running environment—New York City. After 100 miles, many of On's claims held up, but the Cloudswift fell short in couple of areas crucial to navigating the Big Apple. Here's the full rundown:
The Specs
Weight

8.5 oz. (W), 10.2 oz. (M)

Offset

7mm

Midsole

Helion superfoam "clouds" and speedboard

Outsole

Rubber pads, heel and forefoot

Upper

Stretch mesh with silicone-like "mechanical side band"

Price

$149.99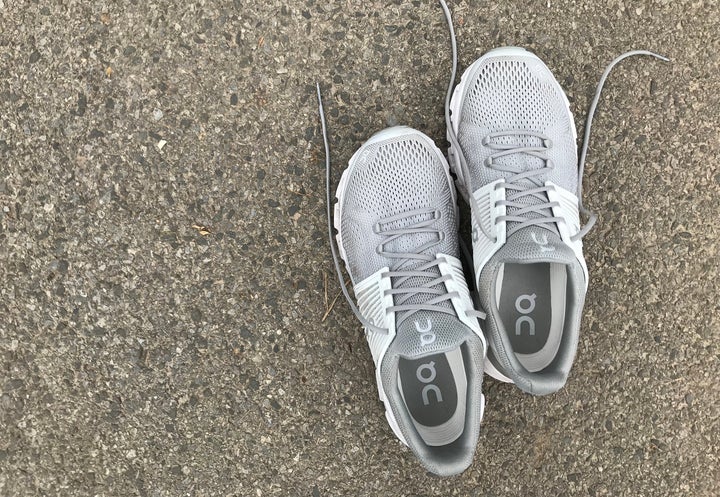 100 Miles In: The Review
On Cloudswift's design grabbed my attention before anything else, and not because of On's distinct, signature midsole—it was the upper that caught my eye. Instead of a traditional upper, segmented into the main body and the tongue, the mesh weaves together to form a continuous and comfortable unit. The laces weave through a silicone-like TPU cage outside the upper, which brings support and security to the stretchy fit.
The upper snugly held my foot, but the shoe runs a tad long. Consider sizing down, and if you're the kind of person with a between-sizes foot, go with your smaller size for the On Cloudswift. After 10 miles, the upper noticeably stretched out (unsurprising, given you have to stretch it just to get your foot in) and it continued to stretch until I hit about 40 miles. The stretchiness made me less confident when making quick movements—like when I need to stop suddenly or side-step around someone during a crowded run commute through the city.
On Cloudswift's strengths were also immediately apparent. In addition to the comfortable upper, the shoe delivers the durable, lightweight, springy ride it promises. That spring has a lot of stiffness to it, which can take some getting used to if you regularly run in shoes with a bit of cushion. On calls its shoes cushioned, but the company has its own definition of the word. On's cushion is more about propulsion than absorption, with little squishiness, which is a very different experience than most "cushioned" shoes. But that technology gives these shoes the snappy quality so many runners want, and it did so consistently over my 100-mile test.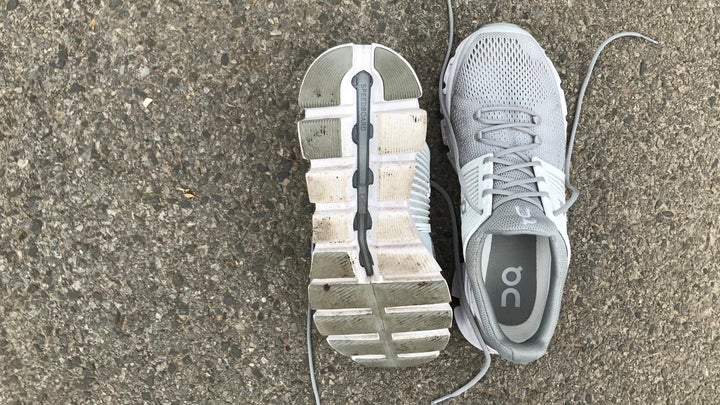 For my first test in this urban runner's performance shoe, I ran a 9-mile commute through New York in the rain. This left me with a few initial impressions:
Slippery laces: You can't get away with not double-knotting these shoes.
Always light: Even in the rain, I hardly noticed the weight of this shoe.
Great comfort: I would have liked a more secure fit, but these shoes are a joy to run in.
Iffy traction: I thought it might be the rain or the fact that this was my first run in the shoes, but the Cloudswift slipped a lot. They also squeaked slightly.
There's The Rub
I gave the shoe the benefit of the doubt after the first run and figured the traction issue was a result of running in the rain in new shoes. Unfortunately, it persisted. Though the traction improved after I broke in the shoes a bit, they didn't grip the pavement well enough for me to trust them in situations requiring agile movements. For a fast, straightforward run, the Cloudswift perform well. I also enjoyed wearing them for speed sessions.
The poor traction goes hand-in-hand with the stretchy upper. It's too stretchy for me. You can pull the laces and stretchy midfoot bands tight for some security, but the design lends itself to get overstretched. Yes, the Cloudswift has a sock-like feel, but after dozens of times stretching it to get your foot in, the upper fails to regain its shape. The On Cloudswifts are neither sturdy nor grippy enough for run commuting in a busy city where you have to be prepared to react quickly to anything.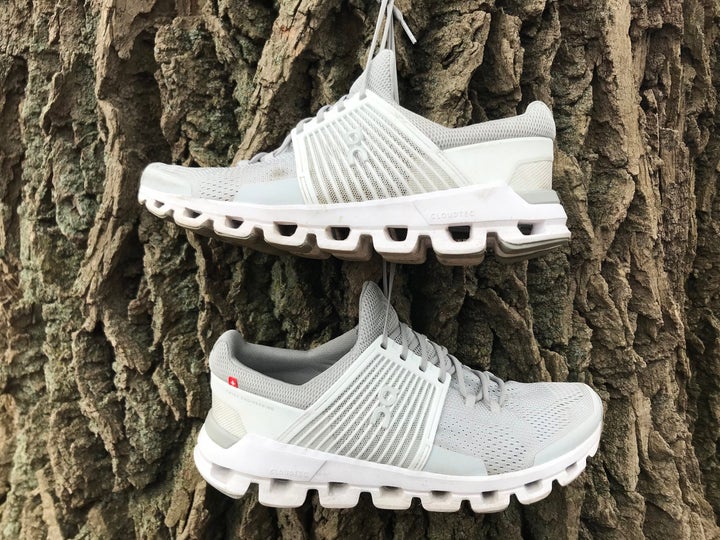 TL;DR
The On Cloudswift is a comfortable and light, yet powerful, shoe to put in your rotation for up-tempo running, speed work or a race. But if your definition of "urban running" involves quickly stoping, starting and changing directions, Cloudswift has room for improvement in its fit and traction.
From PodiumRunner