On Records and Rules: Kipchoge, Kosgei, Pacers and Nikes
Runners seeking records have always turned to pacers and fast shoes. A veteran observer of the sport offers perspective on last weekend's marathon fireworks.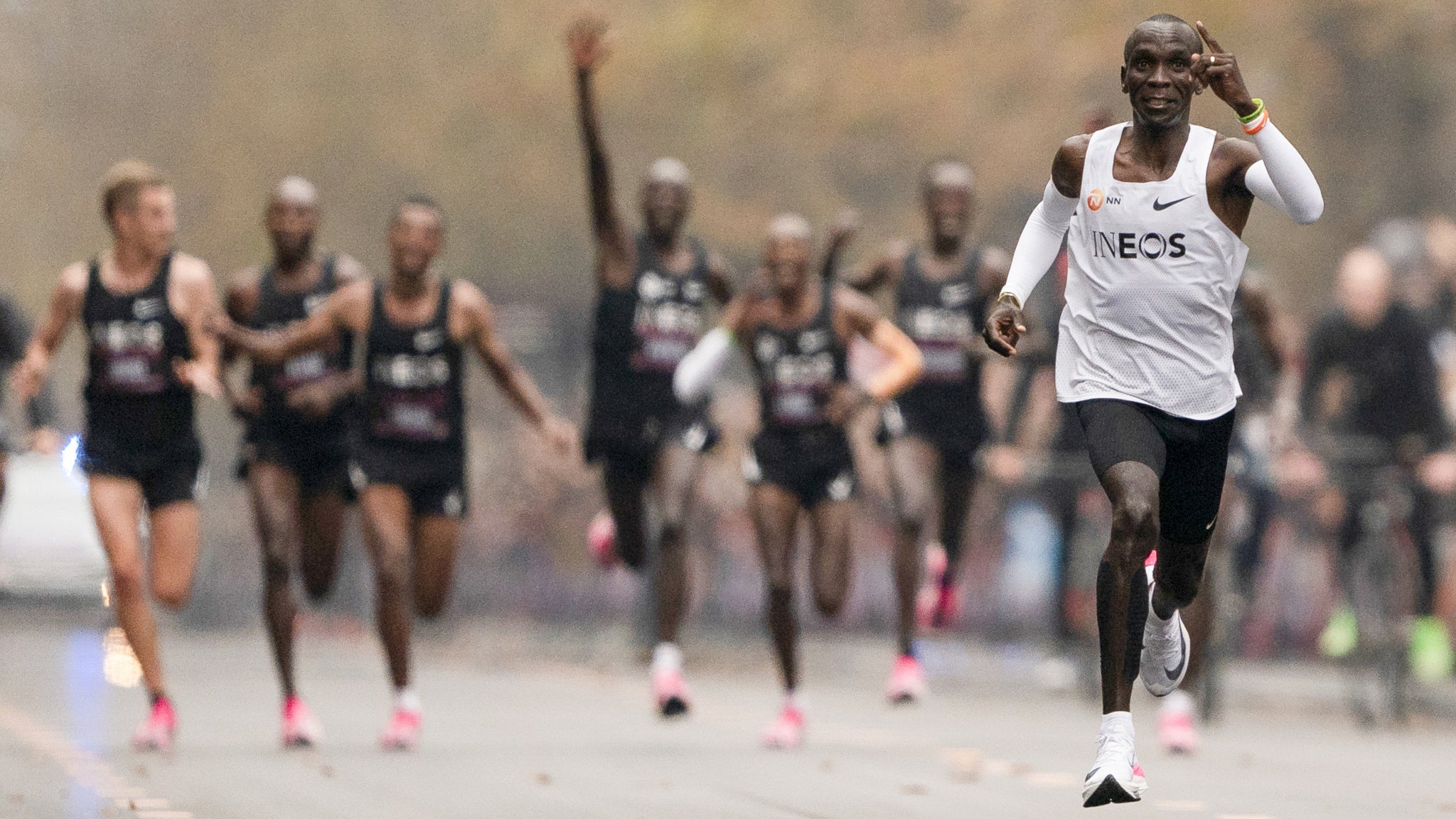 Heading out the door? Read this article on the new Outside+ app available now on iOS devices for members! Download the app.
Editor's Note: This article was written and published before the World Athletics ruling on shoes on January 31, 2020, yet still provides valuable context, history and ongoing considerations on super shoes and records.
I come here in part to praise Eliud Kipchoge and Brigid Kosgei's weekend marathons—which you know about by now— and also to add perspective. Both ran the fastest marathon times ever. We should enjoy and celebrate that.
But neither would have been allowed in what we now call "championship races"—what happens in the Olympics or World Championships and in a few other races.
Kipchoge's impeccable 1:59:40 in the Ineos 159 Challenge event in Vienna made no pretenses. It was a one-person time-trial. He was the only runner who covered 26 miles, 365 yards. The 2017 Nike Breaking2 race was at least a race. There were three highly-talented runners on the start line, and nobody could say who would win until the race revealed itself. That's called competition.
Otherwise, both Ineos and Nike broke several key IAAF record-eligibility rules, primarily by having a pace car that led pacing teams that reduced the air resistance on Kipchoge's body, speeding along at 13.14 mph. He also received his fluids from a bicycling handler; he didn't have to swerve to the roadside and fumble to lift his bottle off a table.
You don't get that kind of concierge attention at the Olympics. Rather the opposite. The Olympics are the Olympics because the whole world is invited—at least the best in the world—and then all the athletes are thrown into the scrum together, and forced to compete at the height of their physical and mental talents.
Kipchoge, who looks and talks like Yoda and runs with thrusters practically equal to the Millennium Falcon, has a glorious, unsullied history in running. And an unmatched range. I'm not talking about his personal bests from the mile to the marathon. Rather I recall the day in 2007 when he ran 12:00 pace with my wife and me on a high Rift Valley cleft.
Equal or Escorted
The women's marathon wasn't allowed into the Olympics until 1984, but from the very first, it was a sex-limited contest. It has continued the same. The women run their Olympic Marathon roughly 10 days before the men—women against women, men against men. The Olympics acknowledge that the sexes are different in their running potential, and give each its full due.
That's one reason we lionize Joan Benoit. She didn't just take gold in that first Olympic Marathon for women. She won head-strong. Benoit blitzed away from the super-competitive field at three miles, and literally never looked back. She didn't need pacers; she needed to be loosened from the shackles that had been holding women runners back from their early days in marathon—the men too-often crowding around them.
Kosgei had two male pacers for 20 miles or more. This couldn't happen in a championship race, for women only. As it turned out, her pacers did a sloppy job; they ran way too fast for the first five miles or so—right around 5:00/mile. They were supposed to be running 5:10s, a 2:15:20 pace. Just enough to break Paula Radcliffe's forever women's marathon record, 2:15:25.
Chicago's TV commentators thought the pace so excessive that Kosgei would blow up later. I agreed. Pace violation is the ultimate sin of marathon running, and the penalty is near-certain, and ugly to behold. However, Kosgei didn't falter. She ran the second half just five seconds slower than the first (66:59, 67:05), and finished fast and strong.
We have never seen a marathon quite like this one—not male nor female. She crushed the world record, and made it look easy. A friend taking photos on the overhead bridge noted something strange to me. After Kosgei finished, she wasn't immediately swarmed by a host of well-wishers. She stood alone in the center of the road, the TV cameras focused on her … and only her.
The 25-year-old runner finished the Chicago Marathon in a time of 2:14:04 on Sunday, beating the previous record set by Britain's Paula Radcliffe in 2003 by 81 seconds: https://t.co/68U9VvH5mB

— WBUR (@WBUR) October 14, 2019
It's Gotta Be the Shoes
The other big subject is, of course, the new Nike shoes. Both Kipchoge and Kosgei wore them. They have various names: Vaporfly4%, VaporflyNext%, alphaFLY, and of course CheaterFly on internet message boards. Until two years ago, I believed it impossible to create a shoe faster than the lightest slab you could affix to your feet.
Minimalism made you faster; weight and gimmicks made you slower. That's how I saw it, and that's probably still true in shorter races. But now both lab experiments and real-world results have turned my old view upside down. Clearly, highly engineered, high tech, cushioned "super shoes" can help you run faster at the muscle-crushing marathon distance. Somehow these shoes protect the legs more than previous shoes over 26.2 miles of hard asphalt.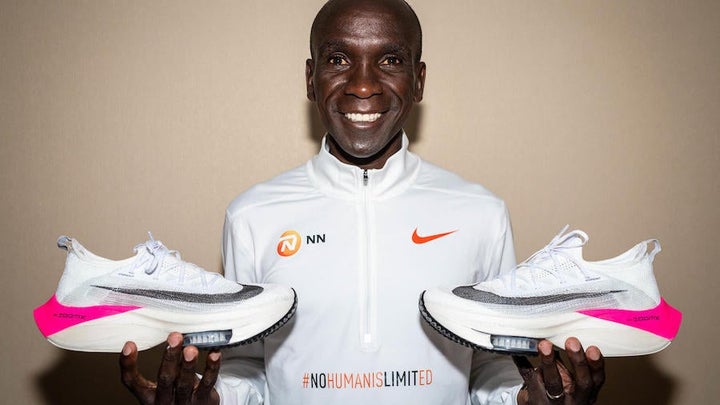 I'm not dumb and blind; I can read and see; and you know what, it's not fair. Other shoe companies are rushing to copy Nike, but I presume patent law offers some protection. For now, I wouldn't want to be a non-Nike runner at the U.S. Marathon Trials in Atlanta on February 29. Or in the Tokyo Olympic Marathons.
If the IAAF believes in fair competition, it has to make a move. Nike is ahead of the curve now, just as some backyard pharmacists are ahead of the doping regulations.
The Innocent Age?
Having said that, here's the perspective I'd like to offer. Everything I've written above sounds like Brave New World, right? We'd all like to turn the clock back 70 years to an era when young medical students like Roger Bannister ruled our cinder running tracks, and smashed the records.
Not so quick. I pulled Bannister's book, "The Four Minute Mile," off my shelf last night. Late on the morning of May 6, 1954, Bannister was so fixated on his afternoon race that he tried to make his shoes faster. "At 11 o'clock," he writes, "I was sharpening my spikes on a grindstone in the laboratory" of the hospital where he and his fellow students often performed experiments.
One of those colleagues walked past, and immediately made fun of Bannister. "You don't really think that's going to make any difference, do you?"
Six hours later, Bannister followed first Chris Brasher and then Chris Chataway for nearly three-and-one-half laps around the Oxford track. He was paced! Of course. Long before digital clocks, laser beams, and triangular pace groups, we have known that following in the slipstream can make a substantial difference.
And it did. In his super-sharp spiked shoes, Bannister surged ahead at the end, just like Kipchoge and Kosgei. He broke the tape in 3:59.4. "I grabbed Brasher and Chataway, and together we scampered around the track in a burst of spontaneous joy. We had done it–the three of us!"
Here's the point: Runners seeking records have always turned to fast shoes and pacers. Today, we have more and different kinds of races: time trials, men with women, women without men, championship races. We can't control them all; we should try to enjoy as many as possible.
But at the very highest level, certainly the Olympics, World Championships, and maybe even world records, we need some number of rules to guarantee a level playing field. Yeah, I know: There is no level playing field. But let's make it as fair as we can.
—
Amby Burfoot won the 1968 Boston Marathon. He offers KISS Training Programs (Keep It Simple & Smart) at RunWithAmby.com.
From PodiumRunner
Lead Photo: Jed Leicester for The INEOS 1:59 Challenge