First Look: Tracksmith Eliot Runner
In an impressive debut, Tracksmith delivers a versatile, modern trainer with an old-school look and feel, just as you'd expect from the brand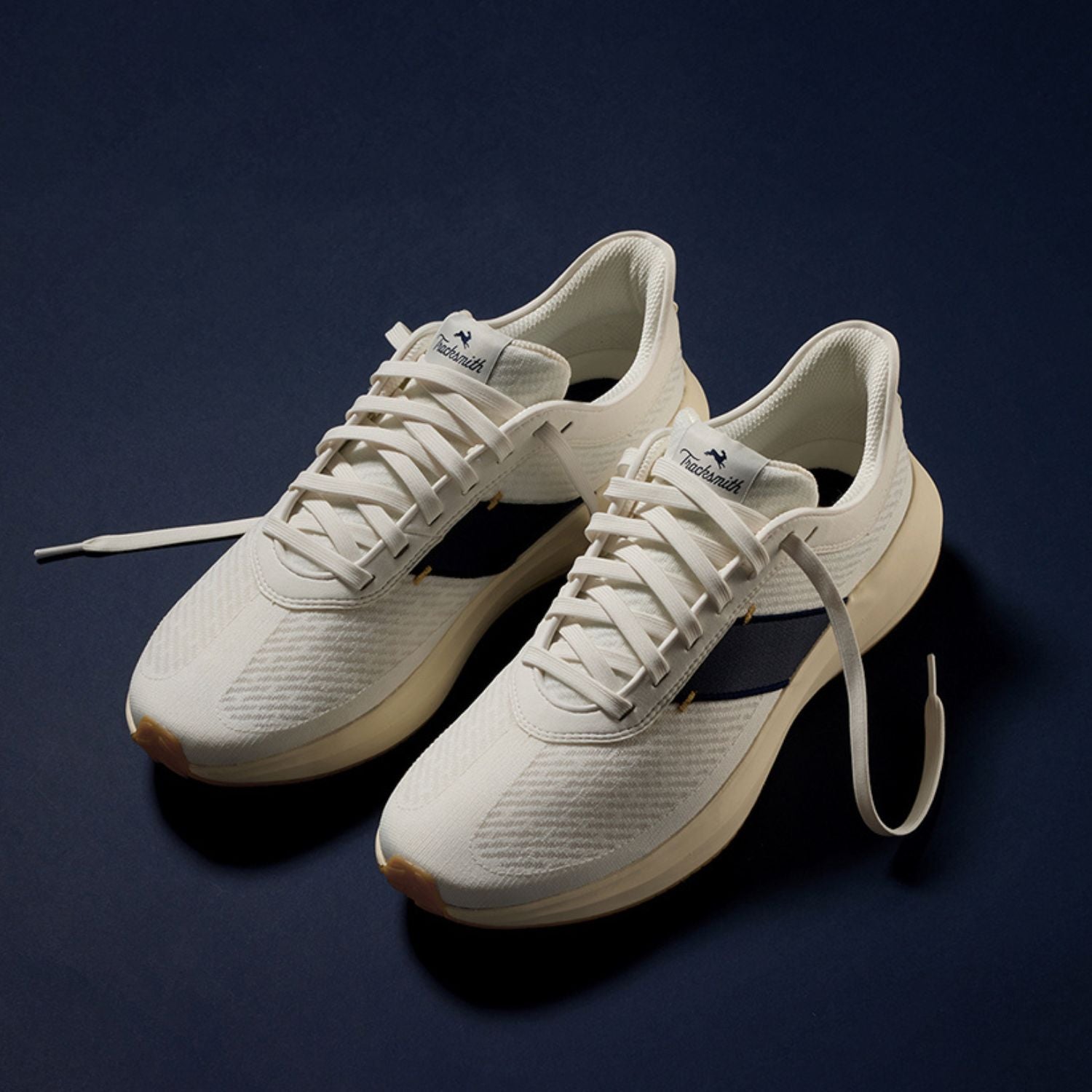 Courtesy Tracksmith
Heading out the door? Read this article on the new Outside+ app available now on iOS devices for members! Download the app.
Tracksmith Eliot Runner Review
MSRP: $198
Weight: 8.4 oz. (women's size 8), 9.2 oz. (men's size 9)
Stack Heights: 33.5mm in the heel, 24.5mm in the forefoot (9mm drop)
For nearly a decade, upstart apparel brand Tracksmith has forged a reputation for having a youthful, grassroots commitment to authentic running and a stylish retro design aesthetic. It has honored the grind of training, embraced the amateur spirit and championed a culture of old-school work ethic with its running shorts, shirts, tights, jackets, hats and gloves that reflect a distinct New England style and vibe. Its new Eliot Runner training shoe—its first foray into footwear—is made from a similar mold. It's an everyday training shoe with a throwback look juiced-up by the lively feel of a modern, energetic midsole package.
With the same attention to detail displayed in its apparel and accessories, Tracksmith focused on both the performance and the style of this shoe to make sure it matched the brand's meticulous vibe. It named the shoe after the Eliot Lounge, the famous Boston bar that became the celebrated, unofficial watering hole of the Boston Marathon before closing in 1996. The stark color design— mostly white with a single blue support sash at the saddle—looks like a shoe from another era, but it also reflects the simple design ethos of modern performance shoes that eliminates unnecessary elements that can inhibit a runner's stride.
The old-school look hearkens back to mid-1970s training shoes, and so, too, does the slightly firmer feel of this shoe compared to today's high-stack, max-cushioned models. But the Eliot Runner's hyper-modern ride is miles ahead of that delivered by the firm  EVA midsoles developers used to use to create a more responsive ride in racing shoes and performance trainers before the advent of high-rebound foams. The shoe features a relatively thick, squishy soft Pebax insole that contributes to the secure fit and comfortable feel and balances the higher-durometer (slightly firmer) Pebax midsole that provides durable protection and a noticeable energetic pop in every stride. The combination of those materials results in soft, shock-absorbing landings and lively lift-offs at any pace.
Testing For Speed and Endurance
Having run in it seven times during the first two weeks of January, I've really appreciated its lean, low-to-the-ground geometry and its nimble, energetic — and somewhat spartan — feel and ride. I took the Eliot Runner out for a long run, a track workout and several mid-length runs at various paces and was impressed with its range and decidedly low-profile feel. It's light and just cushy enough to go  long in, but it's also plenty firm and snappy enough for running fast workouts. During my 4 x 400m track session, it was easy to get up to speed, and the shoe felt agile. It also felt smooth and comfortable during  an 11-mile long run, delivering a unique semi-soft/semi-firm sensation. Truth be told, that was my first longish run in a shoe that wasn't maximally cushioned in several years and I was surprised to find how much I appreciated the enhanced feel for the ground it provided, and that I didn't miss a big layer of softer, cushier foam. I'm not sure I'll choose it for every long run, but I could.  Bottom line, the Eliot Runner more than suffices at both ends of the training spectrum, while its wheelhouse feels, to me, like it falls at roughly at 7:30/mile or faster.)
The Tracksmith Eliot Runner reminds me of a lot of running shoes from days long gone by, but it has some similarities to a few modern models like the Brooks Launch, Saucony Kinvara and the erstwhile New Balance Fresh Foam Zante—only with a much higher-performing midsole. It has a medium to narrow interior volume with a snug fit in the heel and midfoot and a bit of wiggle room in the toe box. The fit and structure of the shoe are enhanced by the woven sash, that helps snug down the engineered mesh upper, the suede support band around the exterior of the collar and eyestays, and the modest amount of padding around the interior of the heel cup.
Final Thoughts
The Eliot Runner isn't a perfect shoe, but it's a strong first effort. Having wear-tested original models from new brands like Hoka, On, Altra, Newton, K-Swiss, Under Armour and Pearl Izumi over the past 20 years, I know it's no easy task for a company that's new to the running shoe market to achieve success with its first iteration. But I give Tracksmith high marks for the Eliot Runner and look forward to what's to come in future years.
Lead Photo: Courtesy Tracksmith
Trending on Outside Online