What Our Run Editors Loved in May
Here's a look at the gear, tech, media, and general miscellany our Outside Run editors loved last month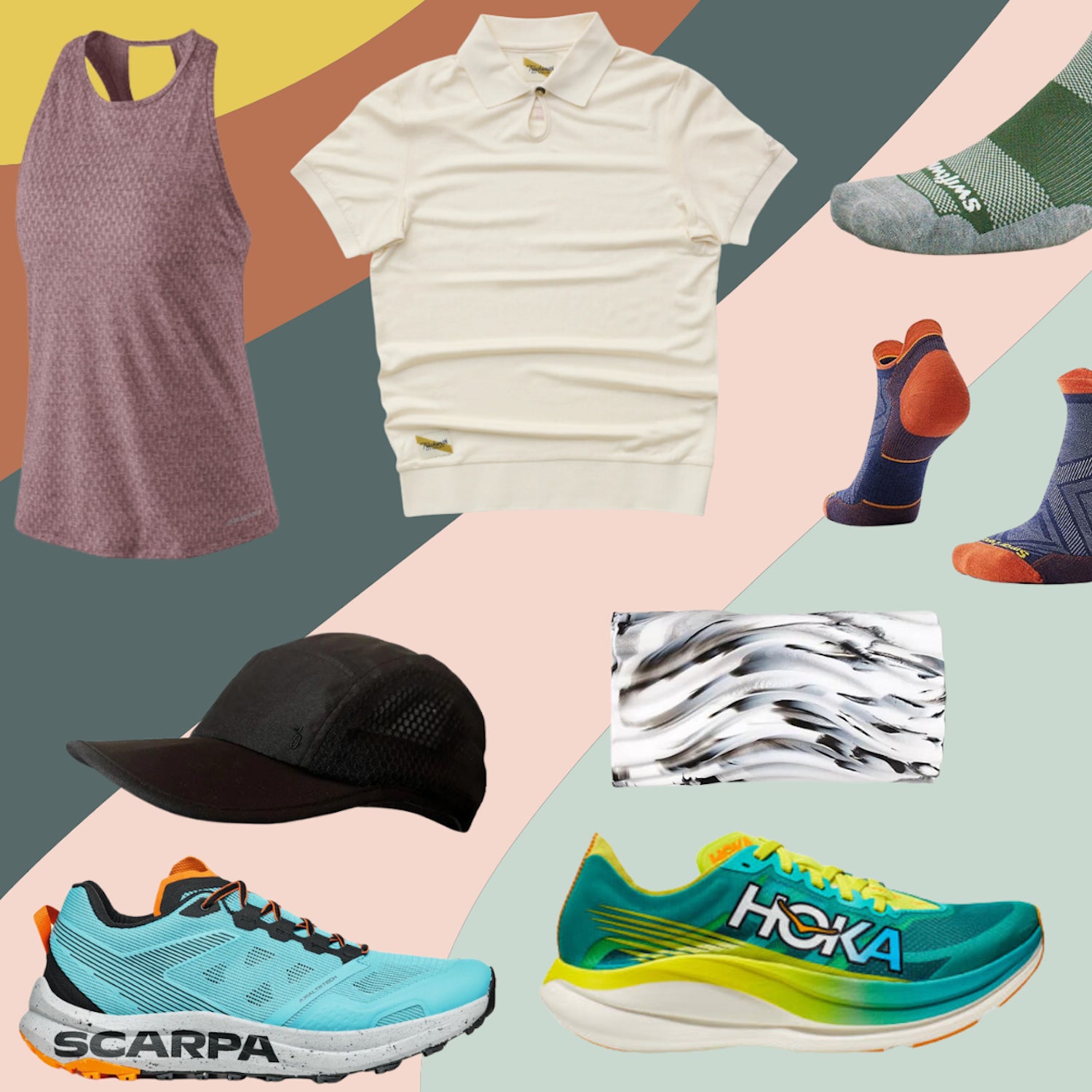 Heading out the door? Read this article on the new Outside+ app available now on iOS devices for members! Download the app.
Gear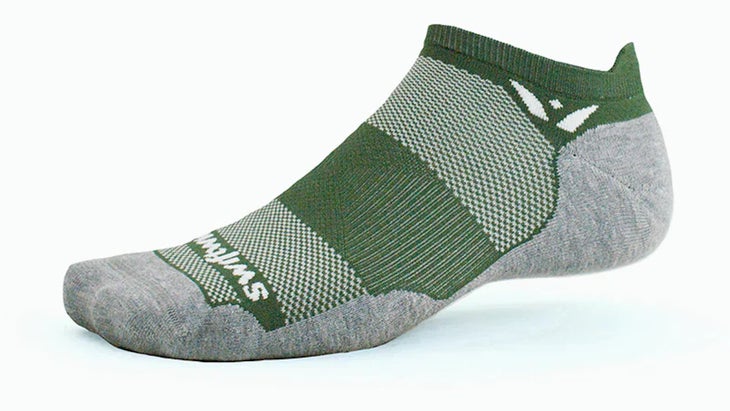 Swiftwick MAXUS Zero Tab Sock ($17)
I generally go for the thinnest running sock possible to give my hot, sweaty feet the best chance to breathe. But I've surprised myself by reaching often for these padded Swiftwick models, even as the weather has been heating up. Credit the thin, airy top and the superior wicking of the recycled polyester/nylon/spandex fibers for keeping me cool, while the just-right padding underfoot and around my toes coddles my feet without interfering with how the shoe fits. As for its own fit, the MAXUS provides a relaxed stretch around my toes that lets them splay easily, and a comfortable, secure hug around my arch and heel. All together, it's a great combo of plush and performance that is making me rethink cushioned socks. – Jonathan Beverly, senior running gear editor
Smartwool Run Zero Cushion Low Ankle Socks ($18)
This is the newest sock in my arsenal, and a welcome one. I've sometimes found Smartwool to not be as durable or as thin as I'd like them to be. These might be the answer I've been waiting for. Full disclosure: I've haven't run in them for hundreds of miles yet, so the jury is still out on durability. Still, they've got to be my favorite Smartwool socks yet. Super lightweight, quick-to-slip-on when you're rushing out the door. No seams, either, which pairs well with their "Indestructawool" technology. Made in the U.S. with 50 percent Merino wool. Big fan of these. – Nicholas Triolo, senior editor, Outside Run and Trail Runner
Ten Thousand C05 Boxer ($20)
I was on the road reporting for Trail Runner for the past few weeks, and these boxers, I concluded, were the ultimate endurance-travel boxers. Made for workouts in unlined shorts, they're sleek, quick-to-dry, and versatile for everyday use. Treated with silver ion anti-odor and no tags, they truly are no-fuss. I could very easily buy four pairs of these and just be done with ever having to think about liners or boxers again. – N.T.
Scarpa Spin Planet ($159)
I am all for shoes that are designed to have a low impact on the planet. Sustainability is a huge selling point for me. My top priorities remain a shoe's comfort and performance. What's the point of a sustainable shoe if you never want to use it? The Scarpa Spin Planet manages to hit both of my priorities. It uses a large percentage of recycled materials in the upper, midsole, and outsole, and it's comfy with some good volume in the toe box and the right amount of cushion for easy, long miles. This is not the technical trail ripper you might associate with Scarpa. It's more of a laidback, long run cruiser. – Gordon Coates, Digital Producer
RELATED: The Best Trail Running Shoes of 2023
Tracksmith Rapid Transit Polo  ($128)
I love a lightweight, breathable shirt that I can throw on after a run or workout and hop immediately onto a Zoom meeting. This buttoned-up classic is given a techy makeover with merino wool that's odor-resistant and sweat-wicking. I love this top for marathon work or travel days because it holds its shape remarkably well (it survived a multi-leg, 30+ hour trip to Argentina). Can't all work clothes all just be running clothes? – Zoë Rom, Trail Runner editor-in-chief
Patagonia Fleetwith Jumper ($128)
OK, just one more piece of technical, everyday apparel. This one-and-done outfit is my go-to for quick changes after the gym. Rather than packing a full outfit, I can just throw this breathable, wicking one-piece in my car or gym bag for work or après trail. – Z.R.
Patagonia Ridge Flow Tank ($49)
I love the coverage on the front of this tank, which is ideal for preventing pesky vest-chafing that annihilates my collarbones on long summer runs. This lightweight tank has a cute keyhole detailing in the back that makes it breathable and versatile. – Z.R.
Rabbit UPF Deflector 2.0 ($70)
This is the best sun-hoody for high-output activity I've ever tested. The perforations on the sleeves help shed excess heat while keeping you covered from the sun. It's cooling and wicking, while feeling buttery-soft and cool against the skin. The zippered key/card pocket is a bonus for runs when you need just a little bit of storage, and the scuba hood adds extra protection for the neck and ears. This is the perfect shirt for long, exposed days in the alpine, or when you don't feel like getting scorched while enjoying a post-run brew at the trailhead. – Z.R.
Janji All Day Tank ($54)
So let's get one thing clear: I'm not a tank top guy. But it is strikingly clear that sleeveless seems to be a superior way of running in hot conditions. This Janji tank is a go-to when the temperature starts climbing. So light, so form-fitting yet comfortable. What's the difference between a singlet and a tank? Not sure. I am sure that this piece dries out in minutes, though. No loud logos, no fluff. Just a high performance piece that continues to deliver again and again. – N.T.
Hoka Rocket X 2 ($250)
After seeing this shoe on the feet of Hoka pros at marathons and triathlons for the past year, I finally got a chance to test it myself. And, WOW! The combination of the crazy-responsive, near-maximal full PEBA midsole, curvy carbon-fiber propulsion plate, and rocker-shaped geometry really give this a snappy ride. The thin, gusseted tongue lays down well and helps create a snug fit with the minimalist upper (which feels like it was pulled from a pair of track spikes). As much as I really love the Adidas Adizero Adios Pro 3 and the new Saucony Endorphin Elite, I think I might be running this fall's Chicago Marathon in these speed merchants. – Brian Metzler, Contributing Editor
RELATED: The Best Road Running Shoes of 2023
Outdoor Vitals Vario Jacket ($210)
If you're a high-altitude trail runner, peak bagger, or summer ski streaker, this versatile jacket from direct-to-consumer upstart brand Outdoor Vitals could be an essential addition to your pack. (So far, I've appreciated it on a backcountry ski outing and a weathered-out hike up a 14er.) It's a featherweight insulated jacket (just nine ounces!) that can keep the wind at bay, provide warmth, and even keep you dry in a pinch when a storm or cool weather suddenly rolls in. It has a stretchy but durable ripstop nylon outer fabric and an innovative 3DeFX Insulation that provides high warmth value and body-mapped breathability. – B.M.
Bambuwerx Running Cap ($24)
I'm pretty particular about what I wear on my head, mostly because I sweat a lot in warm conditions and also because my male pattern baldness has, well, made it pretty easy to sunburn my brain. Fortunately, I've added a new Bambuwerx Running Cap to my summer running lineup to keep my sun exposure to a minimum. This lightweight running cap has extra-large, laser-perforated ventilation holes and features a proprietary vented brim (with a firm interior structure that won't get soggy) to wick sweat off your head and speed its evaporation. Best of all, the majority of the fabric in the hat is made from bamboo, which is not only an organic material high on the sustainability scale, but it's also naturally antimicrobial, odor resistant, and hypoallergenic. Bottom line: it fits great, works great, and looks good. – B.M.
Tech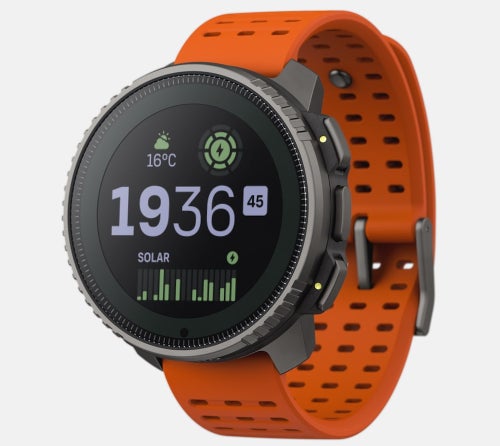 Suunto Vertical ($629-$839)
OK, yep, agreed, this watch carries a pretty lofty price tag, so it's hard to just recommend it as your next impulse running watch purchase. But it packs a lot of punch for that price, so if you're in the market for an adventure watch, this is one to consider as you're looking at similar models from Coros, Garmin, or Apple. It logs all of the typical running data (time, pace, distance, elevation, etc.), but as much as I usually run 300+ days a year, I also typically ski 75 days a year, do a lot of mountain biking and log a lot of days hiking up and running down 14,000-foot peaks.  The Vertical is a lightweight, do-everything watch that has multisport training and tracking capabilities, a large 49mm display with a bright, an easy-to-read touchscreen, Wi-Fi connectivity, colorful off-grid mapping, extremely long battery life, dual-band GPS functionality to all five major satellite systems, and (in certain models) solar charging capabilities. Want more detail? Read the detailed review from Triathlete editor-in-chief Chris Foster. – B.M.
Reading Material
If you haven't picked up a copy of this New York Times bestseller, consider listening to it as an audio book, as I did. With the help of esteemed writer Bonnie D. Ford, Des tells candid stories about the numerous struggles and successes she's endured and enjoyed during her career as one of top marathoners in American history. While it is expectedly centered around her victory in the 2018 Boston Marathon, she pulls back the curtain on her life as a professional runner and brings readers along with personal insights, funny tales, her connections with other athletes (including Shalane Flanagan), and insidery snippets in the lead-up, learnings, and aftermath of her incredible 26.2-mile rain-soaked effort on the way to the finish line on Boylston Street. – B.M.
For those of you who are looking for an intellectual feast on how best to navigate dark times with intention, art, and meaning-making, Cole is a leading voice. A Nigerian-American writer, photographer, scholar, and Gore Vidal Professor of the Practice of Creative Writing at Harvard, his book of essays traverses all sorts of domains in a search for what firm ground we might be able to locate underfoot in times of loss and uncertainty. – N.T.
Everything All at Once – Steph Catudal
Catudal is an Outsider of the Year, a writer, adventurer, and wife to the runner Tommy Rivs. Her new memoir, published this week, offered me a whiplash of tight prose and raw transmissions of grief, the rejection and redefinition of faith and hope as she loses a father and, nearly, a husband. A strong work of nonfiction that cuts to the bone. You can read an excerpt here. – N.T.
The Wandering Mind: What Medieval Monks Tell Us About Distraction – Jamie Kreiner
Monks and deep focus? I'm in. Distraction has always been a challenge to those looking to sink deeply into a practice of any kind, and this book is both an interesting history of, and a compelling case for, focus as a discipline. I appreciate the historical context surrounding the ever human struggle to distance ourselves from distraction and make room in our heads for what matters to us. – Z.R.
The 7 ½ Deaths of Evelyn Hardcastle – Stuart Turton
It's heating up in the Northern Hemisphere, which means it's the perfect time to transport your mind to an unspecified time in misty, murky, mysterious England. Perhaps don't start this book after you've fried your brain on a long run—the anachronic order of events and ever-expanding cast of characters require some focus to digest. But the twists and turns of this whodunnit meets Downton Abbey combined with a narrative about the power of growth and forgiveness are worth grabbing an iced beverage and lounging lakeside. – Abby Levene, Endurance marketing brand lead
Currently Listening
Back in the days of Limewire, I used to wait anxiously for Blalock's Indie Rock Playlist to release their latest compilation of new independent music. Now, in the age of streaming, I still really crave curated selections of music that are picked by humans, not an algorithm. Each month, BIRP! Releases a playlist of new and interesting music that I don't think I'd stumble into anywhere else, and makes me appreciate that there are still places and things worth stumbling into. – Z.R.
Alone in the Mountains – Goth Babe
Alpine dream-pop? Count me in.
I find myself alone in the mountains / Grateful for my life today / It's just me and my dog most of the time / I wouldn't have it any other way. – Z.R.
The Gray Area with Sean Illing – "The Spiritual Roots of Our Strange Relationship to Work."
I continue to gain so much from these rich conversations about modern life, philosophy, and being human. A Vox production, each podcast episode is nearly always a home run. – N.T.
Nutrition
Tailwind Endurance Fuel – Matcha Flavor ($40 – 50 servings)
I'm now pretty much 100 percent Tailwind for my drinkable fueling and recovery needs, and yet I hadn't tried the Matcha flavor until now. SO good. I mixed my first flask with ice cold water, highly concentrated, it was dangerously good. It's got a kick of caffeine mixed in with it, so make sure you're taking too much during the day, because sleep is important for recovery, too! – N.T.
Raspberry Lemonade Gu ($38 – box of 24)
OK, another sweet tart flavor. That's what I thought at first. But then, as I was on an exploratory mission crossing Mexico's Baja peninsula on foot a few weeks ago, all I had were a pocketful of these Gu flavors and they never got old. I thought they would, but the subtle sour lemon offers a refreshing twist on a sometimes too-sweet gel profile. Also, this flavor is in partnership with Rising Hearts. – N.T.
Misc.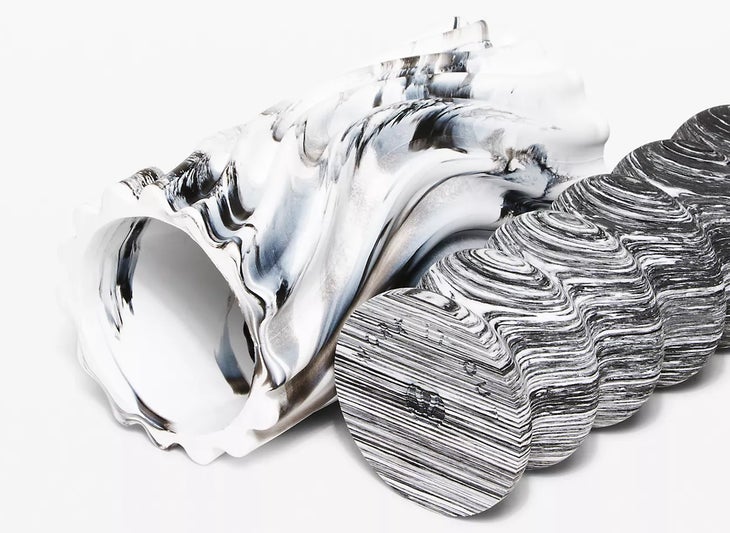 Lululemon Double Roller Mini ($38)
While traveling for work, it sometimes feels overkill to pack along a huge roller, but this mini roller was the solution I've been waiting for. It fits in my compact Patagonia Black Hole bag, and it actually has two different roller surfaces in one, which is very cool. I've been using the main surface for all my rolling needs, and then using the core roller, with its more dramatic ribs, for some targeted plantar massage and lower back. SO good. – N.T.
2Toms SportShield ($15)
'Tis the season for profusely sweating out of every orifice of your body. And if you're not careful, sweating can come with a host of unwelcome outcomes, including dehydration, drenched clothes, and perhaps the most dreaded of all: chafing. Anyone who's experienced the agony of the post-chafe shower knows what I mean. Thankfully, a little advanced planning can prevent your skin from rubbing raw. Chafe and blister prevention products are not new, but 2Toms SportShield will revolutionize your skin's life.
A fast-drying liquid ingeniously applied via a roller ball, this invisible coating is quick and mess-free to coat on the thighs, under the arms, to the back of heels, and the tops of toes—literally anywhere you're prone to chafe. The waterproof and anti-melt formula holds up under the most grueling conditions, too, and it contains aloe vera for a non-scented but soothing effect.
Before I discovered 2Toms, I finished a rainy 50K trail race with raw thighs bleeding down my legs. I've been using 2Toms for a couple years now, for everything from a 50-mile traverse in 90 percent humidity to a 100-mile race through the night. And I've come away completely chafe-free, no reapplication required. (You never know what new variable is going to lead to chafing in a new place, so I just apply it everywhere.) If anything's going to convince me that miracles exist, it's 2Toms SportShield. – A.L.
Vertra Invisible Face Stick SPF 45 ($21)
Before I discovered this face stick my method for sunscreen application was to close my eyes, spray a mist of ethyl alcohol-laced chemicals (an ingredient in most aerosol sunscreens) at my face, and cough for a minute until the cloud dispersed. If I'd shaved that morning I also had to endure the sting of alcohol on my freshly exposed skin.
I noticed my wife wasn't going through this same ritual and very belatedly discovered the sunscreen stick. Of course, plenty of brands produce them, but I've been keen on Vertra because it goes on smooth and can stand up to my daily bike commute, afternoons spent coaching, and evening runs. It is made of all natural ingredients, too. Vertra was started by a group of surfers and has established a bit of a cult following in the outdoors community. Count me among them. – Alex Tzelnic, contributing Run columnist
Trending on Outside Online