How Running Explains the World
What's the best way to get to know a new city? Put on your sneakers and move.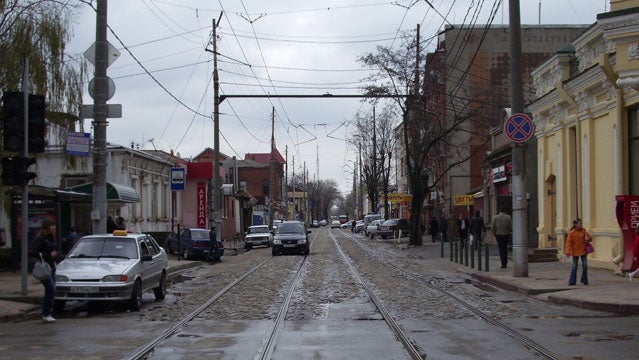 Heading out the door? Read this article on the new Outside+ app available now on iOS devices for members! Download the app.
Krasnodar, Russia — Russians, it would seem, do not particularly like, nor do they expect, a jogger to be trotting along the side of one of the narrow streets that wind through this city of 750,000. Admittedly, this is a rather rash generalization, but I've nearly been hit twice during the first five minutes of my morning run. One time, I'll admit, was at least partially my fault. Apparently, it's legal, or at least socially encouraged, to go right on red without making any attempt to slow down out here. Noted. But the other driver—the one in the old, dirty BMW—I would swear that dude (that comrade?) was aiming directly for me. I avoided him by jumping over a ditch onto the barely-there sidewalk, but it was touch-and-go for a couple of terrifying milliseconds.
My plane landed in this southern Russian city eight hours ago in the pitch black of the Eastern European night. It's lighter now, but only marginally so. A thick fog replaced the inky sky around 6:30 this morning. I'm running—taking my life in my hands, or feet, or something—because I find it's the best way to get a feel for a new place. It's too much to say that a five-mile jog through an unfamiliar location offers any hard truths, but what, other than a sustained life in a certain place, actually does? On faster-than-walking foot you will gain plenty of initial impressions you wouldn't in a car, a taxi cab, or any other means of transportation. Running forces you to pay attention in a very specific way, one that forces some kind of insight into your immediate situation.
Under normal circumstances, these self-psychologizing observations are generally focused inward—the zen of jogging or some such—but strange, unfamiliar territory forces you to focus on what's around you—the different buildings, the unsuspecting local pedestrians, the unexpected cracks and bumps and depressions. It's helpful and, quite frankly, a smarter way to run. After all, you never know when a car will come flying unexpectedly around a corner. (Pro tip: Leave your headphones home. You need all your senses about you.)
Krasnodar is cold and grey, both the buildings and the people on the streets; it's the stuff of James Bond films and Cold War stereotypes. It's an initial impression that is confirmed over the next 48 hours when countless citizens, or at least pretty much everyone who speaks English, ask me whether the United States–Russia soccer match I'm in the city to cover is important back home because of the non-war war our countries fought more than 20 years ago. I don't have the heart to tell them most Americans care even less about the Cold War than they do about the beautiful game.
In Thiruvananthapuram, India, the capital city of the country's Kerala state, however, citizens very much do care about football. They wear jerseys everywhere, Lionel Messi's blue-and-red Barcelona kit mixing with Wayne Rooney's only-red Manchester United top. The owners of the uniforms may support different clubs, but they are united in the quizzical looks I got while jogging through the streets on a midsummer day last year. No one does this. No one really does anything in the middle of the day. It's too hot.
There's also too much construction. I expected the Indian city to be bustling, a growing center of commerce like much of the rest of the country, but this is ridiculous. Workers dig up something on nearly every road. Traffic backs up and cars careen through narrow lanes. This is mid-progress—a town in transformation. The reality is even more apparent on foot where you can really feel the non-stop pulse of the change. It continues, mile after mile, turning a normally confusing network of roads into an unnavigable mass. The transition to a first-world country comes at the expense of jogging paths, it appears. Not a bad trade, except for yours truly. (It also makes recording the run in Daily Mile an absolute nightmare, albeit an amusing one.)
Running in strange cities helps a newcomer like myself understand the tenor of the citizens and gives some general insight into the socio-economics of a place, but it also helps with the geography. In Guatemala City, the surprisingly thin air at the high altitude was noticeable. Mexico City was even more dramatic. It took half-an-hour to regain my breath after a morning jog, although being 8,000 feet above sea level wasn't the issue; it was the pollution and smog.
Really, what running does is it gives you a different perspective on the same place. You have no option but to observe your surroundings, to get a sense of where you are. If you do it right, you move relatively slowly but consistently down streets, across parks, and over bridges. The never-ending tableau changes faster than it does when you are walking, allowing you to cover more ground, but not in the fits, starts, and sensory depravation that comes with motorized transportation. Running might be an abnormal way to travel through a city, but for me there's no better way to begin to understand one. It doesn't always work, and the lessons are limited by the nature of how they are learned, but it's effective. San Francisco, Mendoza, Honduras, etc. all made more sense more quickly than they otherwise would have. I'll trade Lonely Planet for a long run any day.
Back in Krasnodar, I had one more main drag to cross before reaching my hotel. Instead of going alone, I waited with a elderly man in a Russian army uniform. Cars flew by. Finally, we saw an opening, and then sprinted across the street together. There's strength in numbers. You learn something every day.
Noah Davis (@noahedavis) is a freelance writer living in Brooklyn.