Sweat Science
How to Succeed at UTMB
A new book delves into the science of mountain-ultra-trail running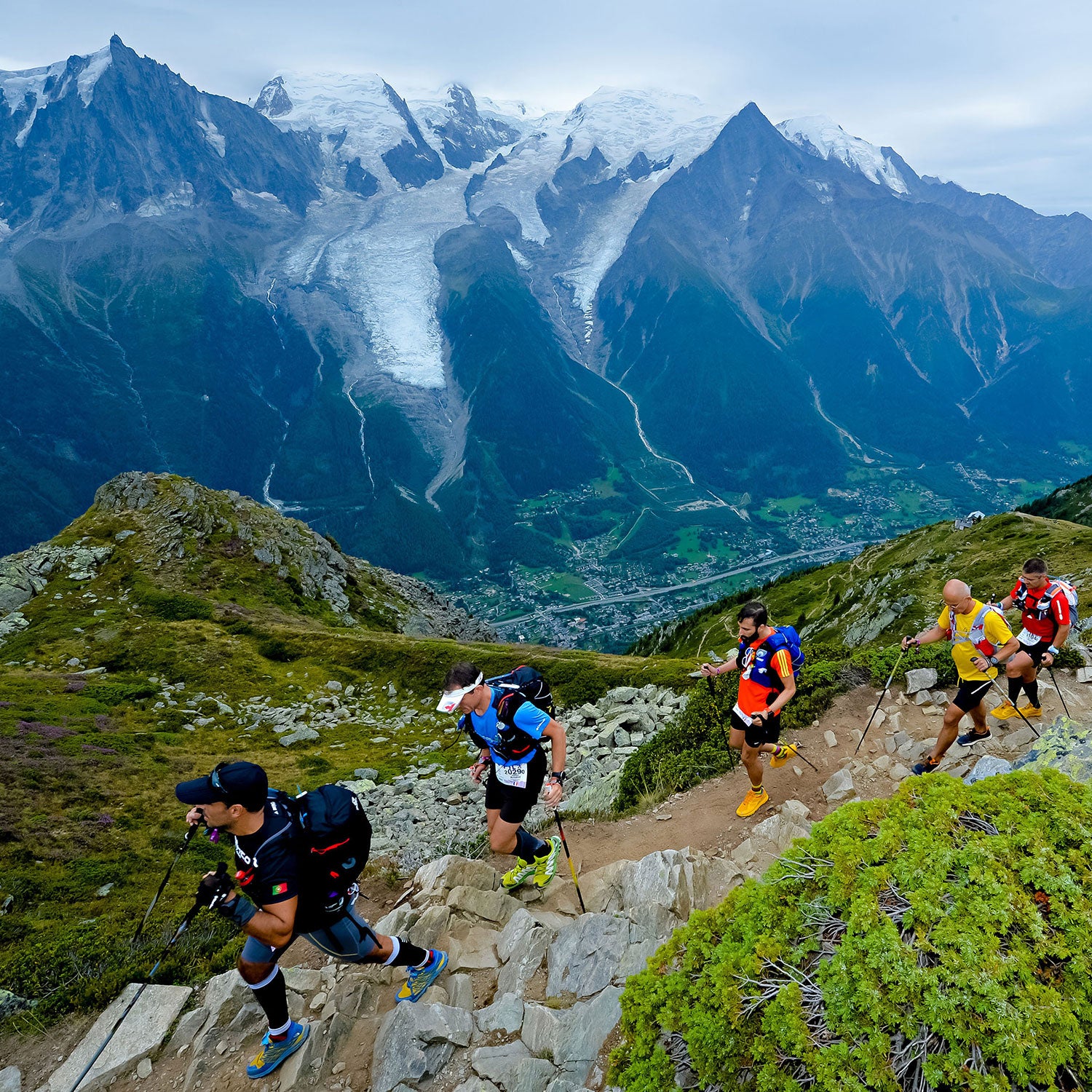 Heading out the door? Read this article on the new Outside+ app available now on iOS devices for members! Download the app.
If you thought the qualifying procedure for the Boston Marathon was complicated, check out Ultra-Trail du Mont-Blanc, the iconic mountain-ultra-trail race whose 2018 lottery opens next month. More than 17,000 people applied for spots at one the five distances offered this year; just over 7,000 will be accepted. Every applicant had to accumulate a minimum number of points at recognized ultra trail races around the world. To apply for the full circumnavigation of Mont Blanc, which involves running 106 miles through France, Switzerland, and Italy while climbing (and descending) almost 34,000 feet, applicants needed 15 points within the past two years.
Still, getting an entry is the easy part compared to actually getting to the finish line. As ultrarunning's popularity has grown over the past decade, training approaches have evolved, and researchers have begun to study the keys to success. The fruits of that research are collected in a new book (translated from the original French) called How to Succeed at UTMB, by Guillaume Millet and François Nicot.
Millet, who heads the Neuromuscular Fatigue Lab at the University of Calgary, is a former elite cross-country skier and ultrarunner himself and one of the world's leading ultra researchers. The book offers a detailed guide to preparing for and racing UTMB, but its insights are valuable for anyone who wants to explore the mountain-ultra-trail world, where many of the "normal" rules of running no longer apply. Here are a few highlights.
An Ultra Trail Race Is Not Just a Long Trail Race
A 10K race is twice as long as a 5K race. But a marathon is not, on any scale that matters, simply twice as long as a half marathon. Somewhere beyond 20 miles, the nature of the challenge changes. The same is true for races like UTMB, the demands of which can't simply be extrapolated from shorter trail races based on the distance and elevation to be covered. You have to deal with sleep deprivation and master fueling on the run. Durability—your legs' ability to withstand the pounding of repeated descents—is more important than efficiency. And the balance between physiological attributes like VO2max and mental attributes like the willingness to endure discomfort is tilted sharply toward the latter.
Learn to Walk (with Poles)
Walking is more economical than running when the uphill slope exceeds 13 to 15 percent, and you'll likely feel that transition and make the switch naturally. But at a race like UTMB, that's not enough. You need to learn to start walking before you're forced to start walking, even on gentler slopes. That's a mental adjustment. And you need to physically prepare for walking by doing it in training, preferably on slopes similar to what you'll be racing on, because it uses different muscles than running.
Millet and Nicot are also big believers in using poles for uphill propulsion and downhill shock absorption. American ultrarunners have traditionally been skeptical about poles, but the book quotes Tim Tollefson, who has finished third at the past two UTMBs, about his conversion to poles before the 2016 race: "I realized how easy it was for me on the long climbs, especially when my legs were tired. I owe them a lot, I think."
Float Down the Hills
Only sedentary people think climbing is the hardest part of trail running, according to Millet and Nicot. On downhill slopes steeper than 15 percent, the impact forces are amplified by 50 percent compared to running on level ground. As a result, when Millet and his colleagues studied UTMB runners in 2011, they found levels of creatine kinase, a marker of muscle damage, that averaged 13,000 UI/L, and in two cases exceeded 45,000 UI/L, levels you'd expect in someone with severe rhabdomyolysis, though in this case no one suffered adverse consequences.
To mitigate the damage, you need to learn to relax as you descend so you can avoid slamming on the brakes with each step. There are two keys types of training sessions: First, long continuous descents to accustom your muscles to the pounding. Spend two or three hours running down a ski hill and taking the chairlift back up. Second, practice short and fast technical descents on steep slopes, with a long recovery between reps. This will help you master balance and foot placement so it becomes second nature.
Plan "Weekend Shocks"
Marathoners build up their weekly long run until they're covering close to the full race distance. That's not a reasonable option for 100-milers. The standard alternative with a better risk-reward ratio is to plan two- or three-day stretches of condensed training with several days of full recovery afterward. Aim for between two and six of these weekend shocks, with the last one about four weeks before the race.
Not all of the weekend shock training has to be running. The book cites ultrarunner Sébastien Camus' pre-UTMB shock of an eight-to-nine-hour bike ride with 16,000 feet of total elevation gain, followed by a day of easier running, then a seven-hour mountain run. To simulate the demands of the race, the weekend should mix in some walking and a significant amount of downhill running—though it may be best to save the biggest downhill stretches until the second day to avoid prematurely trashing your legs.
Stockpile Sleep
Finishing times in this year's race ranged from 19 to 46 hours, so unless you win the race, you're going to be dealing with some sleep deprivation. Last year, Millet teamed up with the French Armed Forces Biomedical Research Institute to test the benefits of stockpiling sleep in the week leading up to a period of sleep deprivation. Subjects were asked to go to bed two hours earlier than normal for six days in a row. Then, their muscular endurance was assessed before and after a sleepless night. Staying up all night still sapped their endurance, but only by half as much as under normal circumstances.
Put all this advice together and UTMB will probably still be the hardest thing you've ever done in your life—which is kind of the point. The recent growth of this sort of race, Millet and Nicot write, "owes much to the urge to test limits and feel pain that practically no longer exists in the modern world." But the only pain worse than finishing a challenge like this is not finishing it, so it's worth getting the preparations right.
Discuss this post on Twitter or Facebook, sign up for the Sweat Science email newsletter, and check out my forthcoming book, Endure: Mind, Body, and the Curiously Elastic Limits of Human Performance.
Lead Photo: Pascal Tournaire/UTMB