In Stride
The Monumental Courage of Kipchoge's Sub-Two Run 
Performing under unprecedented pressure, the Kenyan became the first human to run a marathon in under two hours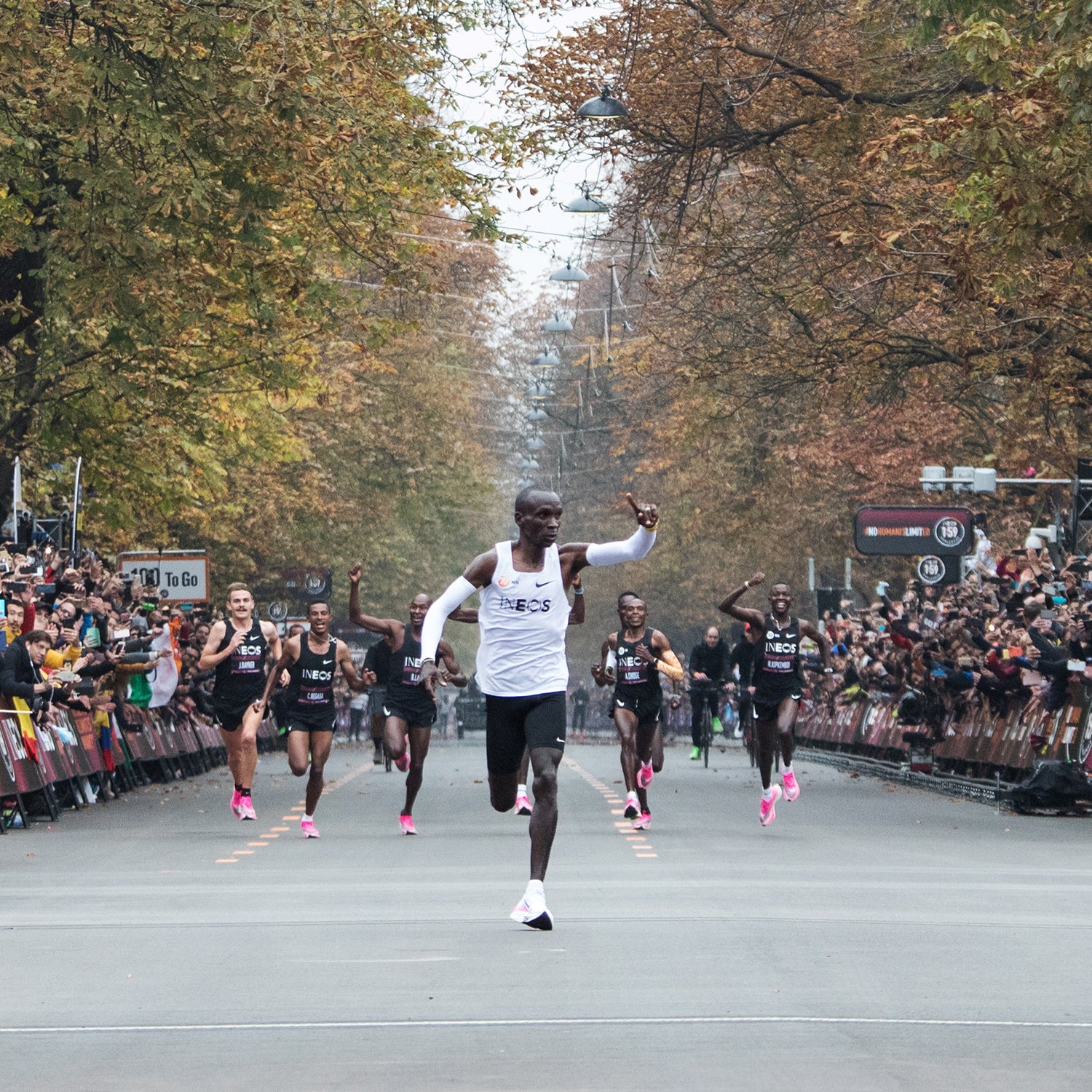 Heading out the door? Read this article on the new Outside+ app available now on iOS devices for members! Download the app.
It is accomplished.
On Saturday morning, in Vienna, Austria, Eliud Kipchoge became the first human to run 26.2 miles in under two hours. Running on a meticulously designed, largely straight, course in cool but misty conditions, the 34-year-old Kenyan officially clocked 1:59:40, an average of 4:34 per mile. Most people would be hard-pressed to hold that pace for a single lap on a track. (His time translates to 68 seconds per 400 meters, in case you feel inspired to confront your own mediocrity.) It was an achievement that revealed the inadequacy of the endurance sports lexicon. This was a Kipchogian effort. Let's leave it at that.
It was Kipchoge's second attempt at what has been billed the marathoning equivalent of the first sub four-minute mile. He missed the mark by a mere 26 seconds when he first took a crack at it in May 2017, running 2:00:25 in Monza, Italy. Back then, the event was called Breaking2. This time, it was rebranded as the "Ineos 1:59 Challenge," signaling a shift in sponsorship. Ineos is a chemical company founded and majority-owned by Sir Jim Ratcliffe, Britain's richest man. (Like a more sinister version of Richard Branson, Ratcliffe is an enthusiastic backer of sporting ventures—Ineos also sponsors professional sailing and cycling teams—while being a fierce critic of the European Union and its environmental regulation policies.)
As was the case with Breaking2, there was some skepticism, if not outright cynicism, in the lead up to Saturday's spectacle. This was no ordinary marathon, to put it mildly. Once again, Kipchoge was paced by a vehicle the entire way, as well as by an alternating squad of world-class runners who fanned out in front of him in "V" formation. Such nifty tricks are forbidden in IAAF-sanctioned races, which means that Kipchoge's feat is not eligible for an official world record. Also, lest we forget, the shoes on his feet were Nike's latest gambit in footwear-fueled performance enhancement. For certain gremlins of the running commentariat, it was a little annoying that such a contrived, aggressively branded event could claim the Holy Grail of marathoning for itself. But maybe now is not the time for nerdy bickering. 
Beyond all else, Kipchoge's achievement was the purest demonstration of grace under pressure that I've ever seen. At Breaking2, he was not running alone. There were two other guys (Lelisa Desisa and Zersenay Tadese) who were, at least nominally, also trying to break two hours. Monza was also the first time something like this had ever been attempted, so even a failure could be celebrated as "huge leap forward for humanity," or whatever Nike's marketing team ended up calling it.  
Not so for the 1:59 Challenge. The novelty factor was gone. Anything other than breaking two hours would have been a major letdown—not just for Kipchoge and his billionaire benefactor, but also the 41 pacers who had agreed to check their egos to play squire for the day. 
In a "normal" marathon, when the heavy favorite falters, somebody else still wins—failure doesn't come at the expense of a compelling narrative. But had Kipchoge failed on Saturday, the whole occasion would have been negated. What we witnessed in Vienna was not a race, but something more along the lines of extreme performance art, where the protagonist only gets one shot at doing something that has never been done before.
"The pressure was very big on my shoulders," Kipchoge said afterwards. No kidding. Uhuru Kenyatta, the President of Kenya, had called him on the eve of his attempt. 
In the wake of an athletics world championships that spoke to a legacy of corruption, and the doping ban of one of the sport's most high-profile coaches, Kipchoge's triumph comes as a welcome reprieve. Whether one regards the two-hour barrier as officially broken or not, one can't help but enjoy seeing history's greatest marathoner set a colossal goal and achieve it. This sport is so often defined by all that can go wrong. It's a rare and beautiful thing to witness distance running perfection. 
Lead Photo: Alex Halada/AFP via Getty