In Stride
Why Is Jakob Ingebrigtsen So Good?
Jakob Ingebrigtsen became a "professional" runner as a child. Is that a recipe for future success?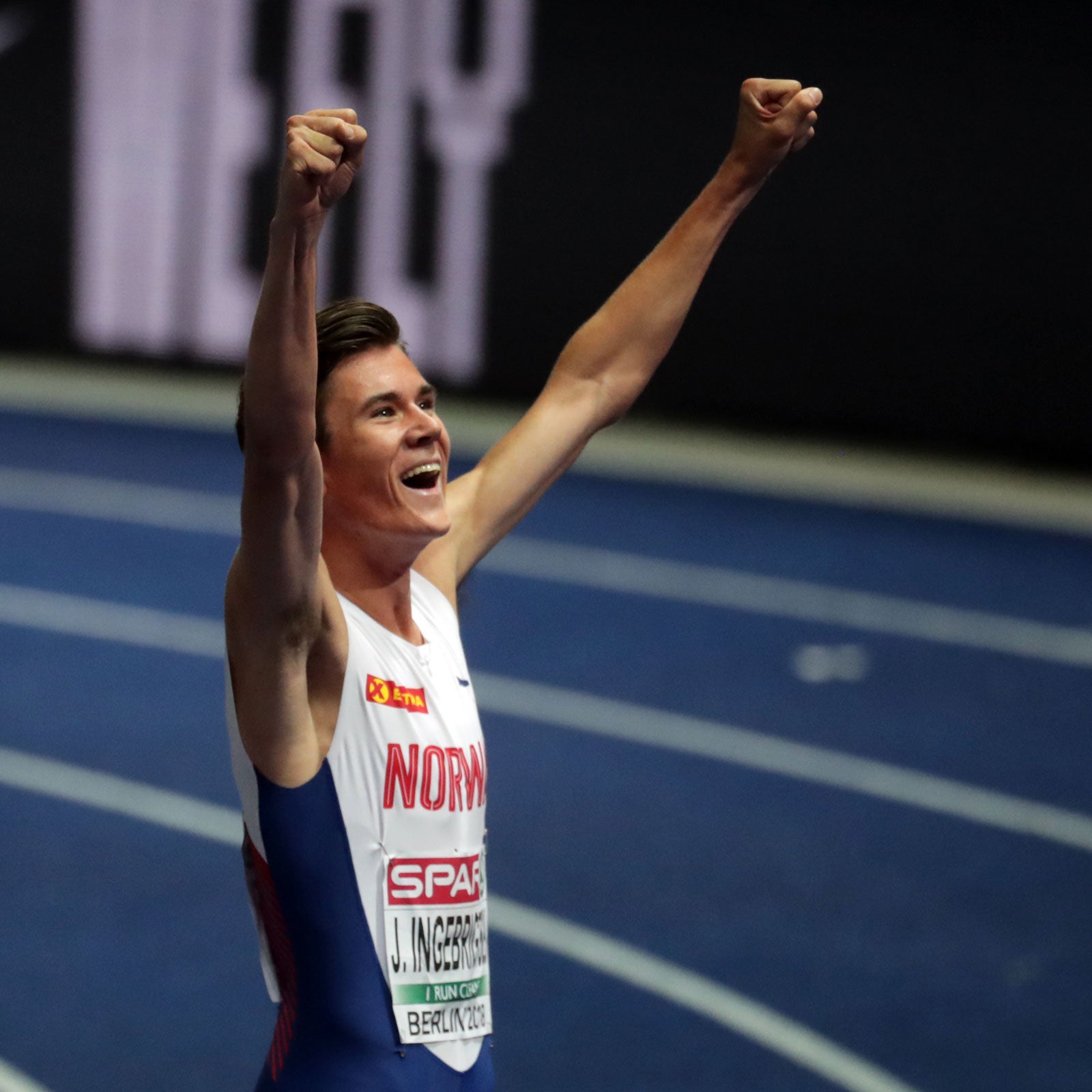 Kay Nietfeld/Getty Images(Photo)
Heading out the door? Read this article on the new Outside+ app available now on iOS devices for members! Download the app.
There was no major international championship during the 2018 outdoor track and field season, but there was still a doozy of a story: a 17-year-old Norwegian was making all the old guys look, well, old. In August, Jakob Ingebrigtsen won both the 1,500 and 5,000-meter events at the European Championships. That's two European titles for a guy who isn't old enough to drive in his home country. 
Just in case you're tempted to think that the Nordic wunderkind might only be good by European standards: Ingebrigtsen's personal best in the 1,500 is 3:31:18. The NCAA men's record for the same event is 3:35:01. In other words, despite being younger than most incoming college freshmen, Ingebrigtsen has already run almost four seconds faster than the fastest time ever run in the world's most competitive collegiate sports league. How does one account for such meteoric talent?  
At the risk of stating the obvious, there's no doubt that Ingebrigtsen is blessed with that elusive "sports gene." Jakob has two older brothers, Henrik (27) and Filip (25), both of whom are world class-level runners and former European champions. But neither of the elder Ingebrigtsens were as freakishly precocious as their younger brother. Last year, at age 16, Jakob became the youngest-ever sub four-minute miler. Two years earlier, he set a world record for 14-year-olds in the 1,500-meters.
In an interview at Euros, Ingebrigtsen provided some insight into his early success: "I've been a professional runner since I was eight, nine, ten years old," Ingebrigtsen told the IAAF. "I've been training, dedicated and following a good structure—the same as my brothers—from an early age."
You read that right. By his own account, Jakob Ingebrigtsen has already been a "professional" runner for about a decade. It seems to be paying off.  
"Jakob has been training at a serious level since he was age nine, which isn't any different than someone like Michael Phelps," says Tom "Tinman" Schwartz, a running coach with a history of developing young talent. (Schwartz's most recent protégé was Drew Hunter, who holds the national high school record for the indoor mile). Schwartz suggested that Ingebrigtsen's most unique asset was having two pro runners as older siblings. All three Ingebrigtsen brothers are coached by their father, Gjert Ingebrigtsen, who had no background in track and field (either as an athlete or a coach) when his sons took an interest in the sport, but had accrued plenty of coaching practice by the time he got to Jakob.
"The father has fine-tuned his methods, so when the third one comes along he has a much better methodology for that unique set of circumstances, i.e. their genetics and the culture at home," Schwartz says. 
As luck would have it, we have a fascinating window into that "culture at home," thanks to a Norwegian reality TV show called Team Ingebrigtsen. That's not a joke. The brothers are big-time celebrities in Norway. Imagine a Scandinavian take on Keeping Up with the Kardashians, except the drama unfolds on the west coast of Norway instead of Los Angeles County. I'm totally hooked. The first episode opens with the three brothers standing shirtless in a tight circle as the camera rotates from face to face and voiceover narration kicks in: "Maybe you have heard of them? Henrik, Filip, and Jakob Ingebrigtsen. Running brothers who set unbelievable records and directly reject Nordic egalitarianism by stating openly: 'We will be the best!'" (If given the chance, the Kardashians would presumably reject Nordic egalitarianism as well.) 
Initial episodes of Team Ingebrigtsen go back to the 2013 track and field season, when Jakob is approaching his thirteenth birthday. He is on the cusp of competing in senior level athletics and joining his brothers in their hardcore training regimen. The driving force behind Team Ingebrigtsen is father Gjert, whom the show portrays as an authoritarian hard-ass who discourages his sons from doing anything that could sidetrack their athletic ambitions, e.g. dating, motorcycle-riding, drinking soda. Pro runners get to have all the fun.
In the wake of his recent rise to prominence, I have to admit that there's something unsettling about seeing a preadolescent Jakob being groomed for running stardom from day one. We are meant to understand it was entirely Jakob's decision to commit to the life of an elite athlete (and he hasn't said anything to suggest otherwise), but after watching Team Ingebrigtsen one starts to wonder. The first episode includes old footage of the boys doing a predawn workout on skates. 
"I think I was eight or nine years old," Filip says. "When I woke up before school I had to roller-ski in the parking garage at the square. Of course, I knew that wasn't normal."
No kidding. It may be tempting to judge Gjert for his bizarre obsession with rearing a clan of running superstars, but there's little doubt that his methods have yielded impressive results. The brothers are 1-2-3 on Norway's all-time list for 1,500-meter times and appear well-adjusted in interviews. For his part, Jakob, who turned eighteen last week, doesn't strike me as someone who mourns for a lost childhood.
Does Jakob Ingebrigtsen's example imply that getting into running as an eight-year-old is a way increase the likelihood of future success? This would square with the (somewhat romanticized) origin stories of many of the great East African runners; e.g. a recent Times profile of newly-minted marathon world record holder Eliud Kipchoge claimed that "as a child, Kipchoge jogged solely as a form of transport" and "had no idea that all those miles were forming the foundation for an eventual career." On the other hand, it's unlikely that any pediatrician would think a high-mileage training routine—and the attendant risk of overuse injuries—is recommendable for children. There's a reason, after all, why both the NYC and Boston Marathon's have a minimum age limit of 18. 
Dr. Lyle Micheli, who is the director of the sports medicine division at Boston Children's Hospital, cautions that we really don't know the long-term effects of intense training at an early age. (A scientific study of the issue would probably necessitate a time frame of several decades.) For better or worse, Micheli has observed a general trend of many young American athletes narrowing their athletic focus early on. "The tendency toward early specialization in the summer sports like lacrosse, soccer, swimming, and running, is growing. And it's an area of active debate whether this potentially means there's an increased risk of injury, but, also, looking at those kids long term, whether specialization has interfered with their ability to perform at a high level in a pre-selected sport," Micheli says. 
So perhaps doing morning parking lot intervals as a kindergartener isn't a prerequisite for aspiring star athletes after all. Indeed, there are a number of world-class runners who came to the sport much later and still competed at the top. Dennis Kimetto, who was the marathon record holder until earlier this month, apparently only took up serious running in his mid-20s. Galen Rupp, who is a two-time Olympic medalist and holds the U.S. 10,000-meter record, was a soccer player when he started high school. At 14, an age when Ingebrigtsen ran a world-record time of 3:48 in the 1,500, Rupp was just getting his feet wet. He still made out okay. 
Lead Photo: Kay Nietfeld/Getty Images
Trending on Outside Online