In Stride
Why Running's Greatest Protest Still Matters 
As John Carlos and Tommie Smith are about to be inducted in the U.S. Olympic Hall of Fame, others face punishment for similar acts.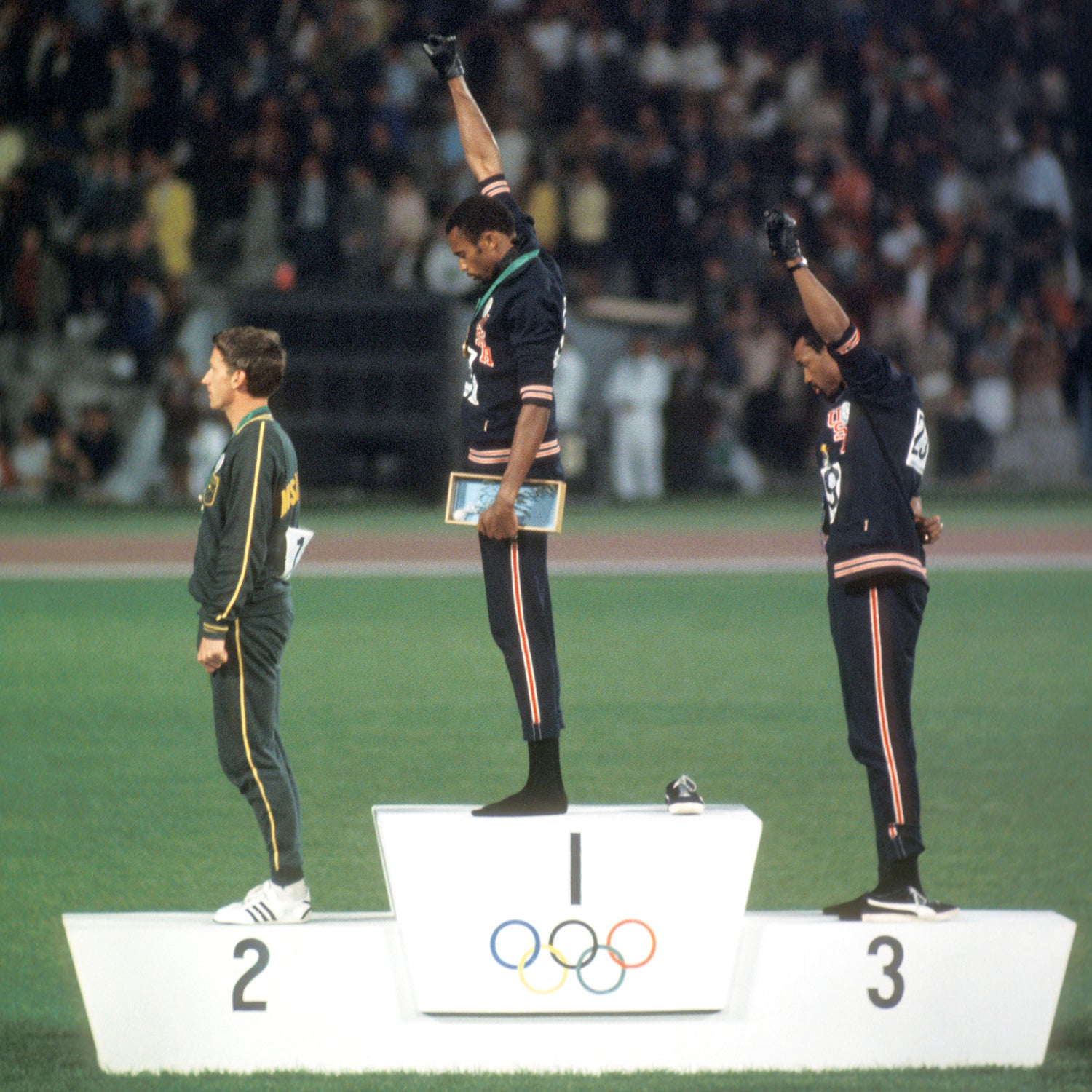 NCAA Photos/Getty(Photo)
Heading out the door? Read this article on the new Outside+ app available now on iOS devices for members! Download the app.
On Monday, the United States Olympic and Paralympic Committee (USOPC, formerly the USOC) announced the 2019 inductees to its Hall of Fame. In our awards-saturated age, it's easy to dismiss this as a bit of nothingburger, but there is at least one reason why the news is significant. Among the 13 new members who will be honored in a ceremony on November 1, are two men who were once, quite literally, USOC outcasts: John Carlos and Tommie Smith. 
Even if you don't recognize their names, you'd recognize the image of Carlos and Smith on the podium at the 1968 Games in Mexico City: having just won bronze and gold, respectively, in the men's 200-meters, they're standing, heads bowed and shoeless, with one black-gloved fist raised aloft. It was intended as an act of silent protest against racial inequality, both in the United States and abroad. The idea, as Carlos tells Jules Boykoff in the Olympic historian's book Power Games, was "to bring attention to the plight of people who were less fortunate. To wake up the consciousness of those who had let their conscience go dormant. And to encourage people to stand for what's right as opposed to standing for nothing."
It was, in other words, an act meant to force a reaction. And it did. 
After intense pressure from the International Olympic Committee and its president Avery Brundage, the USOC suspended Carlos and Smith from the Olympic team, with the immediate consequence that the two men had to leave Mexico City within 48 hours. The USOC issued an apologetic statement condemning the athletes' "untypical exhibitionism," which violated "the basic standards of good manners and sportsmanship, which are so highly valued in the United States." 
51 years later, the U.S. Olympic Committee is singing a different tune. (It is worth mentioning, however, that Carlos was part of the Olympic Organizing Committee for the '84 Games in Los Angeles.) In the press release announcing the inclusion of Carlos and Smith in its upcoming Hall of Fame class, the organization lauds them for "courageously standing up for racial injustice during the civil rights movement." Rather than mere athletes, the two men are being inducted as "legends," a tacit acknowledgement that their famous act of defiance has become ensconced Olympic lore. What a difference a half century makes. 
Or not. 
Indeed, even as Carlos and Smith are retroactively celebrated as civil rights heroes, the subject of athletes engaging in peaceful political protest remains as fraught as ever. 
During the medal ceremony in Mexico City, Carlos and Smith were wearing badges to signify their allegiance to a movement known as the Olympic Project for Human Rights. The OPHR, whose acolytes also included Wilt Chamberlain, Arthur Ashe, and Jackie Robinson, was founded in late 1967 by a sociologist named Harry Edwards who threatened to instigate a boycott of the '68 Olympics unless certain demands were met. These demands included, among other things, more black individuals in positions of power in U.S. track and field, a boycott of apartheid South Africa, and the removal of Brundage as chairman of the IOC.  
Needless to say, Brundage (whom the OPHR called "anti-Semitic" and "anti-black") wasn't a huge fan—not least because he was a fierce proponent of that enduring illusion that sports and politics don't mix. In Power Games, Boykoff cites a letter exchange between Brundage and a sympathetic journalist named Vincent X. Flaherty. 
"The action of Edwards is directed against the people of the United States," Brundage writes in the letter. "The Olympic Games have given the negro an opportunity to display his talents on a completely equal basis, and it is outrageous that they should be used for political purposes."
The language may have changed, but this is, in effect, the same response we still sometimes hear today when a prominent athlete engages in an ostensibly benign act of political protest. Whether they are raising their fists on the podium, or taking a knee during the national anthem, there is still a pervasive sentiment that these athletes are not sufficiently grateful. Once upon a time, they were supposed to feel gratitude because they had been "given the opportunity" to excel in desegregated competition. Now, it's because they are earning millions of dollars a year.
Of course, Carlos and Smith operated in a vastly different context than some of the more prominent activist athletes we have today. After all—for better or for worse—we are living in a moment when acts of dissent can themselves be repurposed into wildly successful marketing campaigns. Also, the terms of what it means to have a platform have been radically redefined. You don't necessarily need an Olympic medal ceremony to express your grievances when you have three million followers on Instagram. 
But what about those who don't?
At this year's Pan-American Games in Lima, Peru, there was some controversy when U.S. athletes Gwen Berry (hammer throw) and Race Imboden (fencing) staged medal stand protests of their own: Berry raised her fist. Imboden took a knee. (While Imboden wrote on Twitter that he was specifically protesting the "mistreatment of immigrants" and "a president who spreads hate," Berry was more evasive, telling NBC that she wasn't trying to "start a political war," but that she knew "America could do better.") The two athletes, who are also both Olympians, were placed on one year of probation by the USOPC for violating the terms of the agreement they had signed in order to represent Team USA. 
"Every athlete competing at the 2019 Pan-American Games commits to terms of eligibility, including to refrain from demonstrations that are political in nature," Mark Jones, the USOPC's Vice President of Communications and Marketing, said in a statement at the time.
While one year of probation is a mild punishment that, in itself, doesn't impact Berry and Imboden's chances of making another Olympic team next summer, USOPC CEO Sarah Hirshland has been blunt in asserting that future protests would be dealt with more harshly. 
"It is also important for me to point out that, going forward, issuing a reprimand to other athletes in a similar instance is insufficient," Hirshland wrote in a letter to the two athletes that was obtained by the Associated Press. 
The U.S. Olympic Committee hence finds itself in an awkward position. In November, the organization will be honoring two athletes for engaging in an act that it still explicitly prohibits. It's a conundrum that highlights the fallacy of those who say that big-stage sporting events are no place for protest. People are supposed to notice—that's the point. If Carlos and Smith had played by the rules they wouldn't have been suspended. But we wouldn't be talking about them today. 
Lead Photo: NCAA Photos/Getty
Trending on Outside Online