In Stride
Jump to the Marathon, with Track Star Sara Hall
Hall will tackle her first-ever marathon in Los Angeles on March 15. Here, she talks mileage, fueling, and how to train with your spouse. (She's married to two-time Olympic marathoner Ryan Hall.)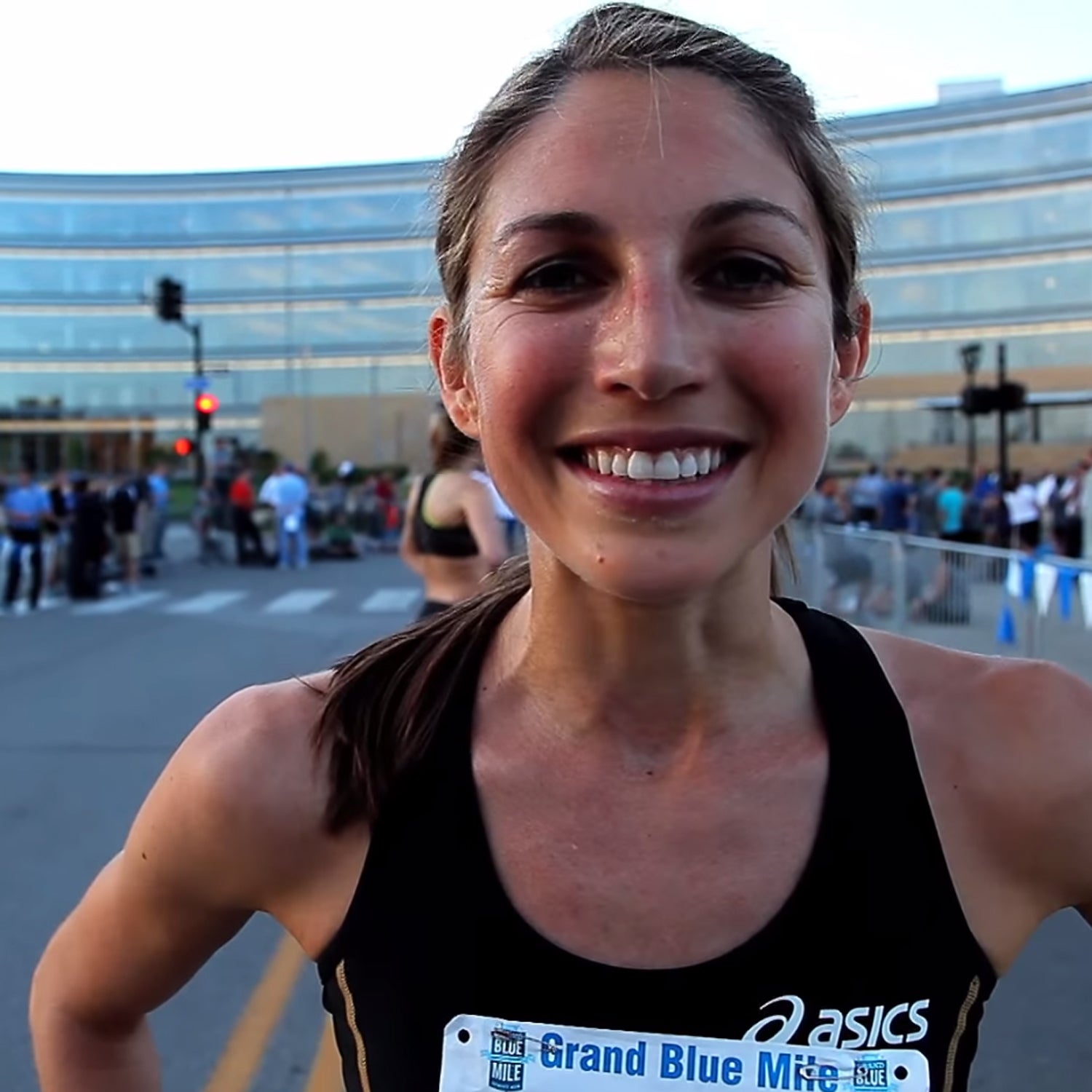 Heading out the door? Read this article on the new Outside+ app available now on iOS devices for members! Download the app.
Few runners have a portfolio as diverse as Sara Hall's.
The 31-year-old was a seven-time All-American at Stanford University, competed in the 1,500 meters and 5,000 meters at the 2004 and 2008 Olympic Trials, and the 3,000-meter steeplechase at the 2012 Trials. She also won the 2012 U.S. National Cross Country Championships. However, when it comes to longer-distance races, she's primarily stayed on the sidelines and cheered for her husband, Olympic marathoner and U.S. half marathon record-holder Ryan Hall.
Until now.
Hall will make her marathon debut at the Los Angeles Marathon this Sunday. And she'll be in good company: Along with Hall, about half the runners at the L.A. event will be running their first marathon.
Hall had originally planned to run her first marathon last fall, but a burst appendix pushed her plans back half a year. But she took the setback in stride. She had surgery, took two weeks off, then refocused on Los Angeles. And training has gone well. Since the incident, she's PR'd in a 10K (32:13), 12K (38:48), and half-marathon (1:10:50), and ran to a fourth-place finish at the U.S. Half Marathon Championships in January.
We caught up with Hall while she was training at 9,000 feet in Addis Ababa, Ethiopia, to talk about making the jump to the marathon. 
OUTSIDE: Why did you decide to run a marathon?
HALL: I've always wanted to run a full. I've watched a lot of Ryan's races by now, and it looks amazing. It was just a matter of finding the right timing for me to do one. I thought 2014 was when I would run it, because there was a break from the Outdoor Championships on the track. And it would allow me enough time to train for the Olympic Trials if I thought I had a legitimate shot to make the team. But then my appendix burst and I had to push back my training.
What are some of the key differences you've noticed in training for the full versus the half marathon?
The biggest difference for me has been mental, actually. When I was doing more track stuff, and even training for the half, you're kind of still training more like a 10K runner. I have an aggressive personality, and I like to start my intervals really hard and my tempos really fast, and I get off the line quickly. I also try to run courses in the direction that's the fastest, like with the wind or downhill, and that's kind of a track-runner mentality. So Ryan's helped me adjust that, teaching me that it's not about training to run fast, but rather learning how to tough it out and run up the hills and suffer through it. The L.A. Marathon is a challenging course, with quite a few hills.
Did you have to ease your way into the distance and increased weekly mileage?
It was gradual, but I did it a lot by feel. My coach would give me a bit less, but if I was feeling good, I had the green light to add on more mileage as I felt appropriate. The farthest I would go before was probably 80-some miles in one week, and now the highest was around 112.
I've been in a really good groove the last four months, where running has barely been a struggle, so I've been enjoying piling it on, and my body has absorbed it and handled it really well. If I ever feel like I'm starting to get run-down, then I'll adjust my mileage. But I try to stack the most mileage and the most intensity on my hard days, so I'm recovering more on the other days. 
With that added distance, would you say that you've needed to put a bigger emphasis on recovery between your workouts?
I've actually had to recover less. I think my body has responded better to the marathon training than it did to my track training: I would get more beat up from my track workouts. I can run 15 miles the day after a hard session, work out hard the next day, and be ready to go. Sometimes you hit periods where that's not possible. But I still try to put two easy days between my biggest workouts that I'm really trying to hit, like a 15-mile tempo run, even if I don't feel like I need it. Other than that, it's just one recovery day per week.
The L.A. Marathon is a hilly race. How do you prepare yourself for that terrain?
I definitely haven't been shying away from the hills in my training. I've been in Ethiopia for a good amount of my preparation, and everything is hilly there. I'm hoping that's prepared me well. I've also been trying to work on the downhills, because those can actually be worse than the uphills—it creates a lot of pounding. I've tried to really build my quad strength, in the weight room and with other exercises, to try and get them ready.
What kind of role does nutrition play now that you're running longer distances?
I try to pay attention to my nutrition, but I eat pretty normal and don't feel like I'm ever depriving myself. I don't eat gluten-free or raw or Paleo or anything like that. I've found that it's all about timing. I eat Muscle Milk pancakes before I work out—Ryan created the recipe. [Muscle Milk sponsors the Halls.] I also blend butter into my coffee, which I drink with the pancakes. It's really filling and gives me energy.
Fortunately, I have an iron stomach, which is a blessing for the marathon. Right after you work out—within 30 minutes of finishing your run—is a great time to eat sugary things, so I'm always getting in those foods that I love, like cookies or pastries, then I'll have some Muscle Milk for protein, which helps with recovery. And then within the next two hours, I'll have an actual meal. It's also important to practice what you're going to do on race day while you're training. On my long runs, I drink CytoMax [also a sponsor], which contains a mix of different types of sugars, making it easier for your muscles to absorb the energy.
How has it been training for the same distance as Ryan? Do you guys work out together?
We have different coaches, but Ryan has been pretty instrumental in my preparation for this race and lending his advice because he knows more about the marathon than most people. It's been a fun thing for us to work on together, and I can ask him questions all day long, especially about finding the right effort levels and what to prioritize, energy-wise. We're doing a lot of warm-ups and cool-downs together. And every now and then his long-run pace will match up with my tempo pace, or something like that, and we'll get to do that together, too.
A lot of couples have a difficult time running together. Any secrets on how to not drive each other crazy during the workout?
I think the main thing is that if one of you is feeling good, everyone has to be okay with that person going ahead. For example, if I'm feeling bouncier than Ryan one day because he had a really hard workout the day before, it's often better for me to turn around and run in the opposite direction than to be two-stepping him on the run. So that can be a good way to avoid conflict, to be able to turn to your partner and say, "Go ahead, fly on."
What about racing strategy? Are you planning on tackling this race the same way you would a half?
I haven't nailed down an exact strategy yet, but I'm probably going to run by feel more than anything else, which is what I usually do. It's a little different than the track, where you have to be on the group and don't want to miss a break. It's a little more relaxed than that. My main goal is just to finish the last six miles strong—I want to run the race in a way that allows me to do that.
What are you most looking forward to in L.A.?
I'm looking forward to crossing the line and officially being a marathoner. Hopefully, I'll be running fast across the finish and not fading.
Any other tips on how to successfully make the transition from a half to a full marathon?
I started by trying to run my long runs harder, not even trying to run them farther, which made me want to run longer and got me excited about marathon training. I also would say to find a good physical therapist, just to make sure you're avoiding injury. I'm thankful to have a great team. And make sure you get your shoes fitted (like get a gait analysis at your local running store), so you're putting in all of those miles in the right kind of shoes for you.
Sara Hall is dedicating her race at the L.A. Marathon to raising money for Team World Vision, in an effort to bring clean water to people in Ethiopia.
Trending on Outside Online