Karl Meltzer Aims to Break Scott Jurek's Appalachian Trail Speed Record
Jurek will pace Meltzer for part of the run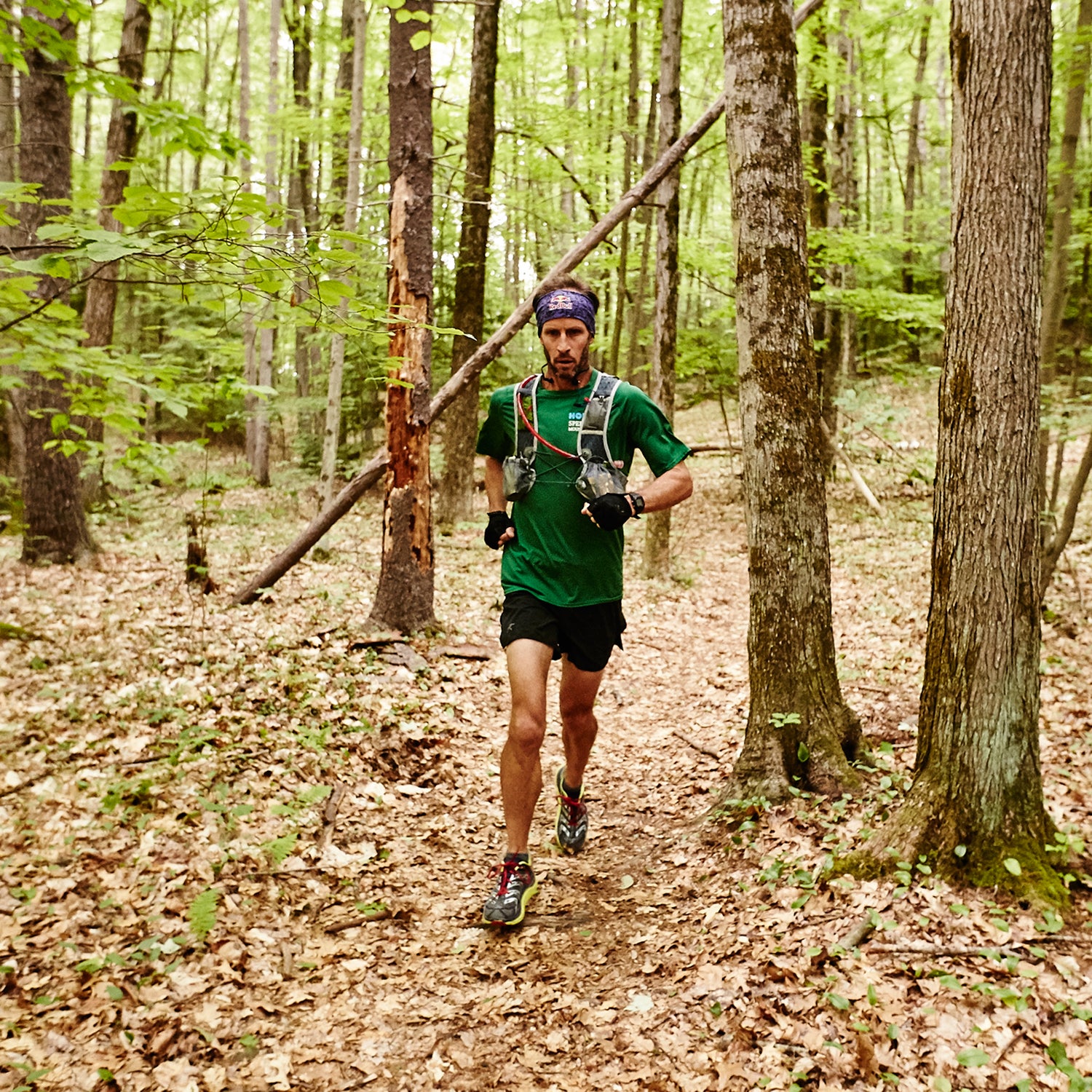 Heading out the door? Read this article on the new Outside+ app available now on iOS devices for members! Download the app.
Last summer, when ultrarunner Karl Meltzer was crewing for Scott Jurek during his record-breaking Appalachian Trail run, Meltzer had a realization. "When you're up close like that, it's just so inspirational," he says. "You can't help but want to be the guy out there on the trail going for the record." 
This summer, that's exactly where Meltzer will be. 
In early August, the 48-year-old ultrarunner will attempt to cover the Appalachian Trail's 2,160 miles in fewer than 46 days, 8 hours, and 7 minutes. It will be Meltzer's third attempt at the record. "When Scott broke the record, he called me from the top of Mount Katahdin and handed me the baton," remembers Meltzer. "He said, 'Karl, it's your turn now.'" 
Karl "Speedgoat" Meltzer is a fixture in the ultrarunning community. The veteran Red Bull athlete is the winningest 100-mile runner ever, having won 38 races at that distance, including six victories at the Wasatch 100 and five at Hardrock. Heck, Meltzer's even got a race named after him, the Speedgoat 50K, which takes place in his backyard just outside of Sandy, Utah. 
"Breaking the speed record would be such an awesome capstone to my career," Meltzer says. "It's something I've always wanted to do." 
His first attempt was in 2008—he finished in 54 days, but injuries kept him from beating the record. He tried again in 2014, but fell behind pace and called it quits with a little over 25 percent of the trail remaining. But he's learned valuable lessons and is certain he'll benefit from those experiences. Chief among them: the importance of consistent lower body care. "I've got a very specific protocol for this run," he explains. "At the end of each day, while I'm eating dinner, I'll have ice on my shins and my crew will clean and tape my feet. I've rehearsed this to a tee with my support team."
Additionally, Meltzer's learned that he can make up time by moving quickly over technical terrain, like roots, mud, and scree. "The ugliest junk in the world is where I do great," he says. "This allows me to be patient early on while I wait for my body to adapt to the daily grind of speed-hiking 50 miles." 
Metlzer also knows that mental toughness is of the utmost importance during an attempt like this, particularly during the later stages, when he'll be most prone to "dark spots." In an poetic twist, he'll have Jurek by his side to support him toward the end of the trail. "Having Scott—someone who knows exactly what I'll be feeling—there near the end will be clutch. I'm very fortunate that Scott is so supportive. He's a great friend."
Unlike Jurek, who set the record traveling northbound, Meltzer will start at Mount Katahdin, in Maine, and travel south toward Springer Mountain, in Georgia, the trail's southern terminus. "It's not like one direction is easier than the other," he says. "It's all freaking hard. It's just that I know the trail really well and am more comfortable heading south." Those interested in Meltzer's run will be able to follow along via a comprehensive tracking website that will monitor everything from steps taken to average heart rate to distance remaining. 
Because both Jurek and the previous record holder, Jennifer Pharr Davis, struggled with injuries, Meltzer believes the record is attainable. "If I can stay healthy and the weather is favorable, I'll have a good shot," he says. Of course, those two factors are anything but certain—46 days is ample time for things to go wrong. 
Even if he does break the record, Meltzer doesn't plan on hanging up his shoes anytime soon. "Let's say that the stars align and I have a magical trek and break the record by two days—would that be the end of my career? I doubt it," he says. "I'll be doing this stuff as long as I can. I'm so lucky. I just keep asking myself: who gets to do this shit?" 
Lead Photo: Josh Campbell/Red Bull