In Stride
Lewis Kent Gets Paid to Drink Beer and Run
The world's best beer-miler talks about his training and his new deal with Brooks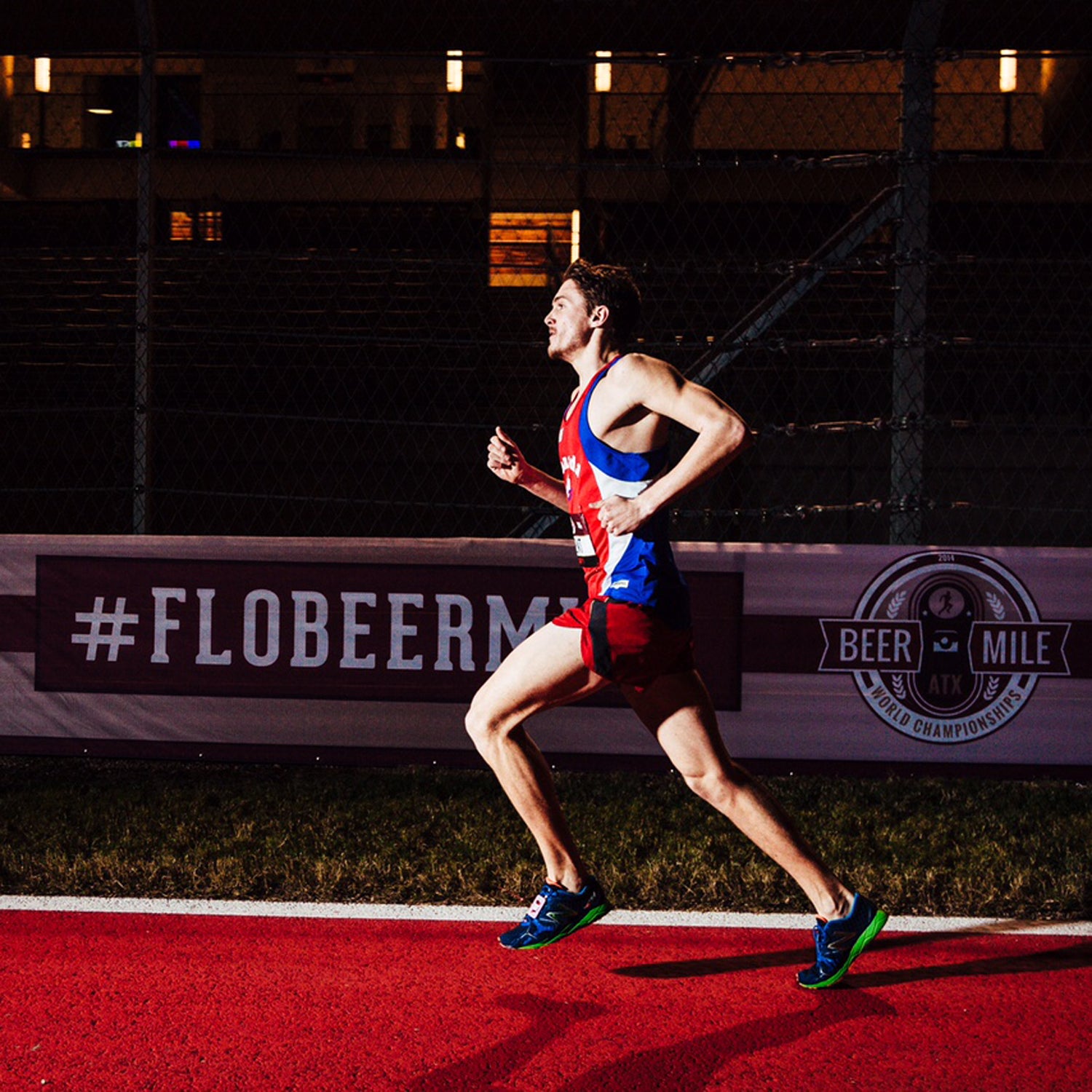 Heading out the door? Read this article on the new Outside+ app available now on iOS devices for members! Download the app.
Lewis Kent, a 22-year-old student athlete at the University of Western Ontario, plans to pursue a career in physical therapy after he graduates. In the meantime, he can bolster his resume with an unusual accolade: he is the world's only professional beer-miler. 
Last week—one day after setting a world record in the discipline, which requires competitors to knock back four 12-ounce beers and run four laps around a track—Kent announced that he had signed a two-year contract with Brooks, the running shoe company whose stable of professional athletes includes Olympian Nick Symmonds and ultrarunner Scott Jurek. Though exact details of the deal have not been made public, in addition to shoes and apparel, Brooks will pay Kent undisclosed bonuses, pending his performance in major events on the beer mile circuit, like this week's Beer Mile World Championships in Austin.  
Kent has already been victorious in one such major event. Last August, in windy conditions, he handily won the Beer Mile World Classic in San Francisco, vanquishing former world-record holders like Josh Harris and James "The Beast" Neilson. 
In San Francisco, Kent's time of 5:07 was well shy of the 4:51 world record he ran last week, but the discrepancy is consistent with a general trend in the sport; of the top 10 all-time performances listed on beermile.com, only two of the PBs listed have come in organized races. 
Outside reached out to Kent to ask why that might be and learned a little more about the world's best beer miler.
OUTSIDE: How did you get into beer mile-ing?
KENT: The first time I did one was in April 2014. After our indoor track season, a bunch of people from my team and other schools got together and did one for fun. I was, like, fourth or fifth, so there were definitely a few guys who were better at it than me. Then I did one again at the end of the summer; I think I ran 6:20-something, so I thought I was pretty good, but not great at it. The first time I started taking it seriously was October last year. I got injured during cross-country season. When I got back on my feet and started running again, I had two months until indoor track season started and I'd heard about FloTrack hosting a world championships [in Austin]. I knew I could at least break six minutes. So I broke six minutes and then, all of a sudden, I broke 5:30 and went to Texas and kept improving from there.
Once you decided to put your mind to it, what did you do to improve your time?
When I first wanted to break six minutes, my roommate, here in London [Ontario], who's not a runner, said, 'Alright, let's break down what you did.' He was, like, 'Wow, your chug times are really long. You get up to 25, 30-second chugs towards the end. You've got to get those down.' So then we just tried to figure out ways that I could cut off ten seconds there, eight seconds here. So, yeah, when we first started doing it, the running wasn't the limiting factor, it was definitely the drinking. It's hard to train yourself to chug and finish the whole thing in one go when you're completely out of breath. I was always running, like, 75-second laps, and the chugs were taking up all the time. So, once I got the chugs down to where I could finish them all in one go, then it was just about getting the runs down. So where I started out running 75-second laps, I got those down to about 66, 67 seconds. 
I'd go fill a bottle up with water and do a practice chug. That's the best way to practice the exact technique. If you do something over and over and over again it becomes automatic.
We don't want you to give away any secrets, but how do you train for the drinking part? Do you practice with water?
With me, it's practice makes perfect. When I have a race coming up, like before I ran the world record on Tuesday, from Thursday through Monday, I would have, like two or three [empty] bottles of beer, the exact bottle that I would use for the race, and, throughout the day whenever I thought of it, I'd go fill it up with water and do a practice chug. That's the best way to practice the exact technique. If you do something over and over and over again it becomes automatic. I'll practice with non-alcoholic beer, too.  
Speaking of beer, you always compete with Amsterdam Blonde, which is brewed in Toronto. Why that beer? Is it a patriotic thing?
I tried a bunch of different beers. I jumped all over the place at the start to see which one I liked. The couple that I liked the best, I tried again. Amsterdam Blonde seemed to go down the best and it tastes great. I kept running PBs with Amsterdam and it never gave me any issues during the race, so why fix it if it's not broken?
Now that you're taking the sport more seriously, how compatible is your beer mile training with "regular" running?
I'm lucky in that my head track coach and my cross-country coach are both very understanding. They understand that I would never make it on an international team in regular running and that this is kind of an opportunity of a lifetime for me. So, they don't say, 'If you do the beer mile, you're off the team.' Obviously, they can't condone it, but they understand the situation I'm in. It's been really convenient so far, in that the FloTrack beer mile is always in the beginning of December and cross-country ends at the beginning of November for us. So, as soon as I finished my cross-country season, I just sat down with my coach and said, 'Hey, I've got a world championships in three weeks, can we alter my training a little bit?' He'd rather sit down with me and organize my training around it, rather than me training with the team every day and then doing stuff on top of that, because that would lead to me getting injured. The Beer Mile World Classic was in August, so that's good timing as well, because it's before cross-country season starts.
What's your relationship with Brooks? It's our understanding that you are now a sponsored beer miler–the only sponsored beer miler?
Yeah, that's correct. The timing worked out perfectly. I'd already worked out the deal with Brooks before I set the world record. They saw how I did at the Beer Mile World Classic in the summer and I started talking to them around September, October. Brooks and the beer mile go hand in hand. It's all about serious competition, but also about not taking yourself too seriously at the same time. Other brands are hardcore intense, whereas Brooks is really about having a good time and that kind of meshes with me, and the beer mile in general. 
Nick Symmonds, another Brooks athlete, is also an enthusiastic beer miler.
Yeah, I thought it was pretty cool that at the World Championships last year, there were only two pro athletes that were in that race: one was Nick Symmonds, who runs for Brooks, and the other was Katie Mackey, who also runs for Brooks. I'll hopefully get to meet up with them at some point, seeing as we're all Brooks athletes now. 
Why is it that most of the fastest beer miles seem to be run during solo attempts–often just a runner filmed by a friend? Wouldn't the level of competition in big races be conducive to faster times?
I think the biggest reason is that there are not enough international competitions yet. When I ran my first world record in August (watch here), I think I had, like, 30 people in the race, so I don't think running it alone is really the key to running it fast, but it's hard to get people together to do beer miles. It can slow you down a bit when you have to go around people to grab your drinks, but a bigger issue is that international competitions so far have struggled to get an actual track facility to race on. It's hard for them to get a permit to run a beer mile, a permit to drink, on a track when tracks are all owned by cities, universities, or high schools. The races in San Francisco and in Texas last year where not run on actual tracks, just coned off loops, which obviously isn't as good. 
I would rather run a beer mile with ten guys than run it alone. I just think that because there's not an abundance of beer miles–that's the major reason why we're seeing all these things that look like time trials. Everyone wants to see a world record at an international competition. That would make it much more legitimate. 
Lead Photo: Josh Baker