Light Fantastic
Get the most out of long summer days with featherweight performance gear for running, riding, climbing, and hiking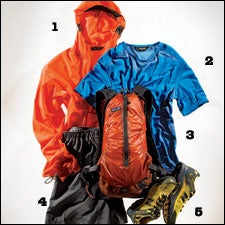 Heading out the door? Read this article on the new Outside+ app available now on iOS devices for members! Download the app.
WITH MOST OF THE U.S. seeing 15 hours of sunshine every day this month, there's enough light for epic trail runs that start after work and dawn-to-dusk hikes and rides that pack a week's worth of sights into a single Saturday. Of course, if you want to tick off mile after mile chasing the most memorable day of the year, you need to bring along weight-saving equipment that's still durable and functional. In the pages ahead, we've gathered the best new gear for all your summer adventures.
running gear

Photograph by Jens Mortensen
RUN
1. The Windshell Get unrestricted mobility for running—heck, for climbing trees—with ARC'TERYX's five-ounce SQUAMISH. The stretchy nylon blocks wind and sheds light rain. A hood, plus seals at the cuffs and hem, let you batten down the hatches in a serious blow. When the weather clears, the whole thing disappears into its own chest pocket. $139; www.arcteryx.com 2. The Shirt Thankfully, the textile wonks at PEARL IZUMI think about sweat the way others obsess over fine wine. The FLY TOP employs yarns of varying diameter—finer outside, larger inside—to efficiently pull moisture away from your skin. $45; www.pearlizumi.com 3. The Pack PATAGONIA's HOUDINI is light without being flimsy, and holds all the essentials—hydration bladder, snacks, layers, cell phone. A wide hipbelt and contoured shoulder straps give it a snug, no-bounce fit. Store sunscreen or tunes in the handy waist-level pockets. $100; www.patagonia.com 4. The Shorts Try running a dozen miles in the wrong pair of shorts and even mowing the lawn sounds like a better option. Eliminate chafe with CLOUDVEIL's EXCURSION SHORTS. Panel construction, a brushed tricot waistband, and a wicking liner make them übercomfortable, and the eight-inch inseam (men's model) is just long enough that you can stop at the pub on the way home without changing. $43; www.cloudveil.com 5. The Shoes With breathable mesh uppers and a rubber toe cap, NEW BALANCE's 872 trail runners are both airy and armored. The close-to-the-ground feel, combined with a judicious amount of stability and cushion, makes for a quick and nimble ride. $90; www.newbalance.com
Ride
summer biking gear
Photograph by Jens Mortensen
RIDE
1. The Helmet GIRO's ATMOS combines hard-hat protection with hair-net comfort. It checks in at a scant 9.5 ounces, the Roc Loc 4-fit adjustment system ensures a rattle-free ride, and 26 vents cool your chimney. $189; www.giro.com 2. The Windshell SUGOI's STEALTH JACKET is to an old-school windbreaker what an iPod is to a Walkman—same family tree, much higher branch. The tailored cut and Excel Stretch fabric provide a trim fit without binding, and mesh pit vents let off steam. $115; www.sugoi.com 3. The Bike Planning a double century? Only a personal sag wagon would be more helpful than this speedster. KESTREL's EVOKE uses an advanced carbon-fiber weave, traditional tubing, and relaxed geometry to create a flyweight ride that doesn't sacrifice power transmission. Ultegra (pictured), $3,899; Dura-Ace, $5,399; 15.8 lbs; www.kestrel-usa.com 4. The Jersey While others try to beat the instant-wicking, sharp-looking, odor-fighting properties of merino wool, IBEX simply makes the most of it. The full-zip, three-pocket BEEZER has retro-hip style, and the fine New Zealand merino feels like cashmere. $125; www.ibex.com 5. The Bib Save your soft parts with SUGOI's RS FLEX BIB. Mobil Mesh accommodates a full range of motion for spinning and sprinting, and the elasticized chamois doesn't bunch or chafe. $145 6. The Shoes Price is no object when it comes to foot comfort. SIDI's ERGO 1: DINO SIGNORI EDITION matches a stiff carbon sole to synthetic leather-and-mesh uppers, and the micro-cinching closures, paired with multiple widths, mean there are few feet these kicks won't fit—perfectly. $499; www.sidiusa.com
Climb
summer climbing gear

Photograph by Jens Mortensen
CLIMB
1. The Helmet BLACK DIAMOND's TRACER is the Kate Moss of helmets: not a gram of fat on it. But there are no questionable trade-offs; the 8.3-ounce lid offers complete protection, an adjustable fit, and wire mesh over the top vents to deflect rockfall. $90; www.blackdiamondequipment.com 2. The Rope One could argue that this is an ill-advised place to cut corners. MAMMUT's smart answer is the 8.9mm SERENITY ROPE, which weighs just 6.8 pounds for 200 feet. The trick is coating individual filaments with Teflon, thereby reducing internal chafing and distributing strength uniformly through the rope's core. $230; www.mammutusa.com 3. The Harness PETZL's ADJAMA perfectly combines low weight, high comfort, and ease of use. Light padding lets you hang without crying uncle, adjustable leg loops allow layering, and the double-back buckle is practically idiot-proof. $75; www.petzl.com 4. The Shoes Lighter is not always better. Trad climbing inevitably entails crack climbing, which means your ankles will be hamburger if you're wearing low-tops. Save your skin with FIVE TEN's ALTIA, which has a thick leather collar that rises just above the ankle. It's not rigid enough for nickel edging, but it's the best all-day all-arounder we've found. $129; www.fiveten.com 5. The Hardware METOLIUS POWER CAMS are about 25 percent lighter than the competition, and have a clean, simple pull (26 oz for a full set of eight; $464; www.metoliusclimbing.com). DMM WALLNUTS (5A) are svelte and secure (12 oz for ten; $85; www.dmmclimbing.com). At just under an ounce, DMM's BUGETTE (5B) is the lightest belay device around ($19). TRANGO's gossamer SUPERFLY QUICKDRAWS (not pictured) feel like they could clip to a cloud (12 oz for five; $90; www.trango.com).
Hike
summer hiking gear

Photograph by Jens Mortensen
HIKE
1. The Soft Shell Made with a featherweight version of Gore Windstopper fabric, MAMMUT's CLIME holds off everything short of sustained rain, and packs in a slew of luxuries—fleece-lined collar, pit zips, hand pockets, hem drawcord—considering its 12-ounce weight. $169; www.mammutusa.com 2. The Pack Squeeze too many ounces out of a backpack and you end up with something that carries like a book bag and lasts as long as a grocery sack. OSPREY's STRATOS is light (two-plus pounds, depending on size), but it's distinguished by what's left in: abrasion-resistant Cordura, a rigid suspension that supports dawn-to-dusk loads while letting air cool your back, and organizing features that beat anything at IKEA. Stratos 32 (pictured), $134; www.ospreypacks.com 3. The Shorts Buy two pairs of OUTDOOR RESEARCH's SONIC shorts; they're so versatile you'll want to wear them every day. The key is the Schoeller 3XDRY stretch nylon (think soft shell), which is light, quick-drying, and tough enough to butt-skid on granite. $69; www.orgear.com 4. The Shoes THE NORTH FACE's HEDGEHOG XCR hikers are made for going fast and far. They're cushioned with EVA foam and a heel air pod, and a TPU plate protects against the rockiest trails. Synthetic leather and mesh keep the upper durable, supportive, and light, and a Gore-Tex XCR liner lets you cruise through shallow streams without taking on water. $105; www.thenorthface.com 5. The Shirt Get more from your tee with PRANA's FLOW CREW . The poly shirt wicks sweat all day, and its street-worthy style and antimicrobial treatment let you keep it on all evening. $40; www.prana.com