In Stride
Mary Cain and the Dark Side of Pro Running
In Cain's case, her mistreatment led to athletic decline. But what if it hadn't?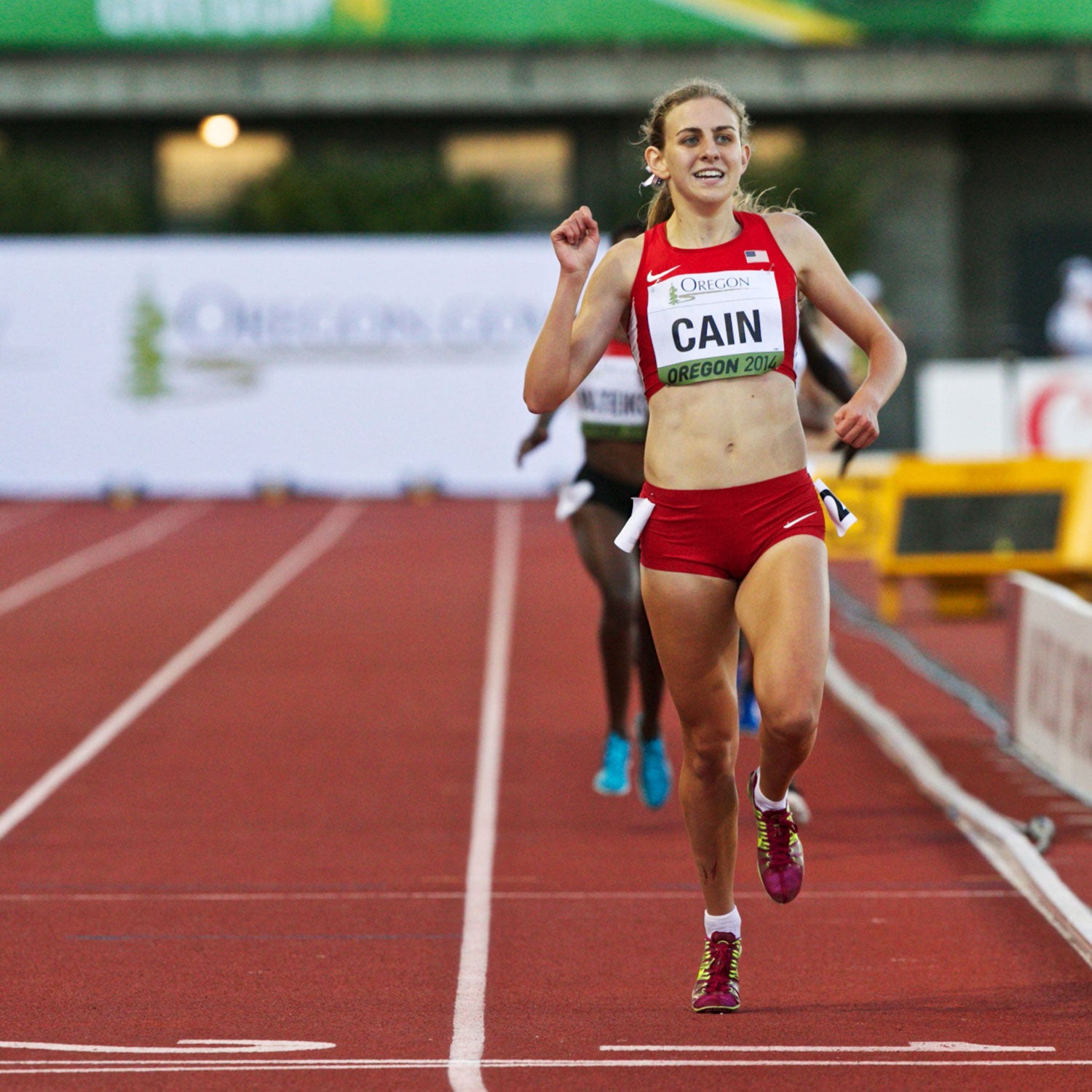 Thomas Boyd/The Oregonian/AP(Photo)
Heading out the door? Read this article on the new Outside+ app available now on iOS devices for members! Download the app.
It's been one week since the New York Times published a damning op-ed from former distance running prodigy Mary Cain, in which she accused Alberto Salazar, her former coach, of subjecting her to physical and emotional abuse. According to Cain, the man behind the Nike Oregon Project publicly berated her for her weight—a claim that has since been corroborated by former NOP athletes Cam Levins and Kara Goucher, as well as former OP coach Steve Magness, among others. In a video that accompanied the article, Cain describes how her condition deteriorated to the point where she ended up missing her period for three years and breaking five bones. In 2015, she relocated back to the East Coast to train remotely, before leaving the Oregon Project the following year.  
In response to the story, Nike, still in the process of doing damage control after Salazar was hit with a four-year ban for doping-related violations, vowed to conduct an internal investigation into the now defunct Oregon Project. In a statement last week, the company said that Cain's allegations were "completely inconsistent" with its values. 
For his part, Salazar has largely denied any wrongdoing. On Wednesday, in a statement issued to Sports Illustrated and the Oregonian, the veteran coach was insistent that, while he may have sometimes said things that were "callous" or "insensitive," his intention had always been to "promote athletic performance in a manner that supported the good health and well-being of all his athletes." 
Needless to say, not everyone found this response entirely convincing. (Among other things, Salazar went with the "if anyone was hurt, then I'm sorry" approach, which doesn't exactly scream contrition.) However, even the famously obstinate Salazar was ready to concede that elite sport's zealous focus on weight was something that, perhaps "needs to change." 
For many people, these words will likely ring hollow. But perhaps the fact that even Salazar is willing to make such an admission (or at least has been effectively coerced into doing so) is a signal that future Mary Cains won't have to suffer the same fate. After Cain's op-ed went viral, the hashtag #FixGirlsSports began trending on Twitter. 
One solution proposed by Cain in her Times op-ed is to put more women in power—suggesting that a less male-dominated environment would be more attuned to the training needs of a teenage girl and, crucially, more likely to recognize that those needs are different than those of adult men. In his statement, Salazar says that, when it came to weight, he had always treated men and women similarly. To treat his female athletes differently, he noted, would not have been in "their personal interests or in the interests of promoting their best athletic performance."
In her op-ed video, Cain offers a vehement rebuttal: "I got caught in a system designed by and for men which destroys the bodies of young girls."
For Cain, this certainly proved true. But what do we make of those women who, at least in the short term, appeared to thrive under the Oregon Project system? In 2017, Jordan Hasay ran the second fastest marathon of any American woman in history while Salazar was her coach. This past summer, the Dutch-Ethiopian runner Sifan Hassan, another women coached by Salazar, broke the world record in the mile, one which had stood for 23 years. (As of this writing, neither athlete has publicly addressed Cain's allegations.) 
Even Goucher, who has been one of the more outspoken Salazar critics since emerging as one of the whistleblowers on doping-related malpractice at the OP in 2015, generally excelled during the time that Salazar was her coach (2004-2011). In one of her last races as an Oregon Project athlete, the 2011 Boston Marathon, Goucher ran a personal best of 2:24:52, six months after giving birth to her son. 
Reached by phone, Goucher readily admitted that she ran well under Salazar, but immediately pushed back against the notion that Boston represented an unambiguous triumph. She believes the race "significantly shortened" her running career. The pressure to rush back into competing so soon after becoming a mother—which, it turned out, was very consistent with Nike's values—meant that she didn't give her body enough time to heal. A few months later, she developed a stress fracture that would plague her for years. 
Those regrets, however, pale in comparison to those that Goucher feels about the Faustian bargain she made with her former coach. "I was one of the favorites. It's really embarrassing, but I didn't want to lose that stature of being Alberto's female runner and having everyone use me as the perfect example," Goucher says.
"It's so hard looking back because there are so many things along the way where, even though I didn't participate in it, I didn't stand up for anyone else. Looking back, I'm ashamed of it. It's not worth it." 
Yesterday, the Times published an article on former OP athlete Amy Yoder Begley, which describes how Salazar repeatedly derided her for being too heavy. Speaking to Goucher, Salazar allegedly "ridiculed" Yoder Begley behind her back. This week, Goucher called Yoder Begley to apologize for not standing up for her.  
The fact that Goucher feels remorse for her time as an Oregon Project athlete, despite doing some of the best running of her career during that period points to an important counterfactual to Cain's story. Among other things, Goucher's experience challenges the idea that the team's "win at all costs" mentality can be vindicated by success on the track. 
Maybe that's obvious. However, the Times op-ed piece bears the headline: "I Was the Fastest Girl in America, Until I Joined Nike," thus tacitly suggesting that the most tragic thing about the way Mary Cain was treated was that it made her slower. The headline aside, the piece repeatedly reminds us that Cain's mistreatment was damaging to her athletic potential—as well has her physical and mental health. "I ran terrible during this time," Cain says.  
From a narrative standpoint, it's convenient when a coach's abusive methods are mirrored in athletic decline; it allows us to turn a blind eye to some of the darker implications of elite sport. What if Cain hadn't "run terrible"? Surely, the way she was treated would have been equally reprehensible if she had gone on to break a world record or medal in a World Championships. One difference, unfortunately, is that we might not be talking about it now.  
Lead Photo: Thomas Boyd/The Oregonian/AP
Trending on Outside Online