In Stride
Nick Symmonds Is a Man of Many Talents
The Olympian is a beer-drinking, book-writing, and record-setting outdoorsman who can run a half-mile faster than you can read the first page of his new book.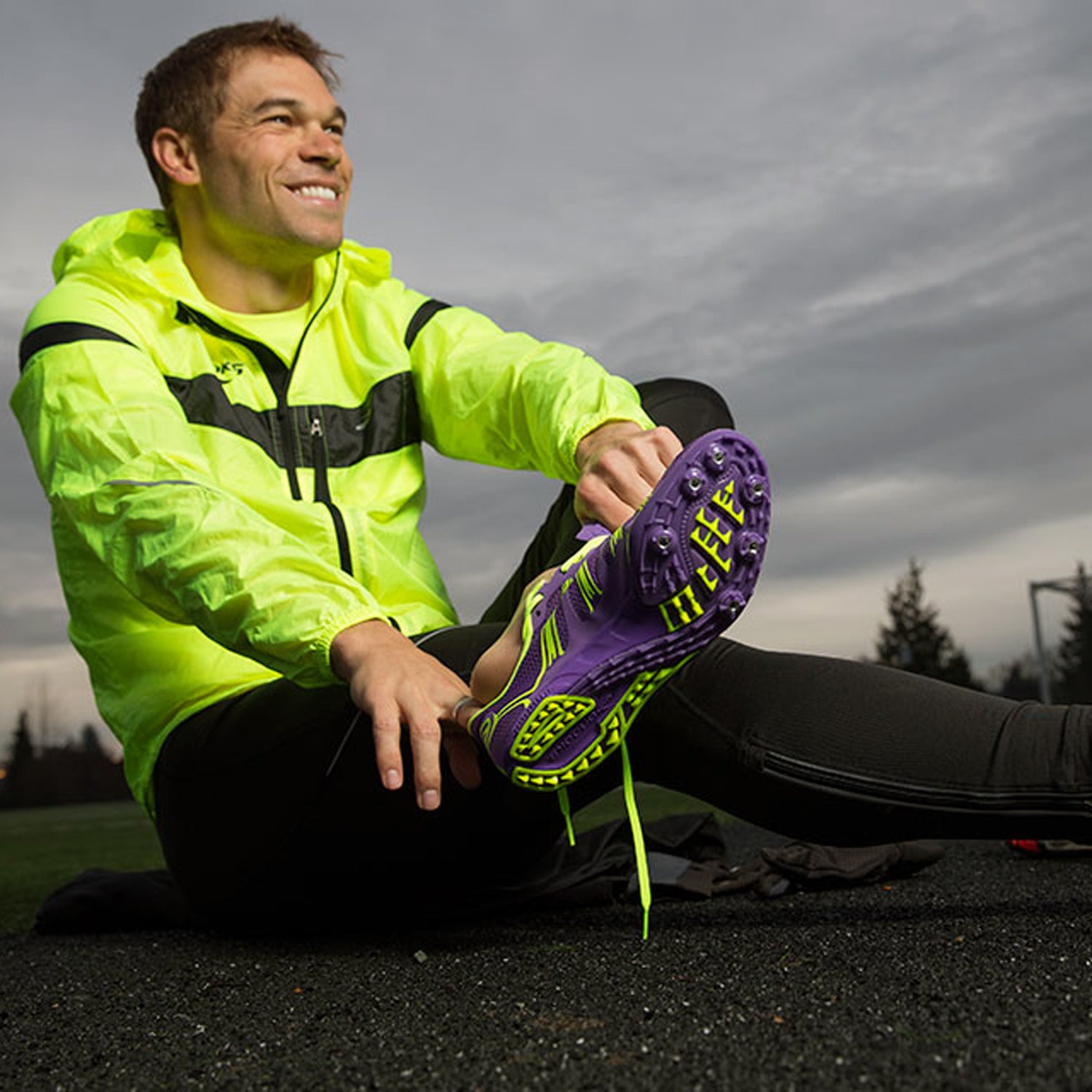 Heading out the door? Read this article on the new Outside+ app available now on iOS devices for members! Download the app.
Nick Symmonds never stops. The Brooks elite runner just penned his first book, wants to set the 800-meter road race world record on October 17, and is training to run a beer mile world record at the Beer Mile World Championship in Austin. He's also training for the 2016 U.S. Olympic Trials. Oh, and did we mention he spent the summer summiting mountains and surfing? The two-time Olympian gave us a preview of his new book, Life Outside the Oval Office (on sale October 21) and spoke with Outside about everything from fly-fishing to the fine balance of beer-drinking and running.
OUTSIDE: How does your love for the outdoors tie in with your love for running?
SYMMONDS: My dad instilled a love of the outdoors in me. I was raised Catholic, but I connected with the outdoors as my church. When I'm outside running, I get caught up in how diverse and expansive the world is, and it's easy to let go of the things that don't matter. That hawk in the sky doesn't care how fast I am; that stream runs endlessly and doesn't care what mile I'm on.
You spend much of your downtime fishing, hiking, and skiing.
I spend every vacation outside because I can't sit still. I always have to be doing something. This summer, I started mountain climbing. I summited Mount Lassen in California, Half Dome in Yosemite, Mount Adams in Washington, and Mount Thielson in Oregon—so I'm hooked. I'd like to climb the Seven Summits in retirement. But I always find some way to entertain myself outside on vacation, whether it be surfing in the Pacific Northwest, fly-fishing, snowboarding, skiing, or backpacking. It's always something new.
If you had to pick between fishing or running as the only hobby for the rest of your life, which would you choose?
Oh shoot, that is really hard and I can't believe I'm about to say this, but running. I'd have to pick running even though fly-fishing is my favorite pastime, just because running is the glue that holds everything together for me. That's how I start every single day: with a coffee and a run. When I can't run, everything else just feels off.
What's your "get-back-in-shape-fast" plan after enjoying a few brews on fishing trips?
You can't dive into mileage quickly without getting hurt, so getting in shape quickly means a lot of cross-training for me. I have to be careful, so I will run low mileage, swim three times a week, lift weights three times a week, and try to incorporate a yoga session.
Is it easier to get in Olympic racing shape or beer mile racing shape?
Getting into beer racing shape is a whole different ballgame. It's easy to run a good, high-speed mile, but it's a new challenge when you toss in 48 ounces of beer. It becomes a fine balance between drinking and running—which happen to be two of my best skills. I have to train for two different time goals: 8 to 10 seconds to drink each beer and a sub-five minute mile. That combination makes for a whole new type of pain that is worse than any Olympic training session.
What was your first beer mile experience?
It was in 2005, after track season, when some of the Linfield College runners invited some of us Willamette boys to partake in a little fun after the season wrapped up. We went up to the track at night and pulled up the trucks for light and ran a beer mile. I already had a few beers in me when we started, but I still ended up running a 5:31. That's when I decided that, hey, I'm a pretty good runner and I'm a pretty good beer drinker, so I'm bound to be a good beer miler. By the way, I did not, and have never, thrown up during a beer mile. That's an accomplishment.
Will you break the World Beer Mile Record this year?
Yes. That's what I've trained to do. But the Beer Mile World Championship isn't going to be my first official race of the fall. That's going to be the Nick Symmonds Straight 800 in Springfield, Oregon, on October 17. It's the only straight-road, USATF sanctioned 800-meter race. So technically whoever wins holds the world record. In past years, I've jogged it with the young kids, but this year I want to win. I'll have two world records.