In Stride
The Nike Vaporfly Just Survived a Potential Ban
Track and field's governing body, World Athletics, has prohibited racing in prototypes and issued a limit on stack heights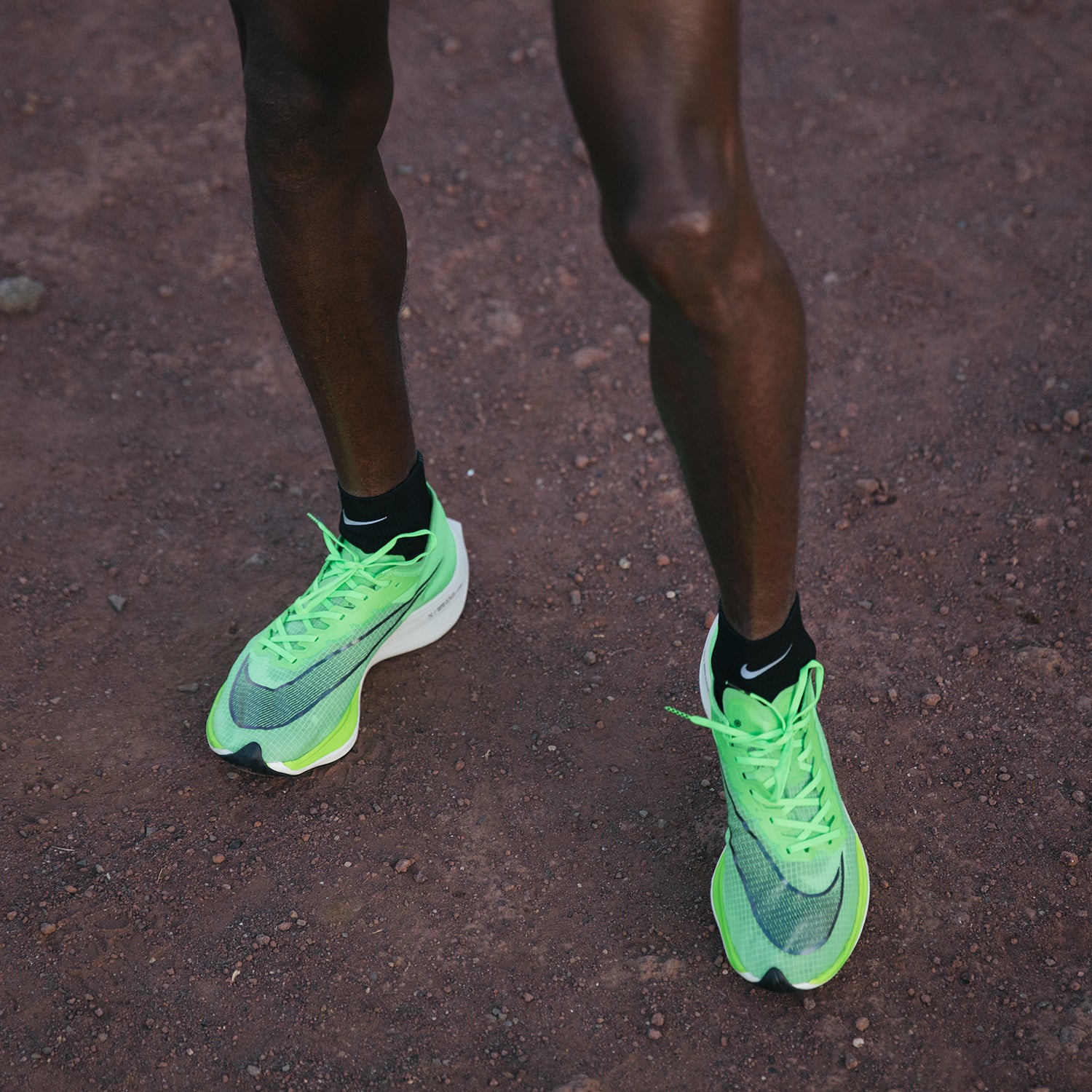 Courtesy Nike(Photo)
Heading out the door? Read this article on the new Outside+ app available now on iOS devices for members! Download the app.
Earlier today, World Athletics (track and field's governing body, formerly the International Association of Athletics Federations) made its highly anticipated announcement on the regulation of running shoe technology. Although there had been rumors in recent weeks—aggravated by several bogus news stories—that the organization was planning on making Nike's coveted Vaporfly Next% racing shoe illegal in elite competition, this does not appear to be the case. 
Rather, World Athletics will be prohibiting the use of shoe prototypes in competition. (This is a good idea.) The new rule states: "From 30 April 2020, any shoe must have been available for purchase by any athlete on the open retail market (online or in store) for a period of four months before it can be used in competition. If a shoe is not openly available to all then it will be deemed a prototype and use of it in competition will not be permitted."
Additionally, World Athletics has issued an "immediate moratorium" on any shoe that has a heel stack height of more than 40 millimeters and more than "one rigid embedded plate or blade (of any material)."
Placing a limit on sole thickness has been one of the proposed solutions on how to best regulate shoe technology going forward. The breakthrough innovation of Nike's original Vaporfly 4% shoe, released in 2017, was that it combined a carbon fiber plate with an unusually thick (over 30 millimeters) super lightweight Pebax foam midsole. This initiated a genuine paradigm shift in the profile of racing shoes that is still in the process of playing out. Previous racing "flats" had sought to minimize the amount of cushioning to reduce weight, but the Vaporflys proved that if you can come up with a light enough foam, more cushioning leads to an increase in spring-like energy return and hence an improvement in running economy. However, some fear that if this design development goes unchecked, racing shoes might veer towards the farcical; imagine future runners bounding along in airy platform shoes. 
Make no mistake, the new 40-millimeter limit is not arbitrary. The maximum stack height of Nike's Vaporfly Next% is usually reported at around 36 millimeters, and therefore sneaks under the new threshold. However, the shoes that Eliud Kipchoge wore when he became the first man to run a marathon in under two hours last year in Vienna (code name: "AlphaFly") are potentially well over the limit, although Nike has not provided any data since the shoe hasn't been released.  
What does Kipchoge think? It wasn't until earlier this month that the Kenyan superstar weighed in on the Vaporfly debate: "They are fair. I trained hard. Technology is growing and we can't deny it—we must go with technology," Kipchoge told the Telegraph in reference to the (potentially banned) AlphaFlys. "It's the person who is running, not the shoe," Kipchoge added. 
With all due respect to the fastest marathoner the world has ever seen, Kipchoge is not exactly a neutral party here; he is not going to suggest that one of the greatest triumphs of his running career is somehow illegitimate. (What's more, this is a man who has photos of senior Nike executives hanging over his bed in training camp.) 
That said, tech is "growing," and Kipchoge's main point is hard to refute without sounding a little like an anti-progress reactionary. Kara Goucher, who in 2016 missed out on making her third Olympic team when she finished fourth in the Olympic Trials behind two runners who were wearing Vaporfly prototypes—has said that she would be in favor of banning all curved plates, regardless of material, and restricting shoe stack heights to those of "traditional" marathon flats. This seems a little aggressive, not least because it sounds like it could easily lead to torturous debates about what exactly constitutes a curved plate. 
As others have pointed out, the Vaporflys are not the first shoe to use a carbon fiber plate; Paul Tergat famously set a marathon world record wearing a carbon-plated shoe made by Fila, way back in 2003. On a more macro level, one could argue that improvements in running shoe technology simply reflect a natural evolution that will have a long term positive effect. After all, most athletic equipment has gotten better over time, with the net effect of improving the performances of all athletes. 
Of course, a fundamental part of running's appeal was always that it was not about the equipment, at least for those of us who liked to romanticize it as the most elemental of sports. I'll be the first to acknowledge that the performance-enhancing quality surrounding these latest advances in shoe design might be exaggerated by excessive marketing and media coverage. But, as Outside's Alex Hutchinson pointed out last year, seeing Brigid Kosgei smash Paula Radcliffe's previously untouchable marathon world record (in Next%s) last October by nearly one and half minutes (!!!) should remove all doubt that the shoes are having a major impact.
It's all very exciting. But it's also a little depressing that the most elemental of sports is inching its way towards a future in which you need to buy the right product to maximize your potential.
I'm still holding out hope that some tycoon running enthusiast will buy out Kipchoge's Nike contract and offer him crazy money to race this year's Olympic marathon in vintage Onitsuka Tigers. Because, apparently, it's the person who is running. Not the shoe. 
Lead Photo: Courtesy Nike