In Stride
Why Is Nike Still Backing Alberto Salazar?
'Nike's Big Bet' argues that the banned coach is too important to the company's image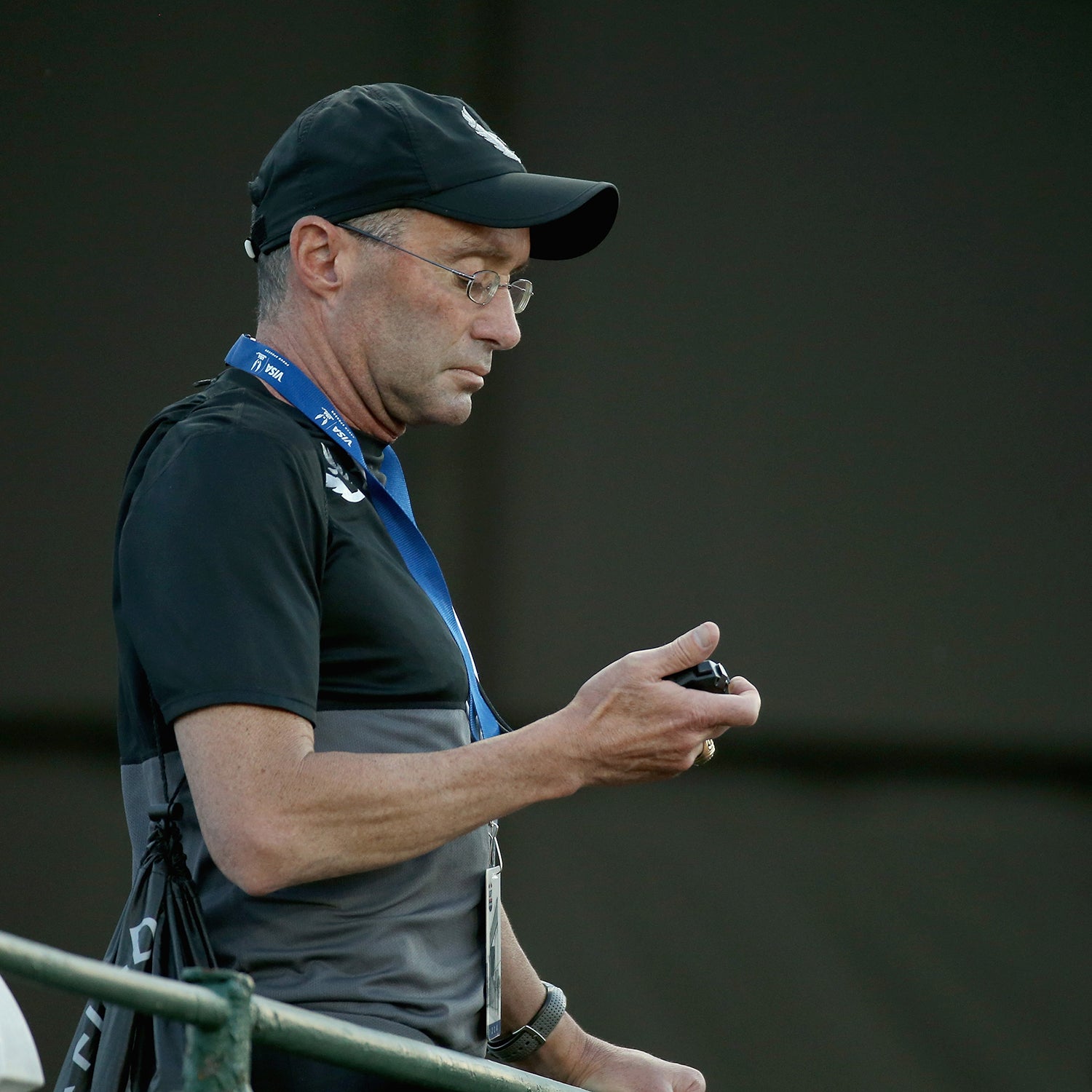 Heading out the door? Read this article on the new Outside+ app available now on iOS devices for members! Download the app.
In early March, the Court of Arbitration for Sport heard an appeal from Alberto Salazar, the former coach of the Nike Oregon Project, who in 2019 received a four-year suspension from United States Anti-Doping Agency for doping-related misconduct. The court has yet to announce a decision about whether the beleaguered coach's ban will be upheld, reduced, or overturned—though he would seem to have a decent shot at being exonerated. After all, Salazar's appeal is being funded by Nike, the richest, most influential sports apparel company in the world. The company has remained steadfast in its support, even after Mary Cain publicly accused her former coach of abuse while she was a member of the Nike Oregon Project; in early 2020, Salazar was sanctioned with an additional ban from coaching by the U.S. Center for SafeSport, an organization that protects athletes from abuse. Would Nike really double down in defense of the most polarizing figure in professional running if they didn't think he could clear his name? Conversely, if the Salazar brand is irredeemable, why doesn't the Swoosh cut him loose? 
These are the underlying questions in Nike's Big Bet, a new documentary by Paul Kemp which draws on interviews with several prominent members of the running commentariat to revisit the details of the Salazar case. (The film premiered earlier this month at Canada's Hot Docs Festival and is expected to be available for streaming in the U.S. in the near future, though an official release date has not been set.) Kemp—who recently co-produced a documentary on Jordan Peterson, the Canadian psychology professor, masculinity guru, and political lightning rod—doesn't shy away from divisive material. His latest project pushes the theory that Salazar's maximalist approach to coaching is an extension of Nike's hyper-competitive culture. If that sounds familiar, it might be because it was also the premise of journalist Matt Hart's book, Win at All Costs, which I wrote about last year. But while Hart's book is relentlessly scathing in its analysis, Nike's Big Bet is more generous towards its subject. Salazar's maniacal behavior is framed less as an ethical affront, so much as what happens when you push the demands of elite level competition to their logical extreme.
Whether because of his ongoing appeal or a general aversion to the media, Salazar himself declined to be interviewed for Nike's Big Bet. By the same token, many of his most ardent critics, including Cain and the former Oregon Project coach Steve Magness, don't make an appearance either. (Kemp told me that while he did speak to Cain, she declined to be in the movie.) The only real detractor whom we hear from is ex-NOP member Kara Goucher, who has the added distinction of being the film's sole female interviewee—a fact which seems an obvious oversight considering that much of the most damning testimony against Salazar has come from women. (In addition to Outside's own Alex Hutchinson, the film includes appearances from Tim Hutchings, Weldon Johnson, Jon Gault, Chris Chavez, Ken Goe, and Amby Burfoot—to only name those who belong in the narrow category of running media.) 
As for the question of whether some of the eye-popping feats of Nike Oregon Project stars like Mo Farah, Galen Rupp, or Sifan Hassan could have been due, in part, to performance-enhancing shadiness, Nike's Big Bet doesn't tell us anything we don't already know. The debate has never really been about the facts of the case, in and of themselves, so much as about the interpretation of the facts. Nike's Big Bet rightly points out the inherent absurdity of a coach being banned on doping-related charges without a single one of his athletes failing a doping test or being officially charged with violating the rules. We hear, once again, about Salazar's smearing topical testosterone on his son to see how much would trigger a positive test and Farah's momentary bout of amnesia where, minutes after vehemently denying to reporters that he had ever received an (ostensibly legal) L-carnitine infusion, he doubles back and says that wait, actually, he did. We are reminded of Salazar's pathological obsession with employing space-age gadgetry (CryoSaunas! Infrared pods! Underwater treadmills!) to give his athletes an edge. Unlike in Hart's book, where Salazar's tinkering is presented as being mostly devoid of any real scientific basis, Nike's Big Bet goes all in on the super coach mythos. Salazar is, in the words of commentator Tim Hutchings, "a flawed genius." 
But flawed in what way, exactly? According to Malcolm Gladwell, who is the documentary's most dedicated Salazar apologist, Salazar is "an extremist," who pushed himself to his absolute limit as an athlete and expects a similar level of fanaticism from his charges. "Many coaches behave like parents," Gladwell says at one point. "The job of a parent is not to maximize the performance of a child, but to create a happy functional human being. Salazar is a coach who does not behave like a parent… if you're not game for that, then don't go run with Alberto Salazar." In Cain's case, however, Salazar contacted her when she was sixteen, which feels relevant when determining who's responsible for initiating a relationship that would leave her physically and emotionally broken by her early twenties. It's also bizarre to suggest that the degree to which one is "a happy functional human being" will have no bearing on maximizing athletic performance, or even that the two must, as a rule, be mutually exclusive. 
Late in the film, there's an extended segment on the way Nike has upended professional distance running over the past five years with its Vaporfly shoes—starting at the 2016 U.S. Olympic Trials marathon, where a number of Nike-sponsored athletes were wearing carbon-plated, super foam-infused soles in secret. We are meant to understand that the clandestine launch of a product that has since been proven to provide a significant competitive advantage is a corporate-level manifestation of Salazar's belief that anything that is not expressly forbidden is permitted. It becomes clear that, for a number of those interviewed in Nike's Big Bet, the disruptive effect of the Vaporfly was more egregious than any of Salazar's transgressions.
Seen in this light, Nike's defense of Salazar is also a defense of its entire brand philosophy. It's a public relations battle that goes beyond trying to salvage the reputation of a benighted coach and longtime employee. Why is Nike so invested? Because, at this point, the company cannot condemn Salazar without condemning itself.
Lead Photo: Andy Lyons/Getty