In Stride
How On Is Taking the Running World by Storm
The upstart Swiss company is shaking things up with an unorthodox cushioning system and an emphasis on grassroots marketing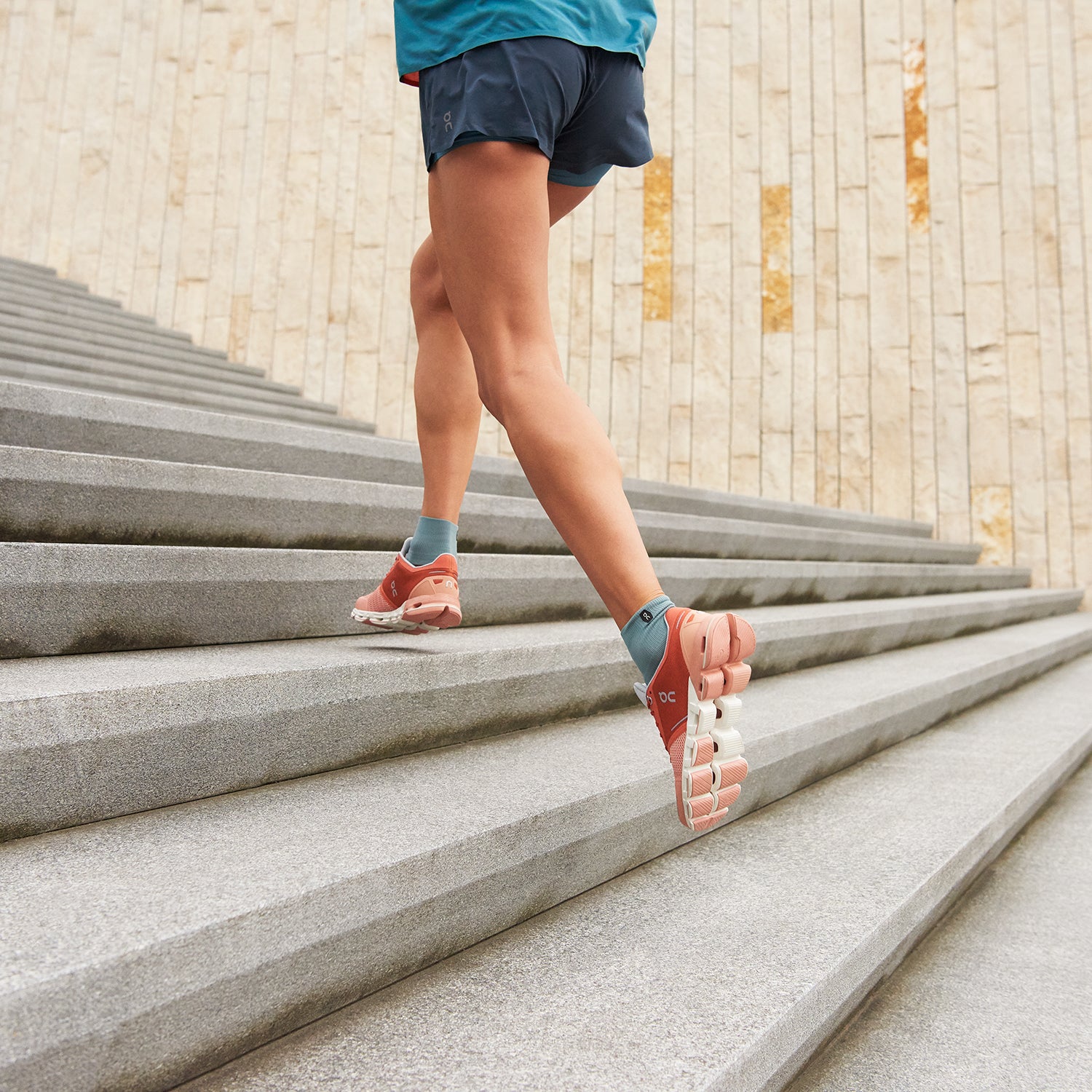 Courtesy On
Heading out the door? Read this article on the new Outside+ app available now on iOS devices for members! Download the app.
Last month, the Swiss running shoe brand On celebrated its initial public offering, following in the footsteps of established industry giants like Nike and Adidas. The news confirmed the arrival of a company that was founded in 2010, but which has risen to prominence, thanks to bold product design and clever branding. In an article last year, I noted that On (and their rival Hoka) was one of the big winners of a pandemic-inspired running boom, with a sales increase of over 50 percent from 2019. According to the official data included in its IPO F-1 filing, On's net sales in the first half of 2021 increased 86.4 percent over the same auspicious period in 2020. Clearly, they are doing something right.
But what, exactly? How might we account for the success of a company with a rather unremarkable name and hieroglyphic logo? On plays up its national heritage—"Born in the Swiss Alps" is a company tagline—which seems like it could be a winning move if it were selling milk chocolate or banking software. But when it comes to launching a hot new running shoe with a flamboyant new cushioning concept, building your image around a country with a reputation for staid efficiency seems like a riskier proposition. (There might be some regional bias at play here; I grew up in Vienna, Austria, where a standard joke is that our vast Central Cemetery is roughly half the size of Zurich and twice as fun.)
On's most prominent benefactor is none other than Roger Federer, who invested an undisclosed amount in the company in 2019 and whose famously reserved demeanor seems to affirm the national stereotype. Then again, the mild-mannered tennis maestro might be the ultimate example of how a meticulous, calculated approach can yield not only success, but also a kind of transcendent beauty. Perhaps the marketers are right and On's quintessential Swissness is the company's greatest asset.
Larry Eder seems to think so. The co-founder of RunBlogRun and former publisher of the Running Network's biannual Shoe Review, Eder is the biggest running shoe aficionado I know. He recalls being shocked to learn that On's management had a ten-year plan in place when he met some members of the team around the time of their U.S. launch in 2013—a level of foresight that, per Eder, you don't often see with American shoe startups. When he pitched On an idea to use social media as a means of reaching out to running stores, Eder was informed that that step had already been scheduled for year three. (Due to a company-wide post IPO "quiet period," no On employees were able to take interviews for this article.)
Still, methodical planning only gets you so far.
"The quality of the product is really good," Eder told me. "I've had my friends at Nike, Adidas, and Puma try the shoes and like them, begrudgingly. They say the technology is really simple, but it works."
That technology is a cushioning system dubbed "CloudTec," made up of individual hollow rubber pods that stud the sole. The result is a vaguely cleat-like silhouette. Whereas Nike's founding myth centers around University of Oregon track coach Bill Bowerman mucking about with a waffle-iron, the story here is that a retired Swiss triathlete named Olivier Bernhard had his eureka moment by cutting up a garden hose and affixing the pieces to the base of his sneakers. Bernhard, who is one of On's three co-founders, was dissatisfied with all the running shoes on the market and felt he could do better. Things got off to a promising start. One of On's early prototypes won the award for best new product at the 2010 ISPO, the world's largest sportswear trade show. At the time, the industry publication SNEWS (now Outside Business Journal) noted that the shoe's distinct cushioning looked "like short rigatoni pasta glued on from the sides."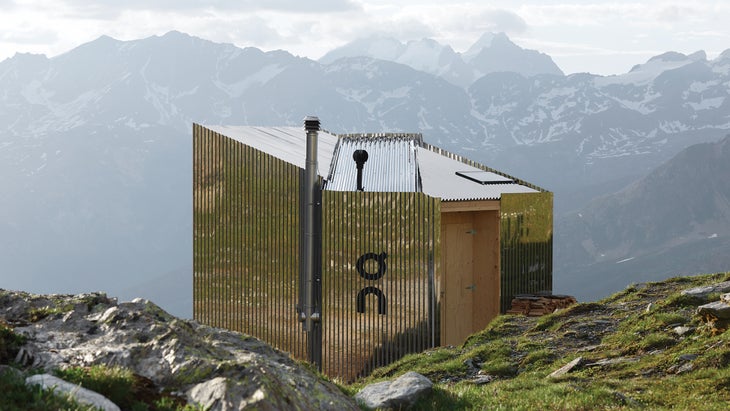 Love it or hate it, the rigatoni look is hard to ignore. David Gettis, an area manager for the running retail chain JackRabbit, told me that, along with Hoka, On inspires curiosity like no other brand, despite (or perhaps because of) the fact that "nine out of ten" customers can't decipher what the logo is supposed to say. Part of that curiosity can probably be attributed to On's status as a relative newcomer, but it seems to also be a style thing. "They have an aesthetic that's significantly different from all other running shoes," Gettis says. "Not just the way the bottom part is broken up into different sections, but the way the upper has a cleaner look overall and the logo is not as large."
Gettis also mentioned that On's colorways had become noticeably more subdued in recent years. When I spoke with Matt Powell, the resident footwear industry expert at the market research firm NPD, he told me that On had a big following with the non-running fashion contingent. Per Powell, this was a conscious strategy from the start. (At the risk of revealing too much about myself, I confess that the first time I remember seeing On was in Huckberry, the online shop and "journal" where effete urbanites can buy their canvas trucker jackets and Alaskan fishing boots.)
At present, the American market accounts for roughly half of On's business; last year, the company recorded roughly $218 million worth of sales in the U.S., according to the F-1 report. Although the brand initially focused on selling its product in running specialty stores like JackRabbit, its direct-to-consumer business has steadily grown and currently accounts for just under 40 percent of sales worldwide. Most of the latter comes from e-commerce, although last year On opened a new flagship store in New York City, which I recently visited.
The space has a sparse, futuristic feel; there's a 3D print facsimile of a boulder from the Alps that is supposed to symbolize the synthesis of technological innovation, appreciation for the natural world, and Swiss charisma. There's a digitalized foot scanner to help you find your proper shoe size, as well as a "Magic Wall," which, through some kind of hyper-sophisticated video analysis, can provide you with an instant gait analysis and recommend the perfect shoe. My profile was "Strider," which is a nice way of saying that I am a chronic heel-striker, doomed to mid-pack mediocrity or at least a lifetime of very unflattering race photos.
While in the store, I was assisted by David Kilgore, a marketing manager at On who also happens to be a small-scale celebrity of the local distance running scene, known for such Type II Fun exploits as setting multiple fastest known times on the 31-mile loop around Manhattan.
The fact that Kilgore works for the company speaks to another aspect of On's strategy specifically alluded to in the company's IPO report: an emphasis on grassroots marketing. It's hard to think of a better local ambassador for the brand than a guy who represented Team USA at the 2019 Trail World Championships, whose extremely mellow vibe is the perfect antidote to Swiss (or New York) rigidity.
On the professional side, the attention to grassroots is manifest in the On Athletics Club, an elite running team that launched last year and is based in Boulder, Colorado. The team, coached by the recently retired professional runner Dathan Ritzenhein, already has several recent Olympians on its small roster, including American 10,000-meter specialists Alicia Monson and Joe Klecker.
"Their athletes have done phenomenally well in just a year," Eder told me, adding that On's Athletics Club reminded him of a less scandal-plagued version of Athletics West, the Nike-sponsored pro team from the seventies and eighties that featured jogging boom-era stars like Frank Shorter and Alberto Salazar. "On is doing what every brand that has been successful has done, which is support the grassroots on the professional side. By doing that, they are able to capture the dream."
This aspirational ethos is also evident in other areas of On's business. A major gambit here is "the Cyclon," a fully recyclable, plant-based running shoe that was initially supposed to launch this fall, but which recent COVID-induced supply chain issues have postponed. The shoes will only be available via a subscription model, in which customers pay $30 a month and receive fresh pairs when they need them, while sending back the used product. It's a radical idea, one whose success will ultimately depend on getting enough people to sign up to make the concept viable. Notably, the Cyclon does not feature CloudTec, presumably because a more complex design precludes making an easily recyclable product.
If you're an optimist, the company's recent IPO will give it the financial resources to supercharge such sustainability-focused projects. Of course, it's hardly a stretch to suggest that there could be an inherent conflict between being accountable to both the planet and an anonymous contingent of shareholders that demands endless growth and profitability. Perhaps, however, a fully recyclable shoe provides a potential answer to the inevitable bind that all "green" apparel companies inevitably face: How do you convince people to consume less while buying more of your product? Time for that vaunted Swiss efficiency to show what it can do.
Lead Photo: Courtesy On