Play the Odds to Win the Turkey Trot
A guide to winning the Thanksgiving race, by the numbers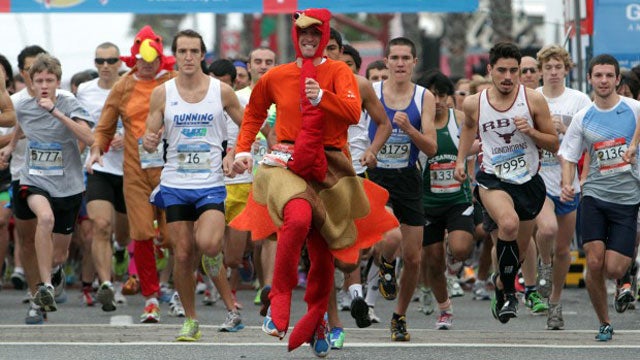 Heading out the door? Read this article on the new Outside+ app available now on iOS devices for members! Download the app.
What's the most popular road race in the U.S.? It's not the Boston, New York, or Chicago marathon—it's the annual Thanksgiving turkey trot.
About 676,000 people ran a turkey trot in 2011. Outside analyzed last year's results from 15 of the most popular races across the U.S. That's data from approximately 113,000 runners, which is about the size of the Chicago, Marine Corps, and New York City marathons combined. But unlike the major U.S. marathons, you've got a shot at winning on November 28, and we've crunched the data to show you how. After all, a race is a race, even if it's a turkey trot.
Jump into the 5K
Signing up for the 5K already significantly increases your chances of winning on Thursday. Compared to 8K and 10K, the 5K fields are generally weak. Compared to the American records in each event, 10K runners were 6.8 percent faster than the 5K runners in our sample—meaning that if you want to win in anything longer than 3.1 miles, you'll have to run closer to Alberto Salazar's record in the 8K or Mark Nenow's record in the 10K than you would Marc Davis' 5K record to win.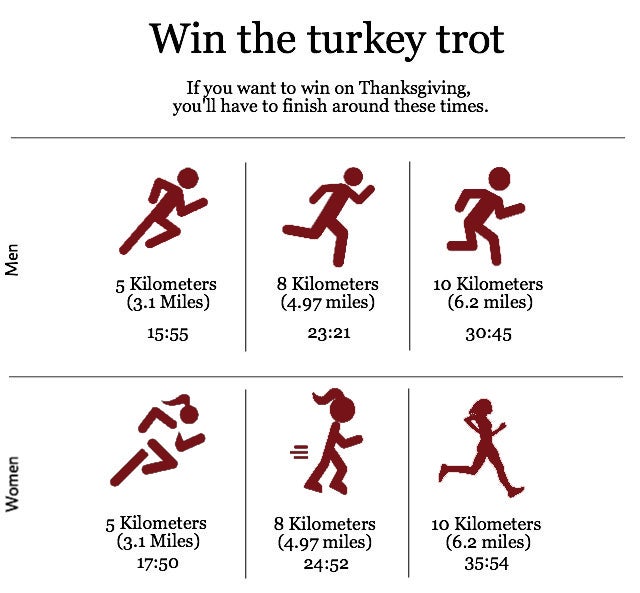 Here's why the 5k fields are so weak: The NCAA Cross Country championships just wrapped up this weekend, so collegiate runners who've been training for the 10K over the last two months are riding that fitness an extra week and jumping into the 8K or 10K. Also, professional runners may be using a turkey trot as a rust buster in preparation for the USA Cross Country Championships 12K in February, but they'll likely be skipping the 5k distance.
Be young
If you want to hold your arms up to the sky and feel that finishing tape rip across your chest, then you should be between 15- and 19-years-old or 20- and 25-years-old, but be 25 if you can—even if you need a fake ID.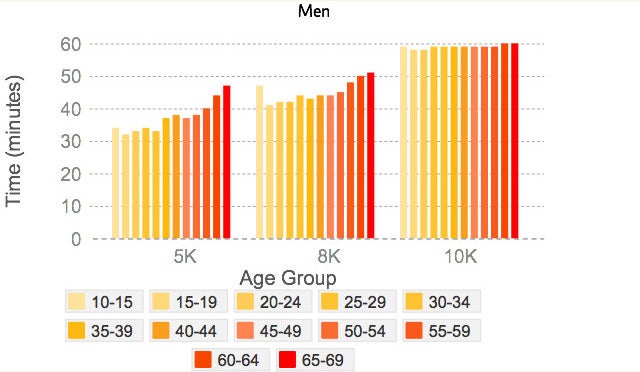 The teenagers (high-school runners) and the twentysomethings (collegiate runners) had the fastest average times regardless of distance. But 25-year-olds won more races last year than runners of any other age. If you're more than 30-years-old, then you might want to look at the 10K. 
Set a world record
If you're demographic isn't conducive to fast times, you can still win this turkey day without being the first to cross the finish line. You can set a world record, and it's a lot easier than you think. This Thursday, another group is taking aim at setting another Guinness World Record. Turkey Trot's partnered with BSX Athletics are part of a nationwide "Guinness World Record Gobbler Challenger."
Twenty individual races are joining to break the record for most participants in a multi-venue race. Over 110,000 people took part on October 10, 2010, and that's the number BSX aims to beat this week. Explore the map above to see if a race is near you.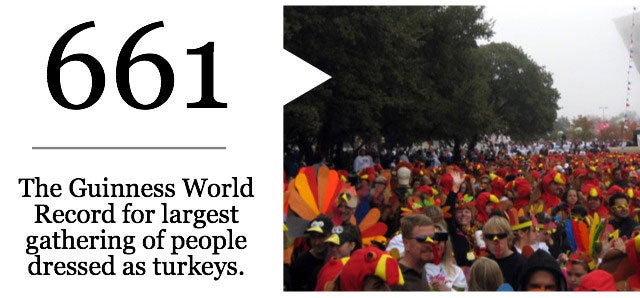 Photo: Courtesy of Guinness
These people dressed as turkeys won at the Dallas YMCA Turkey Trot in 2011 without even dipping under world record pace.
Lead Photo: Courtesy of iymoney.com