Hellen Obiri Sets Her Sights on Boston
After moving from Kenya to Colorado, the two-time world champion and Olympic silver medalist is ready to compete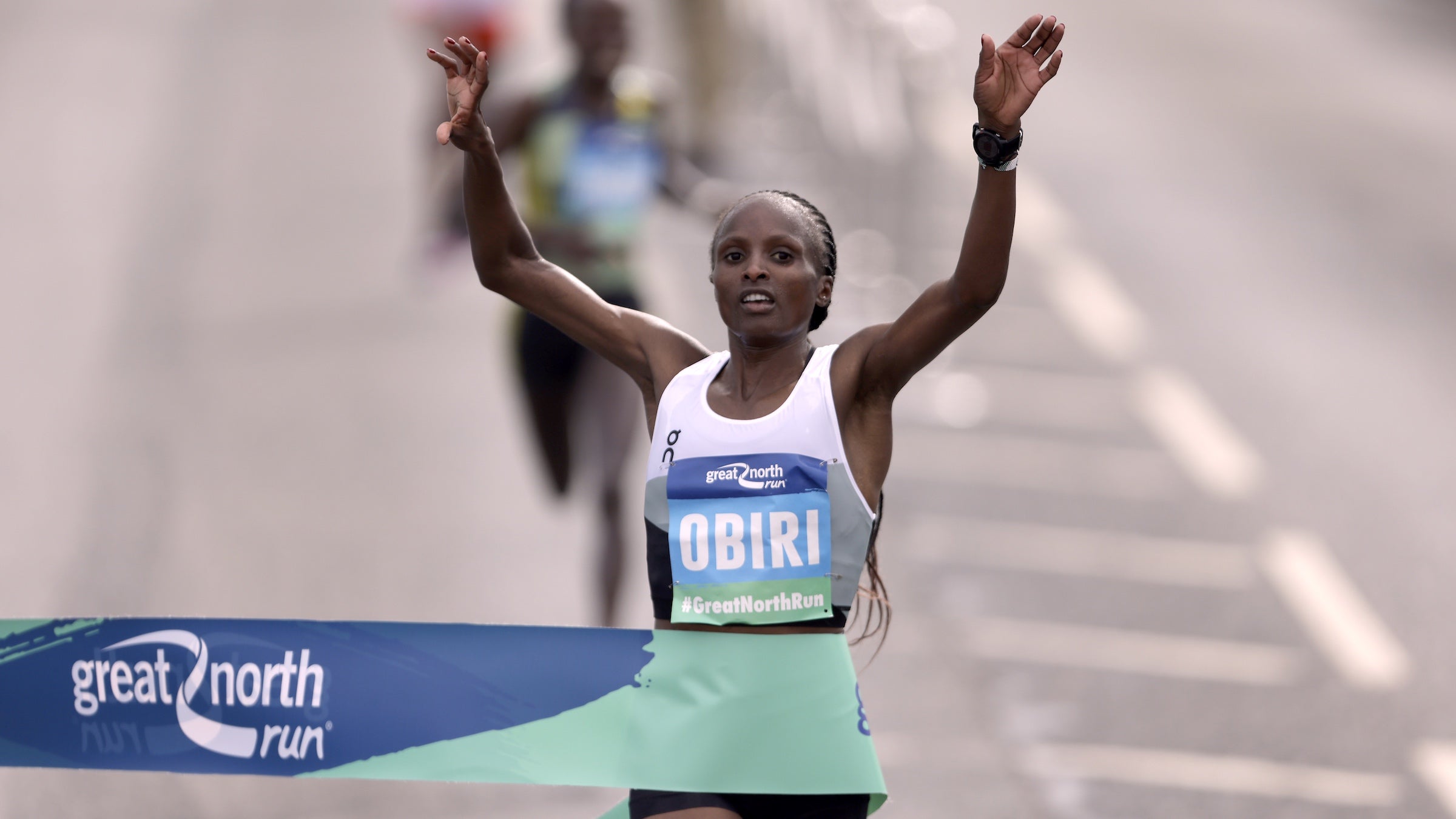 Richard Sellers/Getty
Heading out the door? Read this article on the new Outside+ app available now on iOS devices for members! Download the app.
This article is part of Outside Run's complete 2023 Boston Marathon race coverage.
Like a lot of first-time marathoners, Hellen Obiri's first crack at 26.2 miles didn't go quite the way she hoped.
Unlike the rest of us who have suffered the same fate, though, she'll be contending for victory in her second try. Obiri, a native of Kenya who relocated to Boulder, Colorado, late last summer to train with the On Athletics Club (OAC), has been able to take what she's learned from her debut at last fall's New York City Marathon, improve her training, and put herself in position to be one of the prime contenders at the Boston Marathon on April 17.
And OK, let's face it, her sixth-place, 2:25:49 effort in New York wasn't a total disaster. It's just that Obiri, who owns 11 global medals in track and cross country, set out to at least finish on the podium in her first marathon and came up disappointingly short. She was in the lead pack of four near mile 23, but faded badly in the final 4K through Central Park on the way to the finish line.
"The last four kilometers were just terrible for me," the soft-spoken 33-year-old said recently in an interview at the OAC training center in Boulder. "My body was not moving the way it should, but what killed me was the bad mindset that came in. That doesn't happen when you race on the track. It's something to learn for the next one."
In hindsight, her new coach, Dathan Ritzenhein, admits she wasn't fully trained up to race in New York. Plus, in a review of her race, they determined she didn't drink enough carbohydrate-rich Maurten fuel from her bottles at the aid stations along the course, further diminishing her stamina and competitiveness.
But to Obiri's credit, she was also dealing with a pretty big life transition. After waiting most of the year to get her visa and related immigration paperwork finalized, she finally moved to Boulder in September with her husband, Tom Nyaundi, and their six-year-old daughter, Tania.
RELATED: Women Run the World: Hellen Obiri, From Kenya to Colorado
Developing Marathon Fitness
Now that she's settled in Boulder and training with her new OAC teammates, both elite American 10,000-meter runner Alicia Monson as well as the men's team, Obiri is much more fit for racing a marathon, Ritzenhein said. Most of last year, when she was still in Kenya, she was running more modest weekly mileage and faster workout sessions necessary for racing on the track. That helped her earn the silver medal in the 10,000-meter run at the World Athletics Championships in Eugene, Oregon, but it wasn't enough of a base to effectively train for a marathon.
Ritizenhien didn't take over coaching her from longtime coach and agent Ricky Simms until she arrived in Boulder about seven weeks before her debut in New York. The build-up lacked ideal volume and only included one training run longer than 20 miles, he said.
But more than anything, it was her first marathon and, as most runners know, the first one is almost always the toughest.
"You can't know it until you do it," Ritzenhein said. "You can't even hit it in the workouts and know, you have to feel it in the race before you really know what the marathon is all about. She ran strong for 23 miles before she ran out of gas. If it happened at 18 or 20 miles, that maybe would be a concern. But like she went to 23 on nothing basically, and so I think it was a very good learning experience."
Obiri has a lot more volume in her build-up to Boston, roughly 16 weeks in the 100- to 120-mile range. Plus, she's had three strong runs of 40K (24 miles) or longer and has been practicing the process of mid-run fueling.
Ritzenhein wasn't entirely convinced she was ready for Boston until she outran a good field at the NYC Half Marathon, March 19. She won that race handily, beating Ethiopia's Senbere Teferi by 34 seconds to win in 1:07:21 on a cold, rainy, and windy morning in the Big Apple. While that was one of the slower half marathons Obiri has run—and far from her best of 1:04:22 she ran in early last year—her performance convinced Ritzenhein she was ready to go.
She was added to the already very deep Boston women's elite field on March 30, just two days after she ran a 25-mile training run in Boulder averaging 5:34 mile pace—the first 18 of which she ran on the heels of OAC runner and 2021 U.S. Olympian Joe Klecker. That's a big workout, especially considering it was done at an altitude of 5,400 feet.
Obiri, who is know as a fierce competitor with sharp racing instincts, is one of the top contenders in the women's field, along with Ethiopian Amane Beriso, who ran a 2:14:58 personal best at the Valencia Marathon in December, Ethiopia's Gotytom Gebreslase, the 2022 world champion (2:18:11), and Israel's Lonah Chemtai Salpeter, who was the 2020 Tokyo Marathon champion (2:17:45) and the runner-up in New York City last fall (2:23:30).
Overall, there are nine women that have run faster than 2:20, plus  former champions Edna Kiplagat, Atsede Baysa, and Desi Linden.
"The thing about Boston is you never know what's gonna happen," said Ritzenhein, who ran Boston in 2015 (7th) and 2019 (19th). "Boston has unknowns, but it lends itself to just racing. It's a race, not an all-out time trial on a fast, flat course. She's just a really good competitor, so for her to be able to go in with the mindset of just competing, I think is good for her."
View this post on Instagram
New Horizons
Obiri has been one of the world's most successful women's track and and cross country runners of her era, having won two world championships (2017, 2019) and earned two Olympic silver medals at 5,000 meters (2016, 2020), as well a world cross country title (2019). She's the only woman to have won global championships in cross country and indoor and outdoor track.
When her contract with a previous sponsor ended in 2021, Simms helped connect her to the Ritzenhein and Steve DeKoker, On's North American sports marketing director who started the OAC in 2020. For On, bringing Obiri into the fold is a chance to speed up the planned expansion of the already successful OAC track team into the marathon, while also giving the brand a platform to increase its stature as a running shoe and apparel company in the U.S. market.
For Obiri, it was a chance to make her inevitable move to the marathon as effective as possible with enormous sponsor support. While it might seem like a huge move for someone who has lived and trained in Kenya her whole life, she took comfort in knowing that fellow Kiplagat, a fellow Kenyan, has lived in Boulder with her family for more than a decade.
Kiplagat is a marathon legend who is still at the top of her game in her early 40s. She's one of the top female marathoners in history with two gold medals (2011, 2013) and a silver (2017) at the world championships, plus wins in Los Angeles (2010), New York (2010), London (2014), and Boston (2017, 2021).
(In 2021 in Boston, Kiplagat finished second in the race but was later declared the winner after compatriot Diana Kipyokei, who finished ahead of her by 24 seconds, was subsequently disqualified for use of a performance-enhancing corticosteroid. Kiplagat will finally be presented with her first-place medal and a golden laurel wreath that is given to each winner on April 13 in Boston.)
Obiri first saw Kiplagat on the TV news in Kenya more than 20 years ago, but they've since become friends and run together occasionally when they've both been in Kenya. Obiri looks up to the 43-year-old Kiplagat, who is also racing in Boston again this year, and has taken plenty of bits of advice, which is sometimes not-so-subtly delivered.
"She has a lot of experience with 19 marathons, so she knows how to race," Obiri said. "Early in the race in New York, she was joking and saying, 'You are young, you need to go to the front, and then I will come and catch you at the end,'" Obiri recalls with a laugh. "And then when she actually passed me after 38K, she told me, 'Let's go!' and I couldn't keep up with her."
The biggest thing Obiri has learned about the marathon—from Ritzenhein, Kiplagat, and her first experience in New York—is that, unlike shorter and much faster races on the track, it takes time for the race to develop. Usually things don't get going in Boston until Mile 21 at the top of the Newton Hills.
"What I learned is to be patient, patient, patient," Obiri said with a smile. "So that's what's in my mind going into Boston."
But what if it comes down to her and Kiplagat running on the homestretch down Boylston? "Oh, it's a race," she said, laughing. "If it was just the two of us, I would use track tactics. And then I would wave good-bye and say, 'Let's meet up at the finish line."
Lead Photo: Richard Sellers/Getty
Trending on Outside Online