Trail Runner's Guide to UTMB 2022
Everything you need to know about the famed races in Chamonix, France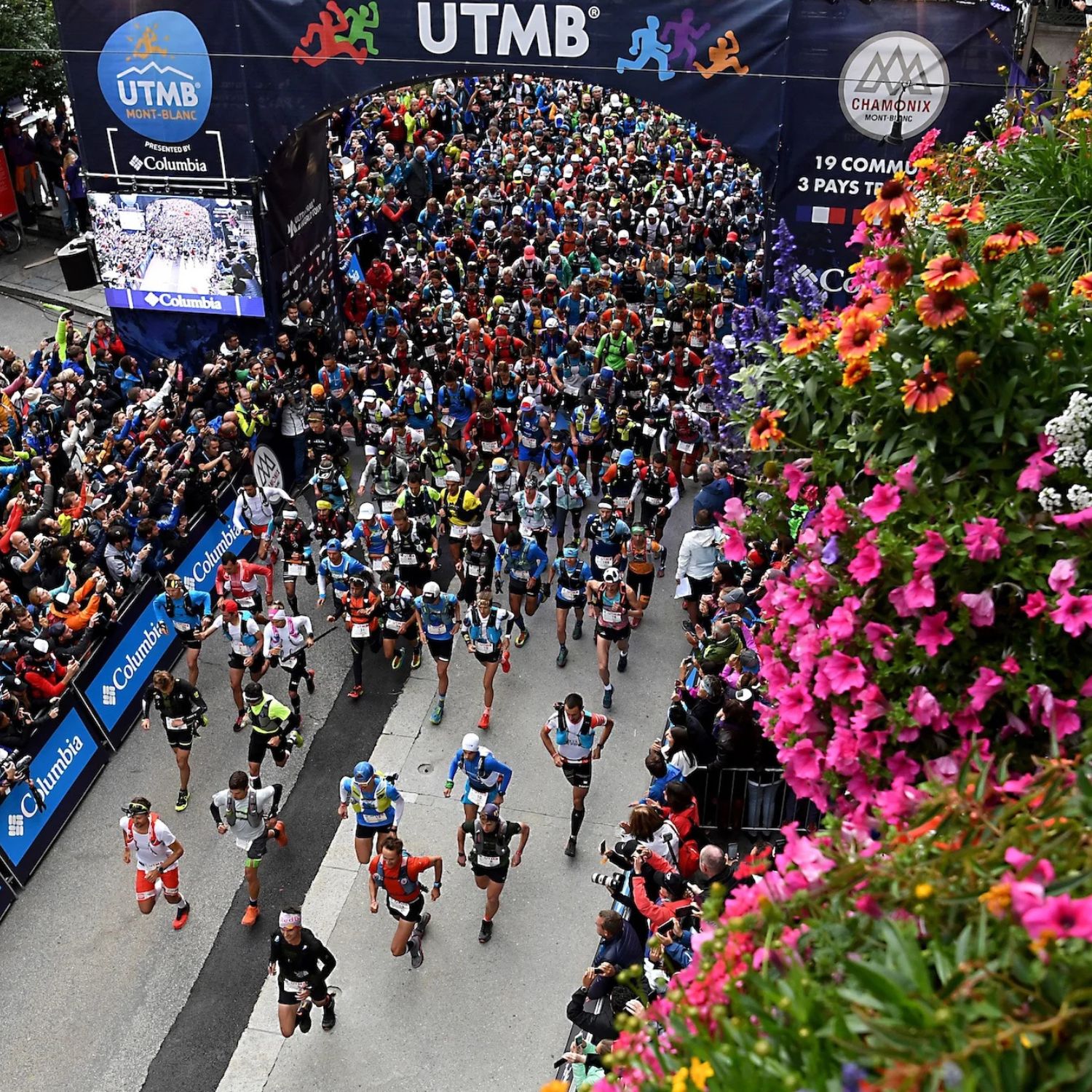 UTMB
Heading out the door? Read this article on the new Outside+ app available now on iOS devices for members! Download the app.
The Ultra-Trail du Mont-Blanc (UTMB) isn't just one thing. It's the Spandex Superbowl, wrapped in Gore-Tex Mardi Gras with a dash of Chafing World Cup. It's a weeklong festival of mountain running that attracts thousands of runners to Chamonix, France.
Mountain runner Hillary Allen is excited to be back in Chamonix. "For me, running UTMB is the ultimate test of mental strength and endurance. It's the chance to challenge myself with the best athletes in some of the most challenging mountains. I'm really grateful to have the chance to compete at UTMB and try my best. I'm looking forward to the atmosphere on race day and running through the night," Allen says.
The alphabet soup of race names references the tiny alpine villages in France, Italy, and Switzerland that surround Mont Blanc, or in the case of PTL, one very intrepid baker (see below). Chamonix (3,400 feet) is located at the base of Mont Blanc, the highest summit in the Alps at 15,781 feet.
To me, racing UTMB means that I am taking part in the most competitive ultra-trail race in the world. It is an iconic and logical route that provides 360-degree views of Mont Blanc on some of the most beautiful mountain trails I've ever experienced," says runner Sage Canaday. "The magnitude of the event in terms of runner participation, crowd support, and media coverage is really exciting. Just being able to toe the starting line again is a real privilege and honor. I feel very fortunate to be able to test myself on the course again this year."
Two-time Hardrock Champion Sabrina Stanley says she's been dreaming of competing in a race this big for her entire life as a competitive runner. "UTMB brings together the best runners in the world. It is the largest field in terms of talent and experience," she says.
Stanley has been training for the race all summer, and she's excited to let her legs attack the trails.
The petit French cobblestone streets will teem with compression-sock-clad competitors who will be competing in one of the six events throughout the week. The five smaller races (perhaps in prestige, rather than mileage, as in the case of PTL) lead up to UTMB, considered by many to be the sport's crown jewel. This is our breakdown of the week's events.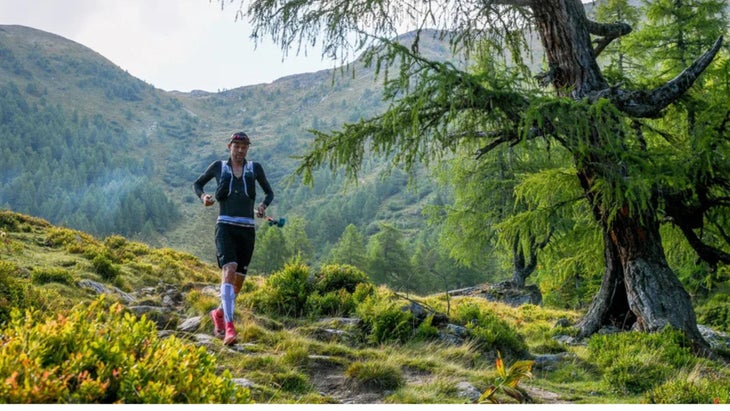 Stories We're Watching
Jim Versus Kilian
With a deep men's field, it will be exciting to see two of the sports legends go head to head in this race. Jim Walmsley has been living and training in France for the last four months, forgoing Western States and jumping into European mountain races. Will he be the first American man to claim the title? "This will be his 4th time racing UTMB. In the previous 3 attempts, he either DNF'ed or raced below expectations. This time around, he's putting all the chips on UTMB. So, what happens on race day with all that emphasis? Even with Spanish running star Kilian Jornet in the field and the opportunity to podium, I imagine it's win or bust for him in terms of satisfaction. It's incredibly exciting." says Finn Melanson, host of the Singletrack Podcast.
Pau Cappell Is Back
The 2019 UTMB champion had knee surgery during the pandemic and has been on the mend. Can he still hang with the world's greatest?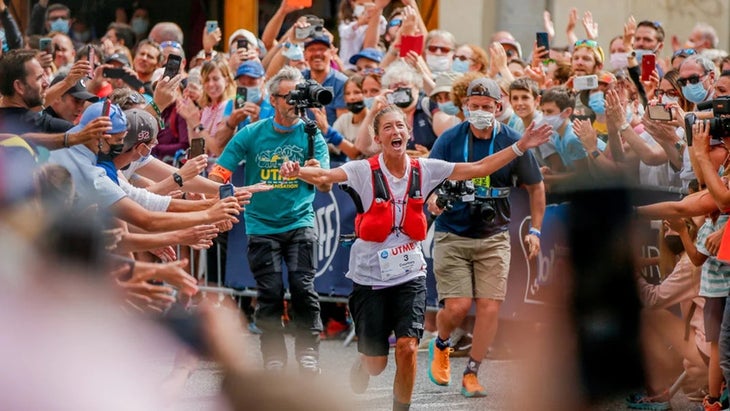 American Women Bring the Heat
Even with Courtney Dauwalter absent from the roster, there's a slew of strong American women in contention for UTMB's top spot. "I predict we will have 3-5 Americans in the Women's top-10," says Dylan Bowman, mountain athlete and UTMB commentator.  A top contender? Sabrina Stanley.  "She's been all-in since her Hardrock victory last year, and she has a history of rising to the occasion and following through on her goals when she takes this approach. That said, this is the most competitive event she's ever toed the line for (far more competitive than 2017 Western States, for example), so she will be tested more so than ever before," says Melanson.
Chinese Athletes Take the Lead
"They have talented athletes in every race this year, some have been racing in Europe this summer, and will still be relatively unknown names for the North American audience," says Corinne Malcolm, athlete and UTMB commentator. "They race aggressively and often from the front—will it work out for them this year? I think China will take a few podium spots—particularly in OCC and CCC but UTMB isn't out of reach for them."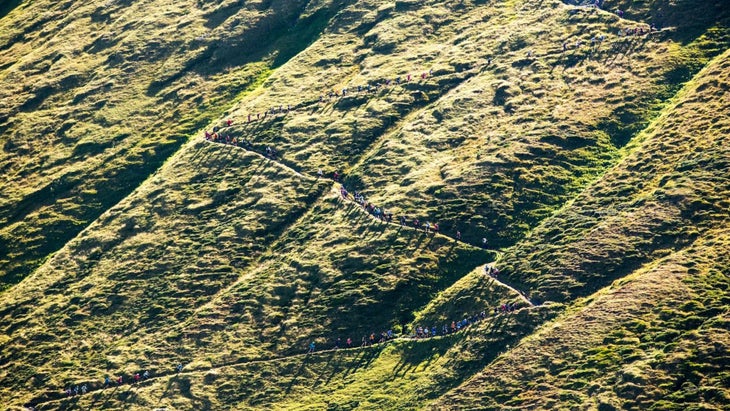 UTMB: The Ultra-Trail du Mont-Blanc
The marquee and last event of the week-long series, UTMB completely circles its namesake summit in just over 100 miles with a whopping 32,808 feet of vertical gain—more than it would take to summit Everest from sea level. About 2,300 runners will attempt to traverse the course's ten alpine summits in under 46 hours 30 minutes.
Though an American man has yet to cinch a UTMB win, U.S. women have taken home top honors. Krissy Moehl won the women's inaugural event in 2003, and again in 2009. Rory Bosio racked up two consecutive victories in 2013 and 2014, and Nikki Kimball claimed the title in 2007. Courtney Dauwalter won't be returning after her back-to-back victories, leaving the top female spot in hot contention.
Runners to watch in the women's race include Camille Herron, Ragna Debats, Azara Garcia de los Salmones, Manon Bohard, Beth Pascall, Katie Schide, Augrey Tanguy, Brittney Peterson, Mimi Kotka, Kaytlyn Gerbin, Hillary Allen, Sabrina Stanley and Marianna Hogan.
On the men's side, be sure to track Kilian Jornet, Jim Walmsley, Hannes Namberger, Thomas Evans, Pao Cappell, Jaiju Zhao, Tim Tollefson, Jared Hazen, Daniel Jung, Tyler Green, Xavier Thevenard, Jason Schlarb, Scotty Hawker, Anthony Costales, Jimmy Elam, Jeff Mogavero, and Sage Canaday.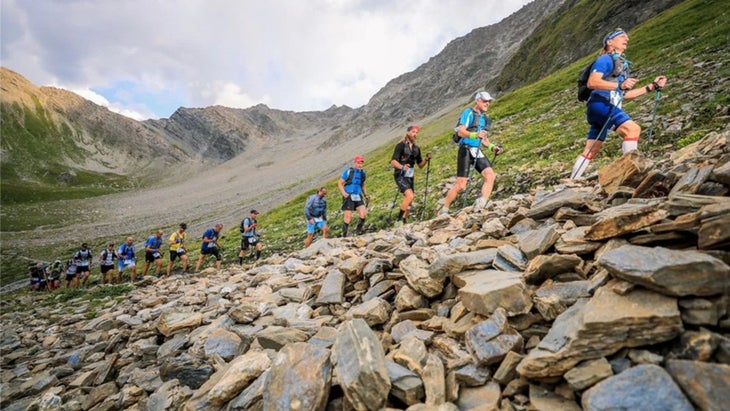 UTMB Races
CCC: Courmayeur-Champex-Chamonix
Previously seen as the "little sister of the UTMB", CCC has become a respected race in its own right with a demanding 62-mile course that ascends over 20,000 feet. It just about covers the last 60 miles of the UTMB course, which offers an in-depth preview for many runners with UTMB dreams. Historically, Americans have been successful at CCC, with notable victories by Clare Gallagher, Hayden Hawks and Zach Miller.
Runners to watch in the men's race include Jonathan Albon, David Sinclair, Hayden Hawks, Dakota Jones, Matt Daniels, Mario Mendoza, Adam Merry, Jiasheng Shen, Andreas Reitrerer, Thibaut Baronian, and Stephen Kersh.
On the women's side, Blandine L'Hirondel, Ruth Croft, Jazmine Lowther, Alisa MacDonald, Hannah Osowski, Abby Hall, Holly Page, Ida Nilsson, Taylor Nowlin, Emily Schmitz, Kaci Lickteig, Erin Clark, Kelly Wolf, Sandi Nypaver, Ladia Albertson-Junkans, Marcela Vasinova and Meg Mackenzie.
PTL: Petite Trotte à Léon
Perhaps UTMB's most distinctive event, the PTL takes teams of two to three runners over 186 miles of rugged, unmarked terrain around Mont Blanc. Named for an adventurous French baker and hardcore volunteer, it takes many teams the allowed 152 hours 30 to complete.
The course changes every year and there is no official winner. The event is so challenging that finishing is judged as a win.
TDS: Sur les Traces des Ducs de Savoie
The extra-technical TDS is the "cool-kids" race, attracting a who's who of mountain runners from around the world.  2019's new-and-improved route is even more rugged than previous years. It traverses 90 miles from Courmayeur, Italy, to Chamonix around the Mont Blanc massif. This "mid-distance" (by UTMB standards) event hosts 1,600 runners, and has a 42-hour cutoff. No American has ever won TDS, but Hillary Allen ran a ferocious race for 2nd in 2019.
In the women's race, we're watching Agnese Valz Gen, Caldia Tremps, Fiona Porte, Martina Valmossoi, Gwen Rudy, Corinne Malcolm, Alyssa Clark, Esther Fellhofer, and Julia Rezzi.
On the men's side, be sure to watch Ivan Camps, Cristofer Clemente, Franco Colle, Martin Kern, Mike Foote, Cordis Hall, and Joaquin Lopez.
OCC: Orsières-Champex-Chamonix
With the consolidation of the new series, we're going to see increased competition at OCC, as UTMB looks to turn it into a world-championship-style event. For fans of "shorter" mountain races, this will be a must-watch.  The route climbs over 11,000 feet as it winds through the Swiss Valais region with a 14-hour-30-minute cutoff.
The men's race will feature Thomas Cardin, Jiri Cipa, Oriol Cardona Coll, Bernard Dematteis, Justin Grunewald, Manuel Merillas, Bart Przedwojewski, Robbie Simpson, and William Boffelli.
The women's race will feature Anais Sabrie, Marta Molist Codina, Sara Alonso, Allie McLaughlin, Julia Kessler, Dani Moreno, Ashley Brasovan, Anna Comet Pazua, and Toni McCann.
MCC: Martigny-Combe-Chamonix
The MCC is a 24-mile race for the "bénévoles" and "gens du pays," the volunteers and locals who help with UTMB. The shortest of the races, it provides an accessible surprisingly challenging (7,500 feet of elevation gain) glimpse into the French Alps.
Lead Photo: UTMB
Trending on Outside Online