In Stride
The Road Less Sprinted: The Rise of Fastest Known Time
A growing number of trail runners are finding a new way to test themselves—without race fees, bibs, or finish line chutes—in search of virgin trail and new course records.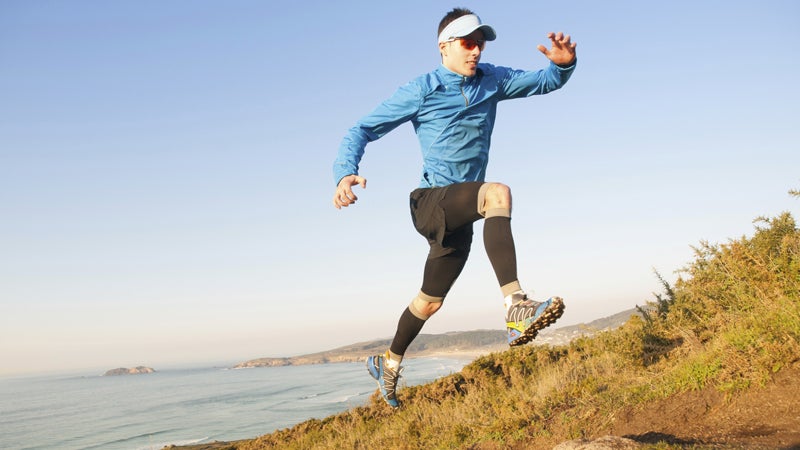 Getty Images/iStockphoto(Photo)
Heading out the door? Read this article on the new Outside+ app available now on iOS devices for members! Download the app.
A growing number of trail runners are finding a new way to test themselves, and it doesn't involve race fees, bibs, or finish line chutes.
Instead, they're enlisting their own stopwatch, navigational prowess, and determination to set trail Fastest Known Times, or FKTs. They pick a route, decide whether they'll receive any outside help in the form of food or aid along the way, and try to cover the distance as fast as possible.
"FKTs allow for a lot more individual creativity than official races," said ultrarunner Anton Krupicka.
In recent years, the FKT phenomenon has become increasingly visible. A web site—Fastest Known Time—now exists dedicated to record keeping, enabling runners to look up existing records and post their own. The site has several hundred threads dedicated to FKT attempts.
"I think there has been an increased interest in FKTs," said Peter Bakwin, who runs the Fastest Known Time site. "There are a lot of really cool areas that will never have races on them. Wherever you live, you can find a route." 
Some of the recent attention to FKTs emerged because elite trail runners have tackled major efforts. Whereas elites used to prioritize races over FKTs, Bakwin said, some are now making speed attempts the centerpiece of their season, due to both personal preference and growing support from the companies that back them. 
Kilian Jornet, a Spanish mountaineer and ultrarunner who many consider the best in the sport, has built his career around setting speed records on mountain routes. 
Sponsors, in turn, have followed suit in embracing FKT efforts. The North Face sponsored Hal Koerner and Mike Wolfe when they set a speed record on the John Muir Trail last year. Rob Krar, who set the record last year on the Grand Canyon's Rim to Rim to Rim route, believes his effort on the iconic route—along with a couple of top race performances—helped land him a sponsorship with The North Face.
Public awareness of trail speed attempts has increased as sponsors produce videos and blogs highlighting FKT records. Jornet's sponsor, Salomon, helps create online videos about his efforts, leading to global recognition of Jornet's pursuits. New Balance sent a film crew to Colorado last summer to track Anton Krupicka's attempt to set a speed record on a route up and over a series of 14,000-foot peaks. And Patagonia made web video of the record-setting-run Krissy Moehl and Luke Nelson set on the Trans-Zion trail. Moehl, who also set the women's speed record on Mount Rainier's Wonderland Trail last year with Darcy Africa, said Patagonia prefers that she attempt FKTs and trail adventures rather than just stick to traditional races.
"Patagonia likes the storyline that goes along with it," Moehl said.
Both elite and amateur runners who attempt FKTs say they're drawn to the grassroots element of the endeavor. Rather than traipsing through the woods with hundreds of other race competitors, they're on their own in nature. For trail running enthusiasts, that's often what drew them to the sport in the first place.
"For me, it's returning to the roots of why I love mountain running," Wolfe said. "The joy and freedom of moving through the mountains in a minimalist style." 
FKTs also enable runners to tackle routes in which races will never take place. Permits will likely never be issued for races in wilderness areas or National Parks, such as the Grand Canyon's Rim to Rim to Rim trail, or Mount Rainier's Wonderland Trail. 
With speed efforts, runners can pick their run day based on personal health, fitness, weather, or convenience, and not have to worry about a designated race day. FKTs also provide a compelling challenge for athletes who want their adventure to include navigation and strategic planning. 
"Races are an adventure, but one where you can blow up and get a car ride back home," said Matt Hart, who set the Zion Traverse record in 2010 and tries to go after a new FKT each year. "There is more adventure, more risk in trying for a FKT. You have to estimate your abilities and go for it."
But even the most ardent supporters of FKTs acknowledge that there can be downsides. Some runners simply prefer the support and comfort of directional race flagging and aid stations, and don't want to navigate a wilderness area on their own. Krar said that some athletes might end up in trouble because they chose a route above their ability level.
Criticism also can arise if too many runners are attempting to cover a trail as fast as possible on their own terms. Bakwin and Krar noted problems with large volumes of runners in the Grand Canyon trails in recent years. The runners can overwhelm toilet facilities at the bottom of the canyon and sometimes blow past mule trains and walkers. Of course, very few of these runners are actually attempting FKTs, but observers can easily lump solo or two-person competitive runners into the category as huge groups of runners.
"I've heard a lot of reports of runners not obeying common courtesy because they're on the clock," Bakwin said. 
For these runners, time—and making records of it—means everything. The history of FKTs likely dates way back, but long-term record keeping is tough to uncover. That's why Bakwin started the Fastest Known Time web site roughly 10 years ago. He and friend Buzz Burrell made sure to dub the records on the site Fastest Known Times, as there can always be existing speed records that no one knows about. The site encourages runners to use GPS, photos, and other methods to verify their times.
"If you want to go out there with no GPS track and no witnesses, that's great, but then don't publicize it and ask sponsors for support," Burrell said. "If you're going to publicize yourself, then document yourself. It's a package deal."
In addition to keeping records, Bakwin wants the site to tell stories of both trail triumphs and failures. He's more interested in someone's trail experience than the end time result.
"I wanted to have a place those stories could be saved," Bakwin said. 
Lead Photo: Getty Images/iStockphoto