Run for, or Without, Your Life
What does the popularity of a zombie-themed obstacle race say about American society?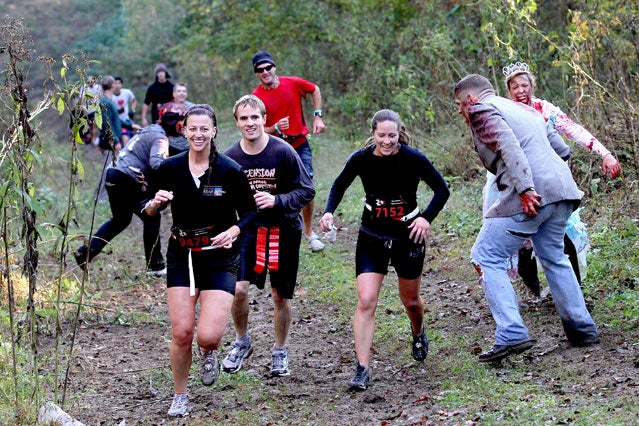 Heading out the door? Read this article on the new Outside+ app available now on iOS devices for members! Download the app.
Working Theory Re: America's Obsession With Zombies #1: There is a large portion of the population frightened by the outgrowth of the non-human institution. Banks, the American government, Facebook, etc. The zombification of the world is a twisted fantasy of total institutional breakdown. Everything is dead, so there's no longer anything to be controlled. Human life is only characterized by an attempt to maintain humanness. It's a reversion back to the origins of humanity when being human was the only thing that mattered.
Why will over 75,000 people sign up and pay for the opportunity to run away from and/or dress up as zombies?
Derrick Smith isn't really sure, but he's the one who's giving people an opportunity to imagine they're being chased by flesh-eating, half-humans when they're really only being chased by actual, full-people who look like they want to eat your biceps.
Smith, 29, along with Ryan Hogan, a close friend of his, came up with the idea for the Run For Your Lives race series back in the fall of 2010. They wanted to start a small adventure race, similar to something like the Warrior Dash or the Spartan Race. The Walking Dead was somewhere in the middle of its first season, and both were big fans of the show, so they figured why not? It'd be something a little different, but also a way to capitalize on the growing adventure-race trend. They started with a staff of seven people for the first event in October 2011 outside of Baltimore.
Then 12,000 people showed up. 
Working Theory Re: America's Obsession With Zombies #2: Escapism, pure escapism. The economy still can't get out of its own way. Politics have cleaved the country into two violent, opposing factions. Everything on the news is bad news. And the world is slowly melting away. A world where there's only one simple problem—half-dead humans trying to eat you—is a world so removed from the complicated issues which trouble today that it both seems realistic and somehow better.
Run For Your Lives works as follows: Participants sign up to be either runners or zombies. Runners are given two flags. They're then tasked with running a 5k obstacle course race with a two-flag belt. Obstacles are natural, man-made, and, well, man. Zombies are given life-blurring make-up makeovers and then tasked with guarding a certain zone on the course. Some zombies run after you (sorry, zombie purists), and others kind of loaf around like someone without a soul presumably would. 
Zombies try to steal flags, and runners try to avoid them. Physical contact isn't allowed. ("You don't wanna make physical contact with the zombies because then you'll become one," Smith tells runners. Also: "We've had to remove a zombie.") If a runner finishes with at least one flag still intact, he/she has survived and is eligible for a number of post-race prizes. If a runner has no flags at the finish line, then he/she is technically a zombie and therefore ineligible for prizes.
Zombies then have the option to run the course after they've put in their shift as the variously-moving dead. After all, running for a sustained period of time is really the point of a 5k, isn't it?
Working Theory Re: America's Obsession With Zombies #3: It's the logical end of the world's interconnectedness. If you live in a city, you're surrounded by people who may as well not even exist since your only interaction is one of suffocation—getting in your way, taking up your space. If you have a computer, you're surrounded by the rest of the world, the majority of which, again, exists only to smother your space. They're all basically zombies as their human life, their human essence, is not readily apparent to you. All they're actually doing, like zombies, is impinging on bits of your existence. Zombies are the end point—lifeless, but also attempting to minimize/terminate other life—of globalization.
Smith and co. have staged six races so far this year, and they've got six more to go in Pennsylvania, Toronto, Southern California, Maryland, Florida, and Texas. He said he expects somewhere between 75,000 and 85,000 total participants once the year wraps up. (They're planning on expanding to more sites in 2013. So long as people are willing to come out and get chased by zombies—and so long as that remains profitable—Run For Your Lives will go on.)
"Zombies are really popular," Smith said. "Maybe its supply and demand, but we don't sell as many runner tickets as we do zombies. In the first two months, we sold out all of our zombie tickets for the whole year."
So, there's still time to get chased by a zombie, but you'll have to be slow, un-agile, or blatantly not trying to become one.
Either way, they've nearly maxed out capacity for the year, meaning as many people who can get chased by fake zombies or put on make-up and be a zombie for an hour or two in an organized, adventure-race format are doing it. People like running over walls and jumping into water pits rather than just looping around a track, sure. But they like zombies even more.
So, a masterstroke on Smith's part, having the foresight to combine the two, then?
"When we came up with the idea," Smith said, "there was lot of luck in it and timing. It was an accident."
Working Theory Re: America's Obsession With Zombies #4: Things actually aren't all that bad. Could there be anything worse than humanity decomposing before the rest of humanity's eyes? As a human, there isn't. Toying with the worst possible scenario, thinking about what it would be like to stave off the advances of flesh-hungry, once-human creatures is a controlled way to safely experience Hell on Earth and then turn back to reality, like a weight put on a bat by a major-league slugger, and feel as though life is suddenly that much easier.
OK, so what the hell? Why are so many people coming out—and paying—for the opportunity to run three-plus miles while being chased by some dudes and dudettes who look like their brains might fall out if they take a wrong lifeless step?
"There's something about an extreme distraction," Smith said. "For whatever reason, we're in a time right now where it's 'take me to a totally different place.' You can relate that back to the adventure race since not everybody has a cargo net in their backyard, and it seems to work well together."
Now, reverse that and ask the same question.
"It's a more extreme example of how bad people want to play pretend," Smith said of his zombies. "We get a lot of comments that runners are too scared to run from the zombies, but they would enjoy being the chasers, not the chase-es."
They get other comments, too.
"We're getting a lot of people saying 'Hey, this is the first time I've had a reason to run,'" Smith said. "I think we've found a niche of people who usually had hobbies that were more indoors—like video games, like comic books, that sort of thing—but the love of zombies can get them off the couch and do something maybe a little healthier."
Working Theory Re: America's Obsession With Zombies #5: Theories are quite possibly dumb. There are a bunch of short, sort of common threads between some, but people get obsessed with things. And then they get bored and get obsessed with other things. If that obsession encourages them—even if it's only a few—to try new things—healthier things—then maybe it's not all that bad.
Lead Photo: Billie Weiss