In Stride
What Makes a Pro Runner Valuable to a Brand?
Race performance still matters more than social media. For now.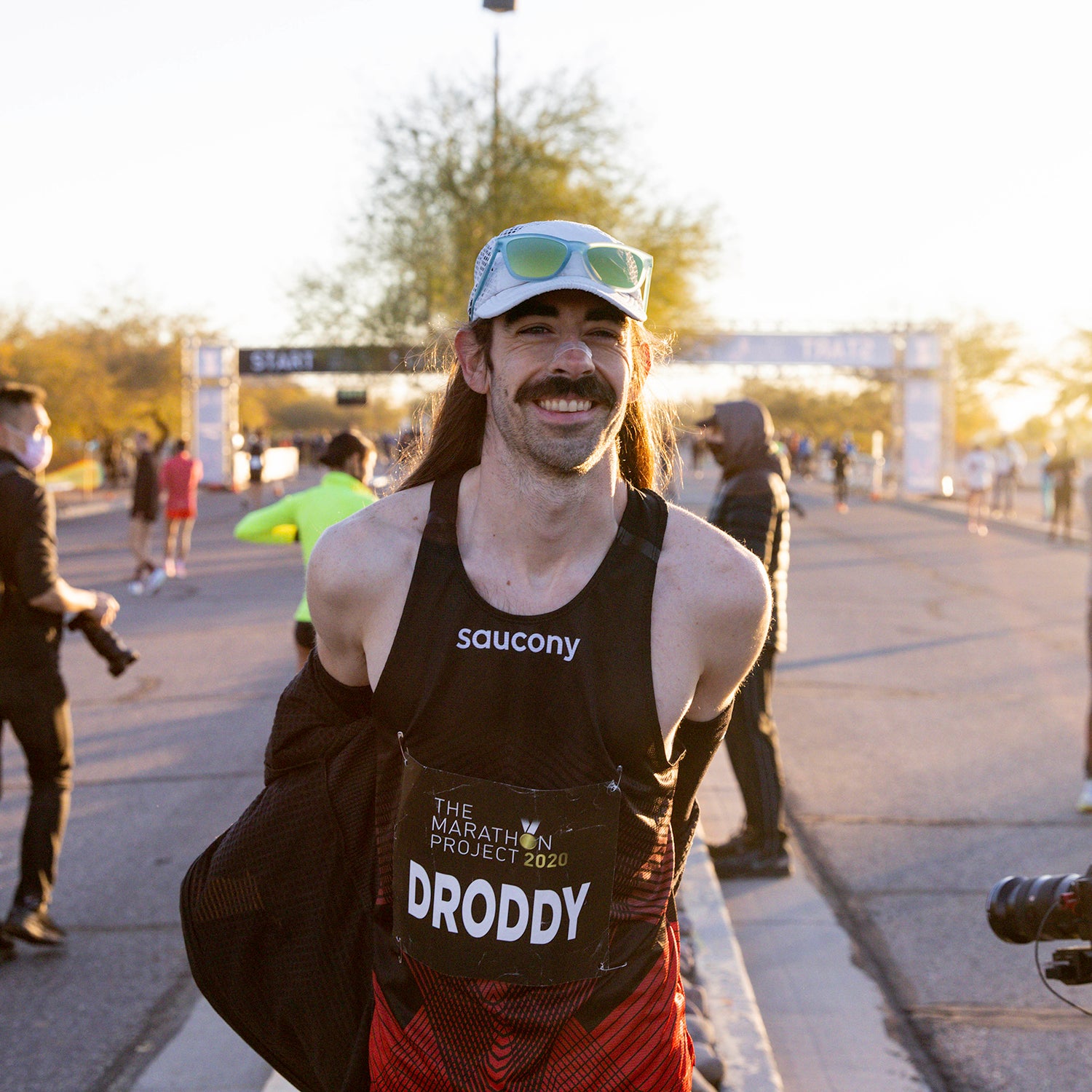 Luke Webster(Photo)
Heading out the door? Read this article on the new Outside+ app available now on iOS devices for members! Download the app.
When pro marathoner Chris Thompson won the men's race in the British Olympic Trials last Friday, he was a few weeks shy of his 40th birthday. While the dominant narrative surrounding his win was about a sentimental favorite pulling off a late-career stunner, another question loomed in the background: What shoes was he wearing? In Thompson's case, the answer was a pair of incognito, all-black Nike Vaporflys—a fact that was only notable because Thompson is sponsored by On Running. It was subsequently reported that On had given him special permission to race in a competitor's product, as the brand is still in the process of developing a prototype that will take advantage of recent disruptive advances in shoe tech. On's gambit was that it was in the company's interest to give their athlete the best possible chance at qualifying for the Olympics, where he will, presumably, wear their product and give the brand far more exposure than at the British Trials. It was a rational approach, but it also seemed like a tacit endorsement for Nike.
That fact wasn't lost on elite U.S. marathoner Noah Droddy, who tweeted a photo of Thompson breaking the (Swoosh-adorned) tape at the Trials in which the dramatic Vaporfly silhouette is clearly discernible. "Which company is getting more value here, On or Nike?" Droddy asked.
It makes sense that the question of what makes a runner valuable to a sponsor has been on Droddy's mind. Last December, in an elites-only marathon in Arizona, the 30-year-old Indianapolis native ran 2:09:09—a time that makes him the tenth-fastest American marathoner ever, according to the World Athletics database. In doing so, Droddy delivered for his sponsor, Saucony, by proving, among other things, that their rocket shoe could hold its own against the other rocket shoes on the market. Nonetheless, the brand opted not to renew his contract at the end of 2020. A few months removed from producing one of the fastest American marathons ever, and at an age when many distance runners are just entering their prime, Droddy is currently an "aspiring pro runner," according to his (very entertaining) social media accounts. As a self-avowed Droddyphile, I wondered: How can this be?
That fact remains that for elite runners who are fortunate enough to get one, a shoe contract is the most dependable way to make a living as a pro. But while in previous eras an athlete's value might be based primarily on podium finishes or qualification for marquee events like the Olympics, the brave new world of influencer marketing and social media has added another dimension. So to what degree have Instagram and Twitter upended the traditional approach for brands that are trying to figure out which athlete to sponsor?
When I put that question to Matt Weiss, a marketing director at Brooks, he told me that, at least at his company, performance was still the most important thing when choosing elite athletes to represent the brand. (He added that age was certainly a factor as well; if a 21-year-old and a 28-year-old are running the same times, brands are likely to be more interested in the younger athlete. Sorry.) As for social media presence, Weiss told me that that it was far less critical than performance and how well a runner seemed like a "good fit" for the company.
"If we think they have tremendous potential as an athlete and we love their values and what they stand for and what they believe in, ultimately, Brooks has a pretty big microphone, so we can help get that message out," Weiss says.
Of course, when I attend a track meet or watch a race on TV, I'm probably not going to gain much insight into a pro runner's personal ideology. (Unless they emulate Brazilian soccer genius Kaka, and take a rapturous victory lap wearing an "I belong to Jesus" T-shirt.) Social media platforms, for better or worse, are the principal mediums for athletes to communicate "what they believe in," whether it's protecting the Arctic from the rapacious oil industry, or the subtle eroticism of the burrito. For runners who have a special aptitude for creating a magnetic online persona, it's hardly a stretch to assume that this would be a significant asset when it comes to securing a sponsorship. Who seems like they would be more effective in selling shoes: the runner with 100K Instagram followers, or the runner who gets a bronze medal at a World Championships steeplechase? At the very least, social media reach is easy to quantify.
Weiss agreed that the bottom line value of athlete performance was "very hard to measure." He was insistent, however, that having professional athletes wearing their product was essential to a running shoe company's credibility.
"Our elite athletes give us something we can't get anywhere else," Weiss says, adding that pros also provided important feedback on the product development front. As for deciding which athletes it made sense for a brand to sponsor, he says it's "more of an art than a science," meaning that a lot of it comes down to pure intuition, rather than crunching numbers on a spreadsheet. "Is it as easy to quantify the impact of Des Linden as it is an email campaign, where you get all these incredible metrics right away? Probably not."
While Weiss seemed to downplay the importance of social media for aspiring Brooks athletes, the agent Hawi Keflezighi takes a different view. Keflezighi, who represents several elite runners, including Instagram-savvy individuals like recent U.S. Olympic Trials champion Aliphine Tuliamuk and the Olympian Alexi Pappas, told me that he thought a strong online following was increasingly essential, echoing the ethos of very-online training groups like the Northern Arizona Elite.
"Things are changing so quickly that sometimes the traditional methods of valuation are not always keeping pace," says Keflezighi. His position is that, when done right, a robust social media presence not only increases exposure for a brand, but also amplifies race performance, especially when an athlete has the charisma to match their athletic talent. For him, Tuliamuk and her breakthrough race at the Olympic Trials was the perfect example; as Keflezighi put it, "she had the personality to really sustain the popularity that comes with getting to the next level."
The same might be said of Droddy, who has been one of the more outspoken (and hence, one would think, marketable) athletes in American running in recent years. When he competed at the 2016 U.S. Olympic Trials in the 10,000-meters, Droddy mainly got a lot of attention for the fact that he looked like a Metallica roadie among clean-living jocks. (A Runner's World headline after the race, in which Droddy finished last: "Meet the Mustachioed, Beer-Drinking 'Hero' Who Crashed the Trials 10K.") Since then, however, Droddy has produced the goods on the performance end—first with a 61-minute half marathon in 2017, and most recently with his top-ten U.S. all-time marathon last December.
When I reached out to Droddy for comment, his agent, Josh Cox, told me that his client was in contract negotiations. Apparently there are several offers on the table. "Noah is in a select group of American endurance athletes that have the talent and influence to move the needle for a brand," Cox, clearly in full-on agent mode, told me. The aspiring pro runner may get his wish after all.
Lead Photo: Luke Webster