In Stride
Running Wisdom from 100-Year-Old Champions
Record holders Orville Rogers and Julia Hawkins know how to keep the running flame alive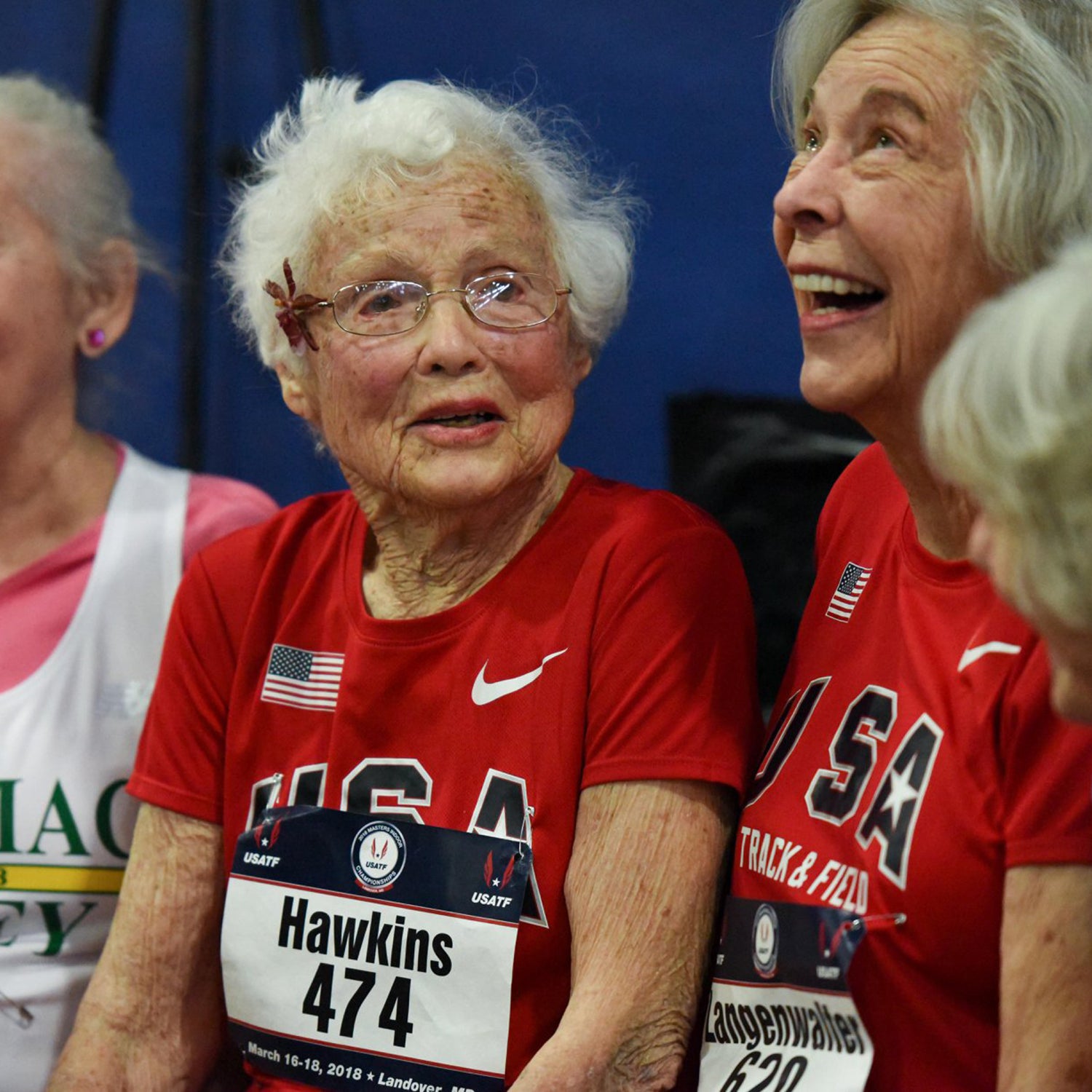 USATF(Photo)
Heading out the door? Read this article on the new Outside+ app available now on iOS devices for members! Download the app.
Becoming a YouTube sensation was never on the bucket list for either 100-year old Orville Rogers or 102-year old Julia Hawkins. But when the two runners sped off the starting line to set new world records at the USATF Masters Indoor Championships earlier this month, that's exactly what happened. Their combined race videos garnered more than 1 million views. Running fans apparently cannot get enough of the centenarian podium-toppers.
The fandom is well-deserved. Rogers broke five world records and five American records at the meet, in distances ranging from 60 meters to 1,500 meters. Hawkins nailed her 60-meter race, clocking a 24.79, good for both the American and world records in her age group.
Both runners take their training seriously, but also lead independent, full lives. Rogers can be found tooling around town in his red Camaro, with a license plate that reads "Beth 10," in honor of his late wife. Hawkins still lives in the Baton Rouge home she shared with her late husband of 70 years and maintains an active social life.
The two runners both found the sport later in life. Rogers began running when he was 50, after picking up a copy of Kenneth Cooper's classic book Aerobics. The day after finishing it, Rogers went out for his first run. At the suggestion of her children, Hawkins found running even later, at age 100.
While plenty of runners keep at the sport well into their masters' years, this pair takes dedication to a new level. We asked for their advice on how to maintain a long, healthy relationship with running.
Keep It Simple
Rare is the training plan designed for a 100-year old runner, so Rogers and Hawkins have had to figure things out on their own. Straightforward and simple is the rule, they both say. "I go to the track facility three times a week to run and lift weights for up to two hours," Rogers says. "I run slow to keep my endurance up, and then add in some 100-meter intervals to work on speed."
Hawkins is a longtime cyclist, and when she decided to give track a go two years ago, she began practicing by marking the various race distances she would run with flags alongside the road. "I don't do much dedicated run training, because I figure if you don't have it by my age, you don't have it," Hawkins says. "But I do stay active—cycling and walking with my friends in the neighborhood."
Make Sleep a Priority
Hawkins' regular routine includes a daily nap of up to an hour. "I go out to lunch every day and follow that up with a nap," she says. "Then I'm rested and relaxed and ready for the rest of my day."
Rogers doesn't always nap, but he is committed to a full eight hours of sleep every night. "I always say I go to bed at dark-o-thirty and rise with the sun," he explains. It's a habit that goes back to his childhood spent on a farm.
Eat Sensibly
Like all dedicated athletes, Hawkins and Rogers understand the value of good nutrition. Hawkins eats "sensibly in moderation," a diet that includes both coffee and beignets.
Rogers makes sure much of his diet is plant-based and is a fan of dark-hued fruits and vegetables. "I learned to eat well from the start," he says, "and I believe that highly pigmented produce will provide you with the antioxidants you need."
Form a Squad
Rogers brought a cheering crew of 30 people to the indoor nationals meet, all screaming, holding banners, and wearing T-shirts emblazoned with his name. "My family energized the crowds, and I had the entire spectator section cheering me on," he says. "It was heartwarming."
While Hawkins doesn't bring along as big of an entourage, she always has at least one of her four children along for the ride. At the national meet, a younger neighbor came for support as well. "The whole idea for me to begin running came from my kids," Hawkins says. "They paid the fee for my first meet and went along to encourage me on. They figured I was ready for something new."
Develop a Variety of Passions
While these centenarians excel at running, each will tell you that it's important to have hobbies outside the sport. Among her many interests, Hawkins is an avid reader, writer, and gardener. Rogers is also a lifelong reader and learner, and he published his life's story as a veteran, pilot, missionary, and runner in The Running Man: Flying High for the Glory of God.
Love What You Do
While some runners are motivated by competition or camaraderie, for both Rogers and Hawkins, it's all about love of the sport. "I know that I could fall and get hurt, but that could happen with anything I do at my age, so I think it's worth it," Hawkins says. "I just love to feel like I'm flying and to hear the air whistling in my ears."
Lead Photo: USATF
Trending on Outside Online